Andrew Garfield Thinks His Spider-Man Wouldn't Be A Fan Of 'Trillionaire' Tony Stark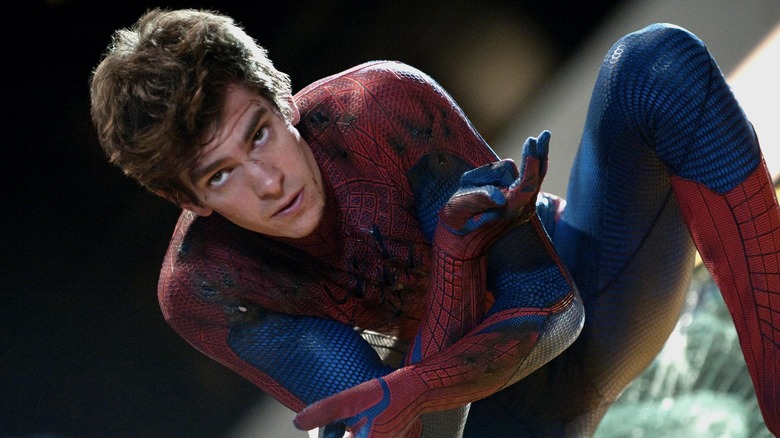 Sony Pictures
Ever since Andrew Garfield's run as Spider-Man came to a sudden end with 2014's "The Amazing Spider-Man 2," a critical and creative misfire that never made enough at the box office to justify Sony's grand plans for the character, fans have spent quite a bit of time dreaming about the what-ifs. How exciting would a potential third film have been with Garfield's Peter Parker squaring off against the looming threat of the Sinister Six? Rather than rebooting the character with Tom Holland in 2016's "Captain America: Civil War," could Garfield's version of Spider-Man have successfully integrated with the ongoing Marvel Cinematic Universe instead?
Fans may or may not get their wish with "Spider-Man: No Way Home" in December — at this point, you really just have to decide for yourself whether you believe Andrew Garfield's own words about possibly making an appearance in the film — but even if that proves to be the case, there's one meet-up that will have to remain within the imagination of viewers. Many would point to the Iron Man/Spider-Man dynamic as one of the highlights of Holland's run in the MCU thus far, though Tony Stark's death in "Avengers: Endgame" cut short any more of that for the time being ... barring any resurrections or variant shenanigans down the line, of course. However, it's safe to say that Garfield's version will likely never cross paths with Robert Downey Jr.'s Stark. But that doesn't mean we can't think about the hypotheticals anyway. 
That's exactly what Garfield is doing, at least, and his answer definitely won't stir up any debate whatsoever!
Never Meet Your Heroes?
For a guy who supposedly isn't associated with "No Way Home" in any way, shape, or form whatsoever, Andrew Garfield sure is talking about Spider-Man a lot these days! Of course, we can hardly blame him for that when it seems like everyone is using the opportunity afforded by the release of his latest starring role in "Tick, Tick... BOOM!" to pull a J. Jonah Jameson and incessantly demand information about Spider-Man. While Garfield doesn't address the elephant in the room here, he does at least entertain one particular lightning-rod of a question from a fan. In an episode of GQ's video series "Actually Me," which sees high-profile names go online to answer questions about themselves, Garfield addresses the idea of how he thinks his version of Spider-Man would react to the MCU's Iron Man:
"I definitely think Andrew Garfield's Spider-Man would be pretty suspect of MCU Iron Man. I think he would be a little turned off by the excess, the billionaire, trillionaire status of Iron Man. I think it would rub my version of Spider-Man the wrong way. But maybe there could be some influence there. Maybe my Peter Parker could wake Tony Stark up to his own egoic drives a little bit."
If you ask me, this is the answer of someone who's clearly thought about this exact possibility on his own before. That should come as no surprise, given the actor's obvious passion for and protectiveness of the character over the years. Of course, this only highlights just how different the last two Spidey iterations have been, as certain circles online (me included!) have lambasted Holland's near-codependent relationship with Stark for feeling entirely at odds with his blue collar roots. Garfield, for his part, immediately squashes any remaining hopes of an introduction between the two characters as he follows that comment up with a very dry and emphatic, "We'll never know. We'll literally never know."
You can currently see Garfield's latest role in "Tick, Tick... BOOM!," now streaming on Netflix.