Simu Liu Brings Plenty Of Confidence To Saturday Night Live's Stuffed But Satisfying Thanksgiving Episode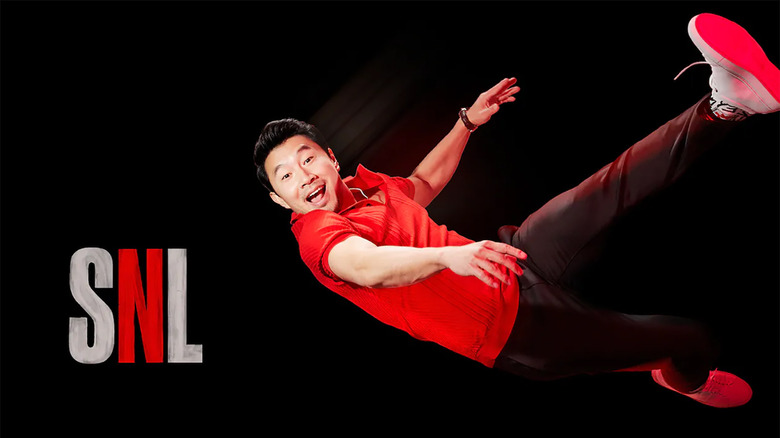 Marvel Studios
This weekend, "Shang-Chi and the Legend of the Ten Rings" star Simu Liu arrived on "Saturday Night Live" and proudly announced himself as the first Chinese host on the show to be the fourth Chinese host on the show (see what he did there?). It was actually a preview of one of the funniest sketches of the night with fellow Asian cast member Bowen Yang, but we're getting ahead of ourselves. 
The Thanksgiving episode of "SNL" was stuffed with plenty of sketches (so much that a hilarious pre-recorded sketch from Please Don't Destroy got cut for time), many focusing on the Turkey Day festivities in some form. While most of the evening's sketches didn't take full advantage of Simu Liu's confidence and willingness to play around with the cast, the episode was still pretty satisfying. Let's dig into each and every sketch in the Simu Liu-hosted "Saturday Night Live."
The Best
Walking in Staten – Is Pete Davidson friends with Big Wet? It would seem so. One-half of the country rap duo (yes, that's a thing) known as Branchez and Big Wet appeared in the "Squid Game" sketch earlier this season, and now he's back for Pete Davidson's song about Staten Island. This is one of the things that Pete Davidson does best. Many times before, he's proven to be a hip-hop version of Adam Sandler, albeit without the same character versatility. This sketch is no exception, as he's put together a clever song parody of Marc Cohn's "Walking in Memphis" with a focus on the aforementioned NYC locale. Taking this sketch to the next level is the participation of Marc Cohn himself, with a hilarious introduction, as well as Method Man. Not only is the song great, but the sketch itself parodies the music video perfectly. Even if you don't know anything about Staten Island, it's clear this is pulled from real life. You don't come up with turkeys hanging around the hospital as a joke. This was just a fantastically crafted sketch all around.
Simu & Bowen – Thanks to Hollywood's concerted efforts to diversify the faces that we see on both the big screen and the flickering box, there's been a lot of self-congratulations and glad-handing that acknowledges milestones that should have been cleared a long time ago. In this sketch, Bowen Yang and Simu Liu mock the idea of being the first Asian whatever, but then it becomes clear that they're hungry for this kind of recognition, even if it's for something like being the first Asian to beat "StarCraft II," which Simu Liu acknowledges is impossible to be true. This sketch also made me want some kind of buddy action comedy starring Simu Liu and Bowen Yang.
Sidenote: I've always loved that when NBC pages are featured in sketches, it's the younger, featured players who portray them.
Target Thanksgiving Ad – "Saturday Night Live" has done this kind of sketch in a variety of ways several times before, but it never gets old for me. The family bickering and inappropriate comments are all too real for each and every one of us, and it's the updated points of conversation that keep the jokes fresh. Honestly, Target would make a killing if they made a real advertisement like this, though one that's maybe not so edgy (a term which I use loosely in this case, because even though it's not particularly risqué, it would be rather bold for Target. )
The Average
New Military Weapon – If it wasn't for a certain Very Good Boy, then this sketch could have easily been among one of the worst. However, when "Saturday Night Live" attempts sketches like this, I'm certain that they're fully anticipating things to go not-so-smoothly with the real animal, because it will elicit plenty of laughs from the audience and even the cast. In this case, the best part of the sketch came from the dog trying to get ahold of the remaining bits of a sandwich it was given during the sketch, making communication with the Dog Head Man particularly hilarious. But there were plenty of other amusing bits throughout the sketch, including the continued question about how it goes to the bathroom. Plus, I loved the idea that this is a female dog head on a human man's body, and that human just so happens to be the owner of the dog and the father of Simu Liu's military character. Speaking of which, Liu's dedication to taking this so seriously also kept this from being a disaster.
Republican or Not – This is exactly the kind of political satire that "SNL" should be relying on instead of recreating political pundit shows, news conferences, and other real world parodies. Taking political and social commentary and packing it into a game show format or something out of the ordinary makes the proceedings feel that much more clever. In this case, I love the writing for each of the characters who may or may not be Republican. Initially, I thought that this was a clever way of pointing out that the differences between certain Democrats and Republicans can be subtle. But then I realized, when you get into the specifics of how each vague statement is defined on each side of the political aisle, it's clear that the right is just flat out wrong. Kudos to Kenan Thompson for playing up the host who is amused by the game playing out exactly how it's supposed to.
Jeanine Pirro (Cold Open) – After bringing back Judge Jeanine Pirro for the cold open a couple weeks ago, this was a surprisingly quick turnaround to bring her back. Sure, the Kyle Rittenouse farce trial made this a solid choice to cover the topic appropriately, and it's probably the best way to do it since Cecily Strong's portrayal of this "judge" is always good for a laugh. Thankfully, this one was bolstered by a great back and forth between Chloe Fineman and Chris Redd sharing their reactions to the verdict. However, I think it was maybe too soon to bring back James Austin Johnson to do the Donald Trump conversation topic countdown. It's a great bit, but I don't want it to be exhausted frequently so soon. I know "SNL" loves their recurring bits, but maybe we should pump the brakes here.
Karaoke All-Stars – Though this sketch isn't anywhere near as bad as last week's advertising awards sketch from the Jonathan Majors episode, it feels like it's trying to pull off a similar feat by creating a framework that allows a showcase of karaoke clichés and gags. This doesn't seem like the best choice, because the idea of a karaoke recap show at a local bar doesn't feel like a sound premise. There had to be a better way to set up this sketch. Having said that, there are some good laughs here as we cycle through a variety of the most common karaoke tropes that we've all seen during a night out. 
The Worst
Thanksgiving Baking Championship – Boy, this recurring sketch has really gone downhill. Though there are some decent chuckles to be had at the practical effects used to bring some of the monstrous bakes to life, the gag has started to wear thin. That being said, Kyle Mooney's gooey rocket is one of the most adorable penis-shaped cakes I've ever seen. But I think it's time to retire this sketch. In fact, Pete Davidson looks like he feels the same way. He felt totally checked out of this sketch with the exception of constantly eating the sample of the first cake that he was given, and I'm not sure if that was an intentional bit or just improvisation on Davidson's part. Either way, it livened up the rest of the mostly dead-on-arrival sketch.
911 Call – All the way from 1994, we've got a sketch where college professors don't know how to handle their weed. While a premise like this could have been utilized cleverly, I don't think this was it. While I will say that each of the cast members hamming up their university personalities made this work better than it otherwise should have, the repeated gag got tired quickly, and it ended abruptly and poorly. Someone should have called 911 to save this sketch from setting itself on fire.
Weekend Update
Colin Jost and Michael Che really let Kyle Rittenhouse have it in Weekend Update, and it's not even a fraction of what this kid deserves. But I digress. The jab at Matt Gaetz was particularly sharp too. And for those who think "Saturday Night Live" always lets the Republicans have it while letting the Democrats get off easy, there's also a solid shot taken at Joe Biden's approval ratings. By the way, one of my favorite bits that Colin Jost does is when he provides commentary on the photos used in their story graphics. He most consistently does it with Mitch McConnell, but every now and then he applies it to someone else, and this one about Paul Gosar was brilliant. Finally, Che's shot at Jost tied to the news of Mel Gibson supposedly directing "Lethal Weapon 5" is the kind of stuff that I always love to see these two deliver at the desk. You can watch the second part of Weekend Update right here.
Baby Yoda on Macy's Thanksgiving Day Parade – Ugh. I'm sorry, but I don't like Kyle Mooney's Baby Yoda character at all. He's clearly having fun, and it's absurd to see the adorable digital character portrayed as some kind of douchebro. Some of the physical comedy is hilarious to see when Mooney gets those beefy little arms waving around, but otherwise, I just don't like this bit and I wish it would stop coming back around. 
Mother Earth on Climate Change – Aidy Bryant portraying Mother Earth as a sassy woman who probably owns a shop that sells crystals was pretty damn good. It peaks when Bryant is going off about coal being dug out of her ass for fuel, but Bryant keeps it solid the whole way through with a performance that is just on the cusp of losing it. The look on her face when she tells the people of Earth that she'll kill them if they don't shape up? I believe it, and I think that was the real Mother Earth speaking through Aidy Bryant.
The Host
Jonathan Majors brought plenty of charisma when he hosted last weekend, but Simu Liu may have one-upped him a little bit. While Majors felt nervous at the top of the show, Liu played it cool, and it felt like he was fully ready to be there from the beginning. Major eventually fell into a groove, but Liu didn't need any buffer time. Maybe that's because he already went through the rigmarole that is the publicity circuit for "Shang-Chi and the Legend of the Ten Rings." Either way, that confidence came through in the sketches, and even though I wish "Saturday Night Live" would have given Liu a little more to do when it comes to playing a variety of characters, the actor brought conviction to even the more straight-man performances. 
The MVP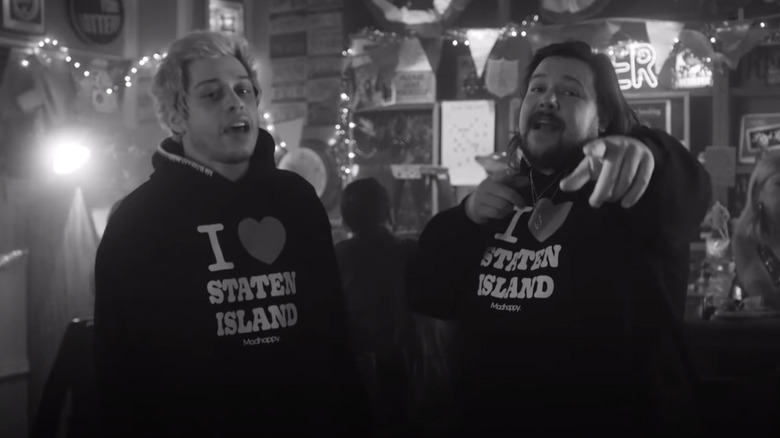 NBC
Pete Davidson – Along with making headlines for officially dating Kim Kardashian now (let's see how long that lasts), Pete Davidson delivered the best sketch of the episode this week, and it felt so purely Pete Davidson. This is the kind of stuff he should be doing more often. If he can put some effort into following in the footsteps of Adam Sandler while still staying true to his own comedic style, then he could really step up his game on "SNL." Plus, whether it was improvised or not, Davidson's constant snacking on the cake during the Thanksgiving Baking Championship was a funny little gag.
The Final Word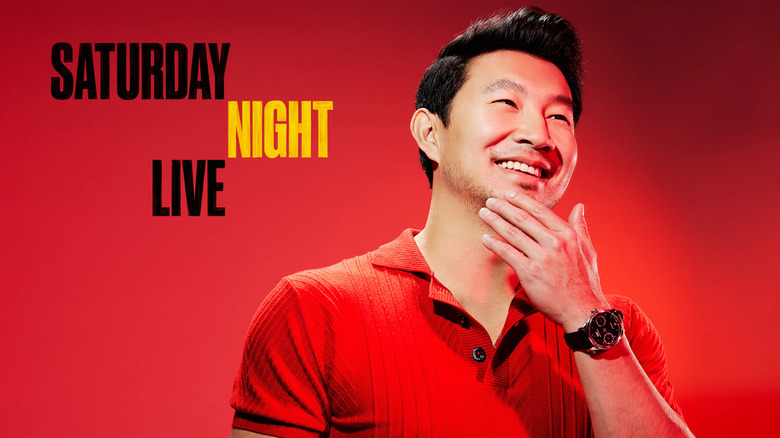 NBC
Well, this run of three back-to-back episodes didn't start on a strong note (sorry, Kieran Culkin), but it certainly ended on one. Simu Liu probably had the best episode overall, but I still think Jonathan Majors deserves plenty of credit for his hosting stint as well (even if my counterparts on The Ten to One podcast disagreed). Since his star power is only going to rise, I hope we get to see him back at a later phase of his career. Liu clearly has comedic chops and isn't just an action star, though "Kim's Convenience" fans already knew this. 
We'll be back in a few weeks when chart-topping recording artist Billie Eilish pulls double duty as host and musical guest on December 11. After that, Paul Rudd will return to "Saturday Night Live" on December 18, having just been crowned People's Sexiest Man Alive for 2021. That will undoubtedly be a topic of discussion on the show, and maybe we'll even get some kind of "Ghostbusters: Afterlife" involvement as well. Stay tuned!