Jonathan Majors Has Charisma To Spare In An Excellent Saturday Night Live (And Taylor Swift Was There Too)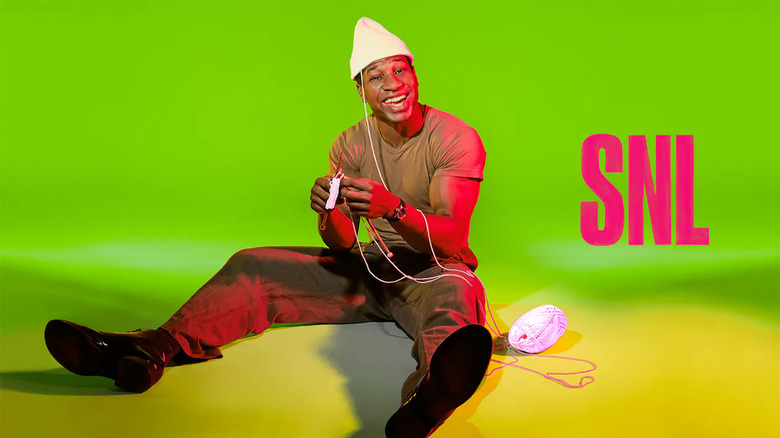 NBC
Jonathan Majors may not be a household name yet, but once he starts making waves in the Marvel Cinematic Universe as Kang the Conqueror in "Ant-Man and the Wasp: Quantumania," everyone is going to know his name. In fact, a bunch of people probably learned who Majors is last night after he hosted "Saturday Night Live" alongside musical guest Taylor Swift, who brought a 10-minute performance of her extended track "All Too Well" to "Saturday Night Live" after the debut of her revamped album "Red (Taylor's Version)" arrived earlier this week. 
Suffice to say, both Jonathan Majors and Taylor Swift brought the goods to "SNL," and the result was an excellent episode that was full of fantastic sketches and some standout moments from two of the newest featured players. So let's dig into each and every sketch and break down the latest episode.
The Best
Please Don't Destroy – Three Sad Virgins – I think it's safe to say that Please Don't Destroy are quickly becoming a reliable staple of "Saturday Night Live," perhaps landing even more confidently than "SNL Digital Shorts." At the very least, they've been quite consistent when it comes to bringing the laughs. Though this sketch strays from their more low-key conceptual style by including the making of a music video sketch that finds Pete Davidson mocking the trio as "Three Sad Virgins," it doesn't lack their fast-paced, sharp writing. Plus, the entire sketch is taken to a new level when Taylor Swift comes in to sing about the boys.
Broadway Benefit – In what feels like a revamp of the "Outdoor Cabaret" sketch from the Jason Bateman-hosted episode from December 2020, Bowen Yang and Cecily Strong are back with a vengeance. This is infinitely better than the aforementioned sketch, as these two "Broadway legends" reprise what is intended to be a family-friendly show. But when the two start talking about rubbers and drugs, this clearly isn't something for kids. Jonathan Majors comes in and makes things even better, taking a sharp turn into cocaine and suicidal thoughts. This was one of several instances throughout the evening where Majors really shone, proving that he's quite a versatile star with charisma and charm to spare.
Man Park – For all the boyfriends and husbands who feel lost while their girlfriends and wives are at works, there's finally a place where they can socialize and get all that pent-up energy out of their systems. Honestly, I could have used more time at the Man Park to hear the dopey conversations they're all having. Though I'm not sure anyone has ever argued whether they like Rick or Morty more, that Marvel bit is the perfect simplification of how fanboys can easily connect, and I would have loved to see a lot more of those conversations play out in dim-witted fashion.
Pastor Announcement – In case there was any doubt that Jonathan Majors has a bright future ahead of him, this episode of "Saturday Night Live" showed many different sides of the actor. In this case, he's a pastor who is announcing to the congregation that he and his wife are about to have an open marriage. Majors delivers some subtle performance touches that allow him to disappear into this character. With the slight hunch of his body and the warm smile with slightly raised eyebrows, this character feels lived in, and it amplifies the humor that comes from such a nice old pastor taking such a surprising step in his marriage. Meanwhile, Ego Nwodim's contributions as the pastor's wife, especially in response to Kenan Thompson's organ player Harold (a perfect character for him), were nothing short of hilarious.
The Average
Strange Kid Tales – I want to make it clear that I think this sketch is pretty damn great, even if it's a one-note joke played out in three different scenarios. Kenan Thompson and Jonathan Majors make for a great duo of two guys who are hosting a show about kids who have had strange experiences with the supernatural. Leaning into the stereotype of how Black people react to scary movies or supernatural situations, Thompson and Majors deliver pitch perfect reactions, complete with some solid physical comedy. I only wish it had a little more variation to be that much funnier, but it was still thoroughly enjoyable.
Ted Cruz Sesame Street (Cold Open) – Seeing Aidy Bryant as Ted Cruz will never get old. There's nothing better than emasculating the pustule of a person that is Ted Cruz, especially when he's out there arguing with fictional characters about the COVID-19 vaccine. This Newsmax version of "Sesame Street" brings together a variety of topical stories for a solid lampooning of right-wing nonsense, as well as some horrifying human-like versions of the show's puppet characters. The only reason this wasn't one of the best of the night is because Pete Davidson's Joe Rogan felt lazy as hell, and the inclusion of Chloe Fineman as Britney Spears felt shoehorned in without delivering much of a laugh. Otherwise, this was a great way to deal with topical satire, and I wish we'd get more stuff like this for the cold open.
Pet Store Ad – What is Bone Thugs-n-Harmony up to these days? Those who were once famous always end up tapping into what made them famous to make money when they're not in-demand anymore. In the case of this hip-hop/R&B group, they're selling dog bones and delivering signature ballads along with it. This hybrid commercial, music video, and live sketch is certainly worthy of the 10-to-1
The Worst
March of the Suitors – What seemed like it might be a medieval version of "The Bachelor" or whatever reality dating show the kids are into these days didn't exactly play out like I expected. First of all, doesn't it seem weird that this is framed like a History Channel program about "Forgotten Monarchs" and then it becomes this dating show? It just feels like there are too many layers. While the dumb kid with the big sausage delivered a good laugh, it's the part with Jonathan Majors that made me think this sketch could have become something more. The reveal that Majors isn't actually a prince, and having Ego Nwodim arrive as his besmirched wife who lays into him right in front of the queen? That's gold, and it felt like it could have been an entire sketch on its own. Unfortunately, these bits felt tainted by the lame framing of the sketch and the interludes with the queen reacting in an inexplicably hammy and fourth-wall breaking fashion. Plus, the ending was abrupt and weak as hell.
Audacity in Advertising Awards – What do you do when you want to parody a bunch of commercials but don't have enough material to make it into a full commercial parody? Create an advertising awards sketch that allows you to parody multiple ads. Unfortunately, the sketch as a whole isn't great, even though there are a few good chuckles in there, especially at the expense of Amazon and BP. But I can't help but think it might have been funnier to see a series of those commercials where the advertiser is truly shocking. Anyway, there's not much here to write home about other than the general disappointment.
Weekend Update
Weekend Update veered into a little bit darker and sadder territory with jokes about execution, global warming, and giraffes and old hikers dying, but that didn't keep it from being funny. Though I felt like a few of the punchlines were easy, especially the one about Bud Light Seltzer's new eggnog flavor, overall there was some sharp stuff here, with Michael Che again coming out ahead with some of the more biting punchlines. Watch the second half of Weekend Update right here.
Sarah Sherman Roasts Colin Jost – Since James Austin Johnson and Aristotle Athari have already made a splash at "SNL," I've been waiting to see when Sarah Sherman would get some time in the spotlight, and it came in this episode. Though it's not necessarily a good sign when the first big breakout moment comes at the Weekend Update desk, this was a particularly fantastic segment where Sherman railed on Colin Jost. I felt like she started a little too high with the energy, but eventually it paid off, even though it might have benefited from building up to it instead. Even so, I'm just glad to see Sherman do something like this so confidently and successfully. Now we just need to see some promising original characters from her, and she'll be good to go. 
Stand-Up Robot Laughintosh 3000 – After Aristotle Athari debuted one of his original characters during the Rami Malek, he's brought another one to the Weekend Update desk, and it's great in an old school kind of way. Athari puts on an incredible robot voice, complete with vocal glitches, that acts as a robot programmed to do cheesy stand-up comedy bits. This robot is so old that it has to announce when it's loading a joke. I loved everything about this bit, but there's a part of me that would have liked to see it in the confines of a full sketch rather than a Weekend Update segment. Even so, I hope that this is a character who can come back every now and then.
The Host
Jonathan Majors! If you didn't know his name before, I hope you'll remember it from here on out. Majors felt a little nervous and maybe just a tad too enthusiastic when kicking off the show. It felt like he was shouting right from the beginning, but then he got a little more comfortable. What followed was an impressive display of confidence, comedy chops, and acting skills, which is great to see from an actor who probably wasn't on the radar of many "Saturday Night Live" fans until now. Majors wasn't afraid to get silly, did some character work where he wasn't just reacting to the rest of the cast, and he did plenty of singing and dancing too. This guy clearly has multitudes of talent, and I think we'll see him back at "SNL" sometime in the future as his star continues to rise.
The MVP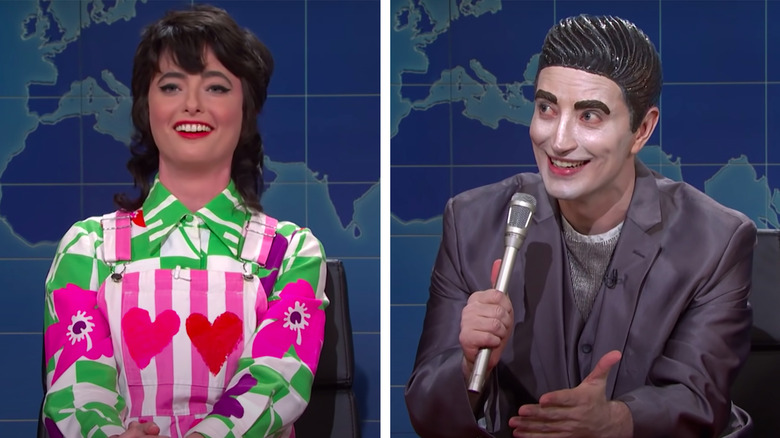 Sarah Sherman and Aristotle Athari – I'll admit that I was close to giving Jonathan Majors the MVP award, if only for making such a confident hosting debut. Kenan Thompson and Ego Nwodim also came close. But I love to see the featured players of "SNL" breaking out and establishing themselves as integral parts of the cast. Sherman and Athari both had outstanding Weekend Update segments. If I'm being honest, Athari probably deserves this just a tad more than Sherman thanks to his appearance as The Count on Ted Cruz's "Sesame Street." But Sherman was so unabashedly herself, and that takes courage at the Weekend Update desk. Hope to see much more greatness from these two and the rest of the featured players as the season goes on.
The Final Word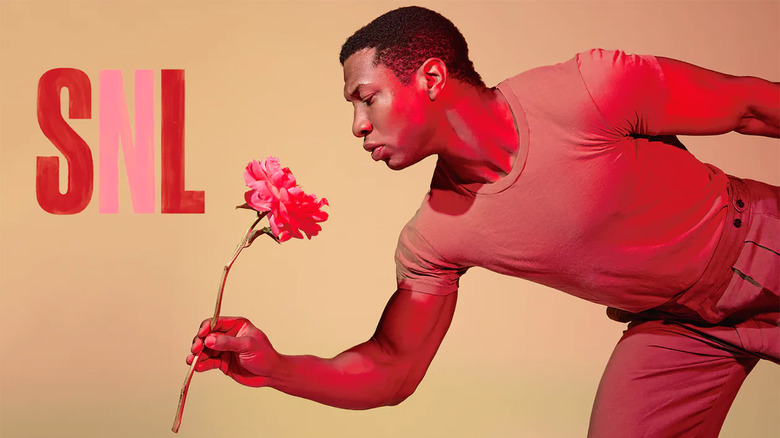 NBC
This batch of "SNL" episodes is showcasing stars who aren't the most famous people in Hollywood. They're all having moments right now, and that's something "SNL" has been good at picking up on and taking advantage of. Though Kieran Culkin has been around since he was a kid, his turn on "Succession" is making him more recognizable. Meanwhile, Jonathan Majors and Simu Liu (hosting next weekend) are on the rise, especially with their roles in the Marvel Cinematic Universe. Having "SNL" be a place to signal boost fresh-faced new actors helps make the series feel young and hip, and it keeps its finger right on the pulse of pop culture. They've been doing this with musical guests for years, but now the hosts aren't always A-list superstars, and I love that.
We'll be back next week when Simu Liu hosts "Saturday Night Live" on November 20, 2021, which will hopefully be a delightful Thanksgiving episode.