Superhero Bits: Two Spider-Mans Embrace, Wesley Snipes Has Advice For The New Blade & More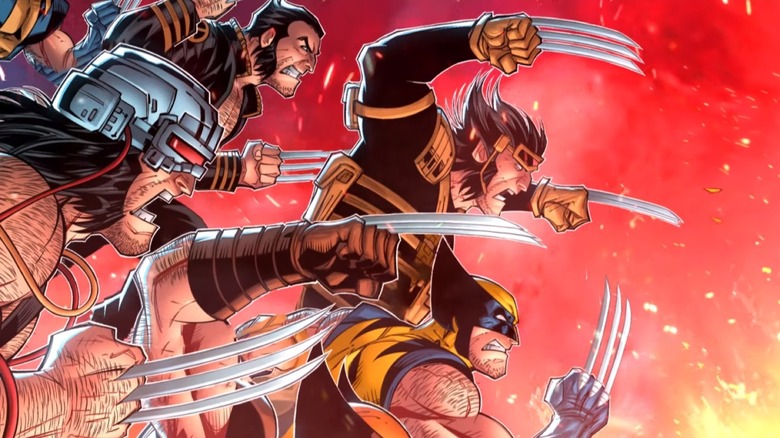 Marvel
(Superhero Bits is a collection of stories, updates, and videos about anything and everything inspired by the comics of Marvel, DC, and more. For comic book movies, TV shows, merchandise, events, and whatever catches our eye, this is the place to find anything that falls through the cracks.)
In this edition of Superhero Bits:
Two Spider-Mans share a hug
"Hawkeye" gets a new TV spot
Wesley Snipes has advice for our new Blade
Marvel's new "Wolverine" comic books get a trailer
The Flash Season 8: Armageddon Part 2
Here's the official promo for the second episode of the eighth season of "Th Flash" on The CW:
Despero (guest star Tony Curran) warns The Flash (Grant Gustin) that great tragedies will befall the speedster and cause him to lose his mind. Once that happens, Armageddon will begin. Determined to prove Despero wrong, Barry doubles down on proving his innocence but a devastating revelation from Iris (Candice Patton) pushes him to the edge and sends him to seek counsel from Black Lightning (guest star Cress Williams).
Menhaj Huda directed the episode, which was written by Jonathan Butler and Gabriel Garza.
Is That Wonder Man In the New Marvel's Avengers Trailer?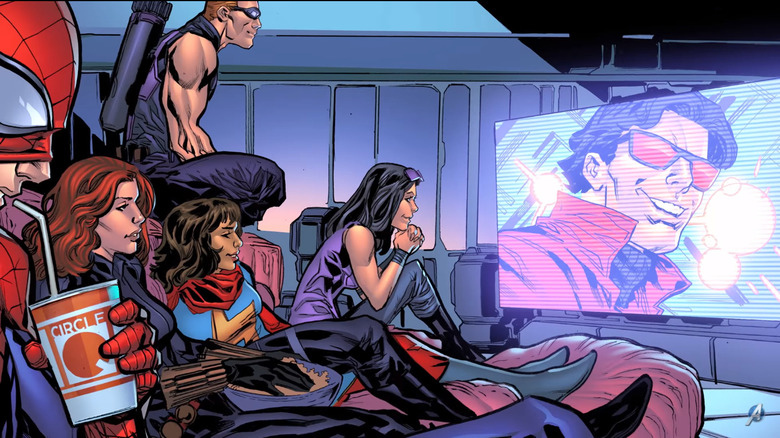 Marvel
Well, well, well, if it isn't (maybe) Wonder Man. Recently, Sony and Marvel released a little featurette/trailer in honor of Spider-Man joining the "Marvel's Avengers" video game. However, as an eagle-eyed fan on Reddit pointed out, as seen in the above image, it appears that none other than Wonder Man, aka Simon Williams appears in the trailer. You can check out the footage in its entirety below.
Spider-Man has sorta not really kinda been working with the Avengers.

🕸️ Watch Spider-Man: Friends in Heroic Places for a glimpse at what life with the Avengers is like for Peter Parker. Spoiler alert: they play games together – and they fight AIM, of course. That's important! pic.twitter.com/qnPNt9mg6U

— Marvel's Avengers (@PlayAvengers) November 16, 2021
So, what does this mean, exactly? Is it a hint that Wonder Man is going to join the game next? Probably not. If anything, it's just a fun little Easter egg for fans. Still, it's worth, at the very least, raising an eyebrow over.
Spider-Man: No Way Home's Big Captain America Reference
You may have noticed a giant Captain America shield in the new trailer for Spider-Man: No Way Home. If you look closely, it's actually the Statue of Liberty carrying the shield as "NYC's newest Avenger." pic.twitter.com/WST5MioI2q

— IGN (@IGN) November 18, 2021
We've been digesting that new "Spider-Man: No Way Home" trailer for much of the week. Frankly, there was an awful lot going on. It looks like one thing we missed in our trailer breakdown is the fact that the MCU's version of the Statue of Liberty appears to be paying tribute to Captain America in grand fashion. Specifically, IGN noticed it looks like the American monument will be under construction during the movie to give the statue a version of Cap's shield. It also looks like this is where one of the movie's big battles, if not its climactic battle, will take place.
New Hawkeye TV Spot is on Target
As we rapidly approach the premiere of "Hawkeye" next week, Marvel has released yet another TV spot for the series. As has been the case in most of the marketing up to this point, it focuses on the dynamic between Jeremy Renner's Clint Barton and Hailee Steinfeld's Kate Bishop. You can check out the spot above and catch the first two episodes of "Hawkeye" November 24 on Disney+.
Wesley Snipes Has Advice for Our New Blade, Mahershala Ali
Wesley Snipes says he's talked to new Blade star Mahershala Ali, assures us he's not the least bit bitter over new casting.

"I'm cool with it. I don't walk around as Blade, so I'm not attached to the character... I feel no emotional loss. ZERO. I'm happy that's he's being cast." pic.twitter.com/B0xYmFa6NK

— Kevin Polowy (@djkevlar) November 18, 2021
Wesley Snipes, who starred in a trilogy of "Blade" movies beginning in the late 90s, has some advice for Mahershala Ali, who is set to star in a reboot fo the franchise within the MCU. The actor is currently making the rounds to promote "True Story," his upcoming Netflix show. During a recent interview with Yahoo, he offered the following advice to Ali:
"Make sure you're in shape, man. Make sure you're in shape. Try not to get hurt, that's a biggie. The demands of an action movie is you've gotta be an elite athlete. And being well-conditioned to survive and to avoid injury. And enjoy it while it lasts."
In the same clip, Snipes also explains that he's spoken with Ali, and there is no bad blood on his end.
"We spoke. The issue of him being cast wasn't between us, I'm cool with that. I don't walk around as Blade, so I'm not attached to the character like that. I feel no emotional loss, zero, and I'm happy that he's being recast and will more than likely do a great job."
It still remains unclear when the "Blade" reboot will hit theaters, but Ali did technically make his MCU debut recently, so there's that.
Amy Pascal Doesn't Want Spider-Man Movies Without Tom Holland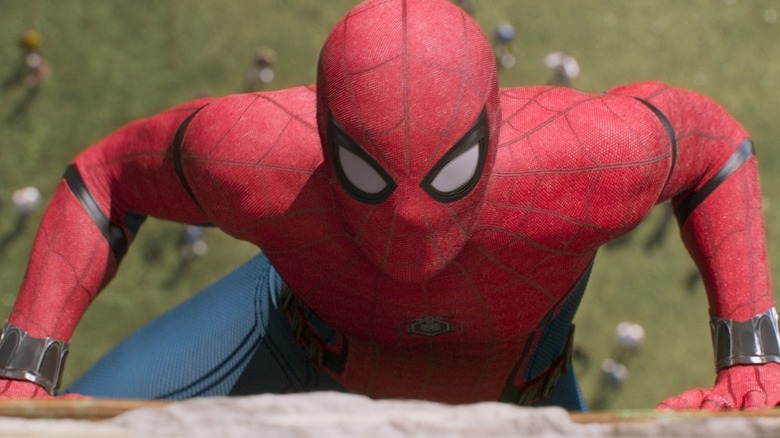 Sony Pictures
Producer Amy Pascal, one of the key figures backing the "Spider-Man" franchise, never wants to make a movie within the series without its current star, Tom Holland. In a profile on Holland published recently by GQ, Pascal said, "I've talked to him about doing, like, 100 more. I'm never going to make Spider-Man movies without him. Are you kidding me?" That is a sweet sentiment, and an understandable one, as Holland has proved to be quite popular and has made Sony a lot of money. However, Holland recently indicated that he may be nearing the end of his run, so who knows? Pascal may have to face that fact well before "Spider-Man 100" hits theaters.
Andrew Garfield and Tom Holland Share a Hug
Look, Andrew Garfield has said a million times he's not in "Spider-Man: No Way Home." That may be true, it may not be. Who knows? He may never cross paths with Tom Holland's Peter Parker in the movies. However, in real life, as we can see in the above photos, Holland and "The Amazing Spider-Man" star did recently meet, and they shared a nice moment together. This is so sweet! Let's just enjoy that for a moment.
The Lives and Deaths of Wolverine
Lastly, Marvel has released a trailer for the upcoming, heavily connected event books "X Lives of Wolverine" and "X Deaths of Wolverine." These stories are part of a lineup Marvel revealed several months ago that are said to be shaping the future of the Marvel Comics universe. To what degree that is true remains to be seen, but this trailer certainly makes a case that this will be an epic, sweeping story about the one they call Logan. The synopsis for "X Lives of Wolverine" #1 reads as follows:
Logan. James Howlett. Weapon X. The mutant best known as WOLVERINE has lived many lives under many identities and in many places, but never before has the fate of the future been so entwined with the past! Fan-favorite eras of Wolverine's saga are explored anew, along with never-before-seen episodes as Logan must travel to various points in time to prevent the death of a key figure in mutant history. But these LIVES are only one side of the story... Be here for the start of the time-shredding saga across all of Wolverine's history and future yet to come!"
The event kicks off with "X-Lives of Wolverine" #1 on January 5, 2022.