Superhero Bits: Spider-Man: No Way Home Trailer Cast Reactions, The Batman Animated Series Comes To Blu-Ray & More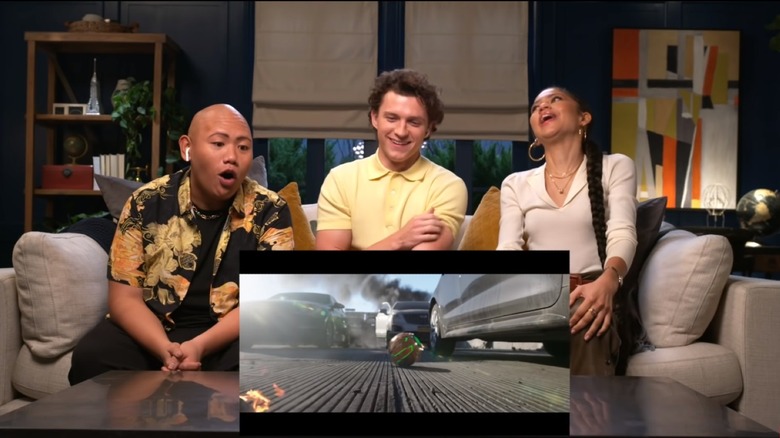 Marvel Studios
(Superhero Bits is a collection of stories, updates, and videos about anything and everything inspired by the comics of Marvel, DC, and more. For comic book movies, TV shows, merchandise, events, and whatever catches our eye, this is the place to find anything that falls through the cracks.)
In this edition of Superhero Bits:
"Spider-Man: No Way Home" stars react to the new trailer.
"The Batman" animated series is finally coming to Blu-ray.
Tom Holland thinks it might be time for a Miles Morales "Spider-Man" movie.
Brandon Routh is interested in a "Kingdom Come" Superman series.
Batwoman Season 7: Pick Your Poison
Here's the official promo for the seventh episode of the third season of "Batwoman" on The CW:
As Ryan's (Javicia Leslie) family dynamic grows more complicated, she also finds herself in the middle of a Bat Team stand-off between Luke (Camrus Johnson) and Mary (Nicole Kang). Meanwhile, Alice (Rachel Skarsten) finds a new sidekick to do her bidding.
Holly Dale directed the episode, which was written by Kelly Ota and Emily Alonso.
Brandon Routh Has Explored a Superman: Kingdom Come Series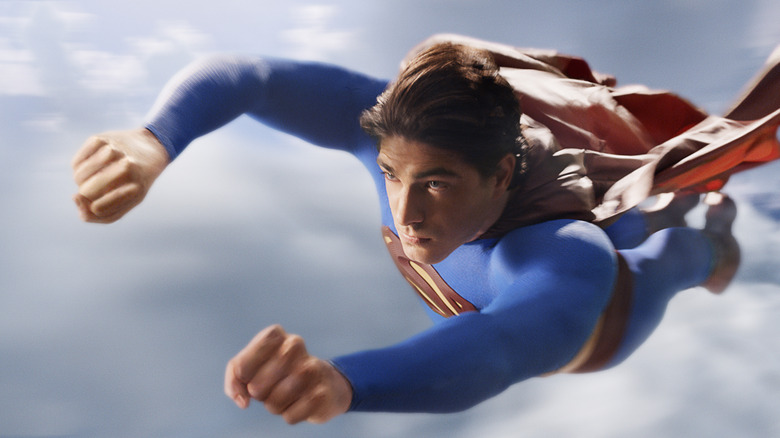 Warner Bros.
Brandon Routh played the Man of Steel in the failed "Superman: Returns" in 2006. However, the "Crisis on Infinite Earths" ArrowVerse crossover provided him the chance to revisit the role all these years later. Now, in an interview with Comicbook.com, Routh revealed that he's at least explored the idea of returning to the role again in an adaptation of DC's "Kingdom Come." Routh said the following:
"Given the story is the right story and Superman portrayed in the way that I see Superman. I was absolutely always interested in that. I have made my own investigations about the possibility of something like that. Right now, the truth is that we're flush with Superman stuff, with the success of Superman & Lois — and Tyler's doing an awesome job on that — and then there's a couple scripts and stuff going around for features, I think, in different iterations at Warner Bros."
Unfortunately, as Routh mentions, we have J.J. Abrams' "Superman" reboot, as well as Michael B. Jordan's Val Zod series in the works at HBO Max, along with "Superman & Lois" on The CW. That doesn't leave much room for "Kingdom Come," but it's certainly an interesting idea.
Legends of Tomorrow Season 7: Woman's Place Is In The War Effort
Here's the official promo for the seventh episode of the seventh season of "Legends of Tomorrow" on The CW:
When the Legends crash land in 1940s Seattle, they find themselves right in the middle of WWII with a surprise guest. Needing replacement parts to fix the time machine, Sara, Ava, Astra, Spooner and Gideon find themselves working in different sections of an airplane factory alongside "Rosies." With Astra frustrated with inequality in the workforce, she takes matters into her own hands. Meanwhile, Behrad offers to play host and help teach Nate about Persian culture and etiquette.
Glen Winter directed the episode, which was written by Morgan Faust and Leah Poulliot.
The Batman Statue by Prime 1 Studio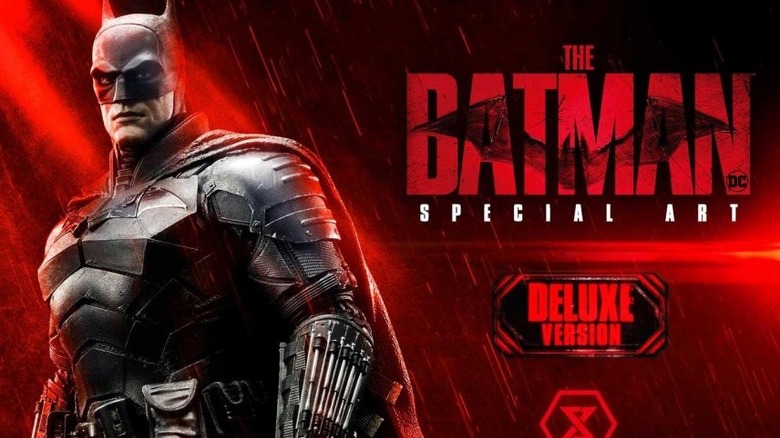 Prime 1 Studio
The folks at Prime 1 Studio are now taking pre-orders for their new "The Batman" statue, glimpsed above. The statue is based on Jim Lee's illustration of Robert Pattinson's Dark Knight from the upcoming movie. Two options are available for those who are interested — the Special Art Edition, and a Special Art Deluxe Bonus Edition. In both cases, get ready to empty out that wallet, as the Special Art Edition goes for $1,299, and the Deluxe Edition is set at $1,499. Full details and pre-order information can be found at Toy Ark.
The Batman Animated Series Finally Comes to Blu-Ray
***NEW TITLE ANNOUNCEMENT***
Coming to Blu-ray in February from @wbpictures

The Batman ran for 65 episodes debuting in Sept. 2004 and concluding in March 2008. Up until now, it has only been available on DVD, but it's now heading to Blu-ray in a newly remastered set. pic.twitter.com/qgMLwV5iHW

— Dawn of The Discs (@dawnofthediscs) November 16, 2021
Speaking of "The Batman," the folks at Dawn of the Discs, as seen above, have revealed that the animated series, which originally ran from 2004 to 2008, is finally making its way to Blu-ray. While the fan-favorite series had previously been available on DVD, it will now be making its way to HD come February 2022. The outlet also lists some of the special features that will be included with the set, along with the box art.
Hawkeye BFFs Featurette
As we are mere days away from the two-episode debut of "Hawkeye" on Disney+, Marvel Studios has released a brand new featurette focusing on Clint Barton's first solo adventure in the MCU. Specifically, the relationship between Jeremy Renner's arrow-slinging hero and his new partner in stopping crime, Hailee Steinfeld's Kate Bishop. Be sure to check out the video for yourself above.
Tom Holland Suggests Its Time for a Miles Morales Spider-Man Movie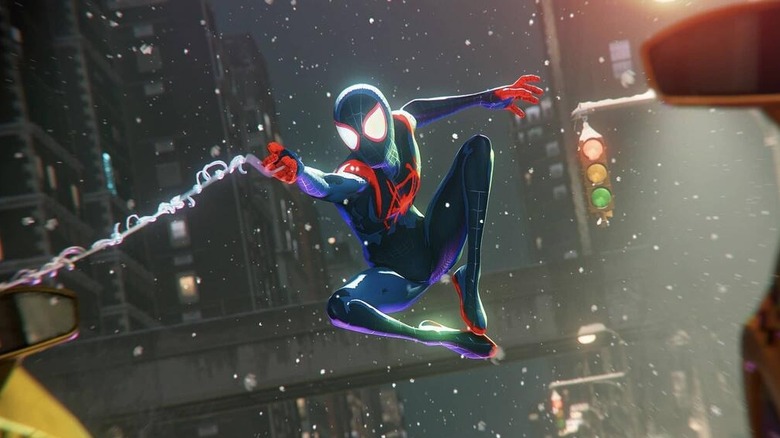 Sony Interactive Entertainment
Tom Holland has been our Peter Parker/Spider-Man since 2016's "Captain America: Civil War." In that time, Daniel Craig made just two "James Bond" movies. Yet Holland has made three "Spider-Man" movies, including "Civil War," "Avengers: Infinity War," and "Avengers: Endgame," in addition to this year's "No Way Home." Now, in a recent profile in GQ, the actor suggests it may soon be time for him to move on and let another actor take the torch. Specifically, it may be time to give Miles Morales his day in the spotlight.
"Maybe it is time for me to move on. Maybe what's best for Spider-Man is that they do a Miles Morales film. I have to take Peter Parker into account as well, because he is an important part of my life ... If I'm playing Spider-Man after I'm 30, I've done something wrong."
Surely many fans would love to see a Miles Morales movie, but a great many would also probably like to see Holland continue on in the MCU. We shall see what happens after "Spider-Man: No Way Home" arrives on December 17.
DC's Handy Holiday Gift Guide
The holiday season is pretty much upon us with Thanksgiving happening next week. As such, it's time to start thinking about gifts for the loved ones in your life. DC has put together a handy holiday gift guide that might help inspire some ideas for any superhero fans out there who you are looking to buy a gift for. The guide is sorted by heroes, which is pretty convenient, and you can check it all out by clicking here.
Tom Holland, Zendaya, and Jacob Batalon React to the No Way Home Trailer
Lastly, Marvel Studios has released a full version of the video where Tom Holland, Zendaya, and Jacob Batalon react to the new "Spider-Man: No Way Home" trailer. The studio released a brief version ahead of the trailer's release, but now we get to see the whole thing, and it's pretty charming. Batalon, specifically, seems to be having a blast seeing all of these old Spider-Man villains returning to the franchise all these years later. Check it out in its entirety above.