Scarlett Johansson Is Working On A 'Secret' Marvel Project, But It's Not Black Widow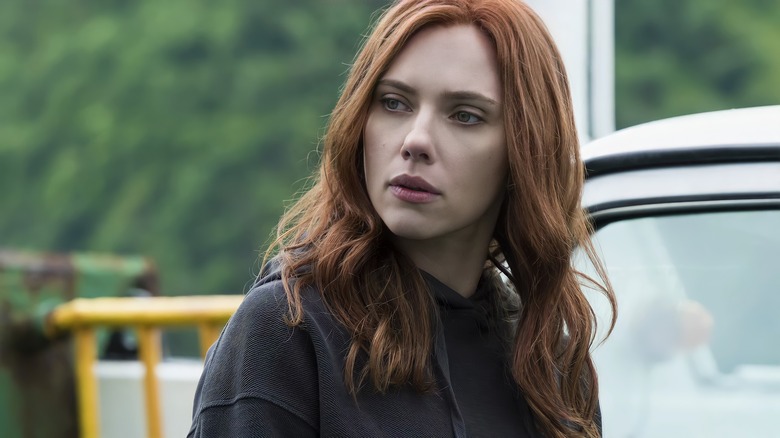 Marvel Studios
Everything's a secret at Marvel Studios, these days. "Eternals" unleashed a surprise character played by an even more surprising actor in a post-credits scene that nobody (well, almost nobody) could've anticipated, dropping a completely new storyline out of nowhere for the Marvel Cinematic Universe to follow in future movies. "Spider-Man: No Way Home" might as well be locked up tighter than the Pentagon, with only a few tell-tale frames in an international trailer possibly hinting at what might be in store. But there's at least one more surprise in the works, apparently, which Marvel Studios boss Kevin Feige himself has chosen to tease ahead of time — in his usual mysterious and vague way.
Last night in Los Angeles (not to be confused with "Last Night in Soho," though I definitely would've watched that version of the movie as well), actor Scarlett Johansson was honored as the 35th recipient of the prestigious American Cinematheque Award, which has been presented on a yearly basis since 1986 to celebrate "an extraordinary artist currently making a significant contribution to the art of the Moving Picture." Johansson, of course, has already cemented her legacy with performances in films such as "Lost in Translation," "Under the Skin," "Marriage Story," and "Jojo Rabbit." Add in her star-making turn as the super-spy Natasha Romanoff in the MCU and it's clear why she was chosen for this award.
Throughout the night, directors, producers, and fellow actors all took to the stage to offer their congratulations and warm praise. But only Feige could turn these proceedings into a guessing game over what "top secret" Marvel project that the two will apparently be collaborating on in the future. 
What's Next?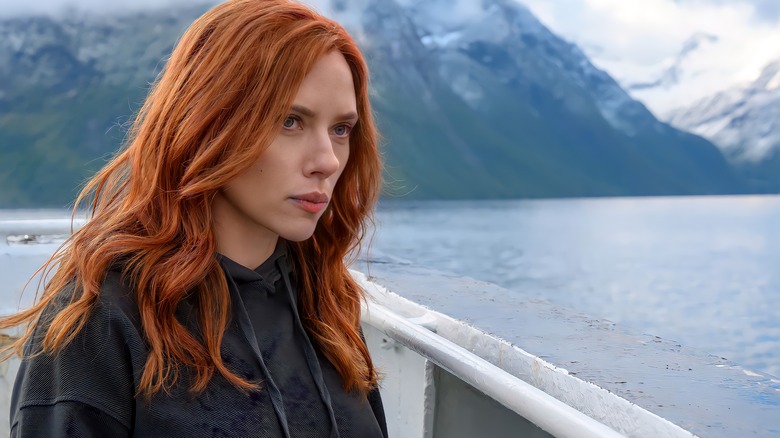 Marvel Studios
Any glamorous get-together of Hollywood A-listers is going to bring its fair share of attention and scrutiny. According to those in attendance — including THR's Chris Gardner, who posted a brief video clip on Twitter — Marvel Studios president Kevin Feige slipped in an intriguing detail amid his glowing praise for Johansson after working together for more than a decade. While focusing on Johansson's integral role in the franchise, culminating with her unprecedented producer credit on this year's "Black Widow," Feige offered up a brief, but eyebrow-raising, tidbit:
"We are already working with Scarlett on another not Black Widow-related top secret Marvel Studios project with her as a producer. Scarlett is one of the most talented, versatile, and beloved actors of our time. It has truly been a pleasure to work with someone of her caliber. From those epic training sessions preparing for the hallway fight in 'Iron Man 2,' to the around-the-world press tour in 'Avengers: Endgame,' to partnering with you as a producer on 'Black Widow,' working with you, Scarlett, has truly been one of the most memorable and rewarding collaborations of my career. Thank you for everything, congratulations, you are of course a real-life superhero."
Natasha Romanoff dramatically sacrificed herself in "Avengers: Endgame" to give the others a chance to complete their mission and defeat Thanos. After returning for another go-around (and one very overdue standalone movie) in "Black Widow," it seemed her work with Marvel was complete — especially after the nasty and drawn-out public dispute between her camp and Disney over breach of contract issues regarding the release of "Black Widow." That has since been resolved, however, and it seems that the star is more than happy to continue her work with Marvel ... in some form.
So what could this be? Actors have portrayed two different characters in the MCU before, and Johansson has already been attached to Disney's "Tower of Terror" movie, but I would guess that this would be more of a behind-the-scenes role — perhaps another producing credit for projects involving the new Black Widow heir-apparent, Yelena Belova (Florence Pugh). Your guess is as good as ours, so get speculating!