Home Sweet Home Alone Ending Explained: Home Is Another Word For Family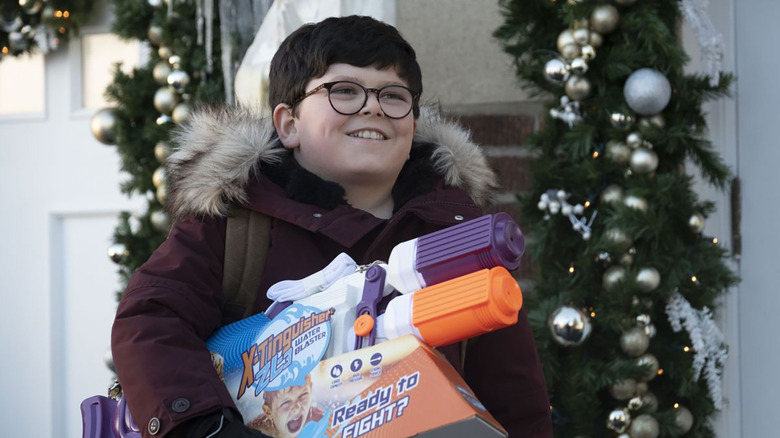 Disney+
Since its release over thirty years ago, "Home Alone" has become a traditional holiday watch for families all around the globe. When the Walt Disney Company purchased 20th Century Fox, a new installment of the kid-centered holiday classic was inevitable. Rather than focus on legitimate baddies like Harry (Daniel Stern) and Marv (Joe Pesci), and a precocious Kevin (Macaulay Culkin), we're given a sympathetic couple down on their luck in the form of Jeff (Rob Delaney) and Pam McKenzie (Ellie Kemper), and a rich sociopath named Max Mercer (Archie Yates of "Jojo Rabbit" fame) in "Home Sweet Home Alone."
When we're first introduced to Jeff and Pam, it's during an open house; Jeff has lost his job and the couple can no longer afford their mortgage on Pam's sole income as a teacher. During the open house, Max and his mom Carol (Aisling Bea) show up in order to let Max use the bathroom. While looking around the house, Max notices a collection of antique dolls left to Jeff by his late mother and Carol notes that she saw on an antique show that the dolls are worth a lot of money. Jeff later looks up and sees the value of one of the defective dolls is worth nearly $200,000 — enough for the couple to save their home. Unfortunately, Max being the little butthole he is, Jeff assumes he stole the priceless doll — forcing Jeff and Pam to pursue desperate measures to get it back. All the while, Max is left home alone while his family celebrates overseas.
Attempting to Subvert the Formula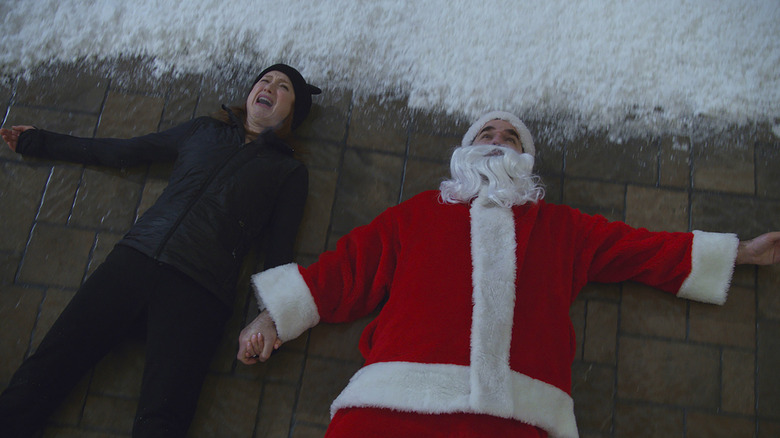 Disney+
The decision for director Dan Mazer and writers Mikey Day and Streeter Seidell to attempt to subvert the "Home Alone" formula was an ambitious one, and the end result has been polarizing to fans and critics alike. While slapstick moments of violence absolutely exist, the comedy of "Home Sweet Home Alone" lies more in its character work. Rather than focus on the sentiment of family being the reason for holiday celebration, the sentiment is centered on the relatable struggles of Jeff and Pam during the holiday season.
Max's attack on Pam and Jeff is rooted in a misunderstanding of Max believing they're trying to kidnap and sell him (they were referring to the doll), not the legitimate threat of harm posed to Kevin McCallister in the original two films. As Carol flies home from Tokyo to be with her son, Jeff and Pam are bested time and time again by Max's traps.
After finally telling Max they just want the doll back, it is revealed that he did not steal it. In the process, the misunderstanding gets cleared up and Jeff and Pam bring Max to their home to stay safe while he waits for his mom to return to Chicago. Without the possibility of selling the doll, the couple are unfortunately forced to tell their children about selling the home
So How Does it End?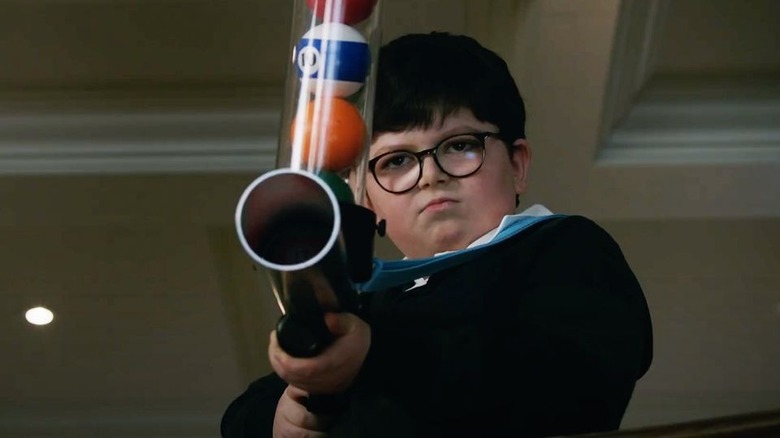 Disney+
After confessing the truth about why Kenan Thompson (who plays their realtor) has been hanging around so often, the family all wonders what really happened to the priceless doll. It is then that Ollie, Jeff and Pam's nephew who is visiting for the holidays, comes out from the bedroom holding the doll. The youngster throws the doll in the air and everyone dives in slow motion to catch the porcelain figure. In a moment of redemption, Max catches the doll and saves the day. Carol is eventually reunited with Max, and the film ends with a vision of a year later, with Carol and Max having Christmas dinner at Jeff and Pam's home (the one they did not have to sell, due to Max's saving of the valuable doll). As Pam says, "home is just another word for family."
It's a very sweet ending on the surface, but one that feels very odd considering just how wholly unlikable and vindictive Max has been through the entire movie. He's a huge pain from minute one, and unlike "Home Alone" or even "Home Alone 2: Lost in New York," we don't spend a lot of time with Max or get to learn why he acts the way he acts, or have any moments of redemption. We also don't have much investment in Carol's journey home, so her reunion with Max doesn't pull on the heartstrings the way Catherine O'Hara and Macaulay Culkin could in the originals. Here's hoping Jeff and Pam gave a little bit of their $200,000 for the therapy this kid desperately needs.