Home Sweet Home Alone Review: A Perversely Enjoyable And Surprising Subversion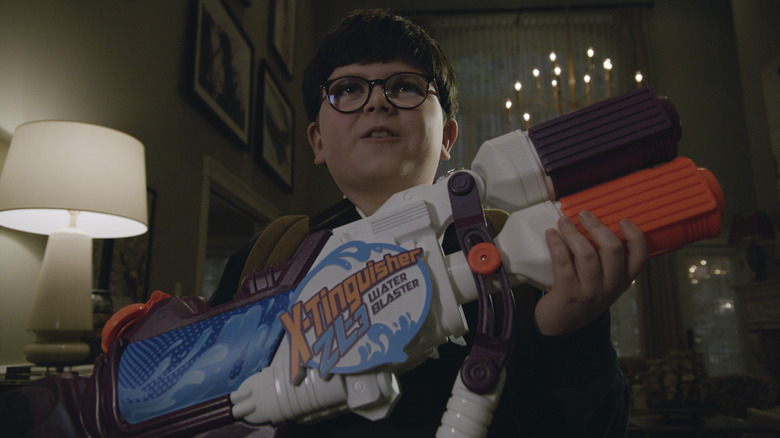 Disney
It was inevitable that there would be a new "Home Alone" movie. Years after the Walt Disney Company purchased 20th Century Fox in the hopes of, at the very least, mining its intellectual property for all it's worth, the "Home Alone" franchise is one of Fox's crown jewels. Deservedly or not, the series (though let's be honest, it's really just the first two movies) is seen as a holiday standby, and Disney never saw a franchise it couldn't extend just a little bit further. And so we have the new Disney+ original film, "Home Sweet Home Alone," which ostensibly has the same premise as the 1990 original, but subverts the premise in ways that end up making it almost perversely enjoyable.
In short, "Home Sweet Home Alone" asks this question to establish its own premise: what if the thieves were the good guys? The story begins with Pam and Jeff (Ellie Kemper and Rob Delaney), a happily married couple in Illinois who are struggling with financial hardship. Though Pam works as a teacher, Jeff's been out of work for a few months and unfortunately, it looks like they'll have to sell their house, the one where they raised their two kids. That is, until a visitor at an open-house event being thrown by their realtor (Kenan Thompson) points out that Jeff's mother's old dolls might be worth some money, and by "some money", I mean hundreds of thousands of dollars. It's a great turn of events, until the doll vanishes and both Pam and Jeff believe it's been stolen by a neighborhood brat.
It is here you may wonder, "Isn't the point of a 'Home Alone' movie that a kid is left alone at home by his family?" And yes, that's where we should bring in the neighborhood brat, an English boy named Max (Archie Yates). It's his mother who happens to point out to Jeff that the dolls could be priceless collectibles, and it's he who Jeff and Pam believe stole the doll, leading them to try their hand at breaking into his family's house over the Christmas holiday, only to be attacked by Max through a series of modern booby traps. But Max is decidedly the supporting character in "Home Sweet Home Alone", and for much of the film, he is arguably the antagonist. It's easy enough to watch the original "Home Alone," which is firmly ensconced in holiday culture in spite of being a smug piece of sentimental pablum, and see Kevin McAllister as something of a budding sociopath. But at least there, you can somewhat contextualize his actions towards Marv and Harry as being deserving — they're bad dudes because they're career criminals with no qualms about hurting children. When Max lays into Pam and Jeff, you feel a lot more sympathy for the adults than the kid.
A Holiday Surprise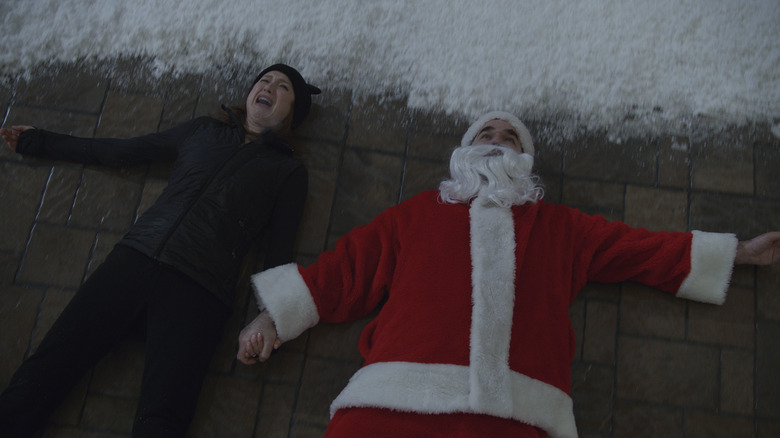 Disney
Both director Dan Mazer (one of the co-writers of the first "Borat" movie) and writers Mikey Day and Streeter Seidell (of "Saturday Night Live," specifically having co-written the David S. Pumpkins sketch with Tom Hanks) have a good deal of fun with the upended first hour of "Home Sweet Home Alone." From the first scene, in which Max snidely insults Jeff and Pam, "Home Sweet Home Alone" is steering into the skid of making the kid pretty intensely obnoxious, stacking the deck against him well before his family even goes on their big holiday trip to Tokyo. If you want to be charitable — and unfortunately, the final 10 or so minutes of "Home Sweet Home Alone" either chooses to be or was forced to be by studio executives — Max is on the same level with Jeff and Pam, all three of them frustrated and misunderstood and simply trying their hardest to have a good holiday.
Delaney and Kemper are unsurprisingly quite charming (though Kemper's innate sweetness as a performer makes the inevitable violent, "Looney Tunes"-style pranks in the final half-hour hurt all the more because she's so likable) as the adult leads. Unlike Marv and Harry, neither Jeff nor Pam are career criminals, and Delaney and Kemper dive into their characters' blend of desperation and terror really effectively. Yates, last seen in "Jojo Rabbit," does a decent enough job of making Max feel like a spiritual successor to Kevin McAllister, in that Max is enormously obnoxious and precocious. But it's the adults' show — even supporting performers like Tim Simons, Andy Daly, Thompson, and Pete Holmes make more of a mark.
That, in effect, makes "Home Sweet Home Alone" a curious beast, and an especially odd choice for Disney+ to make its big original-film release on their self-created celebratory "Disney+ Day" on November 12. Yes, it's based on familiar IP, and there are a couple of tie-ins to the original films, including a cameo (but not from Macaulay Culkin, so don't get that excited). And it's not as if this low-budget comedy, which spends a good chunk of its running time in two different suburban houses, would be better served on the big screen. But "Home Sweet Home Alone" runs counter to whatever standard expectations any audience member would have about what to expect from a film in this franchise. To those of us who disdain the original, that actually works in its favor for the first hour. To others, this film may be alienating and perplexing. But it's a pleasant holiday surprise if you're willing to go with it.
/Film Rating: 6 out of 10