Secret Invasion First Look: Nick Fury And The Skrulls Play Spy Games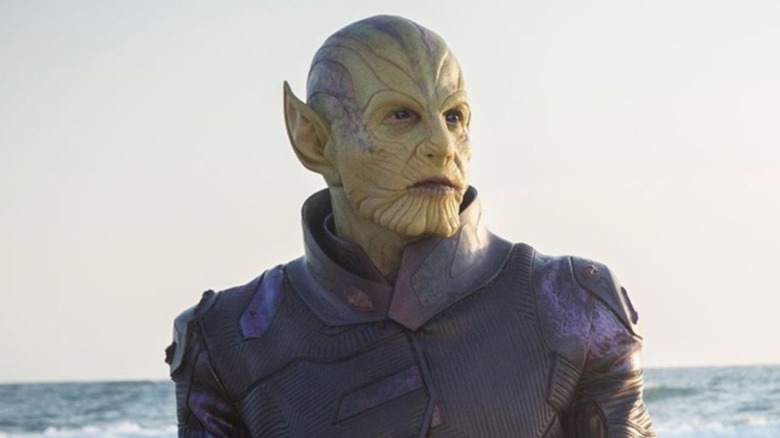 Marvel Studios
Nick Fury's vacation in space is about to end, and the Marvel Cinematic Universe is about to contend with an invasion of rogue Skrulls. The Disney+ series "Secret Invasion" takes its name from a comic book miniseries and crossover event that involves "a faction of shapeshifting Skrulls who have been infiltrating Earth for years."
"Captain Marvel" first introduced Skrulls into the MCU, and while it did play on their villainous comics history, it ultimately portrayed them in a more positive light, as space refugees from the nefarious Kree. Talos (Ben Mendelsohn) and Soren (Sharon Blynn) showed up again in the "Spider-Man: Far from Home" post-credits scene, where it was revealed that they had been on Earth impersonating Nick Fury (Samuel L. Jackson) and Maria Hill (Cobie Smoulders) all throughout the movie. However, they were doing it at Fury's behest while he vacationed on a holographic beach in space.
"Secret Invasion" has the potential to explore the paranoia of an MCU where anyone can be a rogue Skrull and no one can be trusted. Disney+ Day has given us our first look at the series, and you can see it below.
Secret Invasion First Look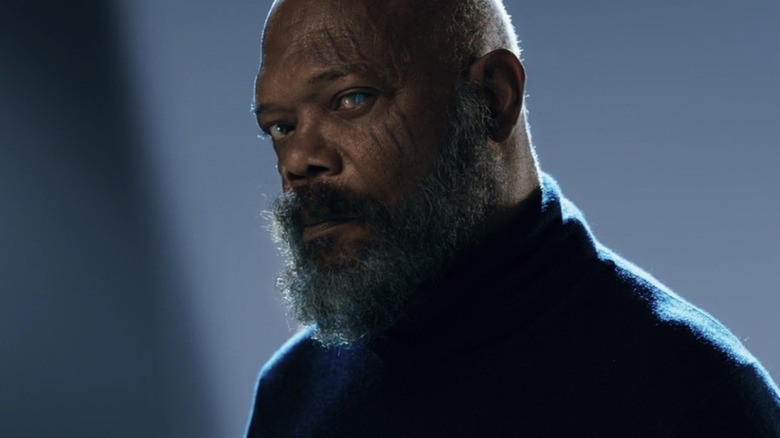 Disney+
In the comics, the Skrulls are able to impersonate well-known heroes like the male Captain Marvel (Mar-Vell), Hank Pym (played by Michael Douglas in the "Ant-Man" movies), Elektra, and Spider-Woman, some of whom don't exist yet in the MCU (unless they decide to retcon the 2005 "Elektra" movie, starring Jennifer Garner, as part of a new Marvel multiverse, inclusive of both Sony and Fox movies past).
In "Secret Invasion," Jackson, Mendelsohn, and presumably Blynn will be joined by "Game of Thrones" luminary Emilia Clarke as well as Kingsley Ben-Adir — who portrayed Malcolm X in "One Night in Miami" — and Olivia Colman, who won an Emmy this year for "The Crown" and an Oscar two years ago for "The Favourite" (she was nominated again this year for "The Father" as well.) Killian Scott and Christopher McDonald round out the cast.
Kyle Bradstreet ("Mr. Robot") serves as the showrunner for "Secret Invasion," though of course, executive producer and Marvel Studios president Kevin Feige still serves as a showrunner of sorts for the MCU as a whole. Jonathan Schwartz ("Shang-Chi and the Legend of the Ten Rings") is co-executive producing with Feige, and he told our own Ben Pearson that "Secret Invasion" will bring "a very different flavor" to the MCU. Thomas Bezucha and Ali Selim will direct the six-episode series.
"Secret Invasion" just began production last month and there's no release date for it yet, but it's expected to hit Disney+ in 2022.