Mother/Android: Release Date, Cast, And More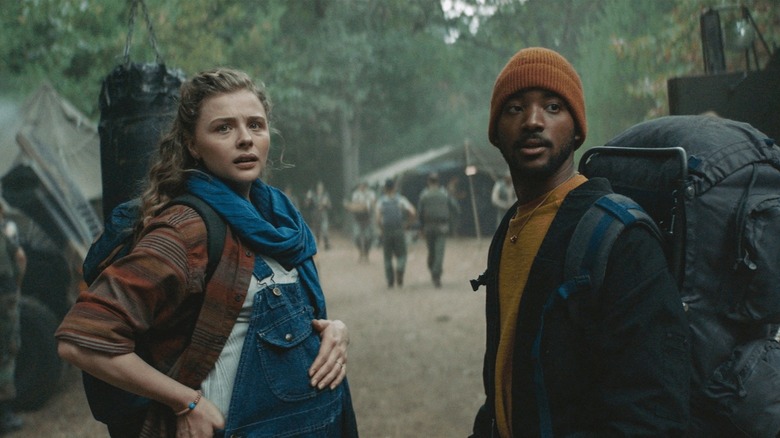 Hulu
(Welcome to ...And More, our no-frills, zero B.S. guide to when and where you can watch upcoming movies and shows, and everything else you could possibly stand to know.)
You might not know Mattson Tomlin by name just yet, but he's someone to keep an eye on. The up and comer served as a writer on "The Batman," director Matt Reeves' Fincher-esque big screen reboot of the DC superhero property starring Robert Pattinson (and a substantial amount of black eyeliner) as a young, extra-broody Bruce Wayne. Reeves has now repaid the favor to Tomlin by producing his next directorial effort, "Mother/Android," under Reeves' 6th and Idaho Productions.
Artificial intelligence and robotics are clearly subjects of interest for Tomlin, given that he's also the showrunner on Netflix's "Terminator" anime series and is scripting a live-action film adaptation of the "Mega Man" video games. But unlike those projects, "Mother/Android" is an original creation and doesn't draw inspiration from an older IP or franchise. Here's what we know about the dramatic sci-fi thriller at this point in time.
Mother/Android Release Date and Where You Can Watch It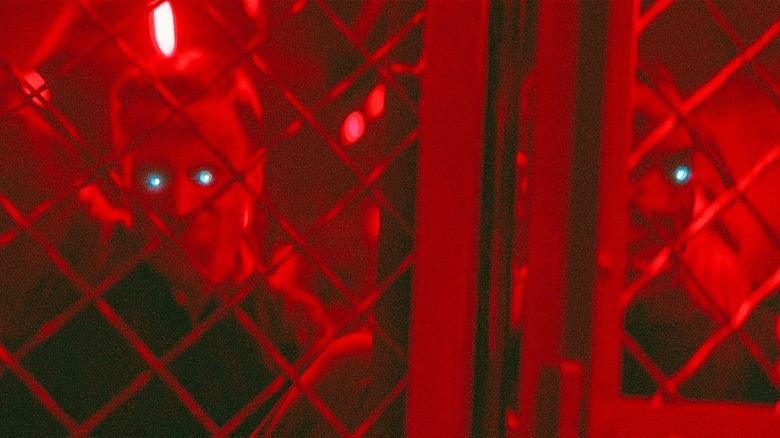 Hulu
Hulu acquired the rights to "Mother/Android" earlier this year and plans to debut the film on December 17, 2021. The streamer continues to lag behind its biggest competitors when it comes to subscriber numbers, yet has enjoyed great critical success recently with original series like "Reservation Dogs" and "Only Murders in the Building," as well as many of its FX on Hulu shows. When it comes to movies, however, Hulu is still finding its footing compared to other major contenders in the streaming wars.
After releasing such talked-about hits as "Palm Springs," "Run," and "Happiest Season" in 2020, Hulu's exclusive film offerings this year have mostly come and gone without making much noise, least of all compared to the most-watched releases on other platforms. "Mother/Android" may have a difficult time standing out as well, especially with so many other new streaming titles arriving around the winter holidays. Of course, there's nothing to prevent it from becoming sleeper hit if its reviews are good.
What Is Mother/Android?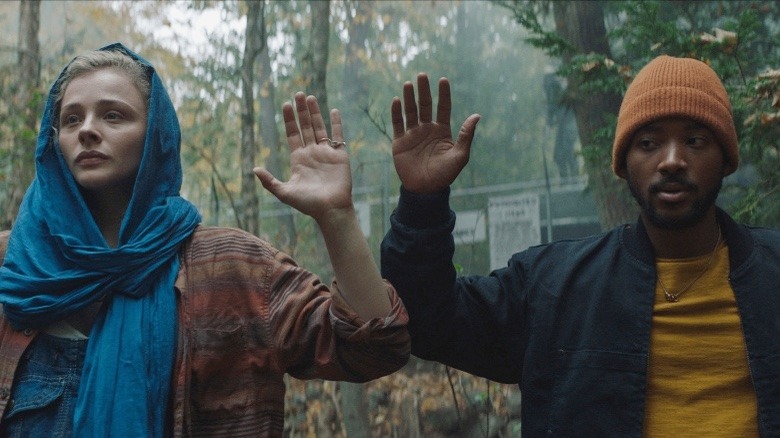 Hulu
Here's the synopsis for "Mother/Android":
Set in the near future, Mother/Android follows Georgia and her boyfriend Sam through their treacherous journey of escape as their country is caught in an unexpected war with artificial intelligence. Days away from the arrival of their first child, they must face No Man's Land — a stronghold of the android uprising — in hopes of reaching safety before giving birth.
It's a relatively vague plot summary, as far as the movie's sci-fi setting and world-building go. The line about the "android uprising" makes it sounds like "Mother/Android" takes place in a future reminiscent of the "Blade Runner" universe, with androids and humans living side by side before things take a turn into "Terminator" territory. It's also hard to tell whether the war between humanity and androids mostly serves as a glorified backdrop to the more grounded story of people trying to protect their loved ones in a time of great conflict (think how the alien invasion functions in "A Quiet Place") or if the sci-fi elements are woven deeper into the film's themes about parenthood.
Mother/Android Cast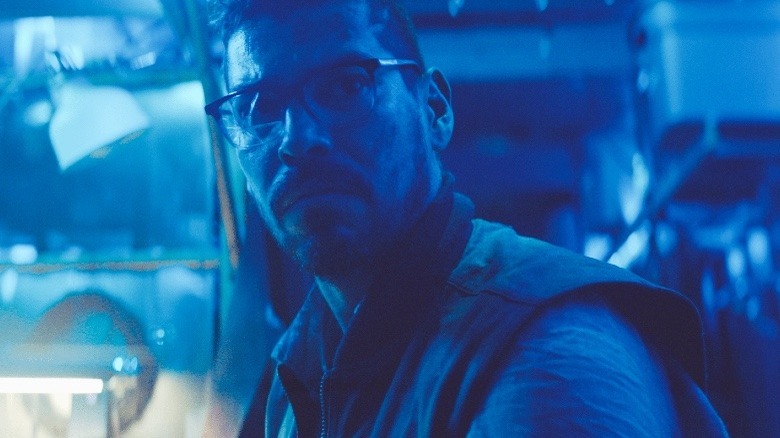 Hulu
Chloë Grace Moretz ("Shadow in the Cloud"), and Algee Smith ("Judas and the Black Messiah") are starring in "Mother/Android" as Georgia and Sam, with Raúl Castillo ("Army of the Dead") co-starring as Arthur, a character whose role in the film's story has yet to be revealed.
Supporting cast members include Oscar Wahlberg ("Manchester by the Sea"), Steve M. Robertson ("Channel Zero"), Kate Avalione ("Castle Rock"), Owen Burke ("CODA"), Jared Reinfeldt ("Gossip Girl"), and Jose Guns Alves ("Billions") as characters whose listed names range from "Derrick" to "Shotgun Guy." It's tricky to tell who's playing a human and who's playing an android in the movie, with exceptions like Johnny Halloran ("Kevin Can F*** Himself") and David Arthur Sousa ("Anastasia"), whose roles are simply described as "Android in Window" and "Android," respectively. Then again, it's possible the question of who's a human and who's not will factor into the plot, as it so often does with sci-fi offerings of this ilk.
Mother/Android Director, Writers, and More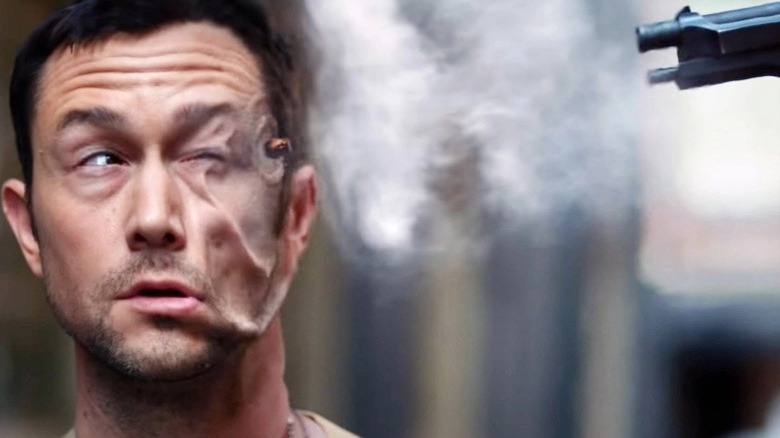 Netflix
Tomlin is the sole writer and director on "Mother/Android," marking his third time calling the shots on a feature-length film. He previously helmed the thrillers "The Projectionist" and "Solomon Grundy," the latter of which gets its name from the 19th century nursery rhyme and not the DC Comics super-villain (lest anyone mistakenly presume "The Batman" isn't Tomlin's first DC movie). As a writer, Tomlin also co-wrote Netflix's 2020 super-powers thriller "Project Power" and this year's "Little Fish," a critically acclaimed romantic drama that unfolds against the backdrop of a pandemic causing its victims to lose their memories.
Miramax CEO Bill Block is joining Reeves as a producer on "Mother/Android," with Patrick Scola ("Pig") serving as cinematographer and Carisa Kelly ("You Were Never Really Here") acting as costume designer. Tomlin, as mentioned, is quickly making a name for himself, and has so far found a way to divide his attention between working on interesting original projects and the kind of multimedia adaptations that studios and streaming services value above all else. So, while you're waiting to see what he and Reeves do with the Caped Crusader, perhaps consider giving this one a glimpse.