Superhero Bits: Spider-Man: No Way Home Getting Released In China, Supergirl Series Finale Trailer & More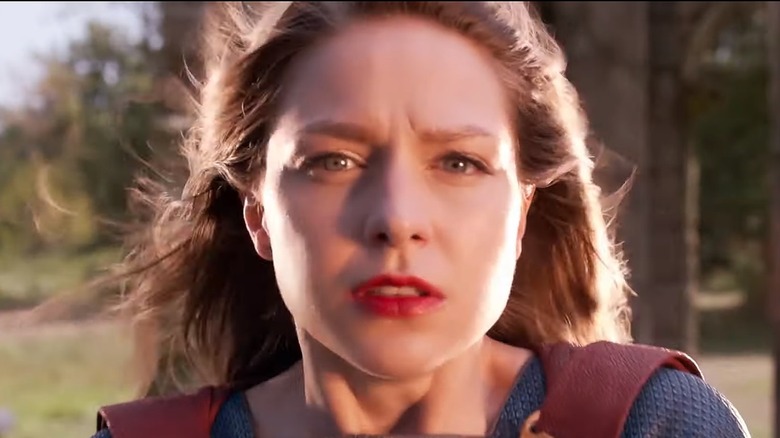 The CW
(Superhero Bits is a collection of stories, updates, and videos about anything and everything inspired by the comics of Marvel, DC, and more. For comic book movies, TV shows, merchandise, events, and whatever catches our eye, this is the place to find anything that falls through the cracks.)
In this edition of Superhero Bits:
The "Supergirl" series finale gets an epic trailer.
"Spider-Man: No Way Home" is heading to China.
The CW's "Naomi" gets a premiere date.
"Black Panther 2" might bring T'Challa's son into the mix.
Marvel's Avengers Labeled a Disappointment by Square Enix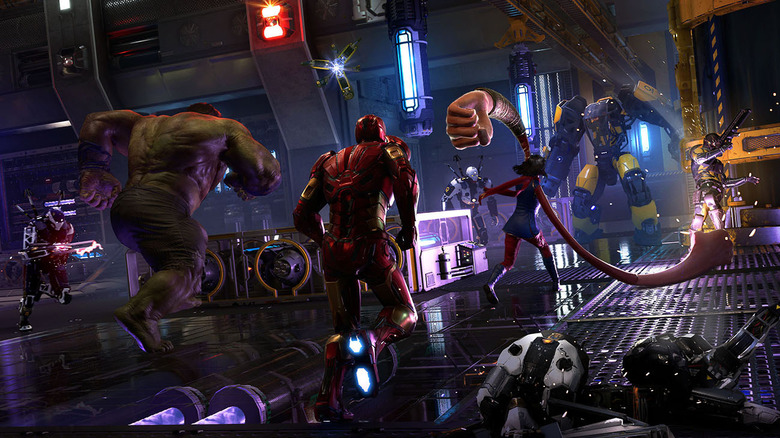 Marvel
"Marvel's Avengers" was a good idea but the video game simply didn't work the way it needed to. It's now mostly in the rearview mirror. However, Square Enix, the studio behind the game, has labeled the game a disappointment. As reported by PC Games, during the studio's recent annual report, company president Yosuke Matsuda said the following:
"While the new challenge that we tackled with this title produced a disappointing outcome, we are certain that the GaaS (gaming as a service) approach will grow in importance as gaming becomes more service-oriented. How we go about creating new experiences by incorporating this trend into our game design is a key question that we will need to answer going forward."
Luckily, things are looking better for "Marvel's Guardians of the Galaxy" thus far. Onward and upward.
Naomi Gets a Premiere Date On The CW
Mark your calendars, DC fans. As revealed in the above tweet, Ava DuVernay's "Naomi," the latest DC Comics series heading to The CW, has locked down a premiere date. The show is now set to arrive on Tuesday, January 11. Plan accordingly.
Black Panther 2 To Introduce T'Challa's Son?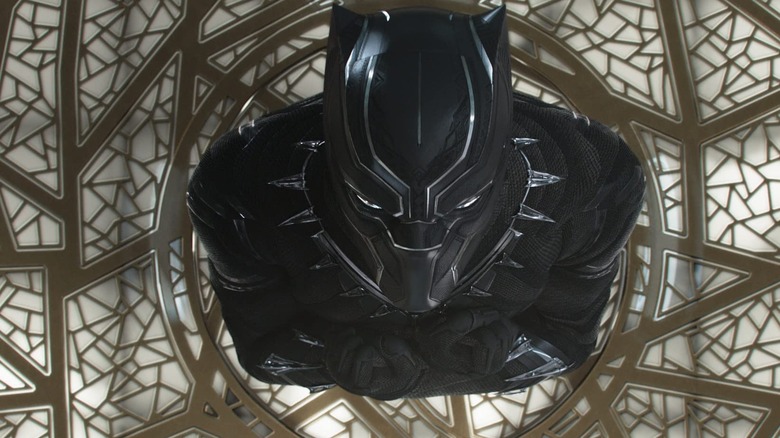 Marvel Studios
It's everyone's favorite time, and that's rumor time. For now, this one is pretty thin so don't get ahead of yourselves. That said, the folks at Cosmic Circus are reporting that the upcoming "Black Panther: Wakanda Forever" is set to introduce us to T'Challa's son. Given that Chadwick Boseman tragically passed away, the mantle of Black Panther will be passed to someone else in the sequel. Bringing in his son would be a further way to honor that character's legacy. It's an interesting idea, but comes from a source that is less-than-airtight. But with the movie's production shut down temporarily, it gives us something to think about.
Eternals: #1 Movie In The World Spot
Marvel has released a new TV spot for "Eternals," which finally made its way to theaters over the weekend. And it managed to handily beat the competition at the box office, despite heading into theaters under the shadow of mixed reviews from critics. In any event, Marvel and Disney are (understandably so) boasting that director Chloe Zhao's MCU flick is the biggest movie in the world at the moment. Check out the spot for yourself above.
James Gunn Seemingly Reveals Star-Lord Isn't a Celestial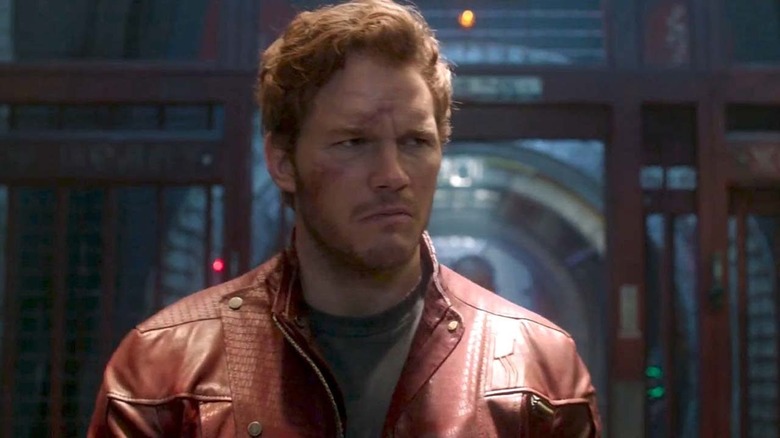 Marvel Studios
We learned that Peter Quill, aka Star-Lord, played by Chris Pratt, had unique family ties in "Guardians of the Galaxy Vol. 2." Namely that he was technically half-Celestial as his father was Ego. However, responding to a fan on Twitter wondering about Quill's status as "Guardians of the Galaxy Vol. 3" has kicked off production, Gunn seemingly implied that the character is not a member of the power race.
i hope @JamesGunn can show the real powers of starlord in #GuardiansOfTheGalaxy 💥 https://t.co/m6LwNEEkhN

— Silent Killer (@Attitudist) November 7, 2021
He gave all that up.

— James Gunn (@JamesGunn) November 7, 2021
Given that "Eternals" dives deeper into the Celestials, this is an interesting development. We'll have to wait until "GOTG3" hits theaters to see what exactly it all means.
Eternals Has The Lowest CinemaScore Ever for An MCU Movie
The folks at CinemaScore have revealed that Marvel's "Eternals" has earned a B CinemaScore from moviegoers following its first weekend in theaters. To be clear, that is still quite good, but it is the lowest score of any MCU movie to date. It just illustrates how crowd-pleasing these movies have been for more than a decade, and the fact that a B is the low-end of that curve is downright stunning. Any other studio in Hollywood would kill for that to be considered a disappointment. Make no mistake about it.
The Rock's Black Adam Is Going To Push the Limits of PG-13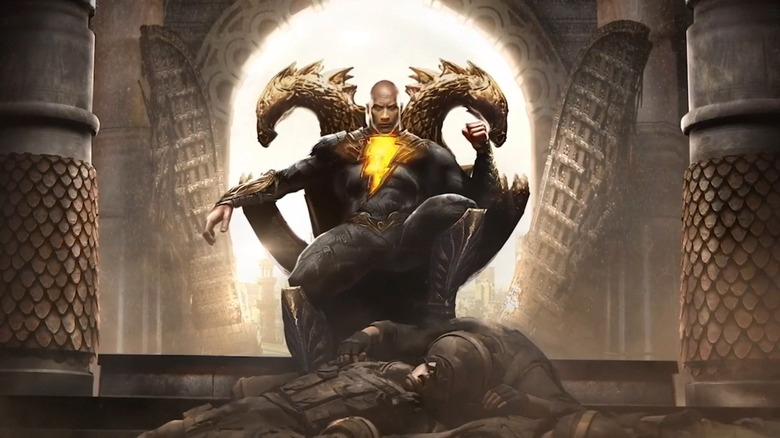 Warner Bros.
We recently got a glimpse of Dwayne "The Rock" Johnson's long-awaited "Black Adam" movie during DC FanDome. It looks quite violent and unique, given what little we've seen. Now, in a recent interview with Comic Book Resources, producer Hiram Garcia asserts that it will be on the grittier side of things, expressing that it will push the limits of what can be done in a PG-13 movie. Says Garcia:
"Black Adam is edgy, right? That's gonna be a PG-13 movie where it was very much like, say, The Dark Knight, where that pushed the edges of PG-13. I think we do that very much with Black Adam. We have a very high kill count in our movie."
A high kill count, eh? Sounds like they aren't skimping on the violence here. How that might gel with an eventual, potential crossover with "Shazam" remains to be seen.
Spider-Man: No Way Home Getting Released In China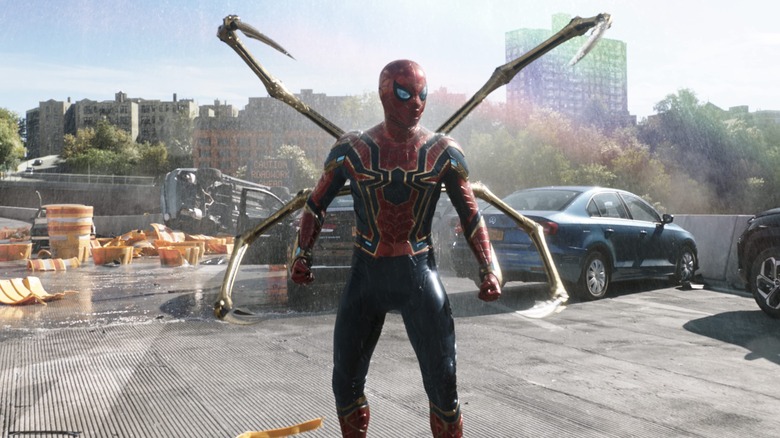 Marvel Studios
As reported by Variety, it appears as though "Spider-Man: No Way Home" is getting released in China, and that's actually a huge deal. Sony has apparently released a Chinese version of a poster for the movie, indicating the release plans. This is significant because Chinese authorities have been extremely strict about which American movies will be released in the country, which is currently the largest moviegoing market in the world. Huge blockbusters such as "Shang-Chi and the Legend of the Ten Rings" and "Venom: Let There Be Carnage" have had to sit it out in China, costing potential millions at the box office. This could set "No Way Home" up as the biggest Hollywood movie of the year. 
Supergirl Series Finale Trailer
Lastly, we have a brand new, action-packed trailer for the "Supergirl" series finale. After six seasons, Melissa Benoist's Kara is getting ready to pack it in, but not before one last epic ride, if this trailer is anything to go on. The synopsis for the episode reads as follows:
In the epic series finale, Supergirl (Melissa Benoist) is joined by familiar faces from the past to help her stop Lex (guest star Jon Cryer) and Nyxly (Peta Sergeant) for good. Meanwhile, Alex (Chyler Leigh) and Kelly (Azie Tesfai) prepare to walk down the aisle. 
The episode, directed by Jesse Warn and Rob Wright and Derek Simon, airs this Tuesday, November 9 on The CW.