Celebrate The Release Of Spencer With This, Uh, KFC Princess Diana Jumper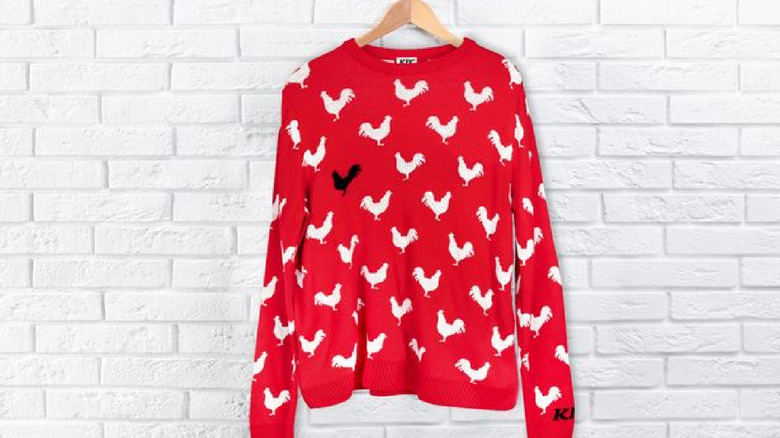 Kentucky Fried Chicken
In the day's most unpredictable headline, the chicken-mongers at KFC have commemorated "The People's Princess" in their own unique way: by hawking branded sweaters in her name. Yes, the popular American fast food chain Kentucky Fried Chicken has just launched a sustainably-sourced jumper inspired by an iconic '80s outfit worn by Lady Diana Spencer, once the Princess of Wales.
The KFC Lady Di sweater is being unveiled in tandem with the recent release of Pablo Larraín's biopic "Spencer," which focuses on the terminus of Diana's marriage to Prince Charles in the early '90s. KFC's wool jumper is a limited-edition release, available to the first one hundred "fans" to visit KFC's Leicester Square location and buy a...Bargain Bucket. Surely, the iconic and graceful figure that Elton John dubbed an "English Rose" is grateful for the gesture.
Meat Merchants Monetize Shy Di Threads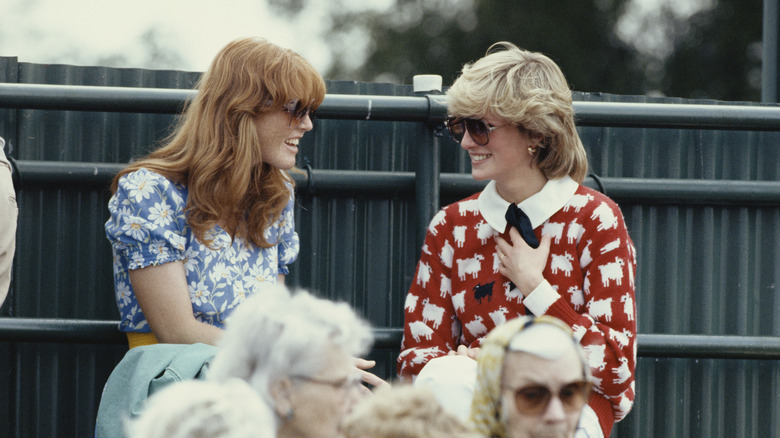 Georges De Keerle/Getty Images
The jumper is modeled directly after the notable sheep-printed sweater that Diana wore to a Windsor polo match in 1981, designed by Sally Muir and Joanna Osborne of the Warm and Wonderful knit studio in London. Featuring a repeating pattern of white sheep across a bold red background, the conspicuous inclusion of a single black sheep on the sweater raised eyebrows at the time, as it was seen as a reflection of Diana's parallel black sheep status within the royal family she married into. 
Diana, a commoner before Charles set his sights on her, was saying something without saying anything; the move was one of the first in which press noticed that the then-nineteen year old royal was making statements through her fashion, knowing that all eyes were on her and scrutinizing every move she made. 
Diana would wear the sweater again at a more mature time in her life, at another Windsor polo match in 1983. This time, she'd pair it with fitted white denim instead of the dainty feminine collar and blue jeans she wore two years prior. The designers, Muir and Osborne, detail the impact of the moment for them on their blog:
It was a VERY big surprise to find our jumper on the front pages of the Sunday newspapers. She was given it by the mother of one of her pageboys and impressively she had the sense of humour to wear it. We're forever grateful to her, her unwitting support transformed our fledgling business and we were having our 15-minutes moment. More royal support followed, our jumpers were sought after, and People Magazine whisked us off to a sheep sheering competition where we coyly sat wearing sheep jumpers amongst hundreds of sheep.
Get the O.G. Without Selling Your Soul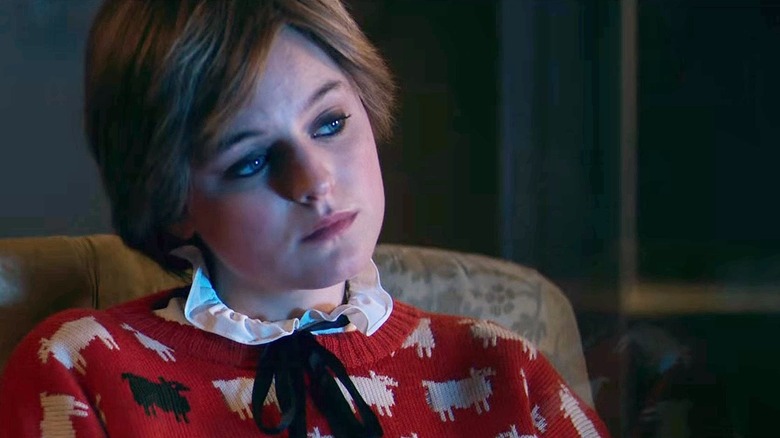 Neon
Diana's jumper is so well-known among royal fans (we could call them Loyalists in the 1776 spirit, but no Diana supporter is truly loyal to the regal establishment, are they?) that it was also featured in Sony and Netflix's period drama "The Crown." While it's nice that chicken-enthusiastic sartorialists have something to sport while they work on a bucket of drumsticks, the entire affair has a thin layer of film over it, coated in Girlboss commodification. 
KFC's prior venture was "A Recipe for Seduction," the collaborative Lifetime short film starring Mario Lopez as KFC spokesfigure Colonel Sanders. Definitely the corporation you want celebrating your legacy. One could easily see the jumper sitting alongside the Ruth Bader Ginsburg "Notorious RBG" enamel pins and the Frida Kahlo finger puppets that languish at airport convenience shops, and that's not a good thing. 
Diana's death has long been one of the greatest blessings to the trademarked memorabilia business – contemporary articles highlight the rush for licensed and unlicensed Di merch in the wake of the car collision that claimed her life in 1997. It's fun, we're fun people, and if we're being realistic, plenty of people have some sort of memorabilia of a dead celebrity they admired. Diana meant much, to many. But the commodification of prominent women figures, especially if they were progressive or pioneering (many are prominent because they were the first to do this or that in male-dominated fields and a system working against them), is lowkey vulgar. 
The original sheep design is available online from Muir & Osbourne themselves, and you don't have to compromise your progressive principles to get the look if you're cool with a donation to Doctors Without Borders to get the knitting pattern.
Now that's a move from the heart; Diana would love it.