How The Crown Helped Kristen Stewart Play Princess Diana In Spencer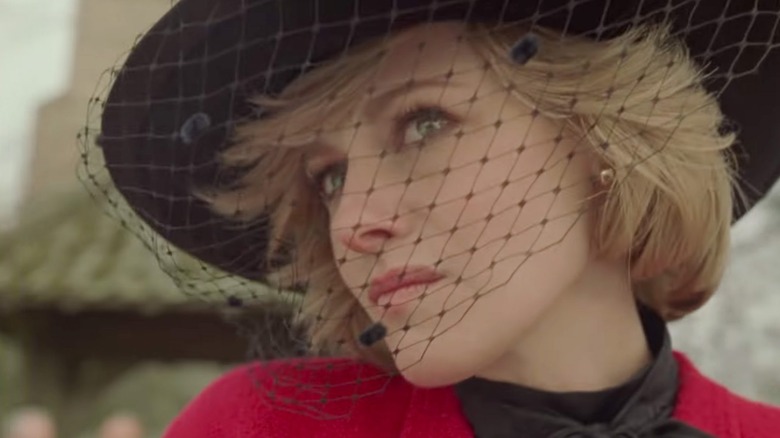 Neon
Princess Diana has been a subject of fascination since she married into the royal family. In the 40 years since, there's been no shortage of biographies, documentaries, and fictional retellings — some more distasteful than others — but lately we've been inundated with new dramatizations of the People's Princess. Diana recently stole center stage in season 4 of "The Crown," was the focus of a cringe-worthy Broadway musical, has a new docuseries coming to CNN and will soon be portrayed by Kristen Stewart in Pablo Larraín's latest, "Spencer." Taking on the role was daunting for the team, with even Larraín calling Diana an "uncrackable mystery." But for Stewart, the many different approaches and iterations to telling her story ended up becoming a helpful tool.
Importantly, "Spencer" is neither a documentary nor a biopic and according to Stewart, "doesn't profess to know anything." Rather than delving into the heavily detailed story of Diana Spencer's life, the film deems itself "a fable" based on "true tragedy." Naturally, in her four months of preparation, Stewart took special care to consume everything she could. There's no shortage of material, and her research included everything from actual interviews and documentaries, to biographies and Diana'a own writings. It also meant diving into other fictional accounts, for which Stewart was grateful. She told Variety, "I read everything. And somehow, in a sort of abstract way, the script substantiated everything I learned in detail. So it was really nice that 'The Crown' existed. And it was really nice that we've had all these documentaries and this evolved relationship with what happened."
Kristen Stewart's Diana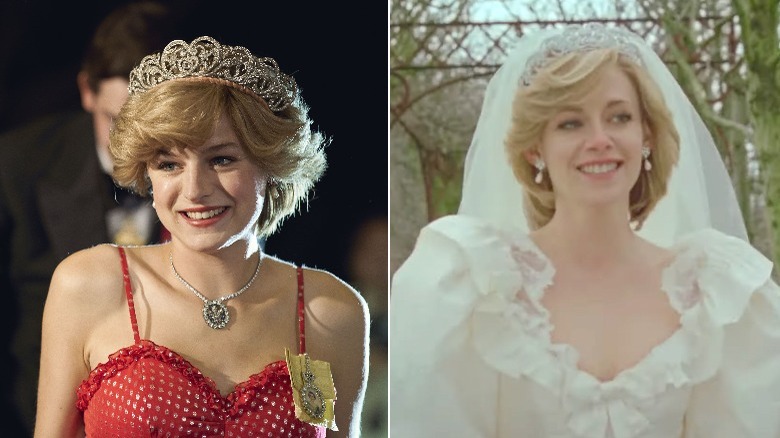 Netflix / NEON
The fourth season of "The Crown" had no choice but to center Diana once it caught up to the early days of her relationship with Prince Charles. Emma Corrin's empathetic performance and the enduring interest in the downfall of this royal marriage made focus on her inevitable — Princess Diana is a crucial part of the Royal Family's lasting legacy. The upcoming fifth season is expected to continue down this road, with heavy focus on the end of the couple's marriage. In its typical fashion, "The Crown" does this exploration through grand historical and often public moments, reframing them with interior detail. The fourth season dedicated episodes to the beginning of the couple's relationship, the lead-up to their wedding and famous photo-ops, like Diana's visit to the AIDS ward in Harlem. To contrast. "Spencer" dedicates its runtime to one particular weekend — one unpublicized moment in Diana's life as she endures a long, terrible holiday with the royal family. 
"The Crown" certainly makes times for quiet reflection and characters revelations, but anchors itself with well-know scandals, moments and photos. Stewart was drawn to "Spencer" because it had no interest in that kind of retelling. She said:
"We're not trying to educate anyone, we're not trying to solve anything. We're also not trying to figure out whether or not we should have a monarchy. What did it feel like to be her? Think about what those nights were like, think about what those meals were like."
Stewart went on to add that the film could have centered "the dinners and opening presents and the photo ops, but they didn't. They were getting dressed, cleaning up dirty dishes, and you know, crumpled up wrapping paper." As different iterations of Diana's life are sure to persist, "Spencer" stands out for taking this haunting approach to a familiar story.
"Spencer" arrives in theaters on November 5, 2021.