Dwayne Johnson's John Henry Movie, Which Released A Trailer Three Years Ago, Is 'Still Totally Happening' [Exclusive]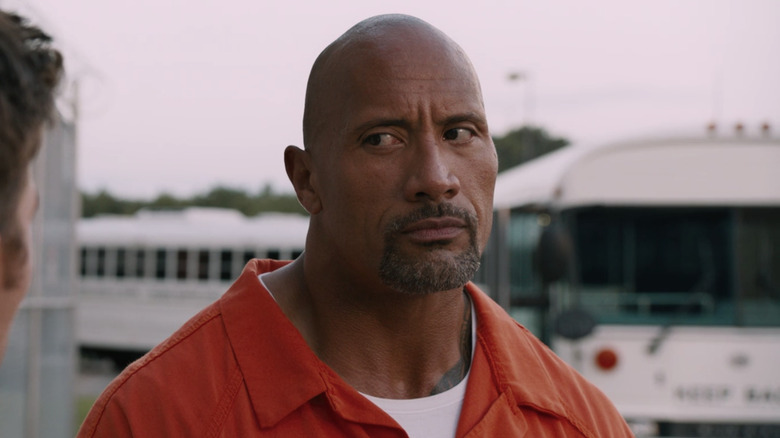 Universal Pictures
Remember those dueling John Henry movies? You could be forgiven for forgetting them since it's been some time since they last crossed our path. The one starring Terry Crews already came and went last year, but the one starring Dwayne Johnson is still coming together. It's just taking a little longer than expected.
In 2018, just days after announcing the project, Johnson released a teaser trailer for a new Netflix film called "John Henry and the Statesmen" on his official Facebook profile. You can see the teaser below. Three years later, "John Henry and the Statesmen" still has yet to materialize.
/Film's own Ben Pearson recently spoke with producer Hiram Garcia over Zoom in support of Johnson's new Netflix actioner, "Red Notice," which is streaming now. Garcia is the president of Johnson's Seven Buck Productions, the first logo to appear in the "John Henry and the Statesmen" teaser. During their conversation, Garcia shared an update on the long-gestating project. Here is what he said:
"'John Henry and the Statesmen' is still totally happening. We just got a new draft in. We've been working on it, just wanting to get that project right because of how special it is to us. But it's definitely happening, and we've got a really good draft that just came in that we're excited about, that we're going to continue to punch up a bit. But it's getting closer and closer, and that one is definitely on the horizon."
Coming Later: John Henry and the Statesmen
In American folklore, John Henry is a steel-driving man who has to hammer out holes for railroad tunnels. The teaser for "John Henry and the Statesmen" assures us that "the legend is real" and "coming soon." The "coming soon" part turned out to be wishful thinking, but it's good to know that this movie is real and not just a 3-year-old Hollywood legend.
There's not much to see in the teaser, just Johnson or his body double's back as he walks out of a barn into the light. There's actually a Johnny Cash song called "The Legend of John Henry's Hammer," which appeared on his live album, "At Folsom Prison" — the one depicted in the frame story of the Joaquin Phoenix-led biopic, "Walk the Line." However, YouTube uploads of the "John Henry and the Statesmen" trailer go with a different Cash song, the ever-popular "The Man Comes Around."
Based on what Garcia told Ben, you can still expect "John Henry and the Statesmen" to come around, though potentially later if not sooner. Johnson describes "John Henry" as follows:
John Henry is an African American folklore legend who I grew up with. I'm proud to take on the role and equally excited to introduce JOHN HENRY'S story to homes & families all around the world. John was one bad dude. My kinda man who made decisions based on his gut and instinct. The thing that I loved as a kid and I appreciate more as a man — is that John also had basic core values that speak directly to my DNA. In today's cynical, divisive, noisy times — JOHN HENRY'S values, strength, morals and heart, all matter today more than ever. Families all around the world are gonna love John Henry's story.