Heads Up, An Original Dwayne Johnson Netflix Movie Is Coming Soon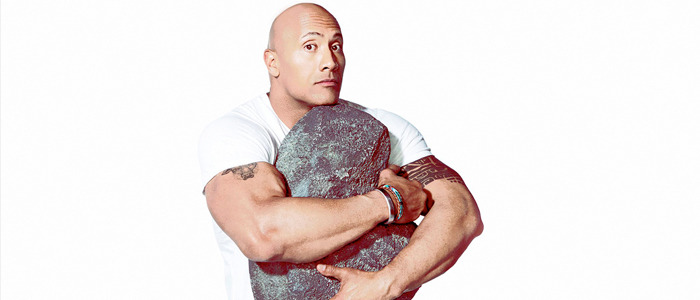 In Netflix's latest move in its ongoing quest for entertainment dominance, the streaming service has now secured the rights to a new movie called John Henry and the Statesmen that has international superstar Dwayne Johnson on board in the lead role.
Learn more about the first Dwayne Johnson Netflix movie below.
Variety brings word that John Henry and the Statesmen will reteam Johnson (Skyscraper, Fast Five) with director Jake Kasdan, who directed the action star in last year's surprise smash hit Jumanji: Welcome to the Jungle. Netflix won a "heated bidding war that attracted many of the major studios," proving yet again that the streamer is still willing to throw around some serious cash in order to make a splash with its original features.
There's no actual information in Variety's piece about what this film will be about, but here's a quick quote from Johnson about it:
"Netflix is the perfect partner and platform for us to continue entertaining our global audience in a disruptive way. These diverse characters speak to a legacy of storytelling that is more relevant than ever and span across a worldwide audience regardless of age, gender, race, or geography."
It seems likely that Johnson will play John Henry, a folk hero so strong that he raced a steam-powered rock-drilling machine by using a hammer to drive railroad spikes into the ground and won, only for his heart to give out as the competition ended.
THE LEGEND IS REAL.
Pretty cool announcement droppin' today. 3pm EST / 12pm PST
No it's not a movie about my cheat meals, though that would be fun 💀#TheLegendIsReal pic.twitter.com/uboM4wMcY3

— Dwayne Johnson (@TheRock) October 9, 2018
The character of John Henry has been immortalized in dozens of songs, poems, books, plays, and movies. I vaguely remember learning about the folk story in elementary school, but I have much stronger memories of watching Roger Aaron Brown's portrayal of the character in the 1995 Disney movie Tall Tale, in which a young boy needs the help of Pecos Bill, Paul Bunyan, and John Henry to save his farm.
Plot details remain scarce, but we do know John Henry and the Statesmen is an original pitch from writer Tom Wheeler, the creator and showrunner of the Netflix series Cursed. There's no word yet on when this movie will start production, but Kasdan and Johnson have the Jumanji sequel lined up to release in late 2019, so I imagine this will fall somewhere behind that in their schedules.
Netflix has been luring tons of big names lately: Michael Bay and Ryan Reynolds are working on Six Underground, Peter Berg and Mark Wahlberg have Wonderland in the works, Steven Soderbergh has two original movies lined up there, Martin Scorsese just wrapped The Irishman for them, and Andy Serkis's Mowgli movie is heading there soon – and those examples are just off the top of my head, so there are plenty more on the way. Locking down one of the world's biggest movie stars is a huge "get" for the streaming platform, so consider them one step closer to total domination.