This The Harder They Fall Easter Egg Is A Touching Tribute To Chadwick Boseman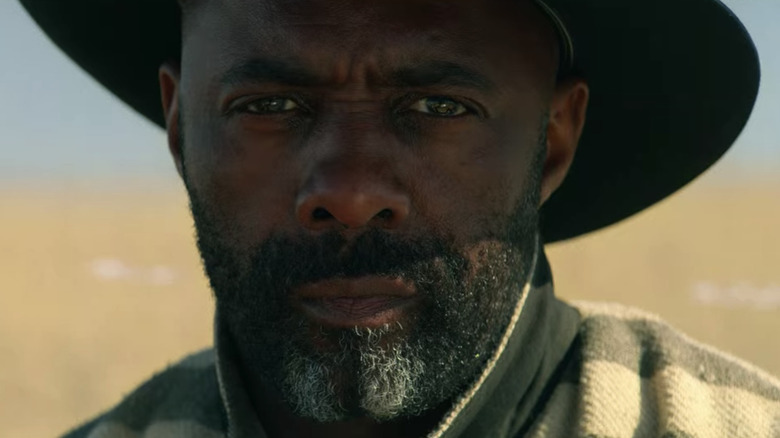 Netflix
"The Harder They Fall" marks the feature-length directorial debut of musician-turned-filmmaker Jeymes Samuel, AKA The Bullitts, who is seeking to reclaim the Old West with a vision of the New West, populated by Black actors. The movie is streaming now on Netflix, and it stars Jonathan Majors, Zazie Beetz, Idris Elba, Regina King, Lakeith Stanfield, Delroy Lindo, and more. If you keep your eyes peeled, you'll also see that it pays tribute to the late great Chadwick Boseman with an Easter egg in one scene.
In the past, filmmakers like Steven Spielberg and Ethan Hawke have equated superhero films to Westerns, and like "Black Panther" before it, "The Harder They Fall" is bringing some much-needed color to a genre that's been filled with white faces up until now. Co-produced by Lawrence Bender and Shawn Carter (AKA Jay-Z), "The Harder They Fall" brings a blood-spattered, musically anachronistic, Tarantino-esque sense to the Western. How often do you get to hear cowboys riding along to reggae?
The film's opening scene recalls "Inglourious Basterds," where doom descends on a remote farm, and there's even a moment where a guy carves a symbol into someone's forehead (instead of a swastika, it's a cross, which you may have noticed Majors wearing in the trailer.) However, unlike a Tarantino joint — many of which Bender also co-produced — you're more likely to see someone shot in the head here before they can utter the n-word.
It's when the Rufus Buck Gang rides up on a train to spring their leader, played by Elba, that you'll see an homage to Boseman spelled out on the side of one car.
The C.A. Boseman Train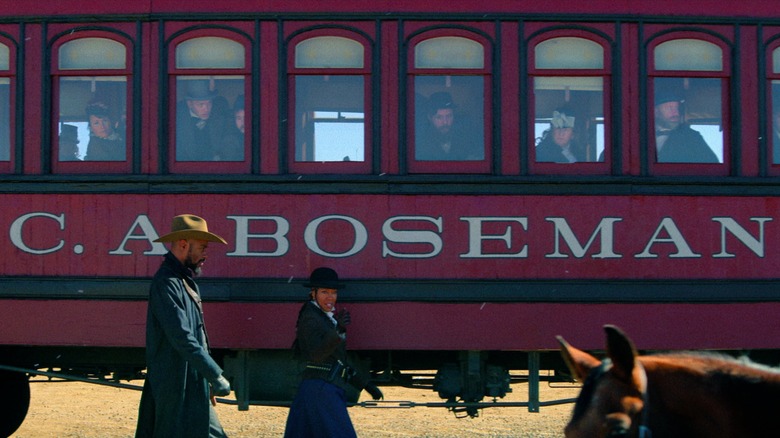 Netflix
Boseman's full name was Chadwick Aaron Boseman, so having the train read "C.A. Boseman" in big letters is a clear shout-out.
In Marvel's animated series, "What If...?" on Disney+, Boseman's final voice performance can be heard, but Netflix is home to his last onscreen, live-action film role. "Ma Rainey's Black Bottom" earned him a posthumous Oscar nomination for his turn as a trumpeter named Levee Green, who is working as a studio musician for a famous blues singer, but who wants to go solo with his own songs.
The film is based on a play by August Wilson and it co-stars Viola Davis, who also lit up the screen in Denzel Washington's "Fences," another Oscar-nominated Wilson adaptation. Boseman was widely favored to win the Best Actor award this year for "Ma Rainey's Black Bottom," so much so that Oscar producers structured the whole awards ceremony around that category. It came as an upset when Anthony Hopkins took home the award for "The Father" instead (recognizing Boseman, his fellow MCU actor, in his acceptance speech). While Academy voters might not have honored Boseman, it's good to see Jeymes doing that in "The Harder They Fall."