Superhero Bits: What If..? Gets A Disney+ Special, Zack Snyder Comments On A New Justice League & More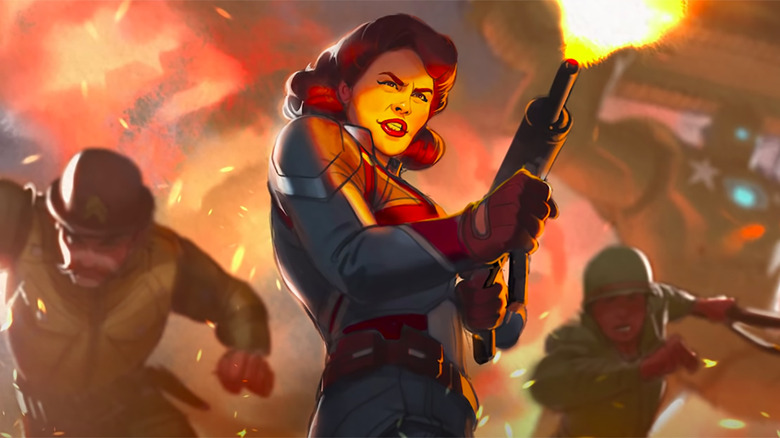 Marvel Studios
(Superhero Bits is a collection of stories, updates, and videos about anything and everything inspired by the comics of Marvel, DC, and more. For comic book movies, TV shows, merchandise, events, and whatever catches our eye, this is the place to find anything that falls through the cracks.)
In this edition of Superhero Bits:
Zack Snyder comments on "Justice League 2" again
"Thunderbolts" movie rumors swirl
James Gunn and Zachary Levi want to work together
Marvel's "What If...?" gets a new special on Disney+
Stargirl Season 2: Summer School: Chapter Thirteen
Here's the official promo for the 13th episode of the second season of "Stargirl" on The CW:
As Eclipso (Nick Tarabay) unleashes the final part of his master plan, Courtney (Brec Bassinger), Pat (Luke Wilson) and the JSA band together to take him down once and for all. Yvette Monreal, Cameron Gellman, Anjelika Washington, Amy Smart, Trae Romano and Hunter Sansone also star.
Greg Beeman directed the episode, which was written by Geoff Johns.
Avengers Forever #2 Cover Art
Artist Russell Dauterman recently shared some cover art for "Avengers Forever" #2. In particular, a Black Widow variant that features Natasha's many various costumes. Not much to discuss here other than the fact that this is a pretty impressive piece of work. The book is set to hit stands on January 26, 2022.
Supergirl Season 6: Truth or Consequence
Here's the official promo for the 18th episode of the sixth and final season of "Stargirl" on The CW:
Supergirl (Melissa Benoist) is determined to keep everyone safe from Lex (guest star Jon Cryer) and Nyxly (Peta Sergeant) so she doubles down on patrol, especially as Alex (Chyler Leigh) and Kelly's (Azie Tesfai) bachelorette party is coming up. Alex is torn between duty and finally allowing herself the time to enjoy her new family. Brainy (Jesse Rath) receives heartbreaking news, and William (Staz Nair) clashes with Andrea (Julie Gonzalo) over her recent coverage of Lex.
The episode was directed by David McWhirter, with a story by Karen E. Maser and screenplay by Emilio Ortega Aldrich and Elle Lipson.
Thunderbolts Movie Rumors Are Flying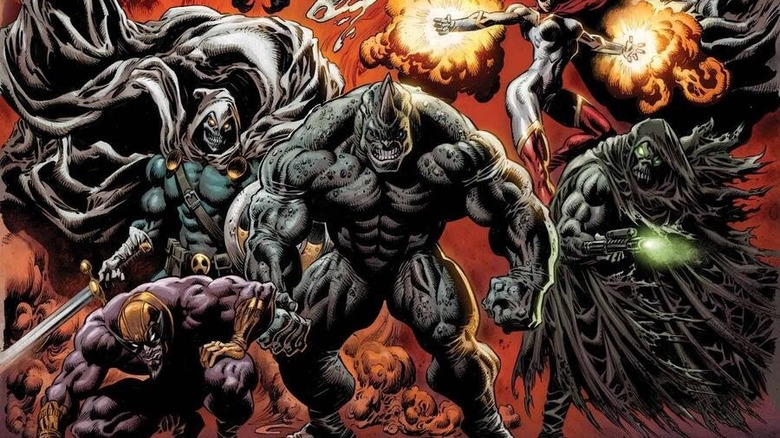 Marvel
It's rumor time! As noted by Geeks Worldwide (who have a decent but not perfect track record), Marvel Studios is apparently gearing up for a "Thunderbolts" movie. What's more, this alleged project would begin filming in 2023, perhaps as part of the eventual Phase 5 of the MCU. This would, more or less, serve as an answer to DC's "Suicide Squad" with players such as Bucky, Deadpool, Thunderbolt Ross, and others possibly involved. We'll see how this plays out.
Alexandre Aja Would Like a Paycheck for Hawkeye
Alexandre Aja is responsible, in large part, for the "Hawkeye" series in the pages of Marvel Comics, along with writer Matt Fraction, that appears to be inspiring the upcoming Disney+ series. Recently, some posters (above) were revealed that make use of Aja's work from the book. Well, this led to some back and forth on Twitter, with Aja chiming in, jokingly (but perhaps not) indicating that it would be nice if Marvel paid him for his contributions.
Even better: Stop crediting, start paying, haha.

— David Aja (@davaja) October 25, 2021
Aja is far from the only comic book creator to express concern over a lack of royalties from Marvel. The intricacies are complex but, in short, Marvel should probably be paying these people since billion-dollar franchises are built on the backs of their hard work. Couldn't hurt to cut the man a check.
Zack Snyder On the Possibility of Another Director Tackling Justice League 2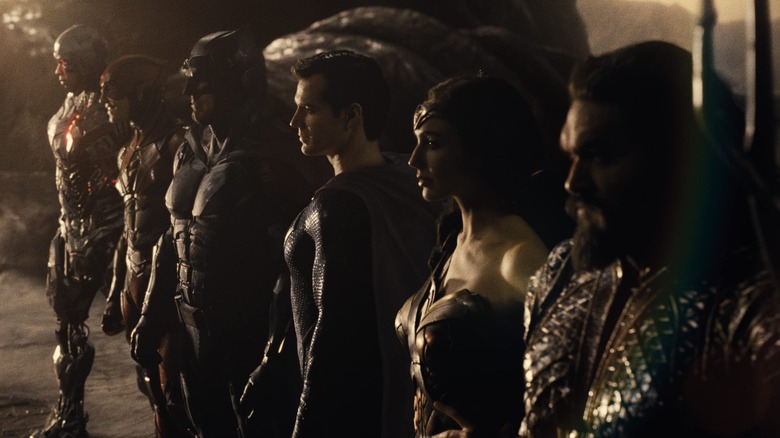 Warner Bros.
With the release of Zack Snyder's "Justice League," Warner Bros. more or less said goodbye to the so-called Snyderverse. Yet, it seems inevitable that someone will eventually make another "Justice League" movie. Recently, in an interview with Games Radar, Snyder weighed in on that very possibility. Amazingly, it seems this is something he hadn't truly considered.
"Oh gosh, I wouldn't have thought of that. Listen, I loved making all those DC movies, and I love superheroes, and I love the genre. I'm very excited to see Matt [Reeves]'s Batman movie [The Batman], so that's exciting. Something like that [though], I'm not sure."
We'll see what comes of DC's greatest heroes in the years to come, most likely without Snyder behind the camera.
Why We Love Yelena in Black Widow
Marvel recently released a new featurette for "Black Widow," which is now streaming for free on Disney+. The video's purpose is to highlight Florence Pugh's Yelena Belova, who is poised to become a bigger part of the MCU moving forward. The video doesn't bring much new to the table, but it is a nice little love letter to a character quite a few people connected with.
Zachary Levi and James Gunn Really Want to Work Together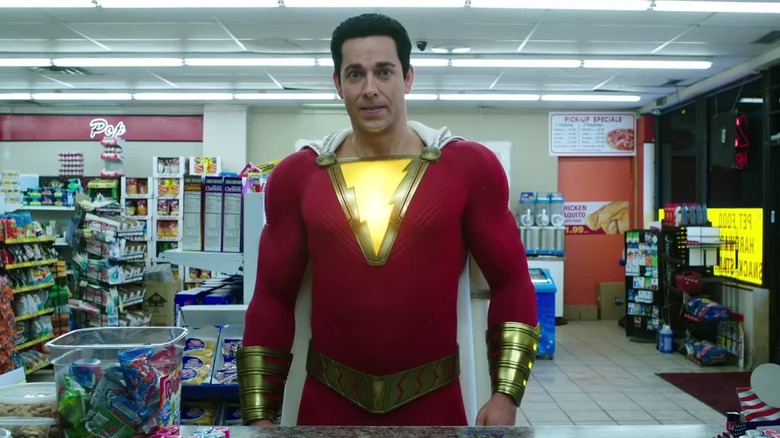 Warner Bros.
In a nice, fun little bit of goodness, "The Suicide Squad" director James Gunn and "Shazam" star Zachary Levi recently shared some love for one another on Twitter. Gunn explaines that Levi's audition for Star-Lord ultimately paved the way for him to get the lead role in "Shazam!"
Still very much appreciate that, brother. And also still very much wanna work together when the stars align. 🤘😎🤘 https://t.co/w2eA0vh3yg

— Zachary Levi (@ZacharyLevi) October 26, 2021
As we can see, Levi then gushed about Gunn in response. To which, Gunn replied, expressing a similar sentiment about them eventually working with one another down the line, making it sound like a certainty, not merely a possibility.
Can't wait, Zach. https://t.co/mt3ddqJD5i

— James Gunn (@JamesGunn) October 26, 2021
For what it's worth, Shazam does exist in the same universe as the characters from "The Suicide Squad." Plus, Gunn is working on "Peacemaker" and another secret DC project. So maybe those worlds can collide down the line.
Marvel Studios Assembled: The Making of What If...?
Last, but certainly not least, Marvel Studios has released a trailer for "Marvel Studios Assembled: The Making of What If...?" This special will take a look at everything that went into creating the animated series for Disney+. The trailer offers a taste of the special, which promises what is essentially a solid Blu-ray bonus feature that has been added to Disney+ to help keep subscribers happy. We've also got a new poster for the special, which you can check out below. The documentary is now streaming on Disney+.