Black Widow Makes Its (Free) Streaming Debut On Disney+ This Week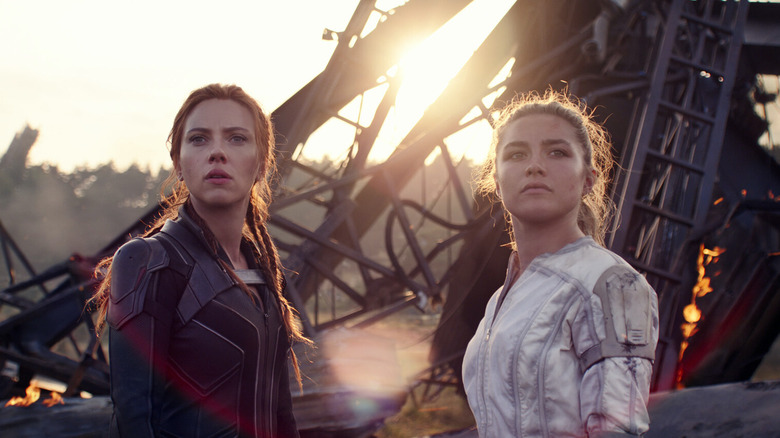 Disney
"Black Widow" has already been on Disney+ for months – but in order to watch it, you had to shell out more money for Premiere Access. Now, you'll have your chance to watch it for "free." It's not really free, of course, since you'll still have to pay for a Disney+ subscription. But starting this week, you'll no longer have to spend extra money to check the Marvel movie out, as it makes its normal Disney+ streaming debut on October 6, 2021. 
Scarlett Johansson, who recently settled with Disney over lost income regarding "Black Widow," stars in the prequel film that finally gives us a backstory to her character Natasha Romanoff. Florence Pugh, David Harbour, and Rachel Weisz also star in the pic, which was directed by Cate Shortland. Check out a new TV spot for the streaming debut below. 
Black Widow on Disney+
Disney has officially confirmed that "Black Widow" will be streaming on Disney+, for all subscribers, starting Wednesday, October 6, 2021. Here's the announcement: 
Disney+ shared a new TV spot and poster this morning celebrating Marvel Studios' "Black Widow," which is available to all Disney+ subscribers beginning this Wednesday, October 6. The action-packed feature film unravels the mystery of Natasha Romanoff's past and her path to becoming an unrelenting spy and assassin. Filled with regret and the desire to right her wrongs, Natasha reunites with people she once considered family in order to destroy the organization that tore their lives apart. Scarlett Johansson reprises her role as Natasha/Black Widow, Florence Pugh stars as Yelena, David Harbour portrays Alexei/The Red Guardian, and Rachel Weisz is Melina. "Black Widow" is directed by Cate Shortland and produced by Kevin Feige; Eric Pearson penned the screenplay.
"Black Widow" opened in both theaters and on Disney+ with Premiere Access on July 9, 2021. The pandemic inspired Disney to pull this move – and it didn't go over well with star Scarlett Johansson. She sued Disney, stating that dropping the film on streaming cut into significant profits Johansson was set to make due to box office returns. Disney countered by calling Johansson "callous," which probably wasn't the best move on their part.
In the end, the mega-studio settled with Johansson, which I think is something we all saw coming. "I am happy to have resolved our differences with Disney," Johansson said. "I'm incredibly proud of the work we've done together over the years and have greatly enjoyed my creative relationship with the team. I look forward to continuing our collaboration in years to come."
So, Is Black Widow Any Good?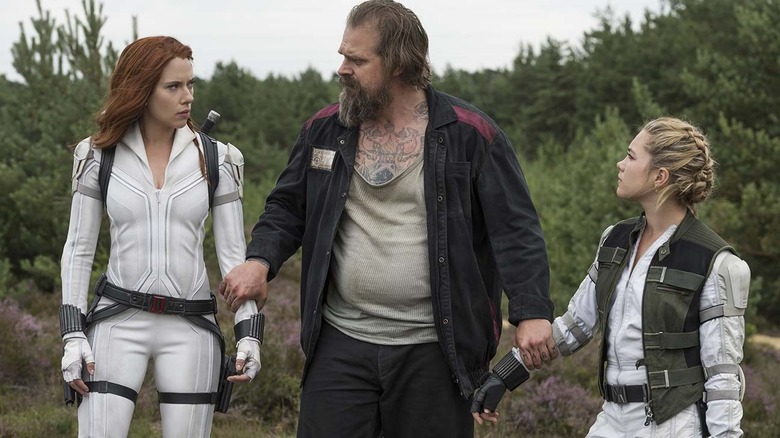 Disney
So, after all that, is "Black Widow" even worth watching? I guess! If you're a Marvel completist, then yes. But the film itself is a tad lackluster. Florence Pugh is great as Natasha's sister, but the film itself feels like it's too little too late. We should've gotten a solo "Black Widow" years ago, and making one now feels more like an obligation. On top of that, the action on display here is rather bland and frequently incomprehensible. But I'll let our own Hoai-Tran Bui take it from here with an excerpt from her review: 
Black Widow is at its best when it's a wacky family drama between Natasha, Yelena, Alexei, and Melina, with dashes of a spy thriller. But Marvel films can't content themselves with staying small, and Black Widow falls victim to the big bombast characteristic of the studio. The result is a disappointing solo movie that ends up burying Natasha Romanoff once again.