Spider-Man: No Way Home Will Bring Back Two More Legacy Villains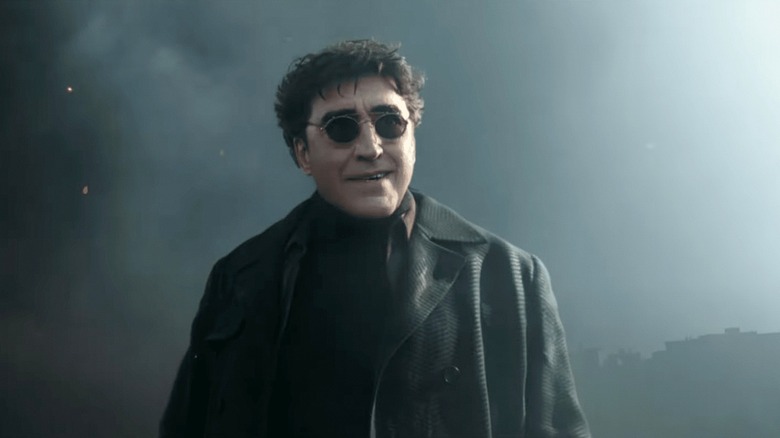 Sony Pictures
Well, this was probably inevitable! When a multi-million dollar superhero machine decides to get into the multiverse game and make it possible for previous versions of famous comic book characters to cross over into the current iteration, anything's on the table after that. 
DC is going full speed ahead with bringing back Michael Keaton's Batman for "The Flash" because, well, it can. And Marvel, of course, will be beating DC to the punch with "Spider-Man: No Way Home." We already knew the sequel would set the stage for the return of at least two classic Sam Raimi "Spider-Man" villains in the unfamiliar territory of the Marvel Cinematic Universe: Willem Dafoe's Norman Osborn/Green Goblin and Alfred Molina's Otto Octavius/Doc Ock. 
But why stop there? Let's just say that when multiple different continuities are being mashed together in a single film, "restraint" kind of goes out the window. "No Way Home" certainly seems anxious to live up to that idea, as we now have confirmation that another two legacy villains from previous "Spider-Man" reboots will be joining the fray. Unless you're opposed to spoilers of any kind, read on to find out exactly which characters they might be.
The Ol' Peter Parker Luck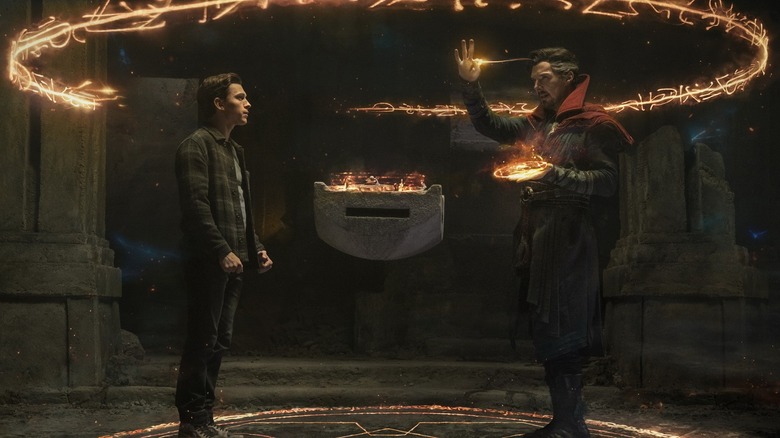 Sony Pictures
Still here? Good. Because between you and me, there's very little chance this information won't become common knowledge within the week anyway. Empire has provided us some juicy nuggets of information recently when it comes to certain mysteries that "Spider-Man: No Way Home" has in store for us. The trustworthy outlet's print magazine, however, goes much further and has given us our first official confirmation of an additional two legacy villains just waiting to be unleashed.
According to images of the magazine shared on Twitter, none other than Rhys Ifans' Doctor Curt Connors/The Lizard from 2012's "The Amazing Spider-Man" and Thomas Haden Church's Flint Marko/Sandman from Raimi's "Spider-Man 3" are set to join forces and make Peter Parker's life — Tom Holland's version, of course — absolute hell. The subscriber cover for the magazine also shows Sandman's fist in the lower right corner, further confirming the villain's return:
The subscriber cover for our #SpiderManNoWayHome issue is a bold blast of kaleidoscopic comic-book colour, illustrated exclusively for Empire by @Murugiah_.

READ MORE: https://t.co/1L405T7zL5 pic.twitter.com/7ipfkbt2uN

— Empire Magazine (@empiremagazine) October 22, 2021
A snippet from the Empire article describes how worlds will be colliding (cue classic "Seinfeld" moment here) in "Spider-Man: No Way Home." It goes on to add, "Worlds which will include Rhys Ifans' The Lizard, Thomas Haden Church's Sandman and Jamie Foxx's Electro."
Both The Lizard and Sandman ended up being rather underwhelming villains in their respective movies, though I would argue the latter could've been great had Sam Raimi not been forced to juggle so many different storylines at once. In any case, this appears to be the makings of a multiversal version of the Sinister Six. Does this information make it any more likely that Tobey Maguire and Andrew Garfield's Peter Parkers, both of whom are still unconfirmed, will return to square off against their old villains? As I said before, nobody's coming to watch this movie for its restraint!
"Spider-Man: No Way Home" arrives in theaters on December 17, 2021.