Cowboy Bebop Teaser: John Cho And Co. Embark On Bounty-Hunting Antics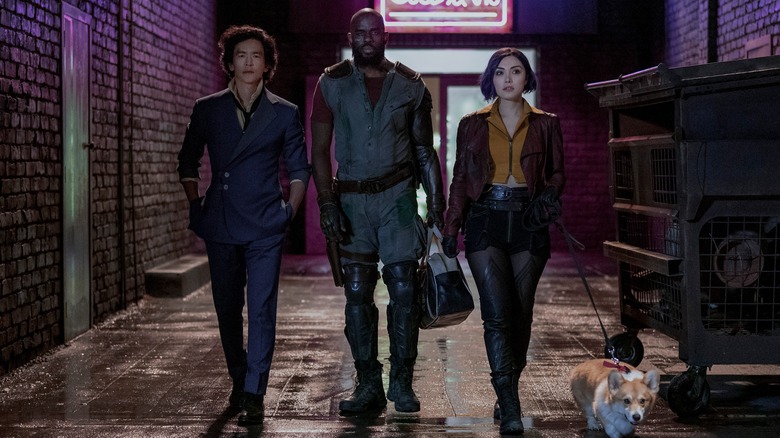 Netflix
For those who've spent the last several months anxiously waiting to see how Netflix's adaptation of the beloved "Cowboy Bebop" anime series would translate to live action, worry no more! The original space cowboy genre mashup gained a very loyal and passionate fanbase over the years since its initial run in the late 1990s, thanks in no small part to its distinctive visuals and genuinely inspired storytelling. Anyone brave (or foolish?) enough in attempting to make lightning strike twice in another medium surely had to be aware of the long odds set against them. That said, casting someone as charismatic as John Cho for the role of bounty hunter Spike Spiegel, bringing back original series director Shinichiro Watanabe as a creative consultant and original composer Yoko Kanno to create the jazzy soundtrack, and retaining the spirit of the anime through the new opening credits sequence have all been very promising signs.
Netflix has finally released our first real look at "Cowboy Bebop" with an introductory clip of the main trio in action. Check it out below.
Cowboy Bebop Teaser
Nothing would've been more disheartening than to see a live action adaptation of "Cowboy Bebop" watered down or completely drained of its sense of fun and vibrant personality. Thankfully, fans can now look to this footage, titled "Lost Session," to put any of those fears to rest. The charming mini-adventure shows off a visual feast for the eyes, boasting a confident flair for the meta and plenty of boundary-pushing (literally!) action that makes this series seem as if it came alive directly from the pages of a graphic novel — in fact, there will almost certainly be comparisons to a movie like "Scott Pilgrim vs the World." Cho looks like a natural in this particularly heightened tone and hyper-stylized aesthetic, playing off his co-stars Danielle Pineda (as Faye Valentine) and Mustafa Shakir (Jet Black) with chemistry to spare. Though we don't see (most of) them in this footage, "Cowboy Bebop" also stars Elena Satine as Julia, Blessing Mokgohloa as Santiago, Molly Moriarty as Kimmie Black, Lucy Currey as Judy, Alex Hassell as Vicious, and the most important member of the team, Harry as the Pembroke Welsh corgi Ein.
The series was developed by André Nemec, who serves as both showrunner and executive producer, and written by Christopher Yost. "Cowboy Bebop" arrives on Netflix on November 19, 2021.
COWBOY BEBOP is an action-packed space Western about three bounty hunters, aka "cowboys," all trying to outrun the past. As different as they are deadly, Spike Spiegel (John Cho), Jet Black (Mustafa Shakir), and Faye Valentine (Daniella Pineda) form a scrappy, snarky crew ready to hunt down the solar system's most dangerous criminals — for the right price. But they can only kick and quip their way out of so many scuffles before their pasts finally catch up with them.