Peacemaker Trailer Breakdown: John Cena And James Gunn Are Back With A New Squad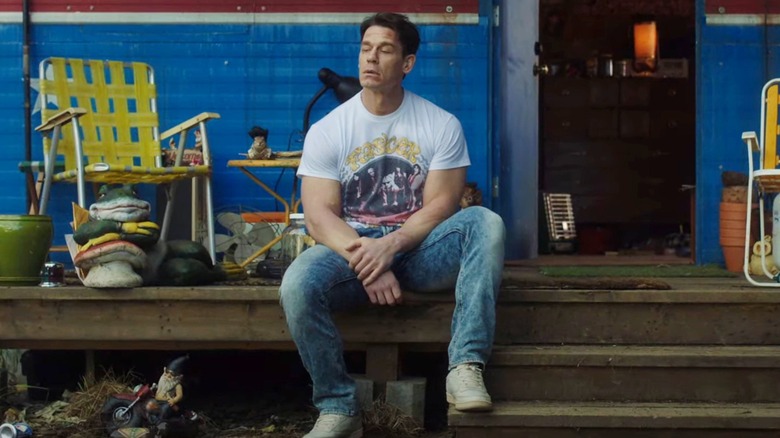 Warner Bros.
The "Suicide Squad" spin-off series "Peacemaker" wrapped filming in July, and now we've got our first full-length teaser trailer! 
Fans who wondered what writer/director James Gunn and star John Cena were going to do with the character following the events of "The Suicide Squad" now have their answer, as the trailer opens with Cena's Peacemaker waking up in the hospital. He's a little confused as to why he's not being hailed as a superhero — only to quickly realize he still has to answer for all of his previous crimes.
Keeping it Juvenile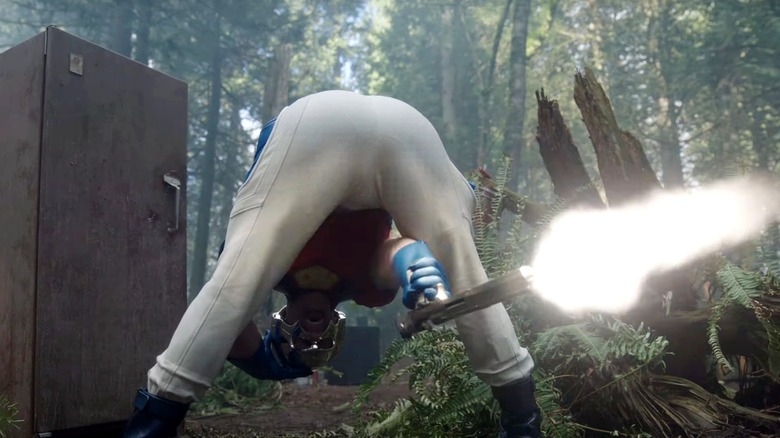 Warner Bros.
One thing that was so much fun about Peacemaker in "The Suicide Squad" was his juvenile, crass sense of humor. The first part of the trailer shows Peacemaker and Vigilante (Freddie Stroma) playing with firearms out in the woods. They discuss how they're absolute killing machines while playing with a bunch of literal killing machines, even shooting a glass bottle from between Peacemaker's legs. 
Peacemaker doesn't seem like the kind of character who would be changed much by his misadventures with the Suicide Squad, and he's still up to his same ridiculous antics here. Cena is great at delivering absurd lines with a completely straight face, and the trailer shows off a new one to rival his "beach full of d*cks" rant from "The Suicide Squad." Here, he shares his theories on the existence of "butt babies," to the incredulity of his new crew. 
A New Squad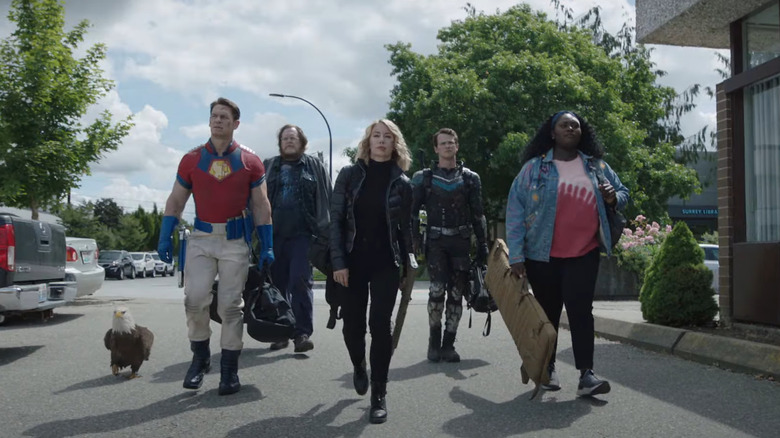 Warner Bros.
It doesn't look like Peacemaker will be joined by any of his fellow "The Suicide Squad" survivors, but he's still reporting to Amanda Waller (Viola Davis), albeit through new handlers. Now he has to report to Waller's subordinates John Economos (Steve Agee) and Emilia Harcourt (Jennifer Holland). He's joined by a new crew that includes his pet bald eagle, Eagley, and Leota Adebayo (Danielle Brooks). 
Leota is an original character created by Gunn. She exists to provide a foil for Peacemaker and challenge his deeply-held beliefs. In the trailer, she says that she feels like there's a sadness about him, and I'll guarantee she's the key to making Peacemaker possibly try to be a better person. He's always trying to "save the f*cking world," but now it looks like he's learning to actually care about it. In "The Suicide Squad," Peacemaker mostly butted heads with Bloodsport (Idris Elba), who has similar skills. In "Peacemaker," it looks like he might make some friends, because the relationships seem much less antagonistic. 
Then again, no one seems particularly pleased about working with Peacemaker, save for the goofy Vigilante and Leota. 
Dealing with Daddy Issues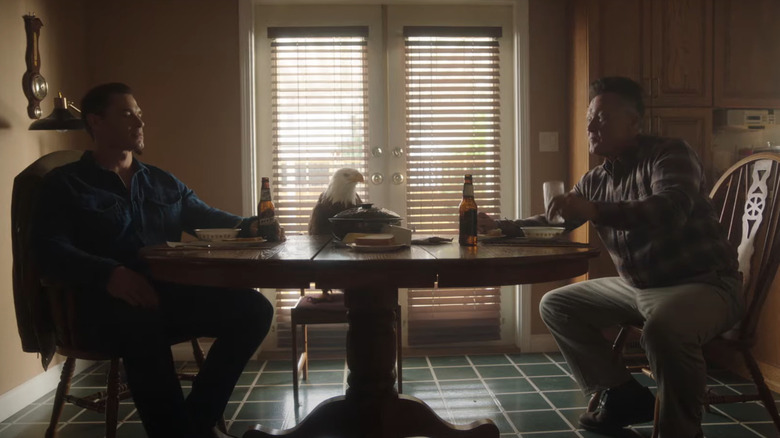 Warner Bros.
It's no surprise that Peacemaker has some serious daddy issues, and who could blame him? His gruff, dismissive father is played by the T-1000 himself, Robert Patrick. We see Peacemaker and his dad having a meal and some beers together with Eagley sitting uncomfortably between them. Peacemaker's dad asks him how he grew up to be such a "nancy boy," and some of Peacemaker's internalized rage starts to make more sense. 
Then again, things can't be all bad between father and son, as Peacemaker calls for his dad to grab the camera when Eagley gives him a hug in the garage. Sadly, his dad keeps walking. It's another hint that the series might show a real growth arc for Peacemaker, who seems like the kind of guy who would shoot a puppy in the face if he thought there was a decent enough reason. 
Gunn's 2010 film "Super" dug deep into toxic masculinity and what makes people into monsters, and "Peacemaker" looks like a continuation of that same theme. It seems like Gunn is going to show us all of the reasons behind Peacemaker's pathology, perhaps in an effort to humanize him. 
Gunn's Gotta Groove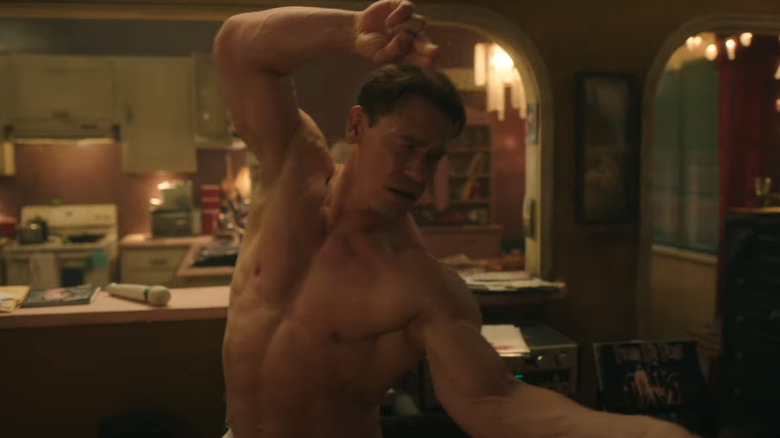 Warner Bros.
Gunn has gotten a reputation for putting together some of the best "mix-track" soundtracks out there. The soundtrack to "The Suicide Squad" is chock-full of bangers, and it doesn't look like Gunn's giving up on his penchant for fun musical moments anytime soon. The trailer shows Peacemaker in his tighty-whiteys dancing around his living room, and it's perfect. 
It's important to note that without Cena, none of this would work. There's something brilliant about the way he portrays such a detestable character while still, somehow, making him seem human. We've just gotten out of the Summer of Cena, but it looks like his popularity is only going to continue to rise. 
"Peacemaker" blasts its way onto HBO Max on January 13, 2022.