Peacemaker Featurette: John Cena Is The 'Douchey Captain America Who Would Shoot A Kid'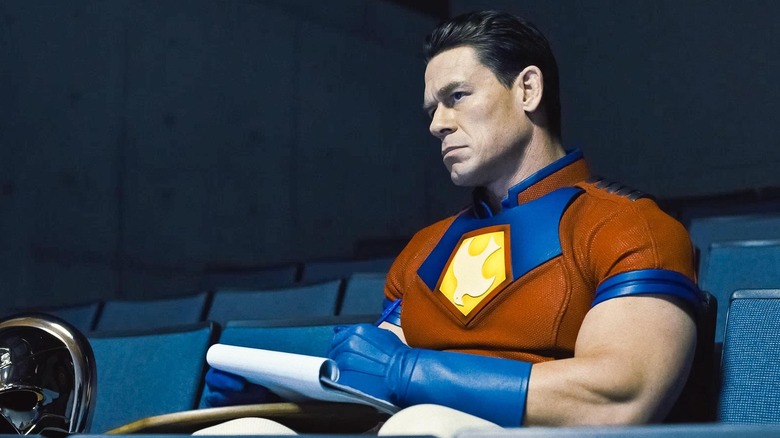 Warner Bros
Amongst the countless degenerate delinquents introduced in "The Suicide Squad," one jerk managed to rise above them all as not only the douchiest, but the one guy to get his own spin-off series. That's right, Peacemaker (John Cena) is on his way back, each day bringing us a little closer to the release of his upcoming solo outing.
This month's HBO launch event already gave us our first look at "Peacemaker," showing off his very well-named sidekick, Eagle-y, who is in fact an eagle. And given how utterly ridiculous he is, Amanda Waller's (Viola Davis) lackeys spend their screen time mocking the antihero, which there's sure to be more of in the series ahead. But thanks to a new featurette, we get to jump back in time to "The Suicide Squad" set and hear what went into creating the maniacal killer.
Below, you can hear writer-director James Gunn speak about crafting Peacemaker's backstory and glean some insight into everything Cena brought to the table. Fair warning, there's a very alarming five seconds where Gunn exclaims that "Peacemaker is a lot of guys I grew up with." It's a deeply concerning comment that might send you spiraling down a dark rabbit-hole, wondering about the psychopaths walking among us as we speak — but no worries, because he then clarifies, "He's like a dudebro." And while it's only slightly less scary to think about the many dudebros walking the Earth, take comfort in the fact that John Cena's Peacemaker is singular. Hopefully.
Peacemaker Featurette
Peacemaker really hits the sweet spot of being absolutely repulsive and terribly magnetic. It might be the John Cena of it all, but it's not hard to see how this character earned his own solo adventure. Peacemaker has long been deemed a "douchey" Captain America, but Cena now adds an addendum to that description, calling the character, "a douchey Captain America who would shoot a kid." For all who have seen his "The Suicide Squad" journey, this will come as no surprise. Peacemaker joined the team and fought alongside his fellow squad members including leader Bloodsport (Idris Elba) and the very lovable Ratcatcher 2 (Daniela Melchior), but when push came to shove, Peacemaker wasn't exactly a team player.
The upcoming spin-off series will no doubt take the time to delve further into this lunatic's psyche, looking at the impact of his father's training and his mother's absence. Maybe he'll even find time to actually make friends this time around, and shed some of his social awkwardness... Okay, fine, that doesn't seem super likely, but at least he'll always have his Eagle-y.
The "Peacemaker" series wrapped filming earlier this year in July, with Gunn directing five of its eight episodes. Brad Anderson ("The Machinist"), Jody Hill ("Eastbound & Down") and Rosemary Rodriguez ("The Walking Dead") are confirmed to direct the other three. Expect to see Cena back in his patriotic toilet bowl costume, along with returning Waller lackeys John Economos (Steve Agee) and Emilia Harcourt (Jennifer Holland). Newcomers include Chukwudi Iwuji as Clemson Murn, Danielle Brooks as Leota Adebayo, Robert Patrick as Auggie Smith, and Freddie Stroma as Adrian Chase.
"Peacemaker" is set to premiere sometime in January 2022.