David Gordon Green Got Input From John Carpenter For All Of His Halloween Movies [Exclusive]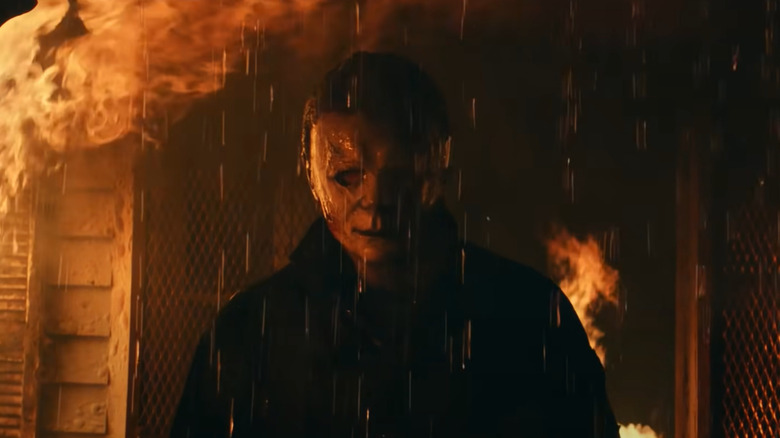 Universal Pictures
The 1978 horror classic "Halloween" was a singular vision from the minds of writer/director John Carpenter and writer/producer Debra Hill. Carpenter famously agreed to make the flick for only $10,000, which included his work writing, directing, and writing all of the music for the film. So when David Gordon Green co-wrote and directed the 2018 "Halloween" sequel/soft reboot and its subsequent sequel, "Halloween Kills," he knew whose input mattered most. 
In an interview with /Film's Jack Giroux, Green revealed that he checked in with Carpenter frequently to make sure the new "Halloween" movies followed the original creator's vision. 
'Before I Even Knew What a Director Was, I Was Enjoying His Movies'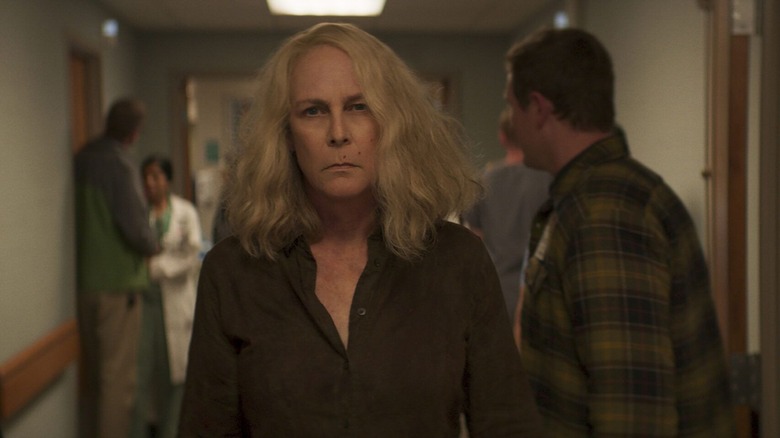 Universal Pictures
Green said that he "constantly" asked Carpenter for input while creating both of his "Halloween" franchise films. He was relatably reticent to show Carpenter the first draft or first cut, but once he had gotten a tiny bit of polish on it, he turned to the master:
"Once I like it, and I feel this is the path we're on, now I bring him in and get his criticism, and inspirations, and ideas. That's very important to me on the script level. And then, when we're in production, I'll usually check in with him a couple times. But then, when we're editing, I'll put together an assembly, and then, very frequently, I'll watch him watch cuts."
It has to be absolutely surreal watching the guy that created the franchise watch your addition to it. Carpenter is a legend, and Green clearly wants to do right by him. As fate would have it, Green lucked out, and Carpenter not only helped him with input but by composing the scores for the new entries:
"It is totally trippy, because he is one of my filmmaking idols. I'll be on a Zoom link watching him watch it, and he'll turn around and give me his commentary and thoughts. And then, as a collaborator, his incredible and essential contribution as a musician with his son, Cody, and [composer] Daniel Davies. It is as inspiring as you'd hope it would be for someone who you just admired your entire life. Before I even knew what a director was, I was enjoying his movies."
Collaborating with a Maestro of Movies and Music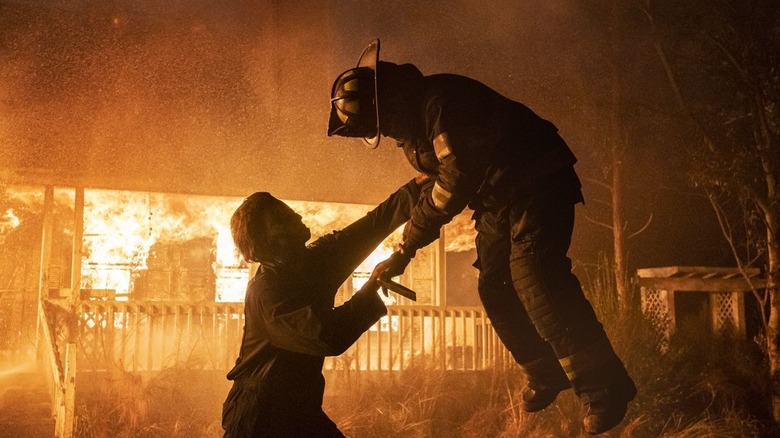 Universal Pictures
The second chapter of Green's "Halloween" trilogy ratchets up the action and intensity from the first film. That tonal change is also present in the score, which gets a little more rock and roll and pays homage to Carpenter's band The Coupe De Villes. (One of their songs played over the radio in the 1978 "Halloween," and keyboardist Nick Castle donned the mask and played Michael Myers/The Shape.) Green elaborated on the score, which Carpenter composed along with his son Cody and composer/former CKY band member Daniel Davies:
Not only are there some distinctive new tracks to deviate a little bit from his traditional score, which I love, but we also have, in one of the opening scenes of the movie, an homage to his band The Coupe De Villes. There are some triplets on stage singing a song that is at a bar, and that's a song from his heyday with Tommy Wallace and Nick Castle, and a band that they were in back in the '80s. There are a lot of Easter eggs just for Carpenter fans.
And no worries, "Halloween" fans, Green is planning on keeping Carpenter in the loop for the final part of the trilogy. 
"We just got his notes on the third installment," Green said. "So, that's great. And being able to apply, and address, and consider his perspective on some other things for how we're going to end this trilogy."
"Halloween Kills" is currently playing in theaters and is available to stream on Peacock.