Clifford The Big Red Dog Trailer: He's A Dog And He's Big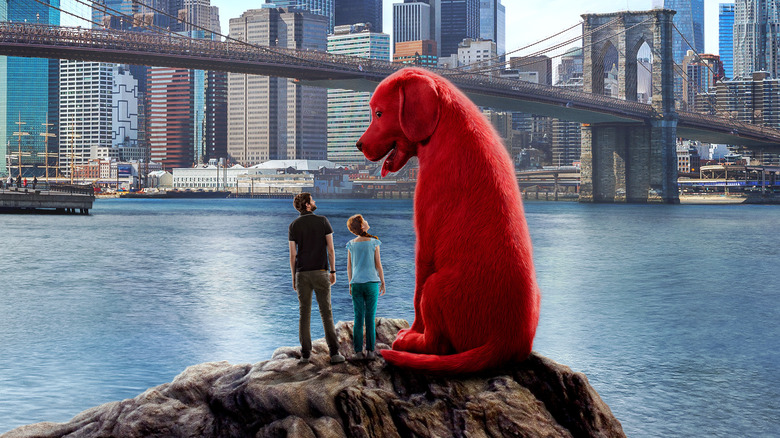 Paramount+
If it feels like we've been hearing about the live-action "Clifford the Big Red Dog" movie for close to an eternity, well, that's because we have to go all the way back to the downright quaint year of 2016 to track down when the project was first announced. During this ongoing pandemic, the film's release date has been delayed a number of times. First scheduled to release in November of 2020, "Clifford" was further pushed back from its tentative September 17 date before finally appearing on track for its upcoming wide release next month. With all systems go, Paramount has released the final trailer that shows off all sorts of giant dog mayhem that — even after so much marketing — somehow doesn't feel any less existentially unnerving in live-action. Check it out below ... at your own risk!
Clifford the Big Red Dog Trailer
The kid-friendly animated cartoon that had everyone swept away by the charm of a giant red canine has now been translated into a pretty garish-looking blend of live-action and CGI, featuring plenty of giant-sized antics and an amusingly horrified undertone that would inevitably result from people actually seeing a kaiju-sized dog on the loose in New York City. But hey, that's why I'm not the target demographic here. "Clifford" is directed by Walt Becker ("Van Wilder," "Wild Hogs," "Alvin and the Chipmunks: The Road Chip") and has an all-hands-on-deck team of writing credits, including screenplay by Jay Scherick & David Ronn and Blaise Hemingway and story by Justin Malen and Ellen Rapoport.
Based on author Norman Bridwell's series first published in 1963, "Clifford the Big Red Dog" stars Darby Camp as the young protagonist Emily Elizabeth, Jack Whitehall as her Uncle Casey, Izaac Wang as Owen Yu, John Cleese as Mr. Bridwell, Tony Hale, Russell Peters, and more. Paramount made the call to release the film both in theaters and on their Paramount+ streaming service simultaneously on November 10, 2021. Check out the new poster and the synopsis for "Clifford" below.
When middle-schooler Emily Elizabeth (Darby Camp) meets a magical animal rescuer (John Cleese) who gifts her a little, red puppy, she never anticipated waking up to find a giant ten-foot hound in her small New York City apartment. While her single mom (Sienna Guillory) is away for business, Emily and her fun but impulsive uncle Casey (Jack Whitehall) set out on an adventure that will keep you on the edge-of-your-seat as our heroes take a bite out of the Big Apple. Based on the beloved Scholastic book character, Clifford will teach the world how to love big!