Clifford: The Big Red Dog Will Release Simultaneously In Theaters And On Paramount+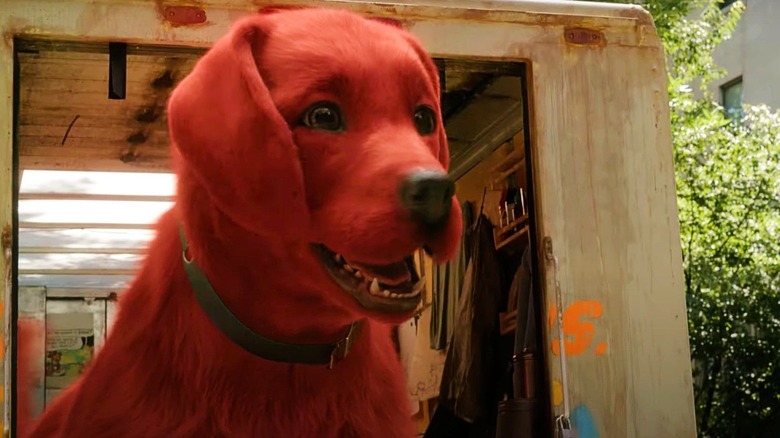 Paramount Pictures
The enormous (and mildly terrifying) Big Red Dog will soon be in your home because Clifford is coming to Paramount+. After pulling the movie from their release calendar entirely, Paramount has opted to make "Clifford The Big Red Dog" available in theaters and on their streaming service simultaneously. On November 10, audiences are free to decide for their own: let this kaiju-esque puppy into your home or seek him out in theaters?
"Clifford the Big Red Dog" was originally slated to debut at the Toronto International Film Festival, followed by a wide release on September 17, 2021. But in early July 2021, with the Delta variant running rampant and COVID-19 numbers on the rise, the studio canceled the premiere and delayed "Clifford" indefinitely. Second guessing their fall schedule, especially where big blockbusters were concerned, Paramount also delayed even bigger titles, like "Mission Impossible 7," "Top Gun: Maverick" and "Jackass Forever." While these films remain on the 2022 release calendar, "Clifford" has found a way to still hit theaters this fall.
Clifford Is Taking Advice From The Paw Patrol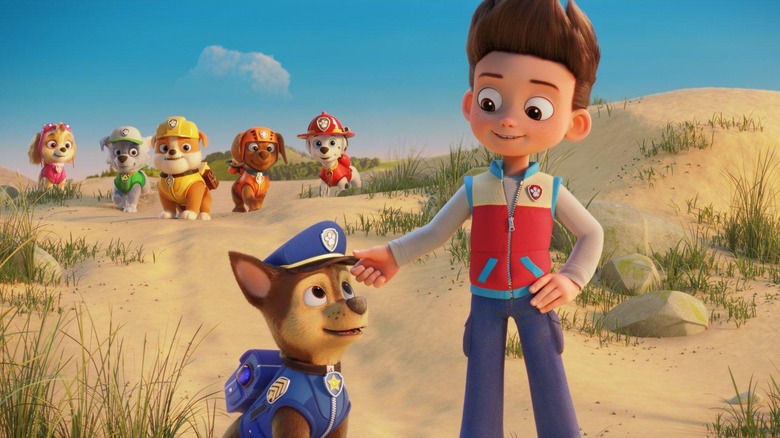 Paramount+
"Clifford the Big Red Dog" is sort of a special case, at least compared to the adult-targeted blockbusters now planned for next year. As for "Clifford," having a target audience of younger children means viewers (under the age of 12) are ineligible for the vaccine and potentially, a lot less likely to risk returning to theaters. At the very least, parents and families are hesitant about returning to crowded theaters and more so with unvaccinated children in tow. Now that in-person schooling has resumed, the risk has worsened. But the recent release of "Paw Patrol: The Movie" offered Paramount an alternative.
"Paw Patrol: The Movie" premiered in theaters and on the Paramount+ service to much success, paving the way for "Clifford" to do the same. Since the movies target a similar age demographic Paramount can expect a similar response from parents when it comes to viewing the film at home versus in theaters. President and Chief Executive Officer of ViacomCBS Bob Bakish spoke to this thought process in a virtual press conference, saying:
So most recently with PAW Patrol, that was actually our first day-and-date release. When I say day-and-date, I mean streaming and theatrical simultaneously. We think that's actually a very good model for kids and family films, again, particularly in this COVID-impacted time, because it gives consumers optionality to view the product where they feel the most comfortable and we did a bunch of research on that. The result of that move, though, was a film which did very well both theoretically and it was a significant driver for Paramount, where it's actually now one of the most watched originals to date.
What You Should Know About Clifford the Big Red Dog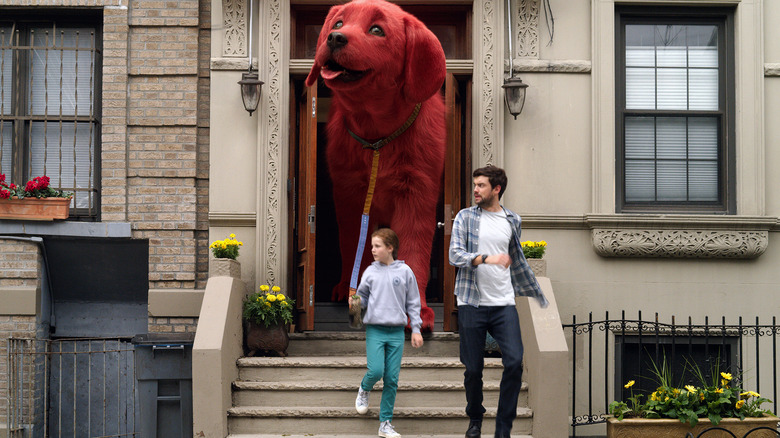 Paramount Pictures
Now that its release is finally set, it's time to jump on the "Clifford" hype train. As the title promises, "Clifford The Big Red Dog" follows a little girl and her gigantic red dog as they navigate growing up in the insanity of New York City.
If you're not familiar with the Norman Bridwell kids series of the same name, know that Clifford wasn't always the terrifying eldritch horror we see now. When Emily Elizabeth (Darby Camp) adopted him, he was a tiny and inexplicably red puppy. Apparently, his color wasn't strange enough for her, so that night she wished for him to become big and strong, so nobody could ever hurt them. And it comes true. The next morning a huge, floppy eared beast barks her awake. It's perfectly fine though: Clifford has a reputation for being the best friend anyone could know. Here's the officially synopsis for the film:
As middle schooler Emily Elizabeth struggles to fit in at home and at school, she discovers a small red puppy who is destined to become her best friend from a magical animal rescuer. When Clifford becomes a gigantic red dog in her New York City apartment and attracts the attention of a genetics company who wish to supersize animals, Emily and her clueless Uncle Casey have to fight the forces of greed as they go on the run across New York City and take a bite out of the Big Apple. Along the way, Clifford affects the lives of everyone around him and teaches Emily and her uncle the true meaning of acceptance and unconditional love. Based on the beloved Scholastic character, Clifford will teach the world how to love big.
"Clifford the Big Red Dog" comes to theaters and Paramount+ on November 10, 2021.