Scream Trailer Breakdown: It's Happening Again And We're Taking A Closer Look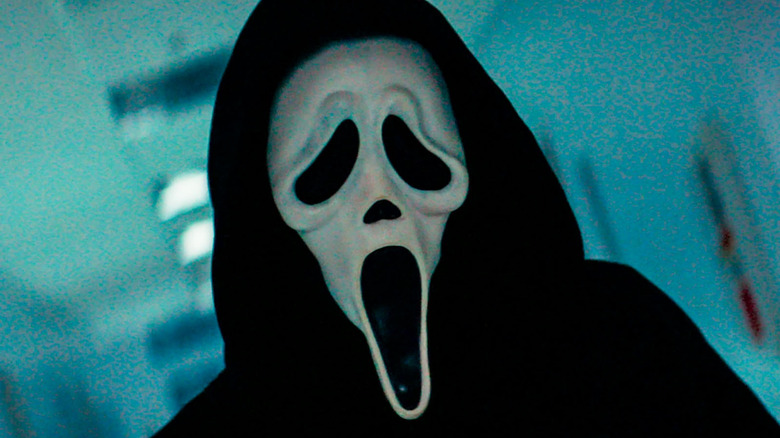 Paramount Pictures
The trailer for next year's wildly anticipated "Scream," the fifth installment in the series in case the title was confusing, is finally here!  And naturally, we're combing over every shot to search for clues as to who's donning the iconic Ghostface mask this time. So put on your detective hats and break out your best Gale Weathers impression, because we have a killer to catch in our latest trailer breakdown. What do directors Matt Bettinelli-Olpin and Tyler Gillett ("Ready or Not") have in store for us? Let's take a closer look.
Back to Woodsboro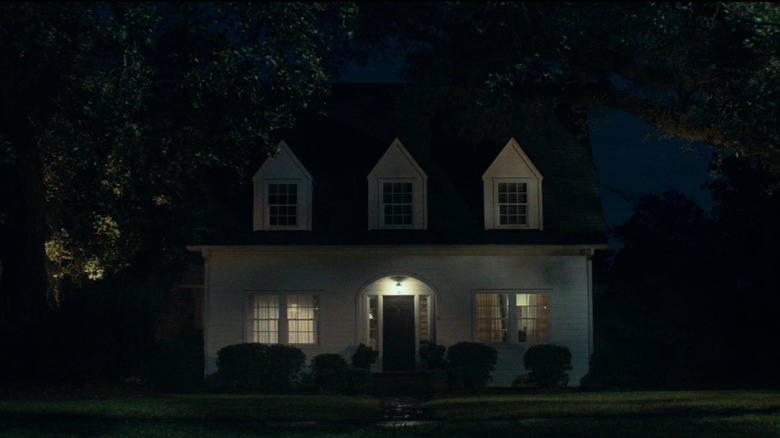 Paramount Pictures
While it's not the same house from the opening of the original 1996 "Scream" movie, it's as nondescript and suburban as you can get. It could be the Myers house from "Halloween." It could be Nancy's house from "A Nightmare on Elm Street." It could be the "Amityville Horror" house. What's certain is we're back in the town of Woodsboro where the notorious Ghostface murders happened 25-years-ago.
Unknown Caller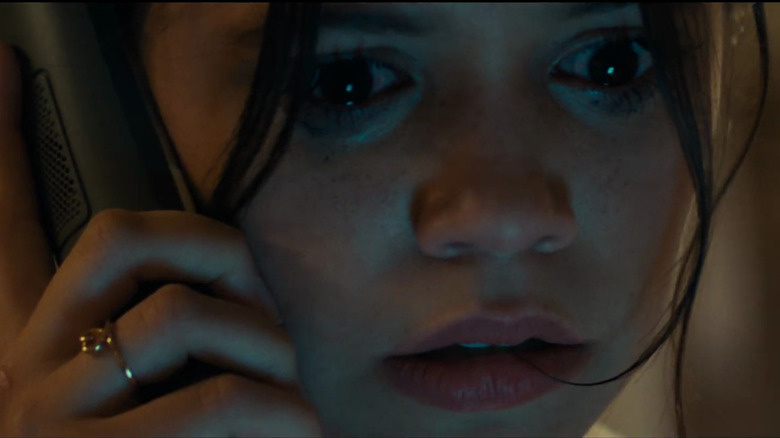 Paramount Pictures
As Drew Barrymore in 1996 played a young woman wearing a sweater home alone and answering an unlisted phone call, so too does Jenna Ortega ("The Babysitter: Killer Queen"). One interesting clue here: the killer is calling from the phone of Amber Freeman, who is played by actress Mikey Madison of "Better Things" and "Once Upon a Time in Hollywood."
App Attack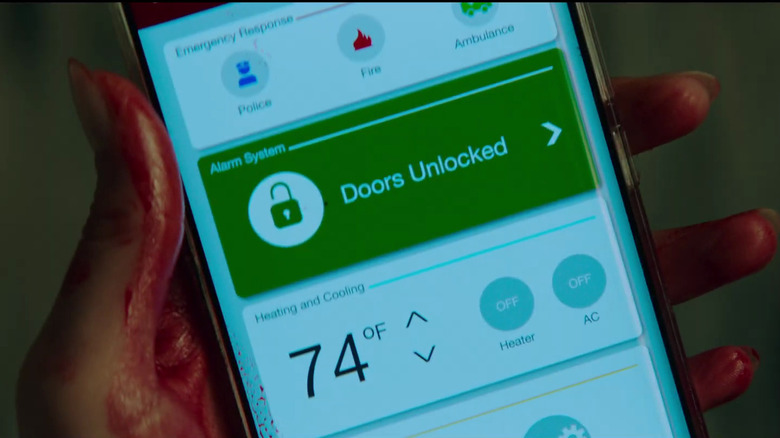 Paramount Pictures
This being a modern-day horror movie, phone apps have to be involved. It's demanded by the movie gods that apps are a thing to be feared, which worked so well in movies like "Countdown" and "Terminator Genysis"... right? 
Down and Dirty Dewey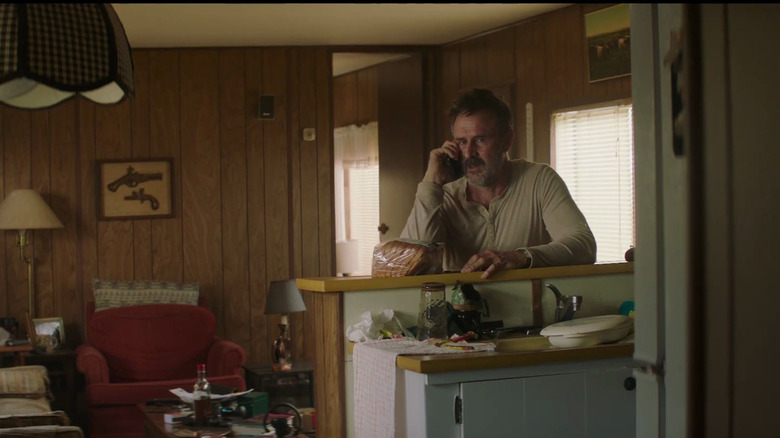 Paramount Pictures
Everybody's favorite sheriff is back, but this time Dwight "Dewey" Riley (David Arquette) is not looking so hot. He's got a lot of beard growth and a bottle of bourbon on his living room table, which is never a good sign. Maybe being perpetually involved in a series of brutal serial killer attacks wears on a person?
Sidney is Back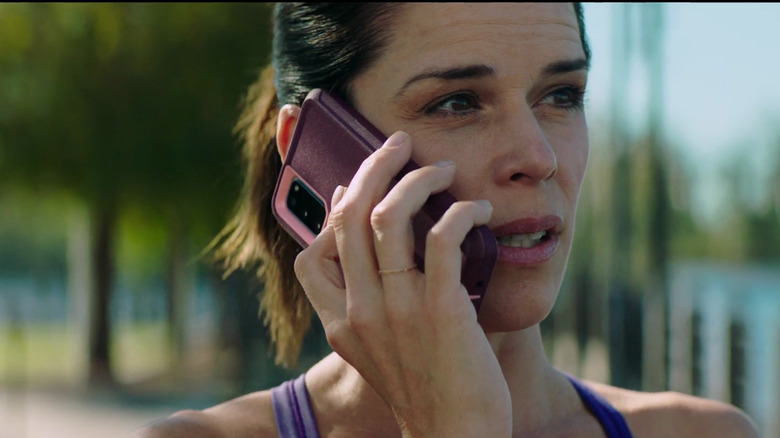 Paramount Pictures
One person who isn't showing any signs of wear and tear is series protagonist Sidney Prescott, played by the hasn't-aged-a-day Neve Campbell. In the previous movie, "Scream 4," she returned to Woodsboro for a book tour on the 15th anniversary of the Woodsboro murders. This time she wears all the surprise of a Dominoes employee taking a pizza order when she finds out more murders are afoot. 
Fresh Meat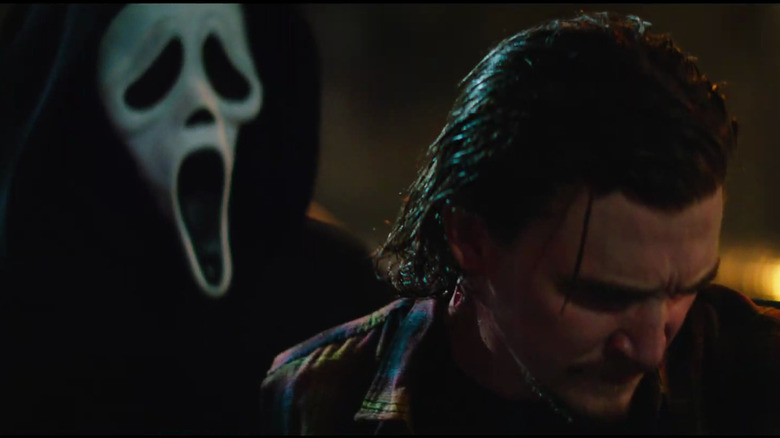 Paramount Pictures
Actor Kyle Gallner has some major horror film cred, having appeared in the "Nightmare on Elm Street" reboot, "The Haunting in Connecticut," "Jennifer's Body" and even "Red Eye" directed by late "Scream" filmmaker Wes Craven. Here he is playing the greasy-looking bad boy Vince, who looks like he's not long for this earth. 
Meet the New Protag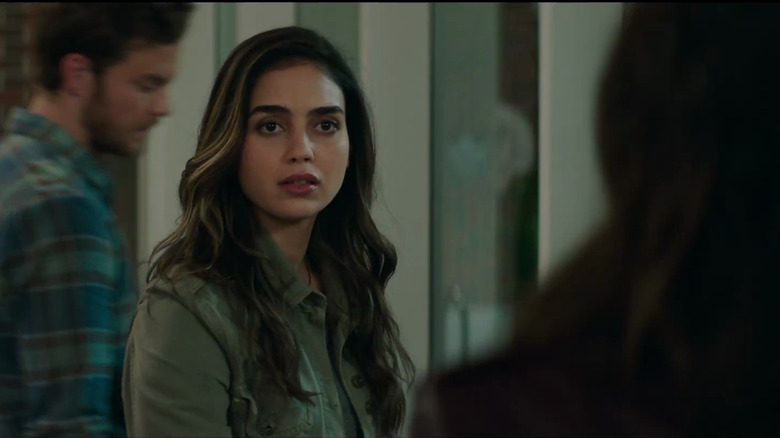 Paramount Pictures
Meet the new protagonist who just might pick up the mantle from Sydney: Sam Carpenter, whose John Carpenter-inspired nickname may be a clue in and of itself, as original killer Billy Loomis was named after the Donald Pleasance character in Carpenter's "Halloween" films. Sam is played by Melissa Barrera, who made a big splash in the musical "In the Heights" earlier this year. 
Ghostface Reigns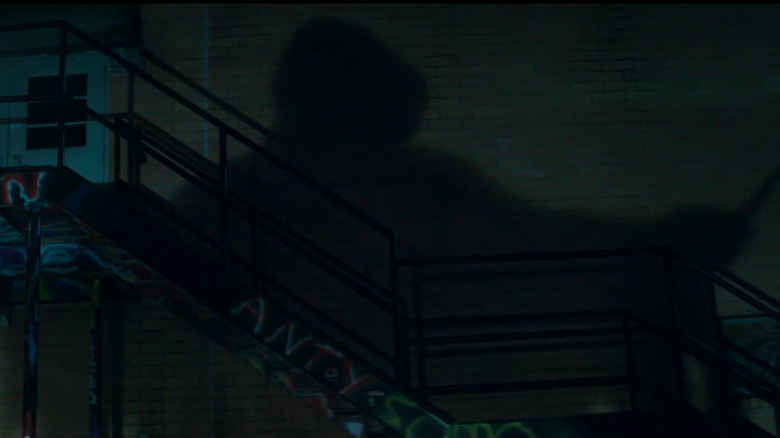 Paramount Pictures
This shot is a cool shot of German Expressionist-style shadow play, showing how much Ghostface looms over the town. 
Girl Power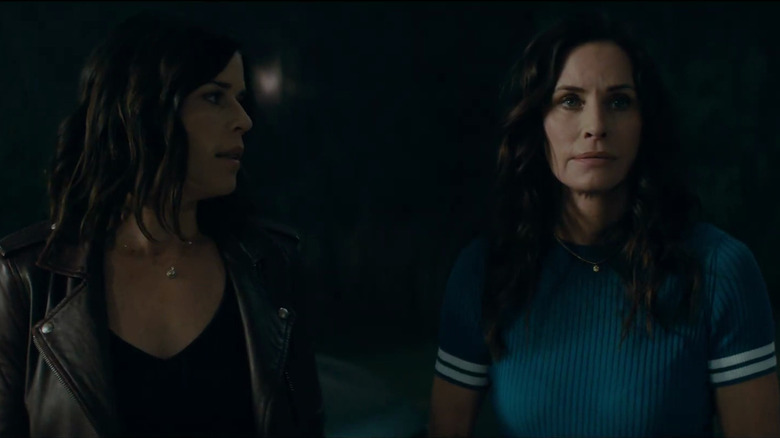 Paramount Pictures
And here we see Sydney reunited with plucky reporter Gale Weathers, played by the always-game Courtney Cox. Are she and Dewey still married ten years later? Doubtful, given his sorry state in this trailer. 
Jock Shock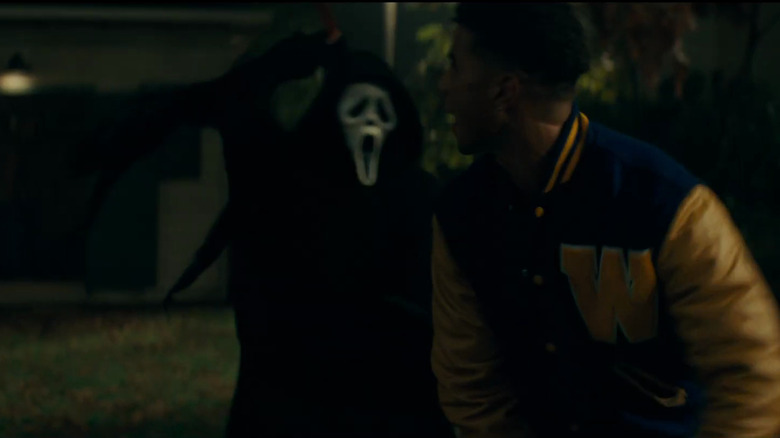 Paramount Pictures
This appears to be actor Mason Gooding playing letterman jock Chad Meeks-Martin, who is implied to be related to original co-killer Randy Meeks. Gooding recently appeared in "Booksmart" and "Picard."
Ghostface Does a Wheelie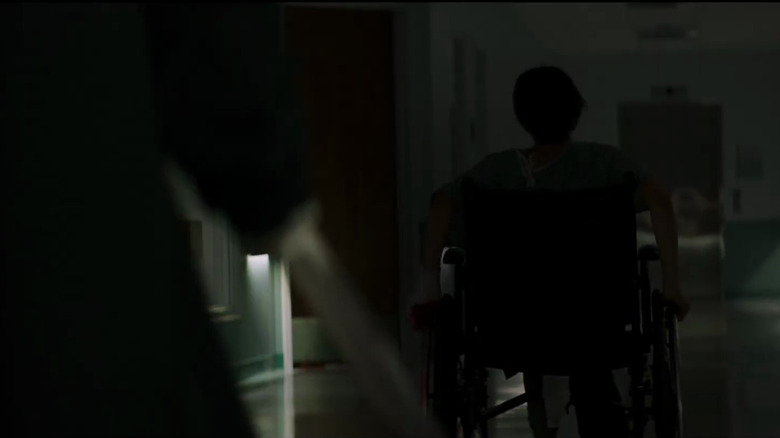 Paramount Pictures
Who is this unfortunate soul in a wheelchair being targeted by the killer? Has Ghostface no shame???
Horror Cliche Pow Wow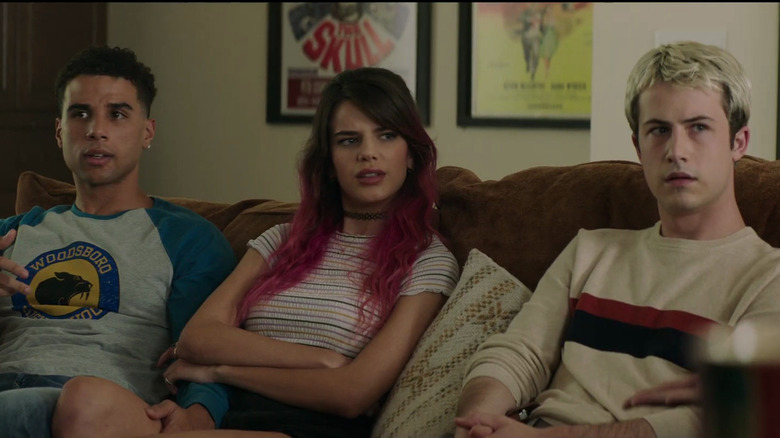 Paramount Pictures
On the couch in a horror movie strategy huddle is Chad Meeks-Martin, Liv McKenzie (singer/model Sonia Ammar) and Wes Hicks, the son of Marley Shelton's Judy Hicks and the namesake of Wes Craven. That might be a clue! Or a red herring, we're not sure. Hicks is played by "13 Reasons Why" star Dylan Minnette, who has dipped his toe in the horror well before in "Don't Breathe" and "Goosebumps." It should also be noted the posters in the background for two classic horror movies: the original "Invasion of the Body Snatchers" and the Amicus cult gem "The Skull" starring Peter Cushing as Dr. Christopher Maitland and Christopher Lee. Were those specific movies chosen for a reason?
Judy is Upset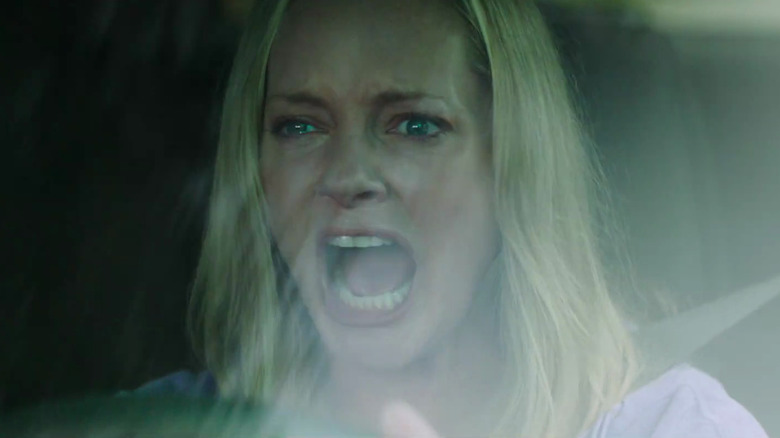 Paramount Pictures
Eh-oh, looks like Wes may be in trouble with this shot of his mom Judy driving very fast and screaming in horror at... something. That's the delightful Marley Shelton reprising her role from "Scream 4."
Richie Glitch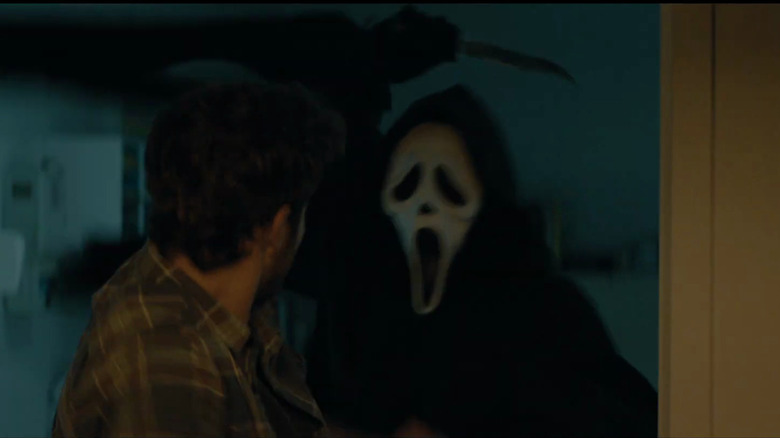 Paramount Pictures
Is that Richie Kirsch about to get iced by Ghostface? Richie is played by Jack Quaid of "The Boys" fame, and he is also the son of Dennis Quaid and Meg Ryan.
Burning Passion For Murder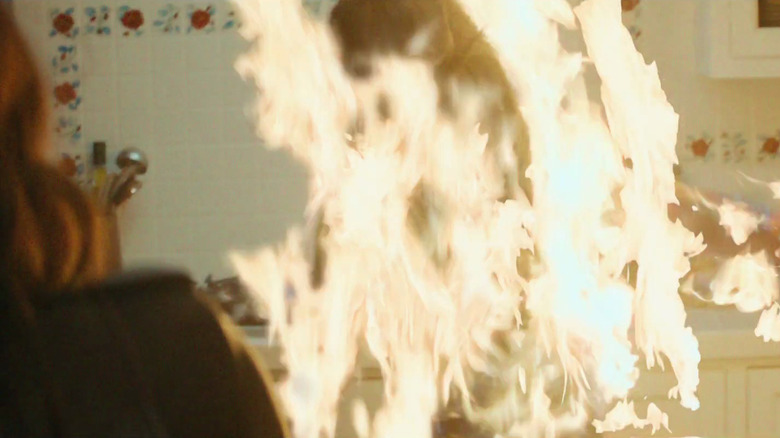 Paramount Pictures
That appears to be Sidney setting Ghostface on fire, proving she means business this time. 
Red Herring?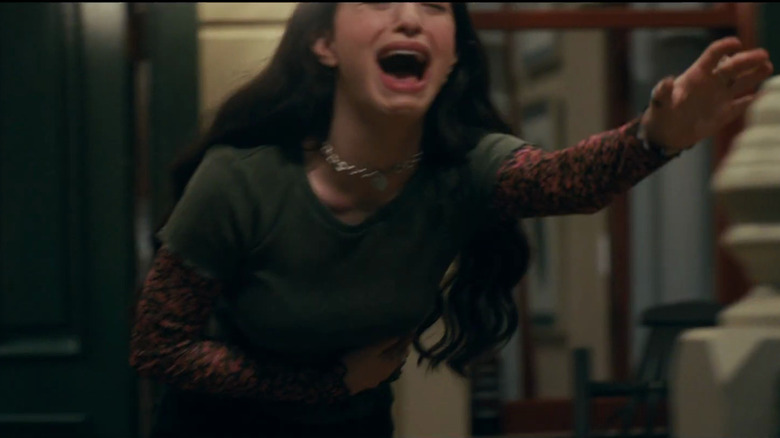 Paramount Pictures
Oh no! Amber is wounded! Or is she? This has potential fake-out written all over it, especially since she's covering the wound and there's no visible blood. 
Gore!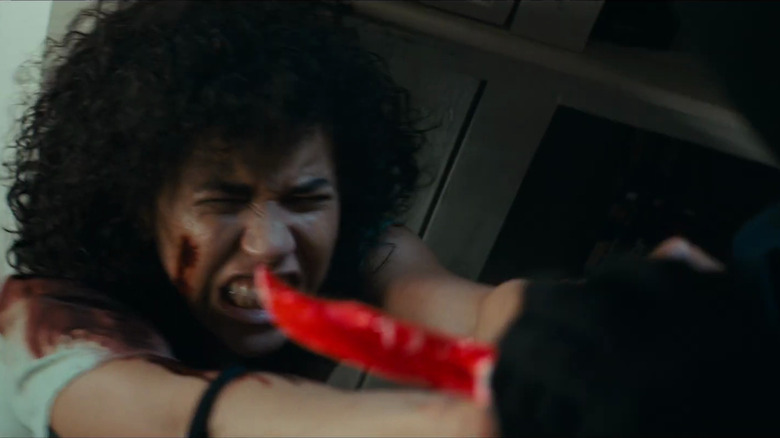 Paramount Pictures
Now THERE is some visible blood as Mindy Meeks-Martin (Chad's sister?) fights for her life. Mindy is played by Jasmin Savoy Brown from "The Leftovers."
Sidney Fights Back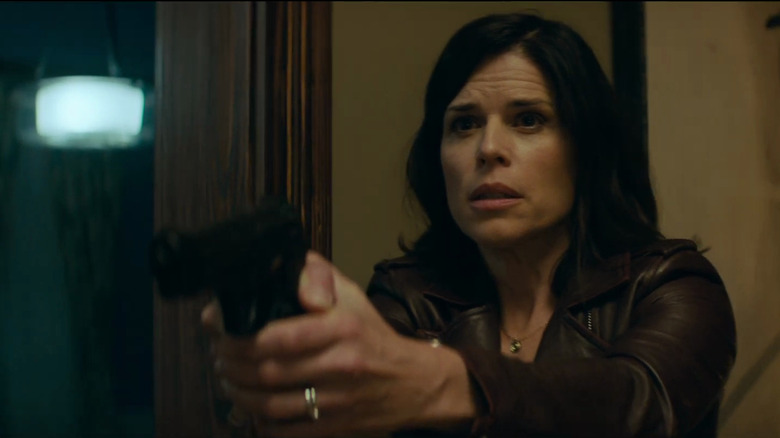 Paramount Pictures
The final shot of the trailer shows Sidney pointing a pistol, ready to shoot-to-kill. Sidney is nothing less than a true survivor in the Laurie Strode-mold, and we can't wait to see what this new installment brings for her!
The confusingly-titled "Scream" hits theaters on January 14, 2022.