Scream Trailer: Ghostface Is Back To Ask A New Generation If They Like Scary Movies
Paramount
What's your favorite scary movie? If the answer is "Scream," then I have good news: there's a new "Scream" coming your way! And, confusingly enough, even though it's the fifth entry in the series, it's just going by the name "Scream." This is becoming a trend in horror – see also 2018's "Halloween" – and I'm not sure I like it. But that minor quibble aside, I'm all-in on a new "Scream" movie. It won't quite be the same without the late, great Wes Craven at the helm. But "Ready or Not" filmmakers Matt Bettinelli-Olpin and Tyler Gillett are handling this new film, and since "Ready or Not" absolutely ruled, that's exciting. The long-awaited trailer for the new "Scream" is finally here, and you can see it below. 
Scream Trailer
In 1996, "Scream" hit theaters and ushered in a new horror boom. The film's hip, self-referential script was not what moviegoers expected, and it helped turn "Scream" into something of a phenomenon, and ushered in a wave of new slasher movies that all attempted to recapture what made "Scream" so special. "Scream" also resulted in a franchise, with the first four films in the series helmed by Wes Craven. Sadly, Craven died in 2015, and it seemed like any hope of another "Scream" sequel died with him.
But now, here comes the fifth entry, confusingly titled "Scream." In this latest installment, "The film follows the story of a young woman who returns to her old hometown, only to encounter horrific murder cases connected to a notorious masked serial killer." While the title may make you think this is some kind of reboot, the new "Scream" is meant to be a direct follow-up to the fourth film. It's also bringing back previous "Scream" franchise actors . David Arquette, Neve Campbell, Courteney Cox, Roger L. Jackson, and Marley Shelton. Newcomers to the series include Melissa Barrera, Jenna Ortega, Jack Quaid, Mason Gooding, Jasmin Savoy Brown, Dylan Minnette, Mikey Madison, Sonia Ben Ammar, and Kyle Gallner.
Where Does Scream Go From Here?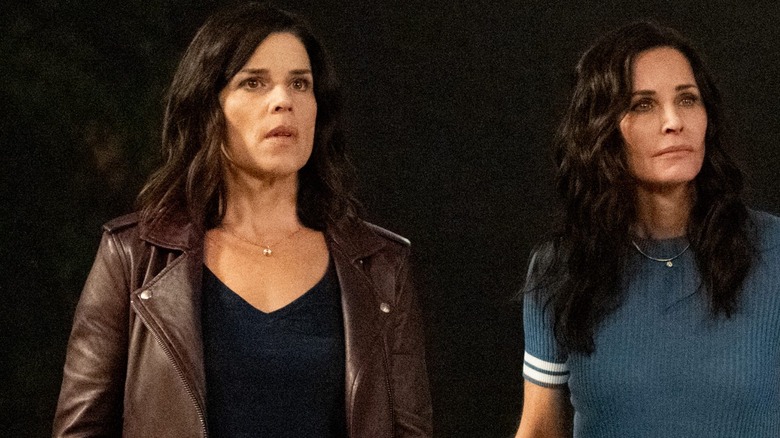 Paramount
I suppose a question one must ask is, "Do we need another 'Scream' movie?" While I'll admit I'm a touch apprehensive about a new entry without the input of Wes Craven, I'm such a fan of Matt Bettinelli-Olpin and Tyler Gillett's work that I'm more than willing to give this one a chance. I'm also mighty curious to see what happens now. "Scream 4," which I thought was pretty damn great and the best sequel in the series (sorry, "Scream 2" fans), served as a kind of legacy sequel – a film that was both sequel and reboot. Will this new "Scream" do the same, or try something new and different? We're going to have to wait to get the full answer.
""That pressure could just be crippling, but we have a really great script," said Bettinelli-Olpin. "I was trying to find a cool word for it, but we have a great script that is just undeniable and it does everything you want in a Scream movie, looking back and looking forward. I still remember when we went and sat down to read it for the first time, and it was a super secret thing to read this script that Jamie [James Vanderbilt] had written with Guy [Busick], who wrote Ready or Not...They created something new. So to be able to do that, moving forward is just so exciting and to have all of the legacy cast involved and all of their input, and to be getting all the stories from everybody that worked with Wes, it's just really been a once-in-a-lifetime experience."
"Scream" opens on January 14, 2022.