Elvira's 40th Keeps Getting Better With A New NECA Figure Of The Mistress Herself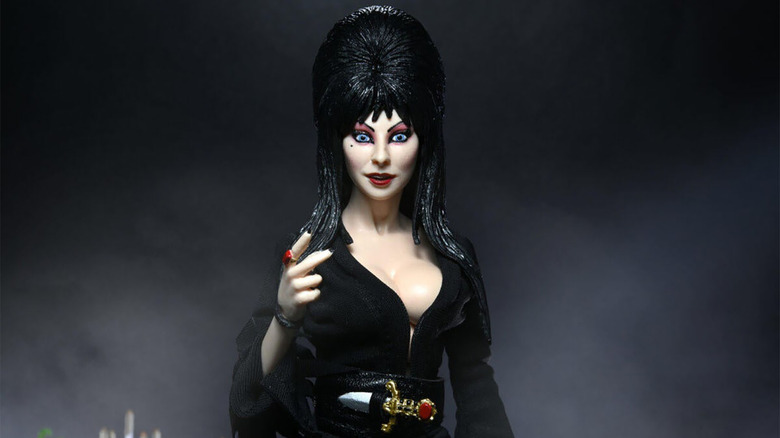 NECA
If you thought you were done spending too much money for things 12-year-old you would have killed to own, I regret to inform your wallet that you're about to dish out a little more this Halloween season. As a continued celebration of Elvira's 40th anniversary and as part of the 31 Nights of Frights celebration, toy juggernauts, NECA, have announced a brand new figure featuring everyone's favorite Mistress of the Dark.
The Details on the New Elvira Figure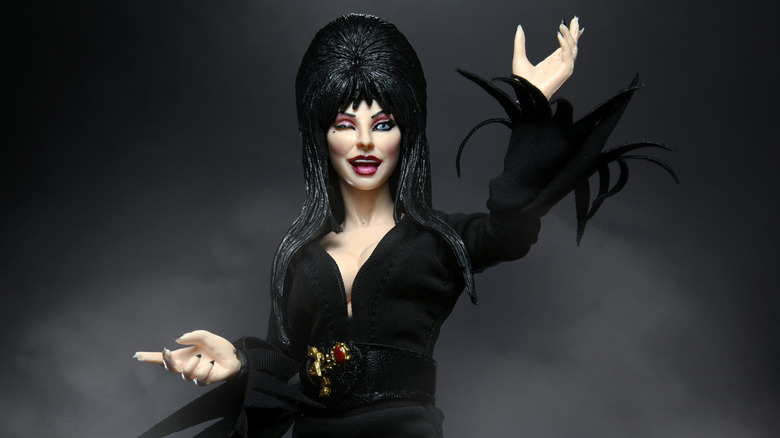 NECA
According to NECA's official description of the figure, "the devilishly delightful Cassandra Peterson has played the part of Elvira for 40 years with grace, humor and more than a little camp. NECA is proud to present this fiendishly fantastic figure." The new figure will include two heads (regular and winking) as well as a handful of accessories including a dagger, goblet, and skull candle.
Admittedly, the figure does miss the mark slightly in that Elvira's iconic pink and blue eyeshadow canonically clears her eyebrows and drifts under her bangs whereas this figure stops at the brow. But putting this figure in a cloth outfit really steps up the quality game, and her face is at least one of the closest versions of Cassandra Peterson's iconic character. Her likeness is pretty uncanny, making this a must-have purchase for any Elvira fan. Just make sure to get your purchases in as soon as possible, as people are known to throw hands to get ahold of Elvira figures.
The Elvira Funko Pop Fist Fight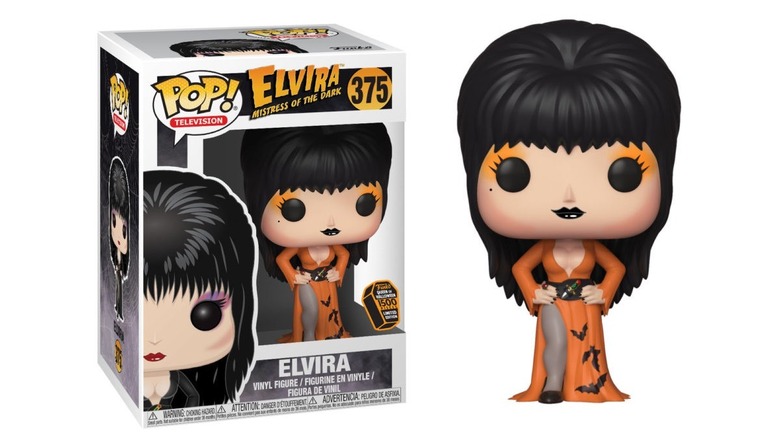 Funko
Back in 2018, Funko released an exclusive Elvira figure as part of the Spooky Empire horror convention in Orlando. However, things went absolutely bananas when only some of the figurines arrived on time. Some guests had waited in line for over twelve hours, and when it was announced that not all of them would be arriving, multiple fights broke out between full-grown adults, the cops had to be called, and arrests were made. Cassandra Peterson had to make a statement online explaining the shipping delay and called out resellers and scammers who purchased the pops that did arrive en masse, ruining the fun for everyone.
The situation was a nightmare, but a guest won the cosplay competition at Spooky Empire the following year by dressing as the beloved Funko Pop in one of the most hilarious in-jokes I've ever seen.
The winner of "Best in Show" at @spookyempire Elvira Funko Pop! Created by @badmoonfx#champion #costume #costumecontest #spooky #spookyempire #exclusive #elvira #elvirafunkopop #funkipop #contest #winner #badass #bestcostume pic.twitter.com/BlUFimse0y

— HorrorHappeningsWithTheDeadGirl (@horror_with) March 25, 2019
Figures Toy Co., Funko, Enesco, Living Dead Dolls, Royal Bobbles, Chia Pet, and even NECA's "Toony Terrors" line have all given Elvira the figurine treatment, but the newest 8-inch figure from NECA is currently available for pre-order through Entertainment Earth for a February 2022 arrival.