The 16 Best Family Movies To Watch This Spooky Season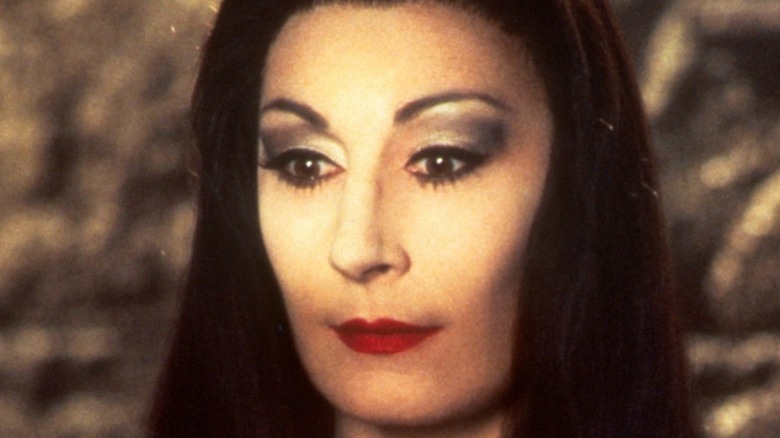 Paramount Pictures
There's something about shared fear that cultivates strength and resiliency while bonding audiences. It can be a communal experience, especially for families. So, the Halloween season is the perfect time to dim the lights, pop some corn, and cuddle up for some seasonal frights that are almost guaranteed to bring everyone closer together.
As far as horror films are concerned, this forthcoming Halloween season arrives with the promise of several heavy hitters, among them "Halloween Kills" and "Last Night in Soho," but family-friendly titles are in shorter supply. For those looking to cultivate an appreciation for the horror genre with something appropriate for the entire family, here are 16 of the best family movies to watch this spooky season. Every one of the movies on this list is fun for both adults and children, and will spark either genuine chills or gut-busting laughs — or, in some cases, both. Let's get spooky.
Nightbooks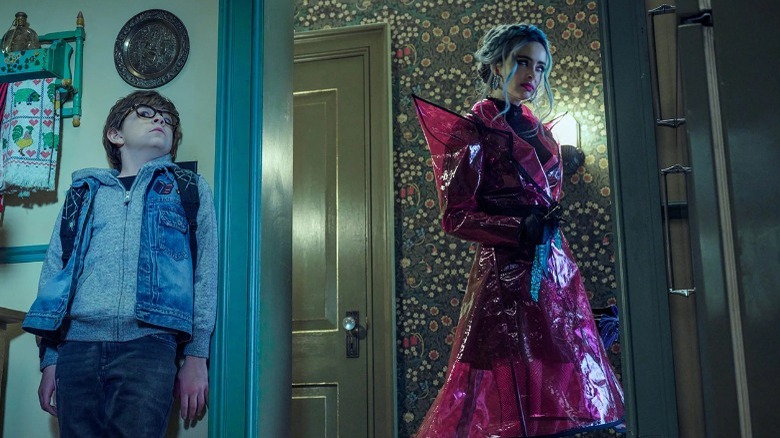 Netflix
"Nightbooks," currently streaming on Netflix, is one of the newest entries on this list. Produced by genre heavyweight Sam Raimi and directed by David Yarovesky, "Nightbooks" is the perfect gateway for burgeoning horror fans looking for something a little scarier than most family offerings. Winslow Fegley stars as Alex Mosher, a young boy living in New York who loves nothing more than writing the scariest stories he can, which he calls his "nightbooks." When he swears to never write another, a witch name Natacha (Krysten Ritter) lures him into her otherworldly apartment and demands that he write her a new scary story every night if he wants to be kept alive. There, Alex meets Yazmin (Lidya Jewett), another young girl captured by Natacha.
Considerably scarier than most PG horror flicks, "Nightbooks" is sure to appeal to families looking for something accessible and funny, but with a little edge. The effects are dazzling, the performances are pitch-perfect, and the message of finding one's courage and voice is universal. Young audiences are sure to love it, and with any luck, might find themselves inclined to peruse more of Raimi's offerings as they get older.
Coco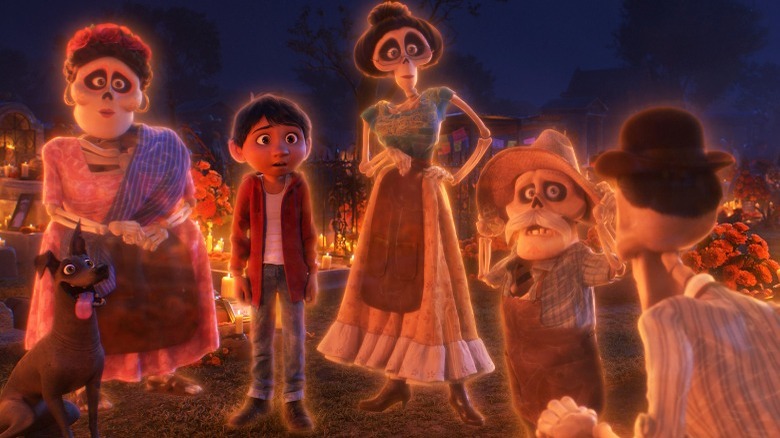 Pixar
Arguably Pixar's last true classic, "Coco" is a gorgeously animated adventure that broadens Disney's conventionally Euro-centric horizons with a distinctly Mexican story. Inspired by Día de los Muertos, Mexico's Day of the Dead, "Coco" follows Miguel (voiced by Anthony Gonzalez), a young boy in Santa Cecillia who dreams of becoming a musician like his father. His family is more than resistant — they're downright antagonistic. They blame music for his father's absence, reasoning that he prioritized performing over family. On Día de los Muertos, Miguel steals the guitar of deceased superstar Ernesto de la Cruz (Benjamin Bratt) from Ernesto's mausoleum and finds himself transported to the world of the dead.
Miguel is told that he only has until sunrise to return to the world of the living, lest he remain trapped in the land of the dead forever. What follows is a deeply poignant reflection on family, memory, and the way we do (and should) honor the deceased. Children will be enchanted by the bright colors and gorgeously rendered world of the dead, while parents will be susceptible to more than a few tears as Miguel reflects on his lineage and learns the truth about where he came from.
Something Wicked This Way Comes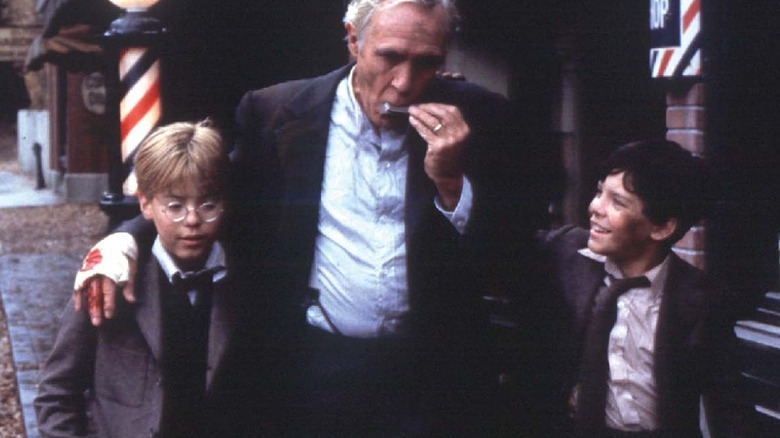 Buena Vista Distribution
Though only currently available on DVD (come on, Disney+), "Something Wicked This Way Comes" is one of the scariest children's movies ever made. Written by Ray Bradbury and adapted from his novel of the same name, the plot follows two young boys in Green Town, Illinois who find themselves enveloped in a plot involving the Halloween carnival that has arrived in town. Led by the deeply sinister Mr. Dark (Jonathan Pryce), the two boys discover that the carnival has been seducing the town's adults and making them younger — some by several years, and some reduced to infancy.
No less scary than Bradbury's gateway text, "Something Wicked This Way Comes" throws spiders, witches, and genuine menace at its audience, never jeopardizing its thrills or sense of menace by conforming to the constraints of most family horror films. Genuinely terrifying, "Something Wicked This Way Comes" is the perfect spooky season treat for families eager for a little danger alongside their candy corn.
The Halloween Tree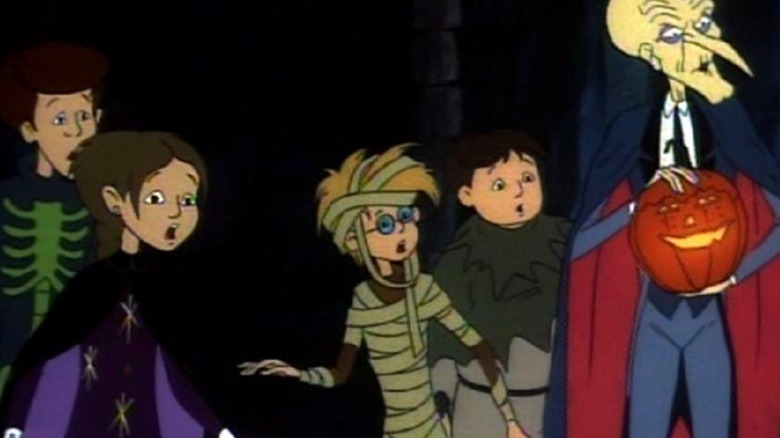 Turner Entertainment
More than just a perennial offering — it often airs on Cartoon Network every October — "The Halloween Tree" is also a bona fide history lesson, as illuminating and probing as it is entertaining. Another Bradbury adaptation, "The Halloween Tree" follows a group of trick-or-treaters and their efforts to save their friend's soul when it's taken by the sinister Carapace Clavicle Moundshroud (voiced by "Star Trek" legend Leonard Nimoy).
Moundshroud promises to return their friend Pip's (voiced by Kevin Michaels) soul if the children agree to join him on a journey to learn more about the history of Halloween. The children agree and travel to Egypt, Stonehenge, and several other famous locales to learn more about Halloween traditions and their costumes' historical roots. The ending is poignant and raw — without spoiling anything, it's realistic and deeply meaningful, and doesn't pull any punches. Ray Bradbury is the master of gateway horror for a reason.
The Adventures of Ichabod and Mr. Toad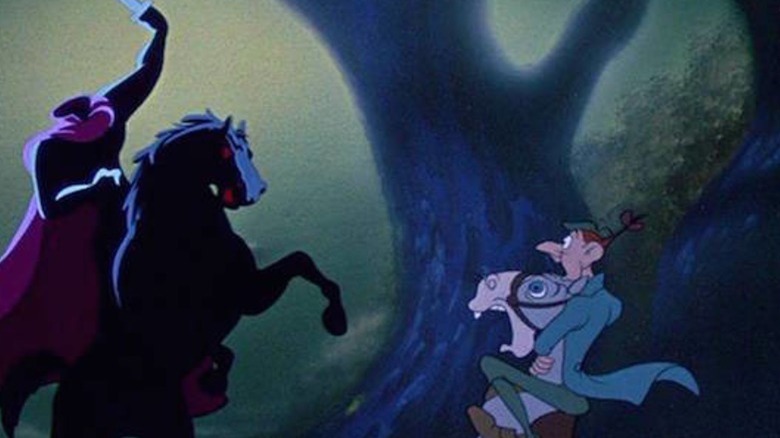 Disney
"The Adventures of Ichabod and Mr. Toad" was Disney's last packaged film until the release of "The Many Adventures of Winnie the Pooh" in 1977. It consists of two segments, the first of which is based on Kenneth Grahame's "The Wind in the Willows," and the second of which is based on Washington Irving's "The Legend of Sleepy Hollow." 
While "The Wind in the Willows" adaptation is good, it's "The Legend of Sleepy Hollow" that truly excels. With the inimitable Bing Crosby as both narrator and protagonists Ichabod Crane and Brom Bones, the segment is an incredibly faithful adaptation of Irving's original short story. The hand-drawn animation is stellar and the music incredible — Bing Crosby's "The Headless Horseman" is exceptional — and when Ichabod finally makes his way into the dark woods for his trip home after a Halloween party, it becomes genuinely frightening. The sound design brings every snapped branch and whisper in the wind to life. For young genre initiates, "The Legend of Sleepy Hollow" is poised to terrify. This is classic Halloween animation at its best.
Scary Stories to Tell in the Dark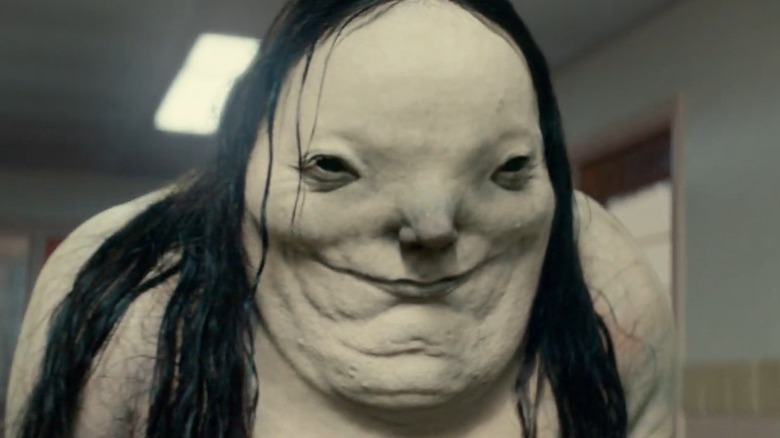 Lionsgate
The scariest entry on this list, André Øvredal's "Scary Stories to Tell in the Dark" had the unenviable task of adapting Alvin Schwartz's perennial Scholastic text to film. While the stories in Schwartz's collection are good, it was the original illustrations by artist Stephen Gammell that cemented the series' legacy. How, then, does one go about adapting that to film? As it turns out, with the guidance of gothic maestro Guillermo del Toro.
In an overarching narrative written for the screen, Zoe Colletti stars as Stella, a young writer who comes into possession of alleged witch Sarah Bellows' collection of horror stories on Halloween. These stories are directly culled from Schwartz's collection, illustrations and all, and within hours, Stella realizes that the tales are coming to life and targeting her friends. 
Genuinely frightening without ever being explicit — "Scary Stories to Tell in the Dark" is a firm PG-13 — it's the perfect foray into the horror for older kids and teens who want a scare that isn't going to push things too far. With dazzling production design, poignant messages about prejudice and persecution, and some gangbuster scares, "Scary Stories to Tell in the Dark" is a spooktastic contemporary classic.
ParaNorman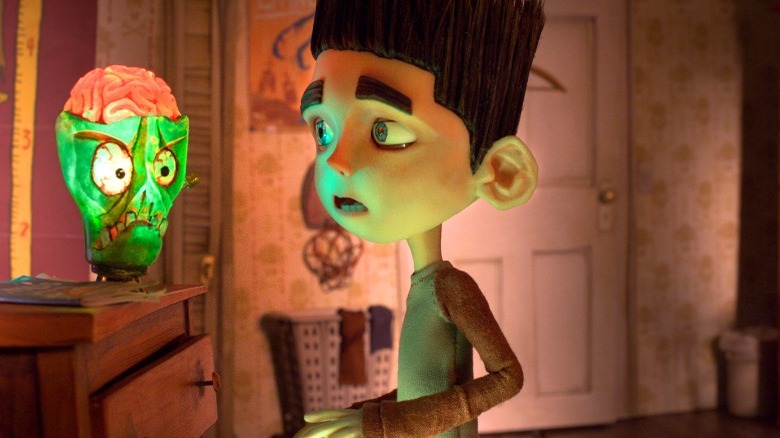 Focus Features
"ParaNorman" is stop-motion animation studio Laika's best film. Sorry, "Coraline" fans. Beyond the incredible animation on display — in that regard, Laika never disappoints — "ParaNorman" is a heartfelt ode to not just the horror genre, but to an entire community of people who feel like they don't belong. Bonus points must be given to Mitch's character (voiced by Casey Affleck): He's animation's first openly gay character.
Kodi Smit-McPhee voices Norman Babcock, an 11-year-old in Blithe Hollow, Massachusetts who has the curious ability to speak with the dead. Often, this includes pleasant exchanges with his late grandmother, but occasionally, another ghost will chime in, upending Norman's entire day. He feels different and unwelcome, and to the bullies in town, Norman is a freak. 
However, when the ghost of the town's resident witch curses the town on Halloween and brings the dead back to life, Norman must figure how to use his gift to complete an ancient ritual to stop further destruction. "ParaNorman" is scary, fun, and funny for young audiences, but probing enough to enlighten older ones. It's a story about prejudice and persecution wrapped in a creepy Halloween bow, and it's sensational.
The House With a Clock in its Walls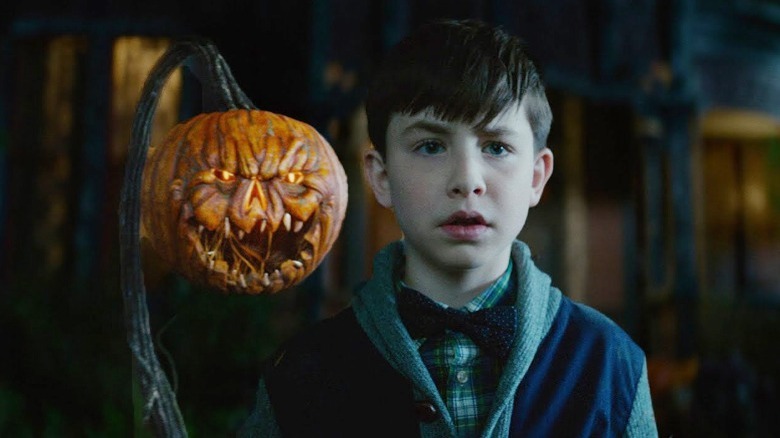 Universal Pictures
"The House with a Clock in its Walls" is another exceptional gateway entry for young horror fans. Though suitably scarier than most of the other films on this list — it's helmed by "Hostel" creator Eli Roth — it's still appropriate for audiences of all ages and boasts a truly heartfelt story to boot. 
Roth's first film to not receive an R-rating, "The House with a Clock in its Walls" follows Lewis Barnavelt (Owen Vaccaro), a 10-year-old left orphaned after his parents are killed in a car crash. He moves in with his eccentric uncle, Jonathan Barnavelt (Jack Black), a warlock living in an old house that has, yes, a clock hidden in its walls. Jonathan and his neighbor, Florence Zimmerman (a beguiling Cate Blanchett), have been searching for the clock every night, eager to discover its purpose, especially since the clock itself was hidden by sinister warlock Isaac Izard ("Twin Peaks" alum Kyle MacLachlan).
Roth wanted to make a family-friendly horror film that didn't skimp on scares, and with "The House with a Clock in its Walls," he delivers. There are monstrous jack-o-lanterns, sentient dolls, and a delightfully menacing performance from MacLachlan. Blanchett and Black provide the requisite heart, and balance it nicely with the finely-tuned scares. Though intermittently juvenile — it is a children's movie after all — "The House with a Clock in its Walls" has plenty of craftsmanship and genuine thrills that should appeal to the entire family.
Goosebumps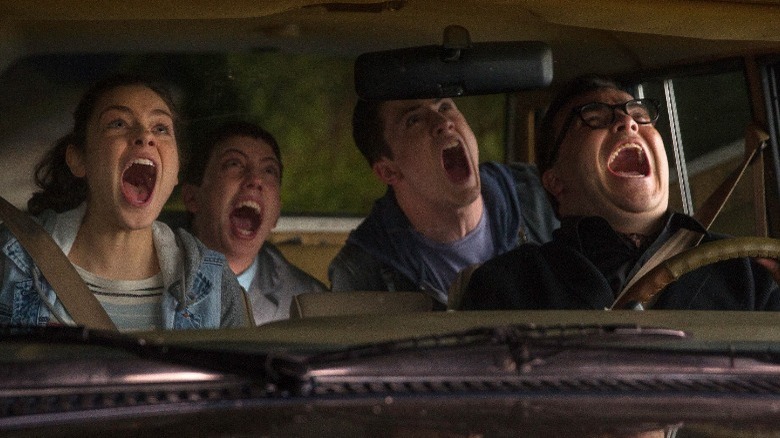 Sony Pictures Releasing
"Goosebumps" was an unprecedented success. Though its budget is unclear — some speculate it was somewhere around $58 million, others $84 million – it was hugely popular, resulting in a sequel, "Goosebumps 2: Haunted Halloween," three years later. Skip "Haunted Halloween" and stream the first movie, a delightfully spooky and fitfully funny monster mash. 
Jack Black stars as R.L. Stine (Black's contemporary niche appears to be frightening family flicks, and I'm not complaining), who explains to his new neighbor Zach (Dylan Minnette) that the "Goosebumps" series, though originally a method to cope with bullying, exists to imprison monsters. When Stine realized that his creations came to life, he continued writing to keep the horrors locked away in the dusty spines of his original manuscripts.
Naturally, those books are opened, and a menagerie of monsters swarm their small town. Stine can only capture them by writing a new manuscript, but (for some reason) it must be done with a magical typewriter that's held in the local high school. Series favorite Slappy the Dummy (also voiced by Jack Black) leads the monstrous charge, and he's an absolute delight. Gorgeously rendered and genuinely frightening, "Goosebumps" is the perfect way to kick off a creeptastic Halloween season.
Hubie Halloween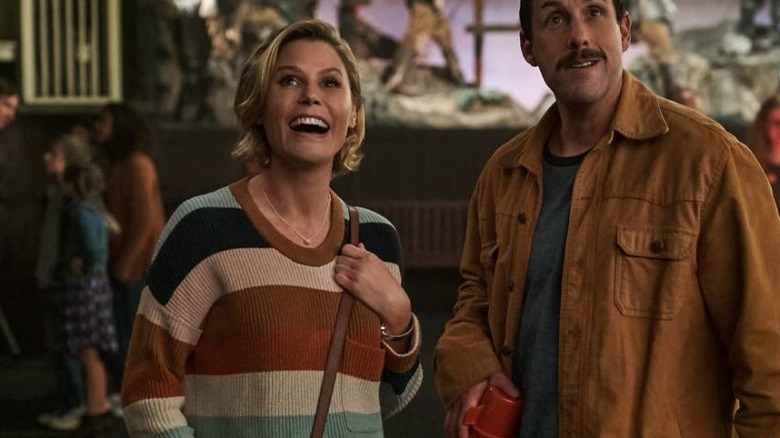 Netflix
One's tolerance for Adam Sandler's Netflix hit hinges entirely on their predilection for Sander's silly accents. Fresh off his acclaimed role in "Uncut Gems," Sandler assembled a comedic troupe for the ages with "Hubie Halloween," a goofy, low-stakes story about Sandler's Hubie, who saves his hometown of Salem, Massachusetts from a kidnapper. 
Hubie is routinely ridiculed, both for the way he talks (a riff on Sandler's "Little Nicky" voice that's never explained) and his penchant for being easily scared. He's joined by the likes of Julie Bowen as his love interest and June Squibb as his mother, along with Sandler stalwarts like Kevin James, Maya Rudolph, and several others.
For those who can get past the first five minutes, "Hubie Halloween" is a beautiful love letter to both the town of Salem, where it was filmed, and the season itself. Quite simply, there too few Halloween comedies out there. Families will also be happy to know that, while "Hubie Halloween" has its share of laugh-out-loud moments, it never gets as juvenile or off-putting as some of Sandler's earlier work. It's funny, frightening in spurts, and a grand old time.
Hocus Pocus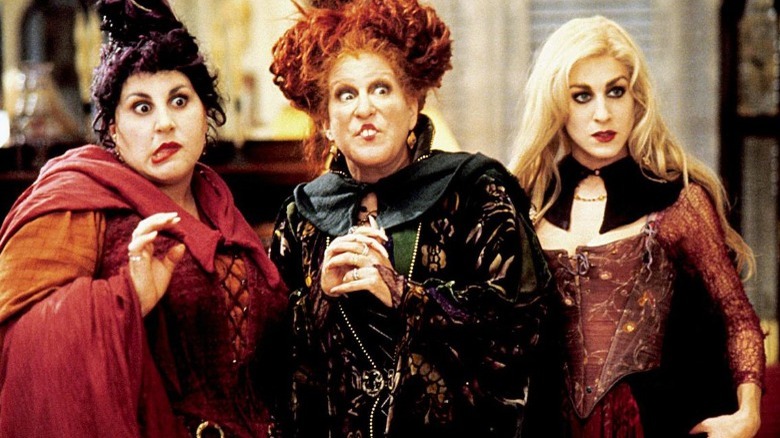 Buena Vista Pictures
"Hocus Pocus" is a classic. Directed by Kenny Ortega and starring Bette Midler, Sarah Jessica Parker, and Kathy Najimy as the Sanderson sisters, "Hocus Pocus" follows a coven of witches who are summoned one Halloween after a virgin lights their black candle. The Sandersons intend to lead the children of Salem to their cabin in the woods, whereupon they plan to absorb their youth and make themselves young again.
In recent years, "Hocus Pocus" has become something of an arbitrary litmus test. As with "Harry Potter," some hang onto the nostalgia of it all, while others detest the film, stridently urging older adults to give up the shtick — in their words, "Hocus Pocus" isn't good. Reasonable persons (myself included) can concede that, while "Hocus Pocus" isn't the masterpiece we might remember it being in our youth, it's still an incredible time. It's stacked with quintessential Disney magic, fantastic performances, and more menace than most contemporary Disney offerings. Plus, its rendition of "I Put a Spell on You" is intoxicating. "Hocus Pocus" may not be a masterpiece, but it casts a bewitching spell. Keep an eye out, too, for the long-awaited sequel.
Casper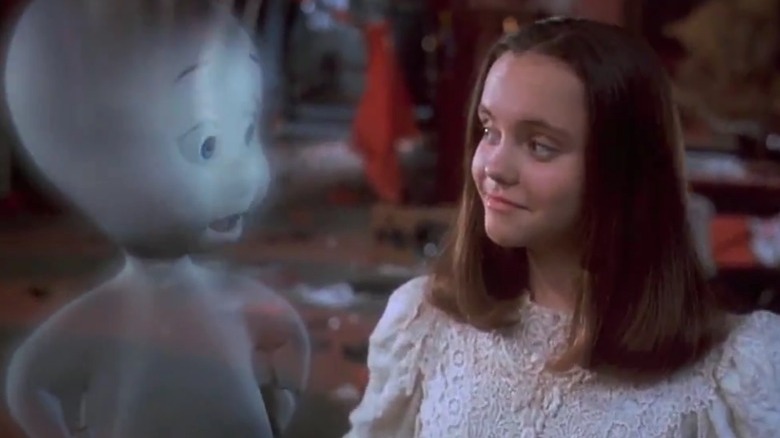 Universal Pictures
Like "Hocus Pocus," "Casper" is a millennial Halloween classic. Just as younger adults are eager to summon the Sandersons with kids of their own, so too are they thrilled at the prospect of introducing the little ones to everyone's favorite friendly ghost. "Casper" stars '90s Gothic icon Christina Ricci and both Malachi Pearson and Devon Sawa as Casper, with Pearson providing his ghostly voice and Sawa embodying his human form. Kat has moved into Whipstaff Manor with her father (Bill Pullman), a paranormal investigator, at the behest of the Catherine Crittenden (Cathy Moriarty), a greedy old woman who's looking to rid the house of ghosts and find its hidden treasures.
What follows is an innocent and sweet, though never saccharine, tale of first love and a ghoulish coming-of-age. Ricci and Pearson have profound chemistry, united by their respective grief and inability to find stability. Though the plot gets fairly dark — there are several deaths — it never gets too scary, and its final message about sacrifice and familial love resonates decades later. "Casper" is a Halloween icon for a reason.
Scooby-Doo! and the Witch's Ghost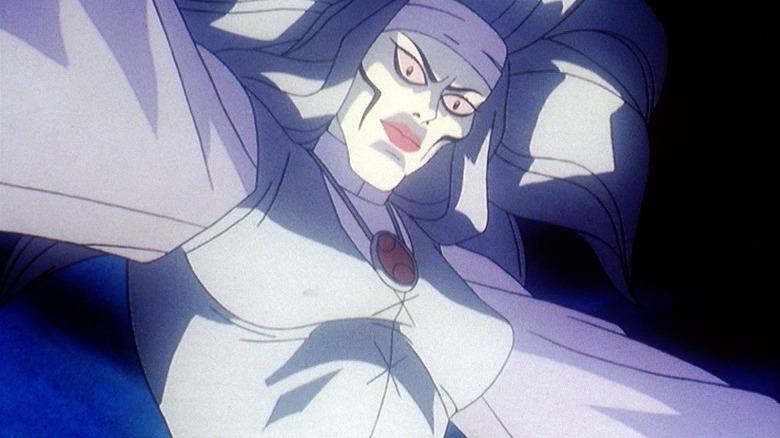 Warner Home Video
Both "Scooby-Doo! and the Witch's Ghost" and "Scooby Doo on Zombie Island" deserve a mention here. They're both animated forays into the best of what the horror genre has to offer, through the legacy of none other than Scooby-Doo. "Witch's Ghost," though, is considerably more of a Halloween movie than "Zombie Island" because, well, it takes place in Massachusetts and tracks, yes, a witch's ghost.
The Scooby Gang is invited to Oakhaven, Massachusetts by famous horror writer Ben Ravescroft (voiced by Tim Curry). There, they find a number of seasonal festivities in full swing, most of which center around the legend of Sarah Ravencroft, a witch executed centuries ago. But Ben disputes the legend, arguing instead that Sarah, a Wiccan, was unjustly persecuted — rather than using dark magic, she used her powers for good. 
Like many other '90s Scooby-Doo stories, the monsters here are genuinely supernatural. There is an actual witch's ghost haunting the town, and the crew are the only ones who can stop it. With the introduction of the Hex Girls — a gothic punk band — and some genuine chills, "Scooby-Doo! and the Witch's Ghost" represents the best of what Scoob and company have been up to in recent years.
Frankenweenie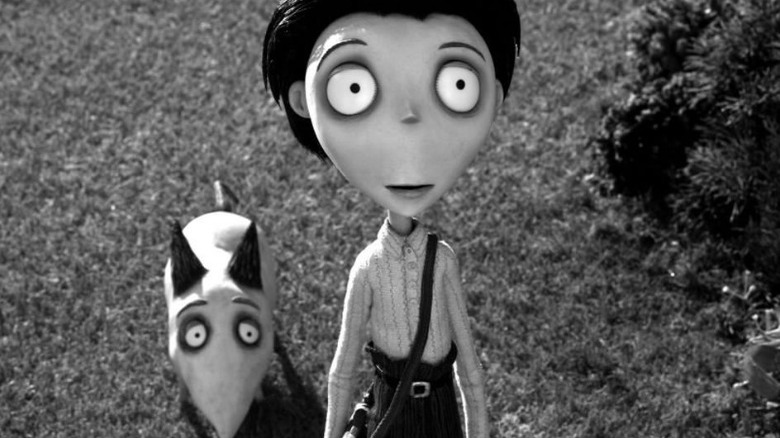 Walt Disney Studios Motion Pictures
"Frankenweenie" is really, really good. Unfortunately, it floundered at the box office. Despite critical acclaim, the marketing for "Frankenweenie" made it look too juvenile for adults and too scary for children. Neither of those are true. "Frankenweenie" is a love letter to director Tim Burton's Gothic roots, a gorgeously composed stop-motion film about a boy and his resurrected dog. A riff on Mary Shelley's "Frankenstein," all of the Burton hallmarks are here, including big eyes, spectacular creatures, Winona Ryder, and a poignancy that balances out the darker elements.
Resurrected dog Sparky is one of the cutest things that Burton has ever conceived, and while children with pets might recoil from his death and revival, there's a lot worth watching for. "Frankenweenie" is a horror-inspired reflection on grief and fear that celebrates our differences and encourages us to come together. The voice cast is sensational, and while watching, families are guaranteed to laugh, cry, and scream together. It's an utter delight.
The Addams Family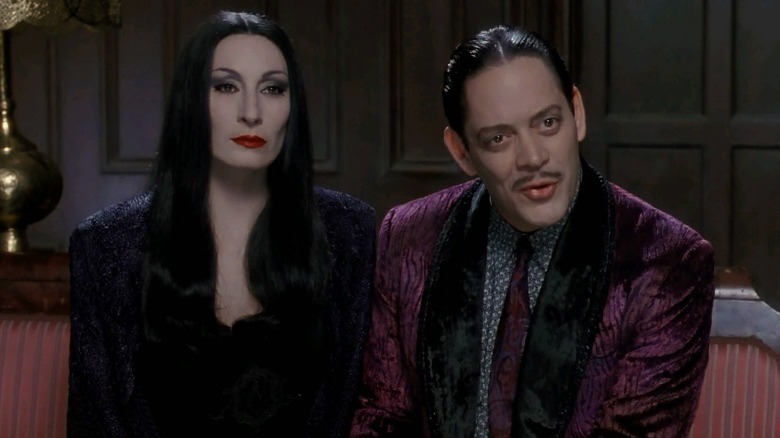 Paramount Pictures
The internet is frequently set ablaze by speculative "Addams Family" castings. Although an animated sequel recently debuted and a television show is on the way, the internet is still doing what the internet does best — making things up. Still, part of that desire is likely driven by nostalgia and the absolutely stellar casting from 1991's first "The Addams Family" movie. With Anjelica Huston as Morticia, Raul Julia as Gomez, Christopher Lloyd as Uncle Fester, and Christina Ricci as Wednesday, it's easy to see why audiences are eager to see history repeat itself.
More madcap and less macabre than its sequel, the similarly well-received "Addams Family Values," "The Addams Family" is an utter delight. Helmed by Barry Sonnenfield, it's zany, goofy, scary, and frequently gut-busting funny. With a climax set at Halloween and plenty of awesome effects, it has both tricks and treats in abundance, and is sure to thrill. 
Monster House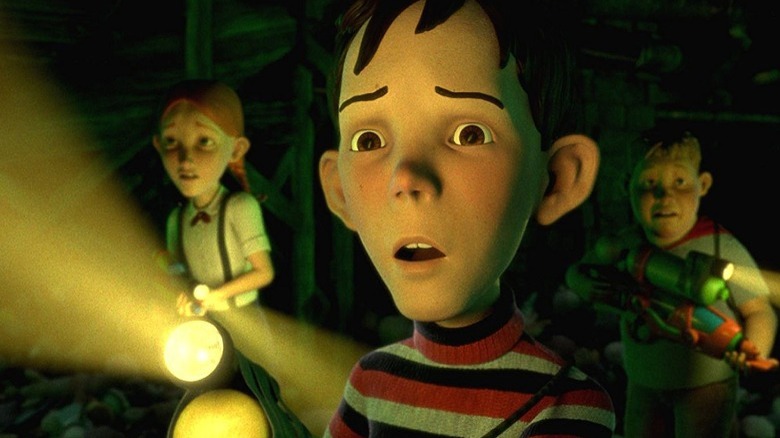 Sony Pictures Releasing
"Monster House" is very scary. Directed by Gil Kenan (who would later go on to helm the "Poltergeist" remake, another worthwhile family pick), it follows a group of kids who take it upon themselves to investigate the titular monster house, a neighborhood behemoth that literally eats children but becomes inactive whenever adults are present. As more and more neighborhood kids are swallowed up, the trio, led by Mitchel Musso's D.J. Walters, must figure out how to stop the evil abode before they're eaten, too.
The central conceit alone is terrifying, as the house unfurls it carpeted tongue to swallow any child who dawdles nearby a moment too long, and the animation is stellar, with Sony employing the same animated style that made "The Polar Express" so successful (thankfully, "Monster House" spends less time in the uncanny valley). "Monster House" is so scary, in fact, that co-writer Dan Harmon once wrote to a young fan apologizing for just how frightening it was. Nonetheless, for kids who can handle it, "Monster House" is a monstrously good time.