The Best TV Shows & Movies Coming To Disney+ In October 2021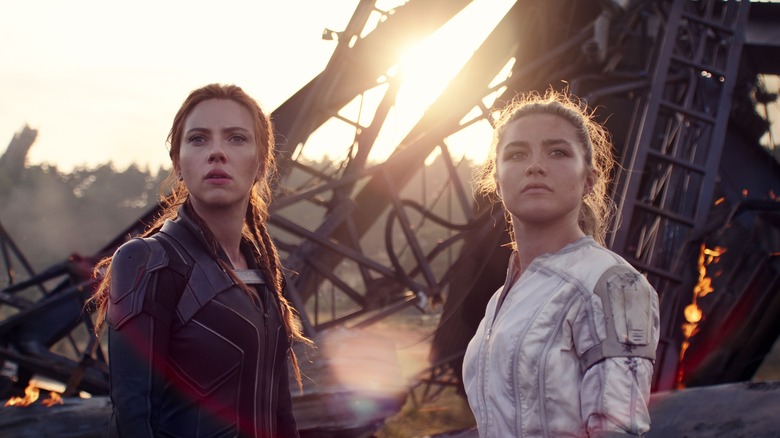 Marvel Studios
Spooky season is almost upon us and Disney+ has understood the assignment. Kind of. If you're looking for some ultra family-friendly Halloween specials, you've come to the right place, but if you're craving something with a little more edge, we recommend searching through the back catalogue or firing up a different streaming service. No matter what kind of October you're planning, we've got a recommendation.
Besides the spooky selections, Disney's streaming service is unleashing some excellent non-Halloween titles next month, and we have them all listed below. Keep scrolling to soak up all the knowledge and feel confident that you'll never miss a TV show or movie you want to see ever again.
Black Widow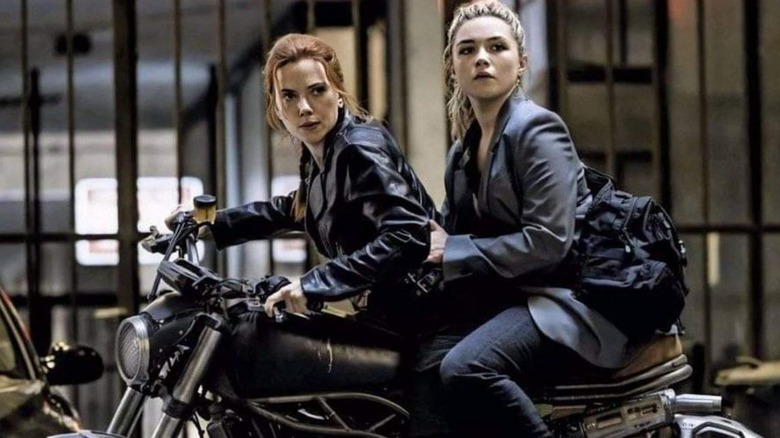 Marvel Studios
If you've been waiting for "Black Widow" to hit streaming services so you can watch it in the Covid-free confines of your living room, your moment has finally arrived. Starring your girl Scarlett Johansson (obviously) and the always delightful Florence Pugh, as well as David Harbour and Rachel Weisz, "Black Widow" attempts to fill in the blanks of Natasha Romanoff's past while crafting a fun-for-the-whole-family spy thriller. It doesn't quite hit all of those marks, but let's be real, you're either watching this because you're a Marvel completist or you just want to watch Johansson and Pugh play off of each other for 90 minutes, both of which are solid motivations. I mean really, how can you deny themselves the chance to spend some time with Florence Pugh? 
Marvel's What If...? (Episode 9)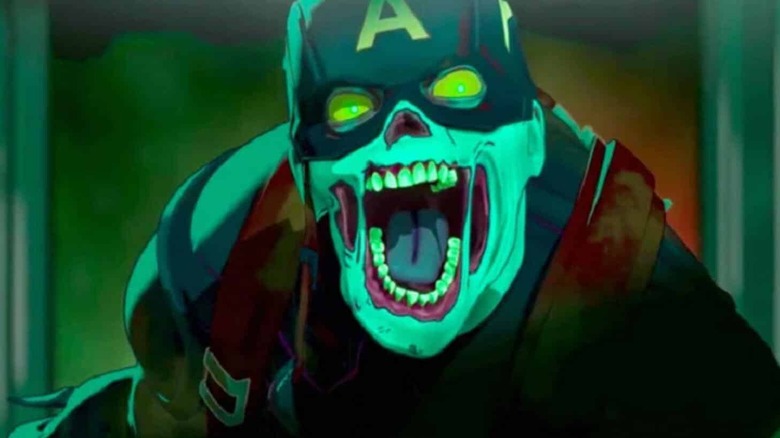 And speaking of Marvel's many IPs, the finale of "Marvel's What If..." is upon us and we're hyped to figure out what the hell is going on. The animated anthology series is a full exploration of the alternate realities of the Marvel Cinematic Universe. From "What If... Thor Were an Only Child?" to "What If... Zombies?," the show dives into all the possibilities and analyzes how different the MCU timeline would look if things were a little different. While many of the episodes seem like they might stand alone, the series has been slowly building to a more interconnected conclusion. It'll be interesting to see how directors Bryan Andrews and A.C. Bradley will tie it all together.
Muppets Haunted Mansion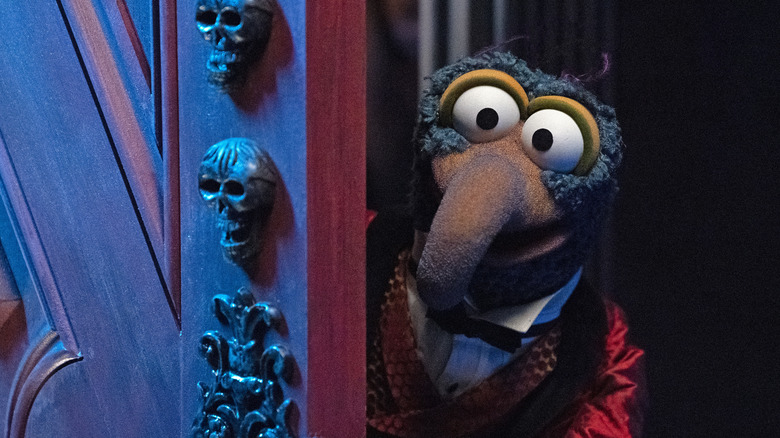 Disney
We're never going to turn down a chance to full kid mode and veg out with a new "Muppets" movie, especially with a cast like this. Starring Yvette Nicole Brown, Will Arnett, Taraji P. Henson, John Stamos, Danny Trejo, the late Ed Asner, and of course, all of your favorite muppets, the "Muppets Haunted Mansion" looks and sounds like a true autumnal delight. It doesn't hurt that the plot of the movie basically involves the Muppets going to an extreme haunt version of the Haunted Mansion, which is 100% my idea of a dream vacation. What an excellent way to get into the Halloween spirit.
Thumbelina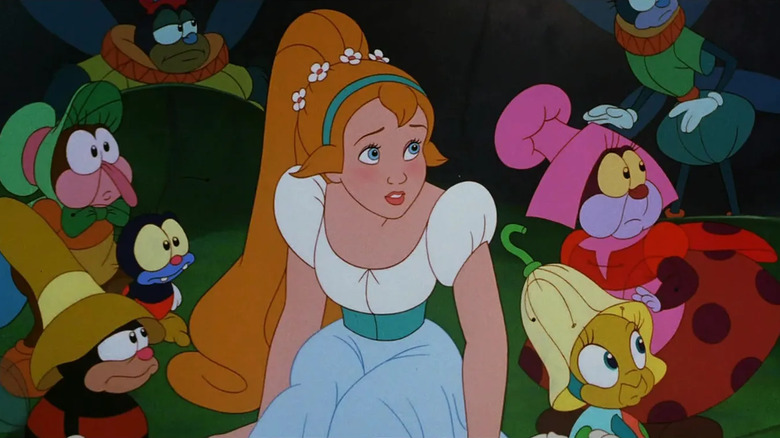 Warner Bros.
I have no idea if this movie has held up, but considering Disney+ is the number one streaming service for you to rediscover weird stuff you watched as a child, it's only fitting that "Thumbelina" makes an appearance. Based on the Hans Christian Andersen (the author essentially executive produced all of our childhoods) fairy tale, this classic (kind of) '90s animated movie has a lot going on, between the magical fairies and the evil talking frogs and Thumbelina's incredibly ponytail, it's definitely more of a wild ride than you remember. Also, somehow the animators were able to singlehandedly predict the cottagecore trend. When TikTok discovers Thumbelina's style, they're going to lose it.
TV Shows and Movies Coming to Disney+ in October 2021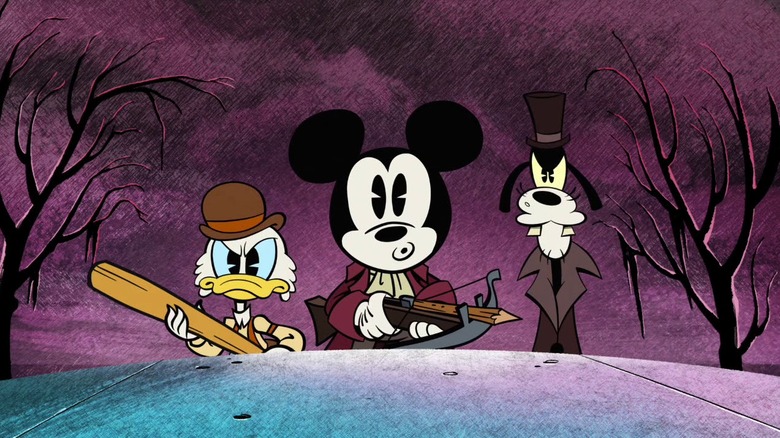 Disney
October 1
LEGO Star Wars Terrifying Tales
Alvin And The Chipmunks
Alvin And The Chipmunks: The Road Chip
Just Roll With It: You Decide Live!
The Scariest Story Ever: A Mickey Mouse Halloween Spooktacular!
October 6
Among the Stars (Episode 1)
Turner & Hooch (Episode 12)
Marvel's What If...? (Episode 9)
Chip 'n' Dale Park Life (Episode 11)
Doogie Kamealoha, M.D. (Episode 5)
Black Widow
Disney Junior The Chicken Squad (S1) Ep. The Surprise Party Surprise / U.F. Oh-No
Drain The Oceans: The Mississippi River & Arctic War (S1)
Drain The Oceans (S4)
The Ghost And Molly McGee (S1), 5 episodes
Impact With Gal Gadot (S1)
Muppet Babies (S3), 9 episodes
Puppy Dog Pals (S4), 5 episodes
Spidey And His Amazing Friends (S1) Ep. Rocket Rhino / Trick Or Trace-E
October 8
Muppets Haunted Mansion
Disney Junior Mickey's Tale Of Two Witches
Under Wraps
October 13
Just Beyond (Episode 1)
Chip 'n' Dale Park Life (Episode 12)
Doogie Kamealoha, M.D. (Episode 6)
Apollo: Back To The Moon (S1)
Mickey Mouse Mixed-Up Adventures (S1) Ep. The Spooky Spook House / Clarabelle's Banana Splitz!
Secrets Of The Zoo: North Carolina (S1)
Secrets Of The Zoo: Down Under (S2)
The Wizard Of Paws (S1)
Zombies: Addison's Moonstone Mystery Shorts (S1)
October 15
Lost Cities With Albert Lin: The Great Flood
Megacity Of The Maya Warrior King
October 20
Disney Insider (Episode 8)
Doogie Kamealoha, M.D. (Episode 7)
Marvel Studios Assembled: Making of Black Widow
Disney's Magic Bake-Off (S1), 4 episodes
PJ Masks (S5), 6 episodes
The Wild Life Of Dr. Ole (S1)
October 22
Rookie Of The Year
Thumbelina
October 27
Disney Insider (Episode 9)
Doogie Kamealoha, M.D. (Episode 8)
Marvel Studios Assembled: The Making of What If...?
Port Protection Alaska (S4)
October 29
Bob Ballard: An Explorer's Life
McFarland, USA