Antlers Finally Sets World Premiere For Closing Night Of Beyond Fest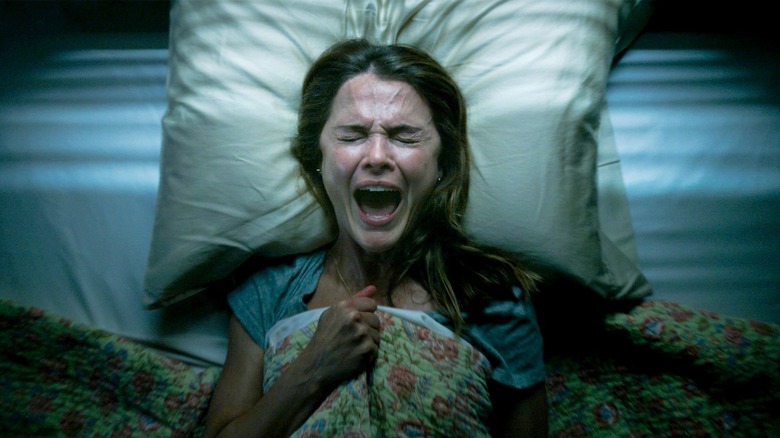 Searchlight Pictures
Scott Cooper's "Antlers" finally has a release date. The film stars Keri Russell and Jesse Plemons and is co-produced by Guillermo del Toro, who knows a thing or two about monster movies, not to mention projects that have trouble seeing the light of day.
Horror fans have been waiting for "Antlers" since at least 2019 when its first official teaser, first official trailer, and final trailer (see below) debuted. It wrapped principal photography back in 2018 and was originally scheduled to premiere in April 2020, but then the pandemic happened.
Now, "Antlers" has secured a global genre festival rollout, followed by a domestic theatrical release, just in time for Halloween. The film will make its world premiere on October 11, 2021, as the Closing Night selection of this year's Beyond Fest. That same night it will also play in a "Fantastic Fest Presents" special screening with Alamo Drafthouse Cinemas in San Francisco and Austin.
After that, "Antlers" will make its international premiere at the Sitges Film Festival on October 13. There will be a drive-in screening at the Chicago International Film Festival on October 15, followed by another Closing Night screening at the Telluride Horror Show on October 17.
All of this is leading up to the film's eventual release in U.S. theaters on October 29, 2021.
Antlers Final Trailer
Given the long delay, a casual horror hound could almost be forgiven for confusing "Antlers" with "The Wretched," another indie flick that broke box office records last year and also prominently featured imagery of a skull with antlers in its marketing.
"Antlers," however, hails from Scott Cooper, the director of "Crazy Heart," "Out of the Furnace," "Black Mass," and "Hostiles." It's been one of those elusive movies where you realize you heard about it but never saw it and were maybe left thinking, "Whatever happened to that?"
At one point (between Ben Affleck and Josh Boone), Cooper was attached to the re-adaptation of Stephen King's "The Stand." He's known primarily for his directorial work, but he also has some acting credits to his name, including a role in "For Sale by Owner," a 2009 horror film that he co-wrote.
With "Antlers," Cooper is again co-writing with Henry Chaisson and Nick Antosca, based on Antosca's short story, "The Quiet Boy." Here's the film's official synopsis via Searchlight Pictures:
In ANTLERS, a small-town Oregon teacher (Keri Russell) and her brother (Jesse Plemons), the local sheriff, discover that a young student (Jeremy T. Thomas) is harboring a dangerous secret with frightening consequences.
"Antlers" co-stars Jeremy T. Thomas, Graham Greene, Scott Haze, Rory Cochrane, and Amy Madigan. It's bound for U.S. theaters on Friday, October 29, 2021.