Kevin Smith's Secret Stash Book Candidly Chronicles The Life And Career Of The Clerks Filmmaker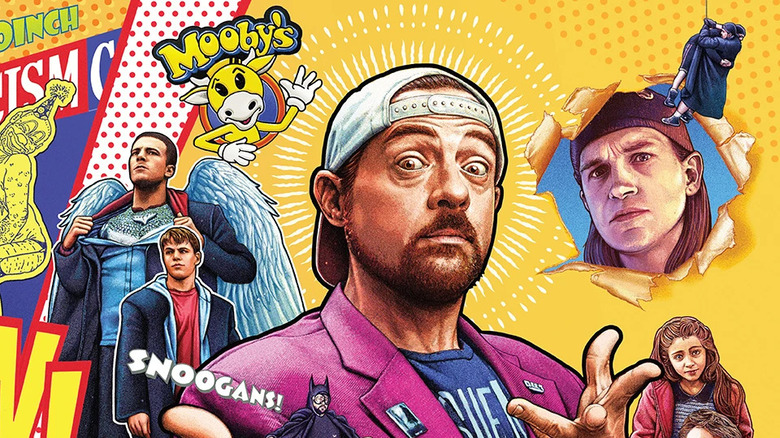 Insight Editions
The voice of Kevin Smith is probably more prominently and frequently heard than any other filmmaker working today. Aside from becoming an influential writer/director thanks to his sensational Sundance-selected comedy "Clerks," the growth of geek culture, the popularity of comic books, and the rise of podcasting as a popular medium paved the way for Smith to become a pillar of pop culture. After writing several books collecting various life stories, podcast anecdotes and Hollywood hullabaloo across three decades of showbiz experience, Kevin Smith is now delivering the definitive chronicle of his life and career with "Kevin Smith's Secret Stash: The Definitive Visual History," and it's an intimate and candid look back at how this kid from New Jersey became an indie darling, professional fanboy, podcast master, and more.
Kevin Smith is Supposed to Be Here Today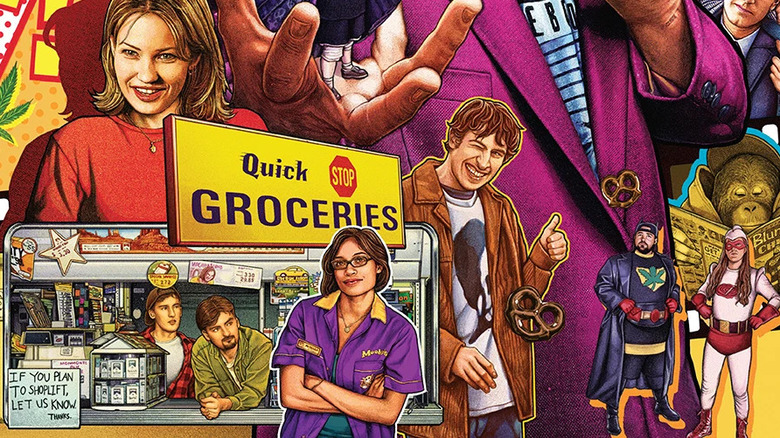 "Kevin Smith's: Secret Stash" is a title inspired by the multi-hyphenate's own comic book shop, Jay and Silent Bob's Secret Stash in Red Bank, New Jersey, which is inspired by the stoner stars of the filmmaker's own interconnected series of films that exist in a world known as the View Askewniverse, which is based on the production company banner he created with his former producing partner Scott Mosier. If that's a little hard to follow, don't worry, because this book tells you pretty much everything you'd want to know about the life and times of Kevin Smith.
Written by Kevin Smith himself as a memoir mixed with an oral history from a singular subject, the book acts as a chronological history of his own journey from real-life clerk to "Clerks" filmmaker and everything that came after he opened the magic door to Hollywood at 23 years old. Most of the book is compartmentalized by the filmmaker's movies, with each and every film getting its own section. But the book begins with Kevin Smith's youth, laying the groundwork for his obsession with pop culture before diving into his extensive career that has been full of ups and downs.
Early in the book you can read an entire student profile that Smith filled out at length for a class at the Vancouver Film School, where his hand-written responses to formal questions already show the filmmaker's penchant for writing and talking casually and candidly with wit and edge. It's one of the many tangible inserts that fans can pore over, along with a few pages of the "Clerks" screenplay, a call sheet from "Mallrats," and other amusing bonus items such as a set of Mooby's stickers, a View Askew business card, a variety of pieces of concept art, and more.
Though 99% of the book comes from Kevin Smith himself, each section features a breakout from one of his many friends and collaborators over the years, talking about how the filmmaker has impacted their lives and why he's such a revered name in pop culture. Lifelong friends such as Walt Flanagan and Bryan Johnson (who you might know from "Comic Book Men" or the "Tell'em Steve-Dave" podcast) chime in, "Star Wars" icon Mark Hamill offers up thoughtful and kind words, and once-estranged friend Ben Affleck gives a lovely, touching tribute that clearly came after his heartfelt reunion on "Jay and Silent Bob Reboot," which came after Smith had a near-fatal heart attack. There's also an entire foreword by Smith's co-star and longtime best friend Jason Mewes, the Jay to his Silent Bob.
Familiar But Entertaining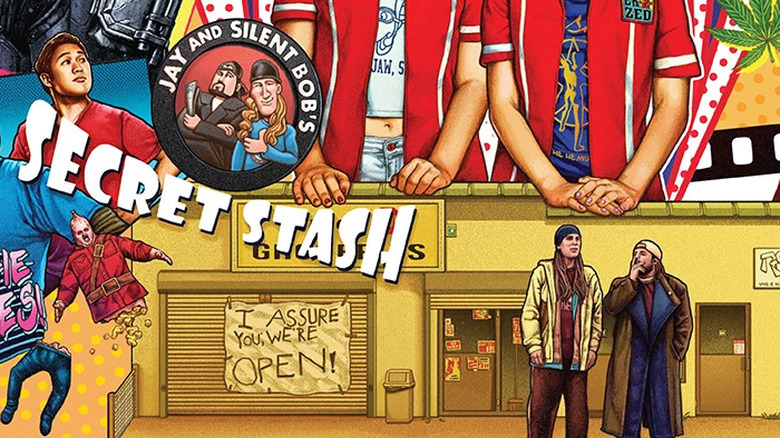 Insight Editions
Longtime fans of Kevin Smith may not find a lot of stories in this book that they haven't heard before. I've listened to all of Kevin Smith's director commentaries on home video, read a couple of his books, watched most of his comedy specials, and attended several multi-hour Q&A sessions live in-person, and many of the anecdotes and memories about the making of Smith's films are recounted in this book. There's an additional layer of hindsight with some of the stories, not to mention a much more organized flow of thoughts in written form, but there's a lot of retreading if you've been following Smith's career for a long time. It's likely even more familiar if you've been listening to all of his podcasts over the years.
However, hearing some of these stories again and going through Kevin Smith's filmography brought a feeling of nostalgia for watching (and re-watching) all of his movies during my formative years. Adding to this trip down memory lane is the outstanding assembly of photos from behind the scenes, whether from Smith and his cast and crew or a professional still photographer working for the studio. For me, it was like reading a cinematic yearbook about the movies I fell in love with in high school, listening to a friend reminisce about the good ole days in spectacular detail. It's certainly less satisfying when we get around to the likes of "Tusk" or "Yoga Hosers," but reading Smith's perspective on those films and this phase of his career is still a fascinating and worthwhile read. 
Thankfully, there are also still things to learn (at least for this fan), such as the story of how "Dogma" co-star Alan Rickman almost got Emma Thompson to play God in the movie, along with a copy of the hand-written letter the actress wrote to Smith as she lamented not being able to make it happen. You'll also read how Bob Weinstein wanted to cast Tom Green as Federal Wildlife Marshal Willenholly in "Jay and Silent Bob Strike Back," the role that eventually went to Will Ferrell. And yes, Smith addresses the elephant in the room that is Harvey Weinstein being a key part of kickstarting his career, albeit briefly, and only when absolutely necessary.
More Than Movie Memories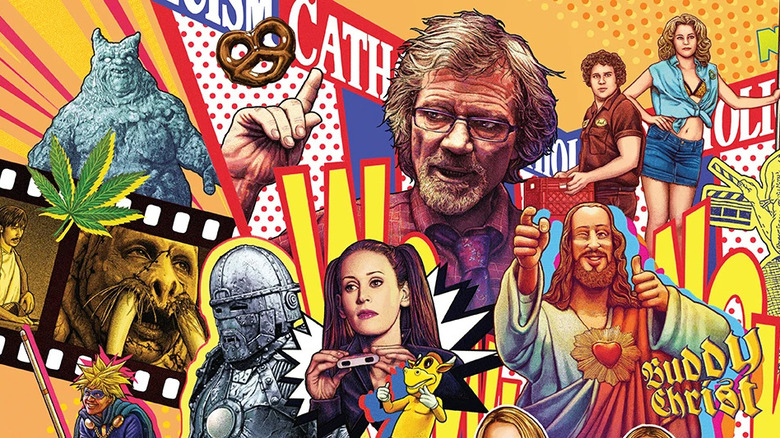 Insight Editions
But it's not just Smith's filmography that takes the spotlight. One section focuses on Smith's "side hustles," like acting in movies other than his own, such as "Live Free or Die Hard" and "Southland Tales," or writing "Daredevil" and "Green Arrow" comic books. There's also an entire section on the podcast empire that Kevin Smith built through SModcast, an endeavor that arrived when podcasting became a breakthrough, popular medium. On top of that, personal elements of Smith's life come through in each of the film sections, mostly because Smith put so much of his own life into many of his movies, and the making of those movies influenced his ongoing personal and professional relationships. So along with reading about the making of "Chasing Amy," you'll find out about his romance with star Joey Lauren Adams. Smith also has no problem digging into the recurring complications with Jason Mewes and his well-known struggles with heroin. And you read about how Smith met his wife, Jennifer Schwalbach, when she was interviewing him for USA Today during a publicity tour, though he thankfully doesn't ever get as graphic about their relationship as he has on social media in the past.
Throughout this entire book, Smith's humility shines through. You'd be hard-pressed to find a filmmaker who is more self-aware than Smith, especially as he reflects on some of the moments he's spent in the spotlight. Whether it's due to the success and failures of his work as a filmmaker or the time that he publicly railed on Southwest Airlines for kicking him off a plane for being too fat, Smith is reflective in such an earnest way and never sounds full of himself. He looks back at key moments in his life with hindsight and knowledge from the experiences that followed. It's clear Smith is grateful for every opportunity he's ever been given, even still in disbelief in many cases. Even those who have come to be annoyed by Kevin Smith's pop culture commentary and latter career efforts would likely respect what Smith has to say in this book. Plus, he's also not shy about throwing certain people under the bus with entertaining showbiz stories, especially if that person is Bruce Willis.
"Kevin Smith's Secret Stash" is an entertaining history of the kind of career that many of his fans have dreamed of, and perhaps that's always been a big part of Kevin Smith's appeal as a filmmaker and entertainer. Starting with "Clerks," Kevin Smith felt like a filmmaker who could have been the close friend of cinephiles and geeks alike, because that's exactly what he was in his real life. Smith is one of many filmmakers in the 1990s who made what was considered an elite profession feel tangible to anyone and everyone. Reading the stories of how it all unfolded only solidifies his place in pop culture history, from making waves in independent film to putting loads of d*ck and fart jokes and other assorted filth in the mouths of Oscar-winning actors. Kevin Smith's story remains impressive and amusing, and it's clear that he's supposed to be here today.
"Kevin Smith's Secret Stash: The Definitive Visual History" is out today.