Superhero Bits: Black Widow's Effect On Talent Deals, Guardians Of The Galaxy Video Game Reactions & More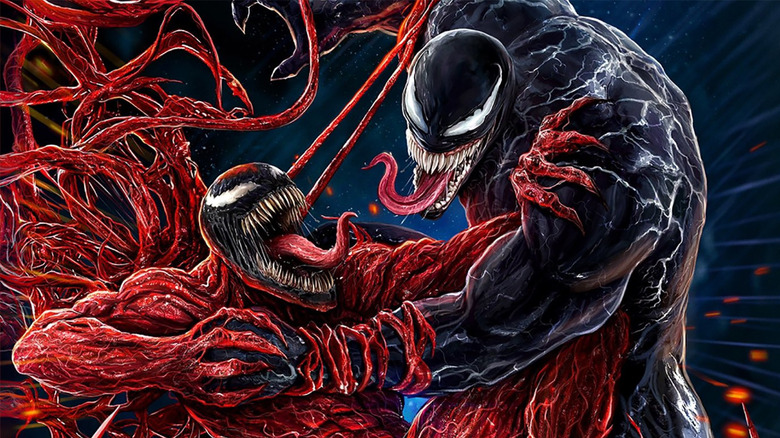 Sony Pictures
(Superhero Bits is a collection of stories, updates, and videos about anything and everything inspired by the comics of Marvel, DC, and more. For comic book movies, TV shows, merchandise, events, and whatever catches our eye, this is the place to find anything that falls through the cracks.)
In this edition of Superhero Bits:
The "Black Widow" lawsuit is affecting talent deals at Disney

DC's New 52 turns 10

The first reviews of the "Guardians of the Galaxy" video game are in
"Venom: Let There Be Carnage" gets another new poster
DC's New 52 Reboot Celebrates(?) Its 10th Anniversary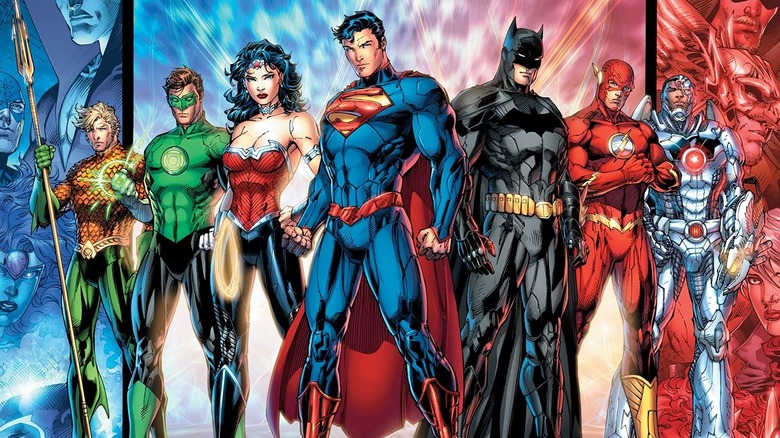 DC Comics
Back in 2011, DC Comics attempted to reboot its entire universe with a bold strategy dubbed the New 52. At first, it all went well. Sales were good. It opened the door for new readership. It seemed like a solid move. Then sales dried up. Things got messy, and by 2016, with DC's "Rebirth," it was all over. The folks at Polygon did a deep dive on the whole fiasco that is well worth taking a look at in honor of the 10th anniversary of the New 52.
Marvel's Guardians of the Galaxy Game Reactions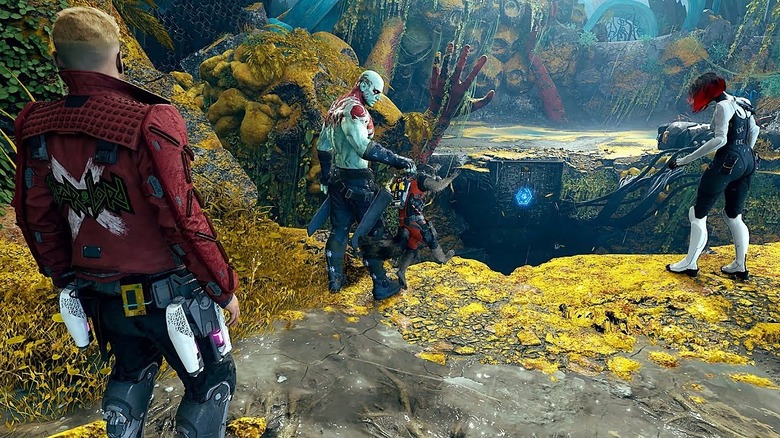 Marvel
Marvel has a lot of video games on the way. A new "Wolverine" game and "Spider-Man 2" for the PlayStation 5. It's a good time to be a Marvel gamer. First up, we've got a "Guardians of the Galaxy" game on the way from the folks at Square Enix, the same studio that released "Marvel's Avengers" last year. That game didn't go as planned. Luckily, folks like IGN, and other outlets, recently published their findings after getting some hands-on time with the game. The buzz is largely positive. This is good news for those trying to decide whether or not to but the game when it drops on October 25.
Thor: Love and Thunder Crew Hat Revealed
Many MCU fans are eagerly awaiting the release of "Thor: Love and Thunder" next year, but we haven't seen much, officially speaking, from Marvel. For those eager for tidbits on this front, the crew hat from the production was recently revealed by Jim Velasco on Twitter. Not all that surprising for those who watched Taika Waititi's "Thor: Ragnarok," but it's colorful. It also features a splitting heart, which gets to the whole "love" bit of the title. We'll hopefully get more official updates soon as "Thor: Love and Thunder" is due to hit theaters on May 6, 2022.
MCU News is Coming on Disney+ Day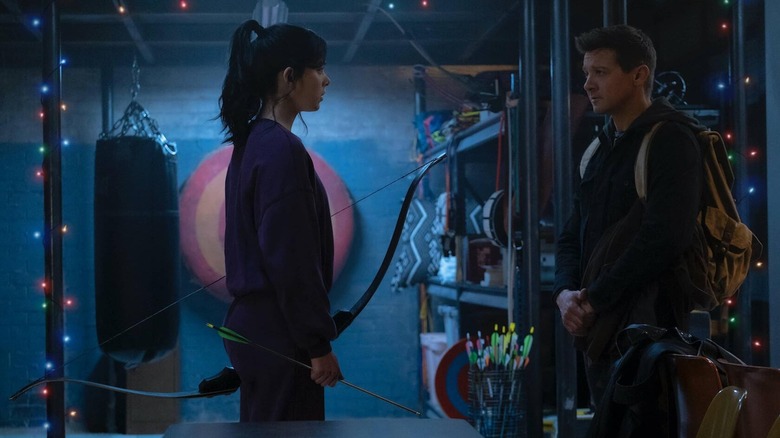 Marvel Studios
Disney+ Day was recently announced to be happening on November 12, in honor of the streaming service's second anniversary. Disney has a lot planned, including the Disney+ debut of "Shang-Chi and the Legend of the Ten Rings." But buried in the press release was something of interest for MCU fans. Per the company, "a special celebrating the Marvel Cinematic Universe on Disney+ with an exciting look towards the future" is part of the festivities. As for what this look towards the future will include? We can only speculate. Though with "Hawkeye," "She-Hulk," "Ms. Marvel," and "Moon Knight" all at various stages in production, we can safely assume some or all of those shows will be included. Keep your eyes peeled, superhero fans.
Guardians of the Galaxy Vol. 3 Made Karen Gillan Cry
Marvel Studios
We still have some time to wait before "Guardians of the Galaxy Vol. 3" arrives. Though James Gunn is gearing up to shoot the sequel late this year/early next year. In the meantime, Karen Gillan, who returns as Nebula, revealed recently in an interview with Yahoo! that the script brought the cast to tears.
"We read it in the same room together, and then looked at each other and we were in floods of tears... You're learning more about existing characters and on a deeper level. I'm really excited at exploring Nebula, post-Thanos."
Bring the tissues in May 2023, folks.
Shang-Chi Video Highlights the Movie's Real Star, Morris
Those who have seen "Shang-Chi and the Legend of the Ten Rings" know that there was one character who stood above the rest, and his name is Morris. The cuddly creature who was paling it up with Ben Kingsley's Trevor is destined to become the Baby Yoda of the MCU. Now, Marvel has released a new video, which you can check out above, that goes into the process of bringing the little guy to life.
Eternals Gets a PG-13 Rating for Sexy Reasons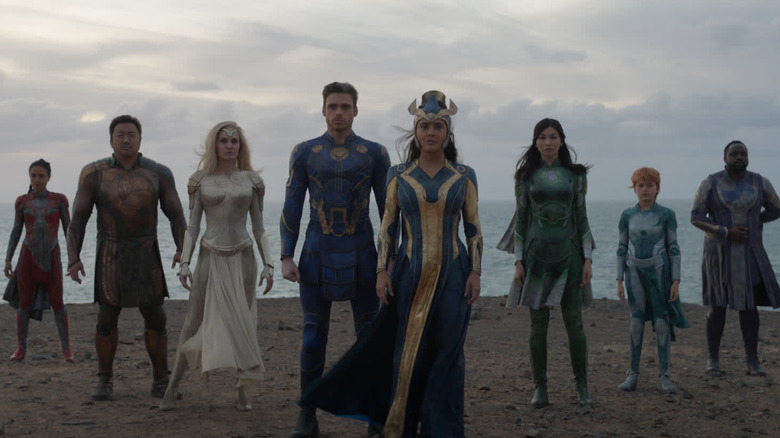 Marvel Studios
"Eternals" is the next MCU movie set to hit theaters. It is taking a batch of relatively unknown characters and putting them at the center of what may well be Disney's next big franchise. Directed by Oscar-winner Chloe Zhao, the movie has been given an official rating by the MPAA. Like virtually every other Marvel movie, it is PG-13. Unlike other movies in this universe, however, we are going to venture into sexy territory. Here's what the MPAA says in its reasoning for the rating:
"Rated PG-13 for fantasy violence and action, some language and brief sexuality."
Brief sexuality, you say? That sounds quite unlike the MCU. We haven't gotten to spend too much sexy time with these superheroes in the past. This is beyond "suggestive content." We'll see what that ultimately amounts to when "Eternals" hits theaters on November 5, 2021.
Black Widow Lawsuit Will Change Disney Talent Contracts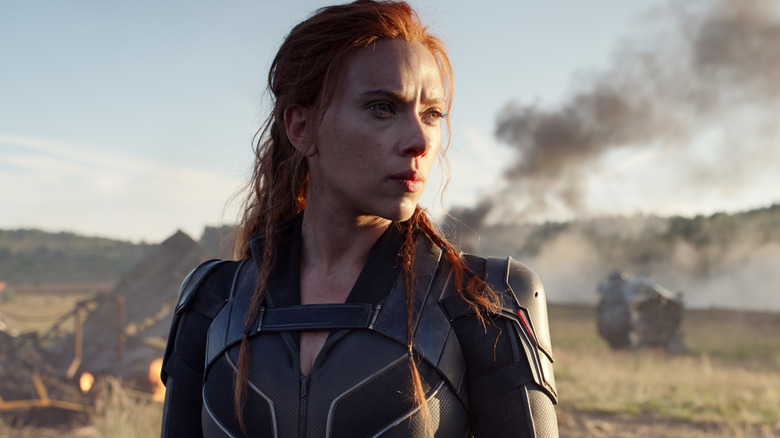 Marvel Studios
Scarlett Johansson is currently suing Disney over the release of "Black Widow." Because it was released in theaters and on Disney+ Premier Access on the same day, Johansson alleges that the box office was hampered, and that hurt her potential earnings, per her contract. It's messy and it will likely have wide-ranging implications on the industry. Now, Disney CEO Bob Chapek has addressed the whole thing, albeit in a roundabout way.
While speaking to The Hollywood Reporter, Chapek says there is a "reset" in terms of Disney handling talent deals.
"We've got a deal that's conceived under a certain set of conditions that actually results in a movie that's being released in a completely different set, so there's a bit of a reset that's going on right now, and ultimately we'll think about that as we do our future talent deals and plan for that and make sure that that's incorporated. But right now, we've got sort of this middle position where we're trying to do right by the talent. I think the talent's trying to do right by us, and we're just sort of figuring out our way to bridge the gap."
Sadly, they couldn't "reset" this before getting into an ugly legal battle with one of the biggest stars in Hollywood.
Venom: Let There Be Carnage Gets a Motion Poster
We've seen several new posters for "Venom: Let There Be Carnage" as the marketing campaign for the sequel ramps up ahead of its fast-approaching October release date. Today brings another new one from IMAX. A motion poster this time! It hypes up the impending duel between Tom Hard's Venom and Woody Harrelson's Carnage. Let them fight, as it were.