Superhero Bits: Tom Hardy Spotted In Spider-Man: No Way Home Hat, Shang-Chi's Ten Rings Design Evolution & More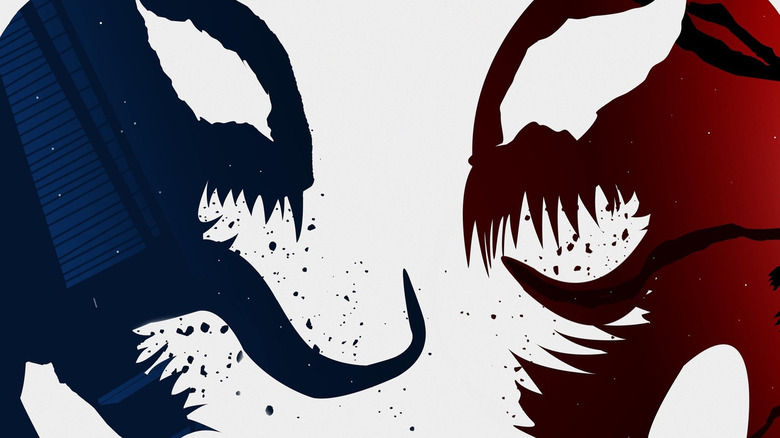 Sony Pictures
(Superhero Bits is a collection of stories, updates, and videos about anything and everything inspired by the comics of Marvel, DC, and more. For comic book movies, TV shows, merchandise, events, and whatever catches our eye, this is the place to find anything that falls through the cracks.)
The Ten Rings in "Shang-Chi" almost had a more complex color scheme
Tom Hardy was spotted in a "Spider-Man: No Way Home" promotional hat
Marvel star Simu Liu is in a little hot water due to old internet comments
"Spider-Man" PlayStation 4 concept art reveals an unused suit
All that and more
Celebrating DC's Dark Knight
In this edition of DC FanDome Friday, DC Comics is celebrating the Dark Knight, who will have quite a presence at the virtual fan event in October. Not only are we getting a new trailer for "The Batman" starring Robert Pattinson, but there will be plenty of news about Batman comics, TV shows, video games, and more. Stay tuned as more details on DC FanDome become available.
New Shang-Chi Character Posters for Wong and More
Just when you thought you'd seen all of the character posters for "Shang-Chi and the Legend of the Ten Rings," three more have been released online by Marvel. Doctor Strange's fellow sorcerer, Wong (played by Benedict Wong), got his own poster along with Shang-Chi's mother, Ying Li (Fala Chen), and Wenwu's henchman, Razor First (Florian Munteanu). Now, when do we get to see a poster of Ronny Chieng's character Jon Jon?
Supergirl Season 6 — Blind Spots
Here's the promo and official synopsis for the upcoming 12th episode of the sixth and final season of "Supergirl" on The CW:
Kelly (Azie Tesfai) is horrified when the Ormfell building implodes, injuring many in the community, including Joey (guest star Aiden Stoxx). However, her horror quickly turns to frustration when she realizes that the hospital is overwhelmed, people are getting sicker, and no one is coming to help – including Supergirl (Melissa Benoist) who is busy fighting Nyxly (Peta Sergeant). Knowing that she can make a difference, Kelly embraces her power and fully steps into her role as Guardian. Joined by Supergirl, Alex (Chyler Leigh), Diggle (guest star David Ramsey) and team, Guardian leads the way to restoring justice to the fallen community. 
The episode was directed by David Ramsey and written by J. Holtham and Azie Tesfai.
Spider-Man PS4 Concept Art Shows an Unused Suit
A piece of concept art from the original "Spider-Man" PlayStation 4 video game has surfaced online, and it reveals an advanced suit that didn't actually make it into the video game. Furthermore, it looks like New York was originally envisioned as being much more grimy and gritty. Though, there's a chance this could be depicting New York as it starts to get a little more chaotic throughout the game's story.
Simu Liu in Hot Water for Old Internet Comments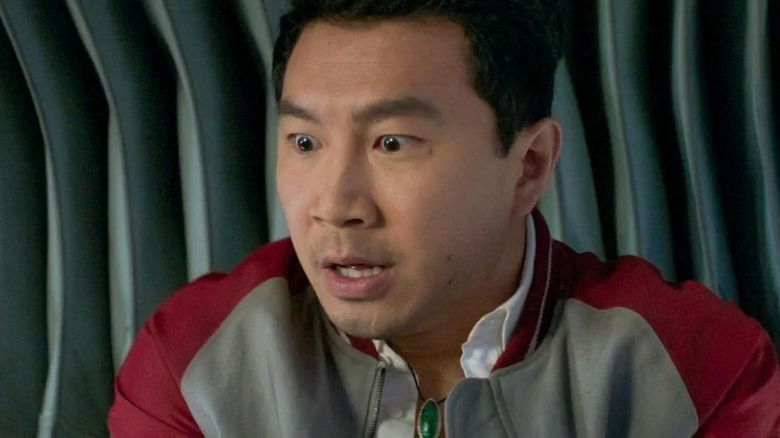 Marvel Studios
"Shang-Chi and the Legend of the Ten Rings" actor Simu Liu is in some hot water today (via Comic Book Resources) after some comments on a deleted Reddit account have surfaced online. The comments feature some problematic perspectives on gender equality and homosexuality, as well as participation in an incel subreddit. However, a helpful Twitter thread offered some perspective on the comments, some of which are being deliberately taken out of context. As anyone could have predicted, much of this is being blown way out of proportion.
Tom Hardy Sporting Spider-Man: No Way Home Hat
Over on Twitter, @MarvlUpdates snagged a photo of Tom Hardy sporting a "Spider-Man: No Way Home" promotional hat, which has many fans thinking that the actor will be appearing as Eddie Brock/Venom in the upcoming Marvel Cinematic Universe sequel. The photo is said to have come from "Spider-Man: Homecoming" stuntman and "Cobra Kai" TV series director Lin Oeding on Instagram, where it was found by the Spider-Man Brasil account on Twitter. But it has since been deleted from the original source.
We're not buying this as confirmation of some kind of Venom appearance in "Spider-Man: No Way Home." After all, celebrities get promotional items from the studios they work for all the time. If you look at the shirt that Tom Hardy is wearing in the photo, it's a "Cobra Kai" shirt, which is a Sony Pictures Television production. So maybe Tom Hardy just likes wearing free stuff on relaxing days? We'll find out soon enough.
Shang-Chi's Ten Rings Almost Had a Different Design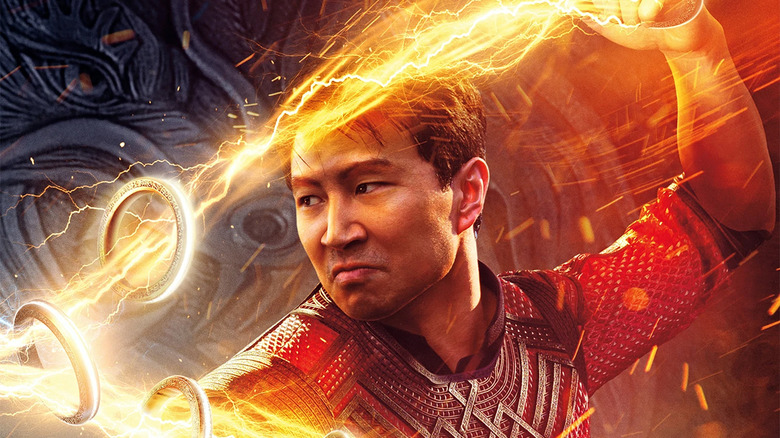 Marvel Studios
Weta Digital VFX head Sean Walker recently spoke with ComicBook.com about "Shang-Chi and the Legend of the Ten Rings," and he discussed how the Ten Rings originally had a different look in the movie. Walker explained:
"The Ten Rings actually went through a range of color changes. At one point, each individual effect had its individual styled use of the Rings. For example, when Wenwu is creating a bustle out of them, or a whip, or projectiles, they actually had their own unique color scheme, they were all in a similar color palette."
Wenwu's rings would have had blues and purples while Shang-Chi's palette involved orange, red, and green. However, they chose to have the colors more simply defined based on who was wielding them. Walker said:
"In order to really clearly define this is Wenwu and this is Shang-Chi, we stuck to a much narrower color palette."
The Ten Rings in Marvel Comics also had different colors based on their abilities (in addition to being finger rings instead of wrist rings), but Marvel probably realized this was too close to the Infinity Stones.
Venom: Let There Be Carnage Poster Gets Shady
Finally, Dolby released a new poster for "Venom: Let There Be Carnage," using silhouettes of Spider-Man's famous foes. This looks more like a variant comic cover than a proper movie poster, and it makes us wonder why studios and theaters don't have better artists creating movie posters for these massive blockbusters. The obvious answer is a higher cost, but it would be a lot better if they put their best foot forward instead of pushing out lazy promotional art like this.