Shows Like Peaky Blinders You Can Binge Watch Today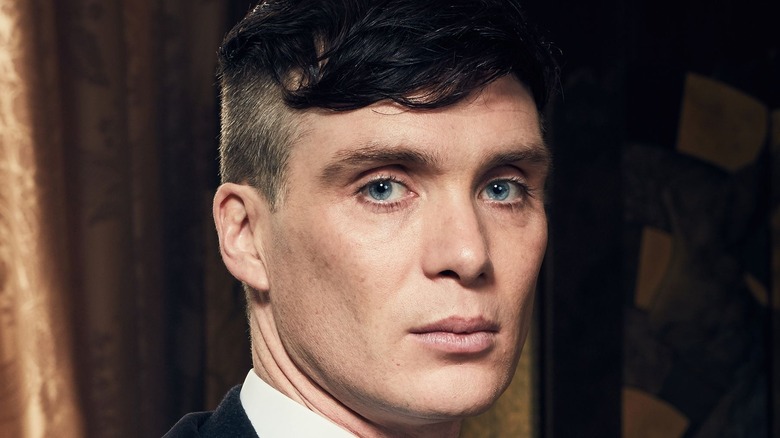 BBC
"Peaky Blinders" is one of BBC's greatest period productions, a show that began modestly enough but has been garnering more and more fans with each passing season. It stars Cillian Murphy as Tommy Shelby, a decorated veteran who returns from World War I deeply traumatized by the experience, and who then has to take on a leadership role in his family's criminal operation. Intelligent, calculating, and ambitious, Tommy builds his family's business until they have a veritable empire for themselves in northern England. Their work is a perplexing combination of illicit activities and legitimate business, all of which are so intertwined that it's difficult for anyone to tell which are against the law and which are perfectly above board. 
"Peaky Blinders" is a massive hit in the UK and has maintained a position of honor in Netflix's catalog, thanks largely to Murphy's dynamic and consistently fascinating performance in the lead role, backed by an uncommonly capable ensemble cast. The show will come to a close after its 6th season, due to be released in late 2021 or early 2022, and a following movie. But don't despair! If you're looking for more shows in the style of "Peaky Blinders" — criminal dramas, costume dramas, or, ideally, a series that combines the two — there's plenty out there to watch. Here are a few suggestions.
Black Sails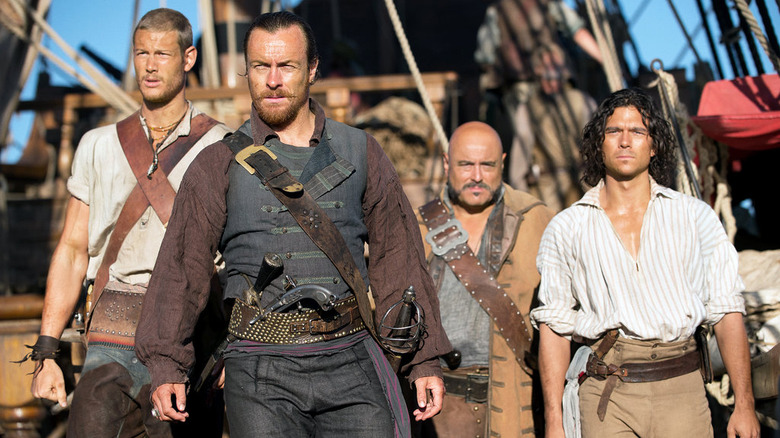 Starz
What are early 20th-century criminal organizations if not heirs to the proud and noble tradition of piracy? In that sense, you could say that "Black Sails" is sort of a prequel to "Peaky Blinders" (it also happens to be a prequel to Robert Louis Stevenson's "Treasure Island," but that's neither here nor there). 
Set in the early 18th century, about two decades before the events of "Treasure Island," "Black Sails" focuses on famed pirate Captain Flint (Toby Stephens) and his crew as they wage war on the many merchant ships of the economically prosperous West Indies while simultaneously trying to protect the pirate stronghold of New Providence Island. It also explores Flint's checkered past, and his transition from English gentleman into one of the most notorious pirates in literary history. "Black Sails" aired for four seasons on Starz, and was most notable for its tremendous visual appeal and sumptuous historical production design.
The Borgias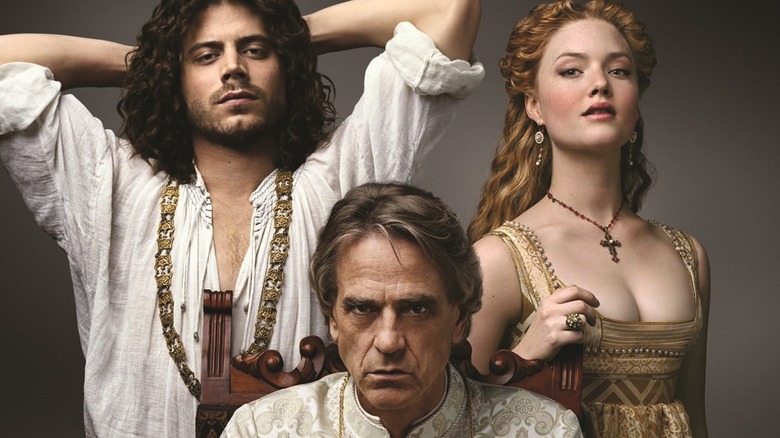 Showtime
If you like the Shelby gang in "Peaky Blinders," why not give "The Borgias" a try? The Borgias are, after all, one of the most notorious crime families in history. 
"The Borgias" revolves around the famed Italian clan of the same name, who were most prominent during the Renaissance. The Borgias' lust for power (and just plain regular lust) is virtually limitless, as the family tries to claw their way from foreign outsiders (the Borgias originally hailed from Spain) to major players in Italian politics. Their relentless ambition inspired Machiavelli's most famous work of political theory, "The Prince," and ultimately placed their family patriarch at the head of the Roman Catholic Church as Pope Alexander VI, played in the show by the charmingly malevolent Jeremy Irons. 
"The Borgias" aired on Showtime beginning in 2011, and ran for three seasons before being cancelled in 2013, in part because of the its opulent and apparently unsustainable production budget.
Carnival Row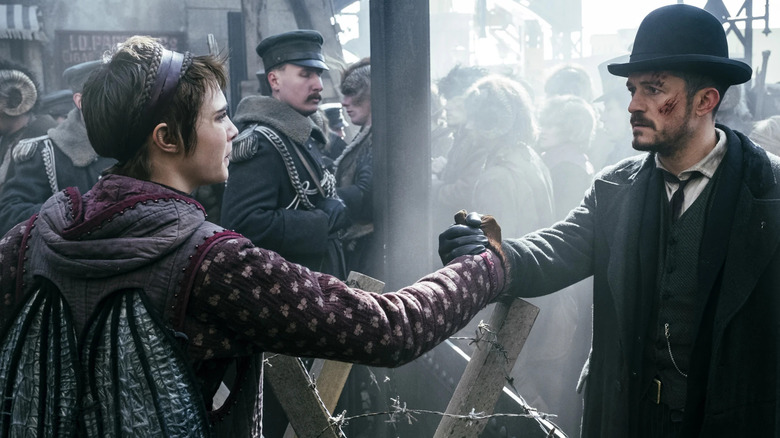 Amazon
Of all of the entries on the list, "Carnival Row" is perhaps the least like "Peaky Blinders" in essence: It's far more of a mystical, fantasy-oriented drama (after all, it does revolve around fairies). But although "Carnival Row" has magical beings, it's a noir-inspired exploration of tensions between urban communities more than anything else.
Orlando Bloom stars in "Carnival Row" as a half-fae, his sympathies divided between the humans and the fairies, who have fled their homeland in search of safety and peace. The show has love, treachery, intolerance, and oh-so-many spectacularly unsubtle political allusions. Amazon spared no expense in bringing this lavish cityscape to life, giving it a Victorian atmosphere full of intricately designed magical flourishes. Despite mixed reviews, "Carnival Row" was officially renewed for a second season back in 2019, and while filming on season two has wrapped, COVID-related production issues have caused it to be delayed indefinitely.
Oktoberfest: Beer & Blood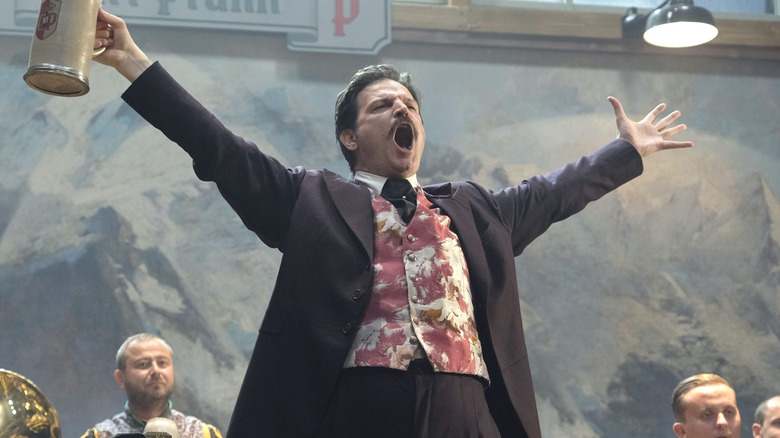 Netflix
"Oktoberfest: Beer & Blood" may not have the name recognition of some of the other shows on this list, but its unique blend of alcohol and extreme violence will make "Peaky Blinders" fans feel right at home. A German production released in 2020, "Oktoberfest" revolves around two families fighting for dominance at the legendary beer festival in 1900 Munich. 
When Curt Prank (Misel Maticevic) moves from Nuremberg to Munich with the intention of buying enough property to build the biggest Oktoberfest in all of Germany, his plans put him in direct conflict with Ignatz Hoflinger (Frances Fulton-Smith), a poor but proud local brewer who refuses to sell the plot of land essential to making Prank's dream a reality. Prank, one might imagine, doesn't take kindly to this; let's just say that things get a little out of hand. That Prank's daughter falls in love with Hoflinger's son definitely doesn't help matters, either.
Rebellion
Netflix
"Rebellion" takes place at nearly the same time as "Peaky Blinders." While "Peaky Blinders" begins in the aftermath of WWI in 1919, "Rebellion" begins in 1916. Made to commemorate the 100th anniversary of the Easter Uprising in Ireland, "Rebellion" is a five-part mini-series that dramatizes the experiences of those who were involved in the struggle for Irish independence. It focuses on a group of friends from Dublin, Belfast, and London, all of whom get caught up in the movement to varying degrees and in varying capacities. 
Although "Rebellion" received middling reviews from critics when it was released in 2016, it deserves credit for its attempts to tell a sprawling story and to focus on an overlooked piece of early 20th century history that would define Anglo-Irish relations for generations to come. And if you find yourself taken in by "Rebellion," there's plenty more where that came from: it received a spinoff series called "Resistance," which takes place during the Irish War of Independence.
The Sopranos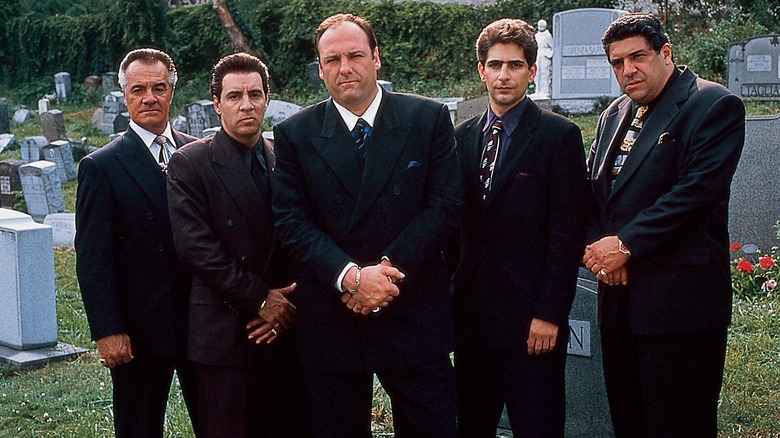 HBO
If there's one thing in the entire world that Thomas Shelby would understand, it's the psychological ramifications that come with being the head of a crime family. He and Tony Soprano are, you might say, cut from the same cloth. And since it's Tony's attempts to come to terms with these struggles that serve as the emotional heart of "The Sopranos," HBO's groundbreaking mob drama is a fitting companion piece to "Peaky Blinders." 
Tony is a stereotypical New Jersey Italian-American, complete with hypermasculinity and deep roots in the local mob. But he also has a more vulnerable side, as evinced by the panic attacks that destabilize him early on in the series. "The Sopranos" is not just one of HBO's better shows. It represents a watershed moment in television history, proving that a premium cable channel could win over audiences with emotionally complex storytelling that dug deeper than the sitcoms and procedurals offered by network television. It ran for six seasons on HBO and, despite an infamously controversial finale ending, remains a remarkably popular television show to this day.
The Knick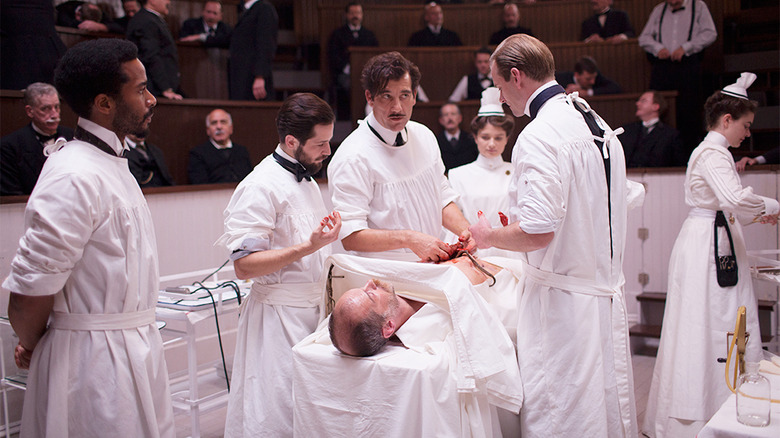 Cinemax
There's only one thing as brutally violent as a crime show like "Peaky Blinders," and that's a historical medical show set during a time when surgeons were still working out the kinks of basic anesthesiology. 
"The Knick" takes place at the Knickerbocker Hospital (known colloquially as the Knick) in New York City at the turn of the century, and follows the practices of the doctors who operate there as they push for advancements that will save lives (and, occasionally, sample the merchandise to nurse their crippling drug addictions). Clive Owen stars as Dr. John W. Thackarey, the head of the surgical team, who struggles to balance his professional career with his deep and abiding love for opium and cocaine. If you're expecting a quaint, period-drama take on "ER," watch out: "The Knick" has plenty of stomach-turning moments, including makeshift blood transfusions, impromptu amputations, and even, oddly enough, the occasional rat fight.
Succession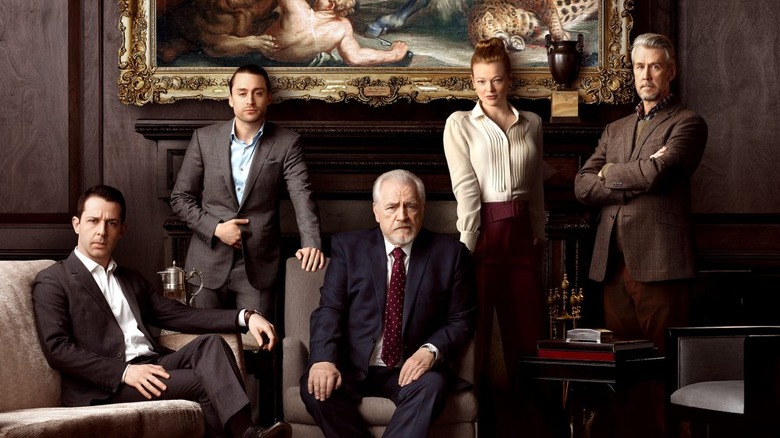 HBO
Speaking of rat fights... 
"Succession" may not be a historical drama, but just like "Peaky Blinders," it has an amoral criminal family at its center that's willing to do pretty much anything to stay on top. "Succession" tells the story of the Roys, the owners of international media conglomerate Waystar Royco, and their constant jockeying for power as they try to win the love of their cold, cruel patriarch, Logan Roy (Brian Cox.) 
Every character on "Succession" is utterly contemptible; these are entitled billionaires, after all. But there's something inherently compelling about the way Logan's children slither around backstabbing one another, each one with something to prove. If the kids can be as ruthless and manipulative as their father, perhaps he will finally see them as worthy of his love. "Succession" should be pretty depressing — and, at times, it can be — but it has a razor sharp sense of humor and a certain absurdity that keeps it from getting too dark.
Deadwood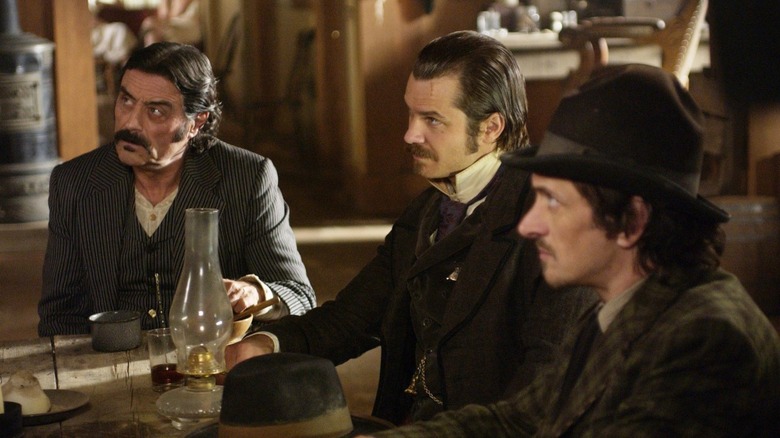 HBO
"Peaky Blinders" fans no doubt prefer their historical television shows dark, gritty, and morally dubious. Well, that's "Deadwood" in a nutshell. Set in a western town (one that wasn't part of a state or territory, thus outside US jurisdiction and literally lawless) in the late 1800s, "Deadwood" follows the daily goings-on of a community that has sprung up around a mine, depicting people who are trying to bring civilization to the wilderness and are failing miserably. 
The Old West wasn't exactly known for its adherence to legal codes, so when sheriff Seth Bullock (Timothy Olyphant) arrives in town, he's got his work cut out for him. Local brothel owner Al Swearengen, played by Ian McShane, is a particular thorn in Bullock's side, ultimately moving from the show's villain to its ostensible co-lead. 
Despite universal acclaim, "Deadwood" was only on the air for three seasons, although its popularity among critics and audiences was such that 13 years after the show ended a television movie wrapped up all of its loose ends.
Boardwalk Empire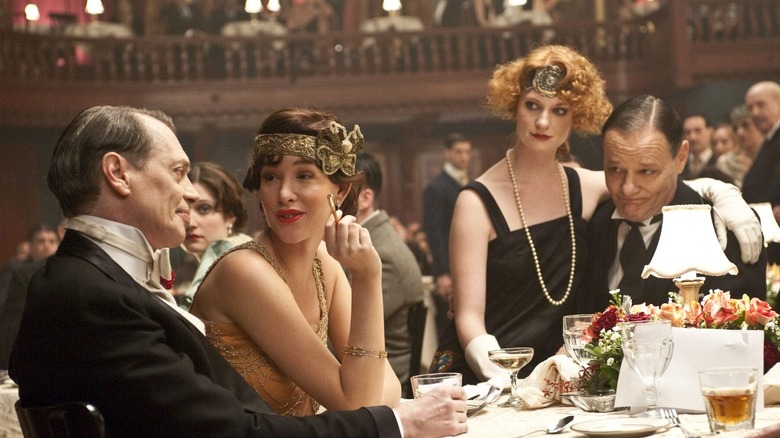 HBO
At this point in the proceedings, you may be thinking to yourself, "Wow, there are a lot of TV shows about crime families from different periods in history!" And you would be right — there are. One of the most critically acclaimed of these is "Boardwalk Empire," an HBO drama starring Steve Buscemi as the leader of Atlantic City's criminal underground during American Prohibition. 
Beyond the powerful performances from its large ensemble cast, "Boardwalk Empire" was notable for how well it captured the atmosphere of a group of men emotionally recovering from the trauma of World War I, a theme that "Peaky Blinders" also explores. These men return from the violence of the battlefield only to create their very own war back at home. Over the course of five seasons, "Boardwalk Empire" took home 20 Emmy awards, cementing its status as one of the most well-received shows of the 21st century.
Ripper Street
"Ripper Street" is set in 1800s London, right around the time that Jack the Ripper brutally murdered half a dozen women in Whitechapel (hence the name of the show). Six months after the final murder, London policemen and civilians alike are understandably a little edgy, and every time there's a murder (a depressingly frequent occurrence at the time), everyone immediately begins to wonder if the ghastly cycle is starting up again. 
"Ripper Street" stars "Succession" actor Matthew Macfadyen as Detective Inspector Edmund Reid and Jerome Flynn of "Game of Thrones" fame as Detective Sergeant Bennet Drake, who work together to solve the post-Ripper murders, a task that frequently brings them into close contact with London's criminal underbelly. As befits its namesake, "Ripper Street" is quite gruesome, but that didn't seem to scare off potential viewers; the show ran for five seasons in the UK and is currently available to stream on Netflix.
Vikings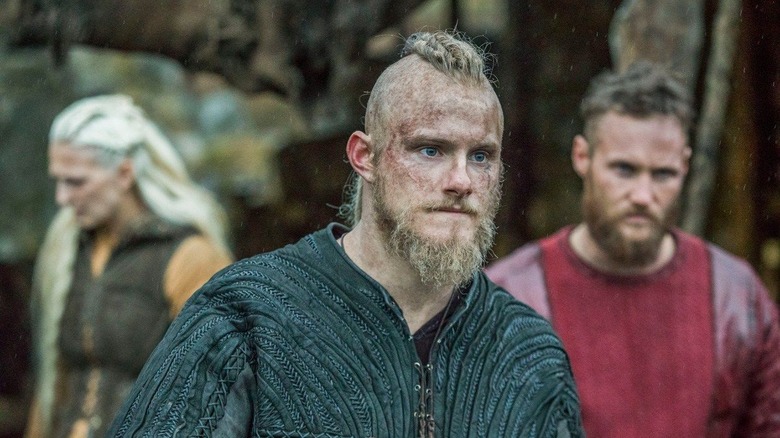 History Channel
With all due respect, the Shelby boys' beefs look amateurish compared to the legendary squabbles between brothers on "Vikings." No matter what they do, they can't seem to stop waging literal war on one another. 
Set in the late 700s, "Vikings" explores the Norse legend of Ragnar Lothbrok, a famous Viking warrior, and his descendants. A lush period drama, it travels between early medieval Scandinavia, Britain, France, and even Iceland as the Viking age unfolds in earnest. Battles and political machinations dominate much of the show, but the most intriguing aspect of "Vikings" is the dynamic between Ragnar, his dearest friend Aethelstan, and his several sons. Their loyalties rest on shifting sands, and in the pursuit of power they are willing, at times, to betray one another. 
Although never wildly popular among critics, "Vikings" had staying power, with six seasons on the air and a sequel series in development at Netflix.