TV Trailer: Jeremy Irons In Neil Jordan's Showtime Series 'The Borgias'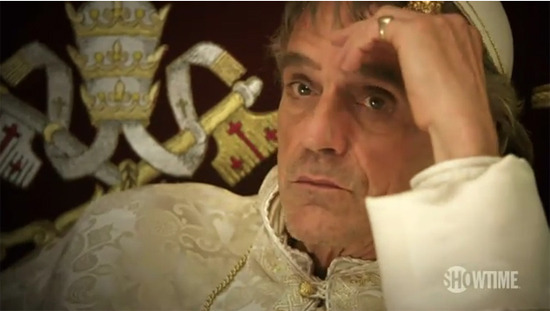 Power! Sex! Decadence! That's the promise of Showtime's new series The Borgias. The show seems to act as a spiritual successor to The Tudors, but ups the ante by casting Jeremy Irons as the infamous Cardinal Borgia, who became Pope Alexander IV in 1492. And Neil Jordan acts as exec producer and directs the first two episodes. See the trailer for what Showtime bills as 'the original crime family,' after the break.
Rodrigo Borgia (Irons) was a notorious power-fiend who was not at all restrained in using his influence after ascending to the Papacy. But you can see that in the trailer, or at least get a sense that nefarious goings-on will be part of the show's core dramatic thrust. There's a clear conflict between Borgia and at least one rival, and between his role as Cardinal and Pope and a tendency to indulge the perks that come with power.
And, despite taking place in 15th-Century Rome, The Borgias features a cast with wonderfully cultured English accents. So, despite all the promise of violence, intrigue and sex, you know it's all quite serious. Can't wait to hear what the Vatican thinks. [via Vulture]
Here's some official info from the series' official website, which also has three teaser clips:
Oscar-winning actor Jeremy Irons will star in the epic drama series as Rodrigo Borgia, the cunning, manipulative patriarch of The Borgia family who ascends to the highest circles of power within Renaissance-era Italy. Additionally, Academy Award® winning director Neil Jordan (The Crying Game) will create and executive produce the series as well as direct the first two episodes.
THE BORGIAS will be a complex, unvarnished portrait of one of history's most intriguing and infamous dynastic families. The series begins as the family's patriarch Rodrigo (Jeremy Irons), becomes Pope, propelling him, his two Machiavellian sons Cesare and Juan, and his scandalously beautiful daughter, Lucrezia, to become the most powerful and influential family of the Italian Renaissance.