Foundation Featurette Ponders How The Hell You Even Adapt Those Books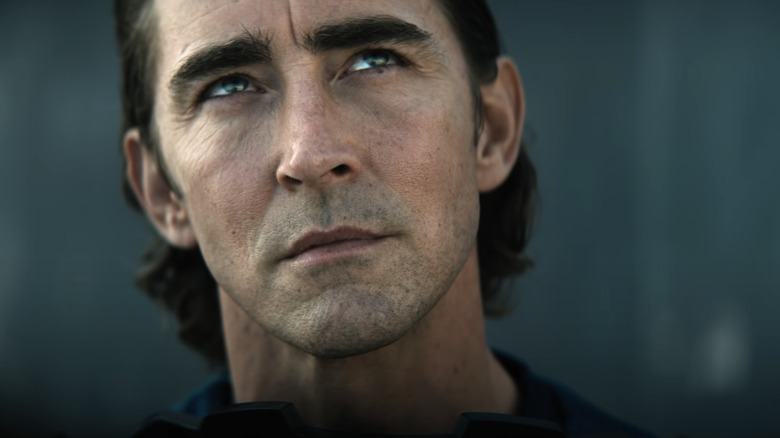 Skydance Television
When "Foundation" hits Apple TV+ on September 24, it will be the first screen adaptation of Isaac Asimov's Hugo Award-winning book series. Like Frank Herbert's "Dune," which "Foundation" influenced and which is now a major motion picture from Warner Bros., Asimov's novels were once considered unfilmable. A new featurette for "Foundation" has the show's co-creator, David S. Goyer, talking up the books as "the greatest science fiction work of all time" and explaining his approach to adapting them.
Goyer notes that "Foundation" involves "a thousand-year chess game in order to save the galaxy." He says, "The trick was figuring out how to take these weighty ideas that span a millennia and make them emotional."
In the featurette, this is juxtaposed with moments of character drama, such as a couple being separated in the midst of what looks like a planetary evacuation. So it would appear that grounding those ideas in character drama is what Goyer means by making them emotional.
Check out what else he and the show's cast members had to say about "Foundation" in the featurette below.
Foundation First Look Featurette
We recently shared a new promotional image from "Foundation" and discussed how the show sees humanity "staring down the barrel of a crisis" not unlike the one our own planet currently faces with climate change. In the featurette, Goyer says, "It took a while for the world to be ready for 'Foundation.' And that age has finally arrived."
The question is whether "Foundation" will be able to penetrate the market the way "Dune" has, or whether it will get lost in the sea of streaming options. One thing it has going for it is the increased visibility of Apple TV+, thanks to "Ted Lasso" and its multiple Emmy wins this past weekend. No doubt, there will be some people signing up for Apple TV+ subscriptions this week, eager to see what all the hubbub is about with the streamer's flagship show.
Maybe "Foundation" will get lucky and be able to ride that wave, or maybe the Asimov books already have enough of a built-in fanbase to make this show a success.
"Foundation" stars Jared Harris, Lee Pace, and Lou Llobel. Here's the official synopsis for it by way of Apple:
The fate of an entire galaxy rests on the beliefs of Dr. Hari Seldon (Jared Harris). Will his conviction save humanity or doom it? Based on the award-winning novels by Isaac Asimov, Foundation chronicles a band of exiles on their monumental journey to save humanity and rebuild civilization amid the fall of the Galactic Empire.
"Foundation" premieres on Apple TV+ this Friday, September 24, 2021.