Superhero Bits: Listen To Batman: The Audio Adventures Now, Marvel Vs. Capcom 2 Could Return & More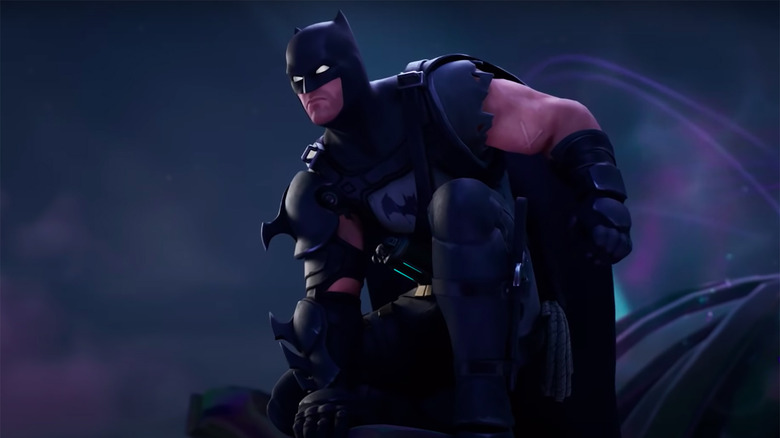 DC Comics
(Superhero Bits is a collection of stories, updates, and videos about anything and everything inspired by the comics of Marvel, DC, and more. For comic book movies, TV shows, merchandise, events, and whatever catches our eye, this is the place to find anything that falls through the cracks.)
In this edition of Superhero Bits: 
Listen to the first two episodes of "Batman: The Audio Adventures"
"Marvel vs. Capcom 2" could be making a comeback in the future
Remember "Fantastic Four" almost had a Hugh Jackman cameo?
Jessica Chastain didn't know her "Dark Phoenix" character name on set
All that and more!
Listen to Batman: The Audio Adventures Now
HBO Max has made the first two episodes of "Batman: The Audio Adventures" available for free. If you want to keep listening, you'll have to sign up for an HBO Max subscription, which would be well worth the money for the sheer amount of Batman movies and TV shows available in their streaming library. 
Once you're done with the first episode of "Batman: The Audio Adventures" above, you can continue on to the second right here.
Marvel vs Capcom 2 Could Make a Comeback
Disney/Capcom
After a recent viral online movement gained steam, it sounds like discussion are happening between Disney and Capcom to do something with "Marvel vs. Capcom 2: New Age of Heroes," the beloved fighting game featuring characters from Marvel Comics and Capcom video games like "Mega Man" and "Street Fighter." 
After content creator Maximillian Dood started the movement with the hashtag #FREEMVC2, the company Digital Eclipse, who has created recent ports of other classic Disney and Capcom games, said the two companies are listening. Digital Eclipse's Mike Mika told GamerHubTV (via CBR), "The reaction to [#FREEMVC2] was incredible. I know that both Disney and Capcom have seen that loud and clear and we've begun some discussions on that right now."
However, nothing is officially in the works, and Digital Eclipse has to wait and see what Disney and Capcom decide. Mika added, "We're trying to see how far we can go but ultimately, at the end of the day, it's really not up to us." So keep your fingers crossed that something comes from all this noise from fans.
Batwoman Season 3 is Hunting for Batman Trophies
The third season of "Batwoman" is coming on October 13 to The CW, and it looks like Gotham's defender will have her hands full trying to track down some trophies stolen from Batman's vault. There's a familiar top hat that will be stirring up trouble, but it doesn't belong to The Penguin. Plus, there's an unlikely source that Batwoman will be forced to utilize, no matter how frustrating and unpleasant it might be. 
The Boys Characters Dressed Up for the Emmys
Since "The Boys" cynically imagines what it would be like of there were superheroes in the real world, it only makes sense that Amazon imagines what it would be like if the superheroes from the series dressed up for the Emmys. Personally, I think these wardrobe choices seem more suited for the Met Gala, but since The Seven isn't exactly the most subtle assembly of superheroes, this is probably still right on the money.
Watch The Suicide Squad Opening Scene
Now that "The Suicide Squad" is available on home video, Warner Bros. Pictures has released the opening scene from the movie (after the opening credits). Since the movie is no longer on HBO Max, this should be enough to hold fans over until the movie arrives on 4K Ultra HD, Blu-ray, and DVD. If you need more from "The Suicide Squad," check out the gag reel with the entire crew cracking themselves up.
When Hugh Jackman Almost Appeared in Fantastic Four
Here's something that you might have forgotten about. Comic Book Resources reminded us that Hugh Jackman almost made a brief appearance in "Fantastic Four." The scene in question didn't make it into the movie, but it featured Reed Richard (Ioan Gruffudd) having a heart-to-heart talk with Sue Storm (Jessica Alba) and contorting his rubbery face into that of Wolverine's as the ideal example of "a stronger man." In the scene above, the VFX clearly aren't finished, but you can see how it would have unfolded. Thankfully, it didn't happen, and now we can go back to forgetting about this movie.
Tom Hiddleston Reflects on Loki in the MCU
In a new Disney+ web video series called "Untold," actor Tom Hiddleston reflects on landing the role of Loki in the "Thor" franchise, which ended up being a much bigger role in the Marvel Cinematic Universe than he ever could have imagined. Listen as he talks about the sibling rivalry dynamic with Chris Hemsworth as Thor, and enjoy the accompanying animation that throws back to the vintage style characters from The Walt Disney Company's classic animated shorts.
Jessica Chastain Didn't Know Her X-Men Character Name
Jessica Chastain appeared on Josh Horowitz's "Happy Sad Confused" podcast to talk about "The Eyes of Tammy Faye," in theaters now, and the new HBO series "Scenes from a Marriage" with Oscar Isaac. Their conversation turned to the time both Chastain and Isaac spent as villains in "X-Men" movies, and a perplexing tidbit was revealed about the production. Aside from Chastain hinting that Isaac didn't enjoy the "X-Men" production process very much, she also revealed that while "Dark Phoenix" was shooting, she had no idea what her character name was. In fact, she didn't learn that detail until she went to the film's premiere. That's what I call Hollywood! 
Batman Fornite: Zero Point Hard Cover Collection
See what happens when Batman meets "Fortnite" in this hardcover graphic novel collection of the six-issue series written by Christos Gage and illustrated by Reilly Brown, with concept and story consultation from chief creative officer of Epic Games, Donald Mustard. If you need some motivation to buy this collection, it comes with seven DC-themed digital cosmetics that you can use in "Fortnite."