Conan O'Brien Was The Funniest Part Of The 2021 Emmys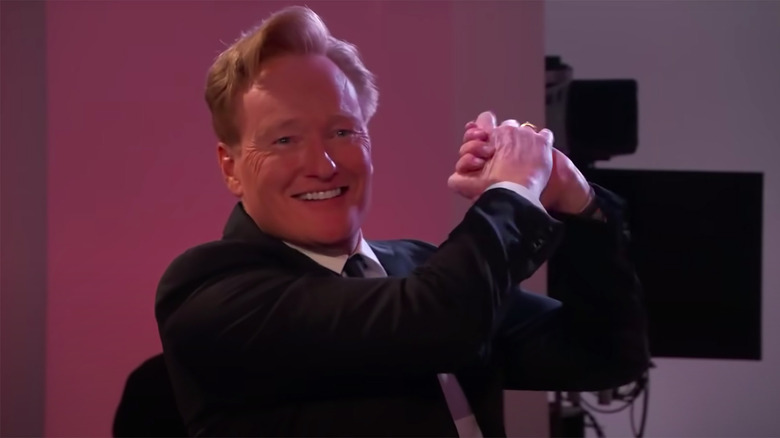 CBS
Last night, the 73rd Primetime Emmy Awards were pretty disappointing. With the exception of a fantastic opening number and one good sketch, the show just wasn't all that entertaining, despite being hosted by Cedric the Entertainer. However, there was some impromptu comedy to be found in the form of one of late night's comedy staples goofing around on live television.
Conan O'Brien was at the Emmys last night, and after he lost the award he was nominated for, he decided to have a little fun. And we're quite thankful he was there, because his mere presence resulted in one of the best recurring gags of the night.
Conan O'Brien Proudly Loses
It all began when "Last Week Tonight with John Oliver" took home the award for Best Variety Talk Series, beating out "Conan Without Borders." During the acceptance speech, John Oliver began by saying, "I think, like many of us in this room, I was kinda rooting for Conan, so this is bittersweet." It sounds like a lot of people were hoping for Conan to get an Emmy the year that he ended his TBS talk show, even though it was his spin-off series that got the nomination. Oliver went on to acknowledge the legacy that Conan has left behind on late night television:
"Thank you so much, Conan, for 30 years of inspiring comedy writers. A ridiculous number. You're the best."
During the speech, the camera cut to Conan O'Brien, who clasped his hands and shook them about in a celebration of victory before he realized the sadness of his situation and sat down. Thankfully, he was consoled by someone else who handed him an Emmy that was won earlier in the night. But that was just the beginning of Conan's shenanigans.
Conan O'Brien Salutes the Television Academy CEO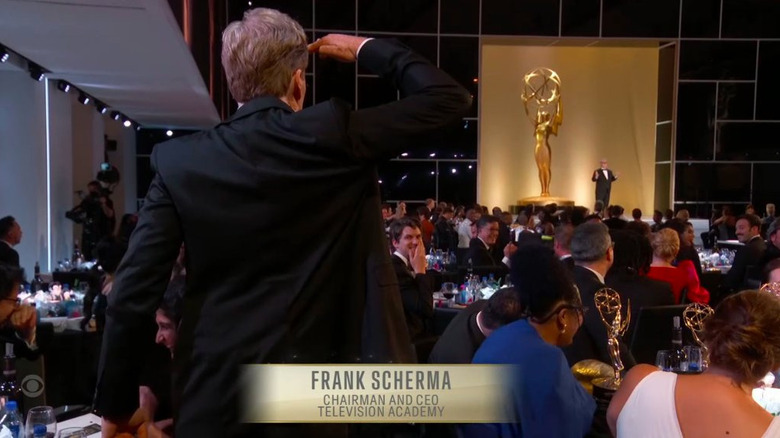 CBS
In an Emmys tradition, Television Academy CEO Frank Scherma took the stage to offer up the standard speech about the state of the Academy and what they were proud of this year. In this case, he called attention to the diverse assembly of nominees for this year's awards. Of course, that all went out the window when the people of color who were nominated didn't go home with many awards, but I digress.
As Scherma took the stage, Conan O'Brien gave him an enthusiastic standing ovation, complete with hoots and hollers. In fact, Conan's clapping and cheers were so enthusiastic that Scherma got a second round of applause from the entire crowd, and that's when you could start hearing the chuckling. Thankfully, the show's director finally realized what was going on and got a shot of Conan proudly saluting Scherma, and that enthusiasm continued well into the speech. 
For his part, Scherma seemed a bit shaken by the distraction, but he shared a few chuckles and got through his speech.
Conan O'Brien Joins Stephen Colbert on Stage
Finally, later in the evening, when "Stephen Colbert's Election Night 2020" won Best Variety Special, Conan O'Brien really got to celebrate. As Stephen Colbert and the special's staff took the stage to accept the award, Conan jumped up and joined them. Many have been inaccurately saying that Conan crashed the acceptance speech, but Colbert himself told O'Brien he should come on stage with them if they won the award. Colbert even made a joke during the speech referencing the fact that Conan was out of place among the crew, but the former late night host was smiling ear-to-ear and embracing his "fellow" award winners.
Even though the 2021 Emmys were more than a letdown this year, we're glad Conan O'Brien was there to help salvage the night.