'Invincible' Animated Series Adds Mahershala Ali, Jon Hamm, Ezra Miller, Djimon Hounsou & More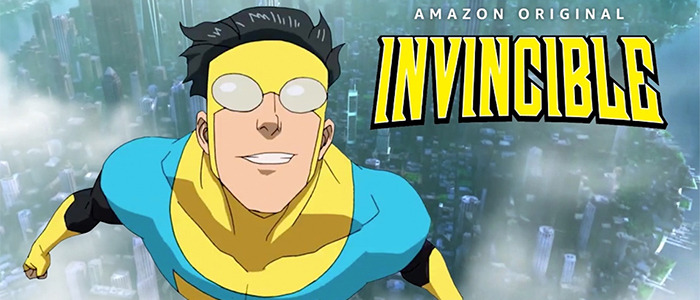 Amazon Prime is turning the Skybound/Image comic book series Invincible by Robert Kirkman into an animated series that will arrive next year. Steven Yeun (The Walking Dead) stars as 17-year old Mark Grayson, who just so happens to be the son of the most powerful superhero on the planet, Omni-Man (J.K. Simmons). As he begins to discover his own superpowers, he learns that his father may not be the clean-cut superhero that he seems to be.
The first Invincible trailer arrived earlier this year along with an impressive roster of voice talent. But not all of the cast members had been revealed, because Brazil's 2020 CCXP virtual convention revealed a handful of new cast members, including Oscar-winner Mahershala Ali (Moonlight), Jon Hamm (Mad Men), Clancy Brown (The Shawshank Redemption), Djimon Hounsou (Gladiator) and more. Check out the full Invincible voice cast and find out who they're playing below.
Here are the new additions to the Invincible voice cast and the characters they're portraying:
Mahershala Ali as Titan
Clancy Brown as Damien Darkblood
Nicole Byer as Vanessa & Fiona
Jeffrey Donovan as Machine Head
Jonathan Groff as Rick Sheridan
Jon Hamm as Steve
Djimon Hounsou as Martian Emperor
Ezra Miller as D.A. Sinclair
The eight new cast members join the previously announced voice cast, which includes some impressive names too:
Zachary Quinto as Robot
Khary Payton as Black Samson
Zazie Beetz as Amber Bennett
Chris Diamantopolous as Doc Seismic
Walton Goggins as Cecil Steadman
Grey Griffin as Shrinking Rae & Amanda (Monster Girl as Girl)
Kevin Michael Richardson as Mauler 1, Mauler 2 & Monster Girl (as Monster)
Mark Hamill as Art
Gillian Jacobs as Atom Eve
Melise as Dulpi-Kate
Jason Mantzoukas as Rex Splode
Andrew Rannells as William Clockwell
Seth Rogen as Allen the Alien
On top of that, Sandra Oh, Mae Whitman, and Max Burkholder were previously announced as cast members of the series back in January of 2019. However, we're not sure if their characters haven't been announced yet or if they maybe ended up not being involved with the series by the time it got off the ground.
The original Invincible comic book series ran for 15 years and only just came to an end in February 2018, so there's plenty of source material to keep this series going for a long time if it proves to be successful on Amazon Prime. Hopefully it's a hit since Amazon is just starting to dig into more adult animated fare, and we'd like to see them keep it going. If you'd like to hear more about Invincible, you can watch the full CCXP panel right here, starting right at the 3 hour and 14-minute mark in this video here.
Invincible is produced by Skybound with Robert Kirkman service as executive producer along with Simon Racioppa, David Alpert (The Walking Dead, Fear the Walking Dead), Catherine Winder (The Angry Birds Movie, Star Wars: The Clone Wars). The series, which will begin with eight hour-long episodes, is slated to premiere on Amazon Prime sometime in 2021.