'Star Wars: The Rise Of Skywalker' TV Spot: The Knights Of Ren And Sith Troopers Finally Appear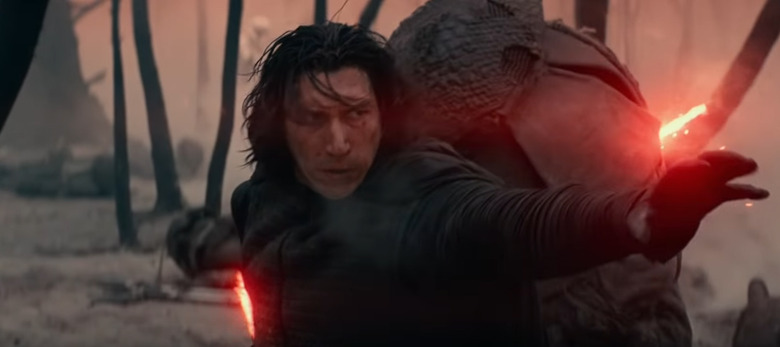 With less than a month until Star Wars: The Rise of Skywalker hits theaters, Disney and Lucasfilm will be releasing new snippets of footage here and there leading up to the release. If you've already seen everything you want to, then it might be time to start staying away from the internet for a bit. This new Rise of Skywalker TV spot uses a lot of footage from the final trailer, but it also has new shots, such as a sweeping shot of the Knights of Ren, a Sith Trooper in battle, and plenty of Rey and Kylo Ren.
Star Wars: The Rise of Skywalker TV Spot
It's hard to believe, but this is the first footage we've seen of a Sith Trooper in action. Though the new troopers have been all over The Rise of Skywalker's merchandise and promotional material, they weren't in any of the previous trailer. Perhaps that means they won't be appearing until much later in the story as part of the climactic battle. They're Sith Troopers after all, so it stands to reason that they're working directly for the Emperor himself. Will we see him appearing more in footage soon too? Otherwise, you can see the previous TV spot right here.
Star Wars: The Rise of Skywalker arrives in theaters on December 20, 2019.
Lucasfilm and director J.J. Abrams join forces once again to take viewers on an epic journey to a galaxy far, far away with Star Wars: The Rise of Skywalker, the riveting conclusion of the seminal Skywalker saga, where new legends will be born and the final battle for freedom is yet to come.
The film stars Carrie Fisher, Mark Hamill, Adam Driver, Daisy Ridley, John Boyega, Oscar Isaac, Anthony Daniels, Naomi Ackie, Domhnall Gleeson, Richard E. Grant, Lupita Nyong'o, Keri Russell, Joonas Suotamo, Kelly Marie Tran, with Ian McDiarmid and Billy Dee Williams
Star Wars: The Rise of Skywalker is directed by J.J. Abrams and produced by Kathleen Kennedy, Abrams and Michelle Rejwan. Callum Greene, Tommy Gormley and Jason McGatlin serve as executive producers. Star Wars: The Rise of Skywalker was written by J.J. Abrams & Chris Terrio.