'Star Wars: The Rise Of Skywalker' Trailer Breakdown: Long Have We Waited For This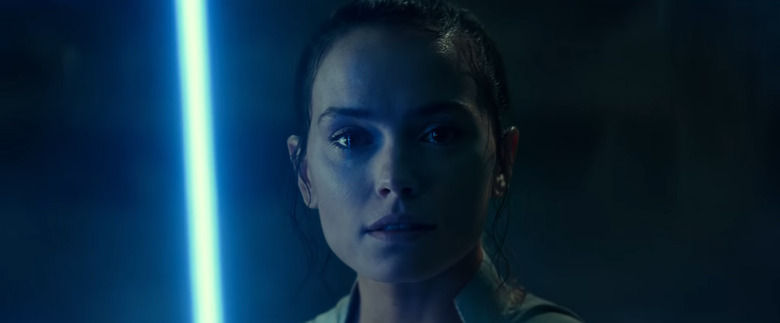 Last night, the Star Wars: The Rise of Skywalker trailer debuted (and tickets went on sale a couple hours earlier at a record-breaking pace, even though they weren't supposed to be available until after the trailer arrived), and it's all anyone could talk about online afterwards. A plethora of new footage was unleashed last night, and while it doesn't really give us any details about the actual story at the center of this last chapter of the Skywalker saga, there are plenty of interesting details to pick up on. So let's dig into them with our extensive Star Wars: The Rise of Skywalker trailer breakdown.
Star Wars: The Rise of Skywalker Trailer Breakdown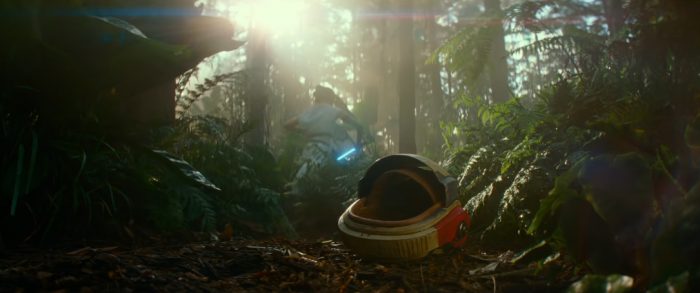 The Lucasfilm logo fades into a jungle planet. Many have theorized that the movie could return to Endor, and this is where the jungle scenes in the marketing so far have taken place. However, thanks to a new edition of Star Wars Monopoly on the way, it appears this planet, where a new Resistance base is located, is called Ajan Kloss.
In this shot, Rey tosses aside a helmet as she runs through the jungle with her lightsaber ignited, and she's clearly determined in her training. Some thought this helmet was the same as the one Luke used to do his training aboard the Millennium Falcon, but if you go look at that helmet, you'll see this one is distinctly different (though it does have the same visor to block vision).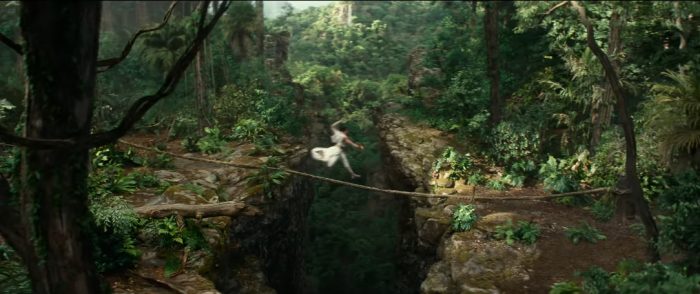 Rey leaps across a big cliff in the jungle, and she appears to have no reservations about her abilities in that regard. Not only does she have the Force to help her in these situations, but let's not forget that she was scavenging Star Destroyers on her home planet of Jakku by herself. She's no stranger to exerting herself.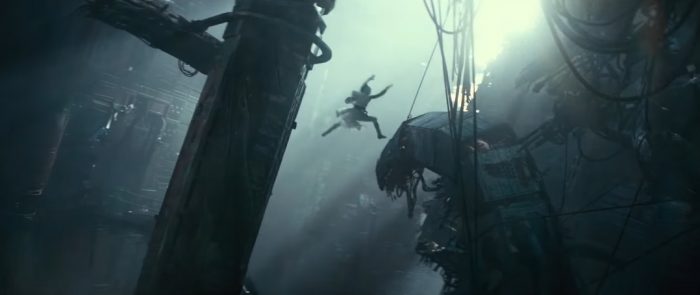 But suddenly, a crosscut shows Rey leaping from one broken structure to the next in what is likely the destroyed remains of the Death Star glimpsed in the end of the first teaser trailer from Star Wars Celebration. The shot does feel reminiscent of her scavenging days in The Force Awakens, so she should have no problem navigating this decaying space station.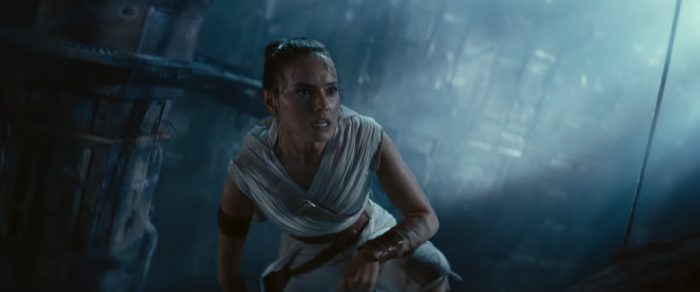 We get a close-up of Rey, looking determined, sweat glistening on her face, her clothes dirty. But that look on her face tells us she knows where she's going. But what is she going to find when she gets there? We just might find out later in the trailer.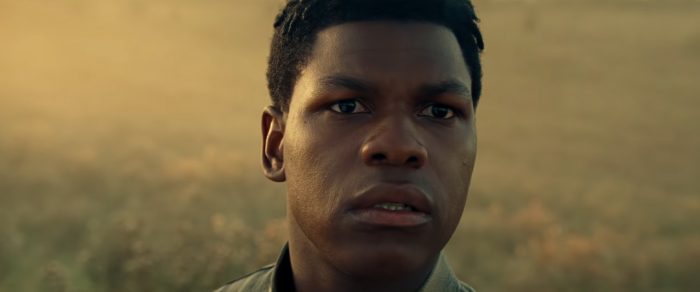 Throughout the shots of Rey training and exploring the Death Star, we've heard Finn's voiceover say, "It's an instinct. A feeling. The Force brought us together." Finn and Rey have had a close bond since meeting in The Force Awakens, and it appears he's learned a lot about what the Force can accomplish since then. How will their relationship end up in this movie? It clearly won't be romantic, but a later shot reveals some possible turmoil.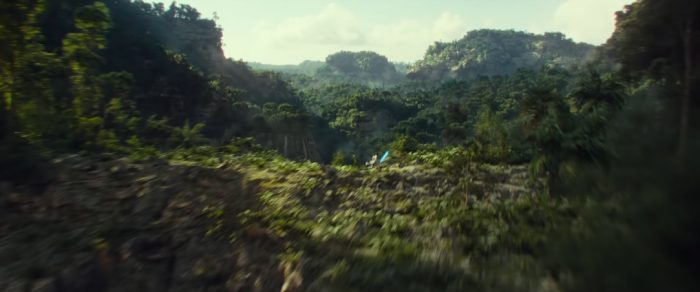 Back to training on Ajan Kloss, we get a wide shot where you can barely see Rey, her lightsaber still ignited. The camera is swooping towards her and then past her, presumably to the new location of the Resistance's base. Perhaps that's where Rey is racing towards, and she arrives just in time for...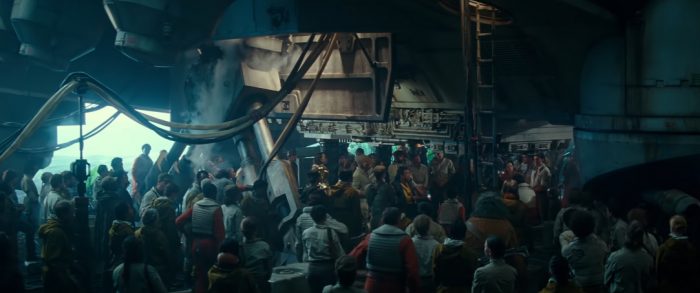 A Resistance meeting! Admittedly, we're not sure that this meeting is taking place on Ajan Kloss. There's no indication of jungle surroundings. This could easily be a Resistance meeting before the massive final battle with the First Order. If you look closely, you'll see Poe Dameron is at the center of this meeting, and Lando Calrissian is there, too. C-3PO can be seen glistening, and the Mon Calamari that could be Admiral Ackbar's son is in attendance as well. We also think this is the seen where Jeff Garlin makes an appearance.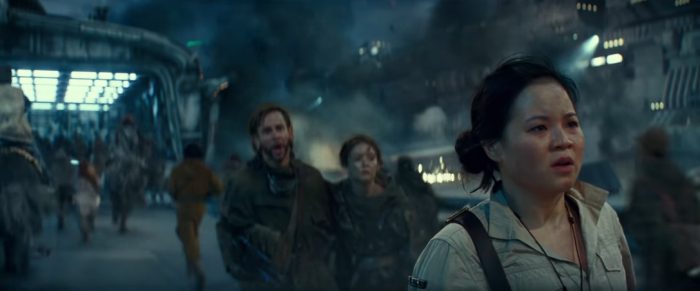 Everyone in the Resistance certainly seems to be in a hurry in this scene, featuring the first shot of Kelly Marie Tran as Rose Tico that we've seen from The Rise of Skywalker. If you'll look in the background, you'll see Dominic Monaghan, whose character hasn't been named in the marketing yet, as well as Billie Lourd as Lieutenant Connix. Are they evacuating their jungle base on Ajan Kloss? Monaghan's character certainly looks worried and hurried, and he's trying to get Rose to come with them as she looks on at something off-camera that has her equally as worried.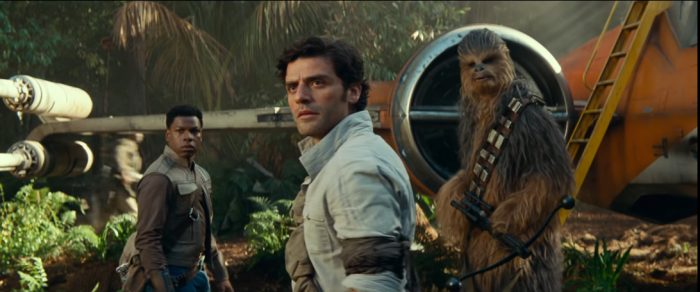 During these shots of the Resistance, we hear Poe Dameron saying, "We're not alone. Good people will fight if we lead them." When Poe Dameron, Finn, and Chewbacca turn around, they look a little concerned about what's happening off-camera, too. Has the First Order suddenly discovered their base (again)? That would explain everyone else rushing.
Also, check out Poe Dameron's new orange X-wing there next to them. His black X-wing blew up in The Last Jedi, and while we were sad to see it go, this orange one looks pretty slick.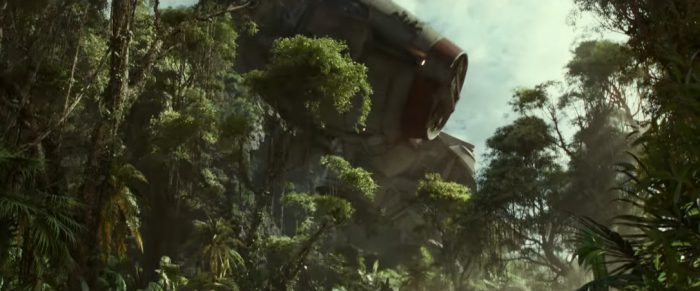 Could this be what Poe, Finn, and Chewie are looking at? When I first saw this shot, I thought it was just a CR90 corvette (like the Tantive IV Rebel Blockade Runner from the opening of Star Wars: A New Hope) making a landing on the planet. But then I wondered if this ship was making a crash landing. The ship doesn't seem to be damaged though, so maybe it's just making an emergency takeoff as I initially suspected.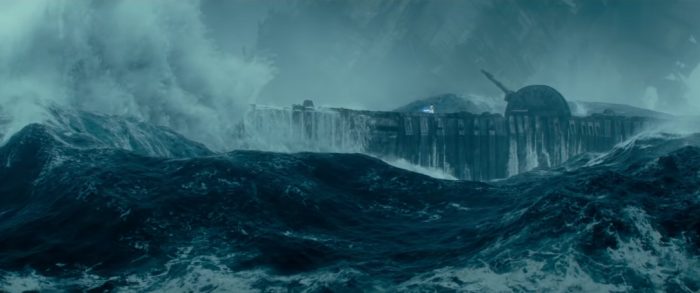 The roll call for our heroes continues with another wide shot of Rey with her lightsaber ignited, this time on some of the remains of the destroyed second Death Star from Return of the Jedi. The ocean crashes around her as we hear her voiceover say, "People keep telling me they know me."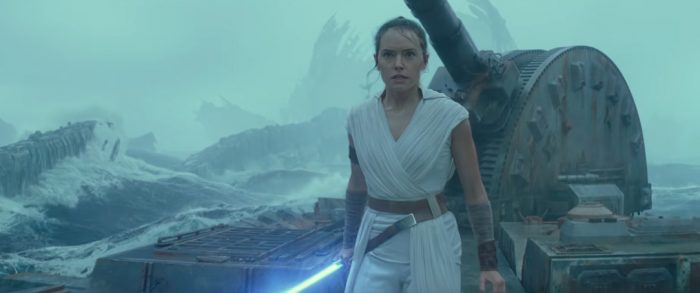 Then the trailer cuts to this determined shot of Rey as her voiceover sounds a little more stern when she says, "No one does." The reason for the look on her face becomes clear as suddenly...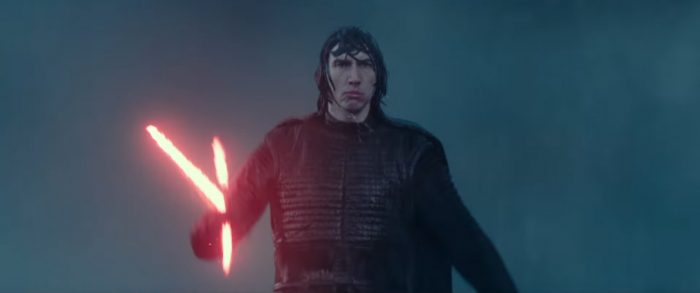 Kylo Ren appears on the same platform out of the heavy mists of the crashing ocean, his lightsaber ready for battle. The tempting voiceover says, "But I do," continuing to tantalize fans wondering if a Rey and Kylo relationship could blossom out of all this (though it would require redemption for Ben Solo).
I love the way Kylo Ren wields his lightsaber in this scene too. He flips it around to put the blade behind him. It looks like we might see a slightly different kind of fighting style from him this time, which is probably for the best since his previous bout with Rey didn't go very well.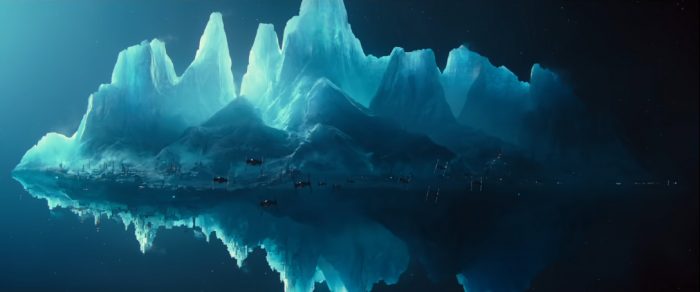 Initially, when this shot debuted as part of a trailer promo in the afternoon before it officially released, I thought this ice mountain was merely being reflected on the surface of a pristine body of water. But in this trailer, it's clear that this is some kind of giant ice formation in the middle of space. Looking closer, you can see spires, lights, and buildings on the ends.
Considering the four dozen or so TIE Fighters that are flying towards it, we're betting this is a stronghold for the First Order. Or maybe it's where a faction of the Empire has been lying low, biding their time. After all, we know the Emperor is coming back somehow, and there have to be people tending to him, right?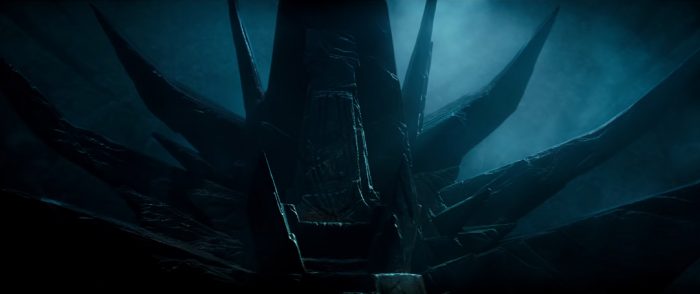 Speaking of which, here's a shot of the Emperor's throne with symmetrical spikes sticking out all around it. This design actually comes from Ralph McQuarrie's unused concept art from the original trilogy – you can find out more about that over here.
The interesting aspect of this shot is the giant scratches on what appears to be a stone throne. What are those from, and where is this throne that lightning is flashing around it? Clearly it's in the same area where that fleet of Star Destroyers was that we saw in the previous teaser from the D23 Expo. But we don't know where that is either, so we're totally in the dark.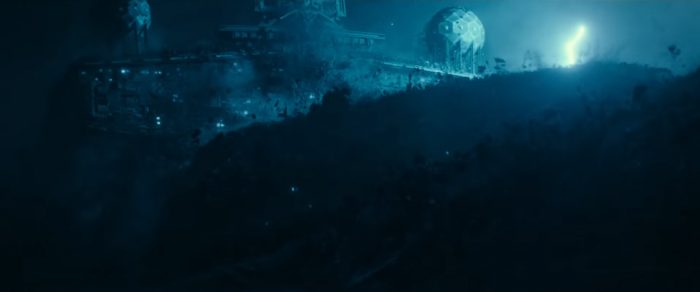 Speaking of which, here's one of those Imperial Star Destroyers we were talking about, which might be emerging from being covered in ice or snow. Could this fleet of Star Destroyers be hidden inside that ice formation in space? Notice the lightning that lights up the sky as it rises. Is this when the Emperor fully makes his return known and that massive fleet of Star Destroyers is ready for the final battle?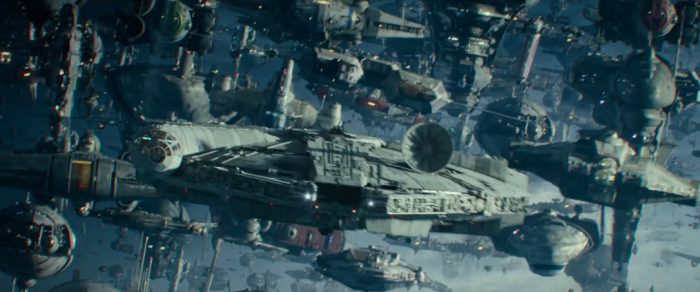 The Resistance certainly seems ready for battle in this shot of endless ships prepared to take on the First Order. While the Resistance may have been struggling for allies in The Last Jedi, it appears the spark has ignited a full-on fire in the hearts of many around the galaxy. If you look, there are plenty of recognizable ships, and even Han's freighter can be seen in the distance (though surely it's in someone else's hand now). The shot moves towards the Millennium Falcon's cockpit just before we cut to...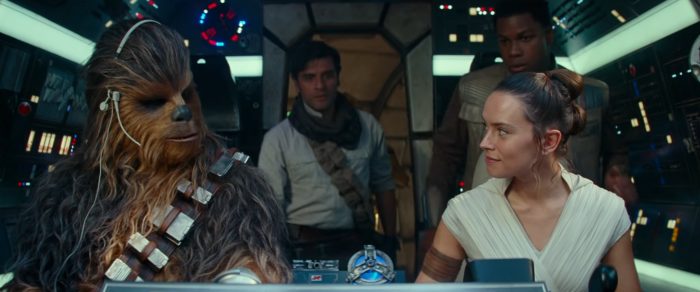 Rey and Chewbacca are back in the pilot seats, and Finn, Poe, and C-3PO join them. The editing of this trailer would seem to be indicating that they're in the Falcon as the Resistance fleet comes together. But in the previous shot, it looks like you can make out Lando Calrissian's yellow shirt and cape sitting next to Chewbacca. So I'm betting this shot is when the crew heads out to take care of whatever they need that involves C-3PO (but more on that later).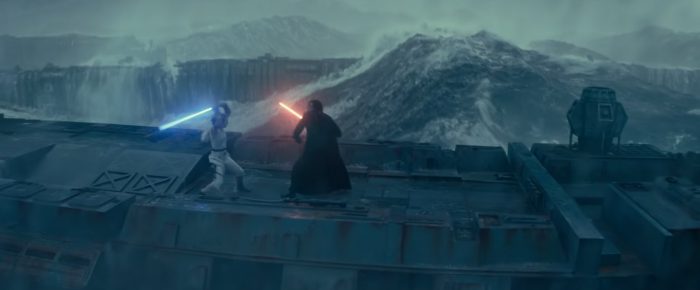 As was teased in the previous D23 footage, we're getting a lightsaber fight on the surfaced of the Death Star remains. Based on the previous shot of these two coming face-to-face with each other here, it would seem that this is where the battle begins. But it's likely not where it ends. We'll get to that later, too.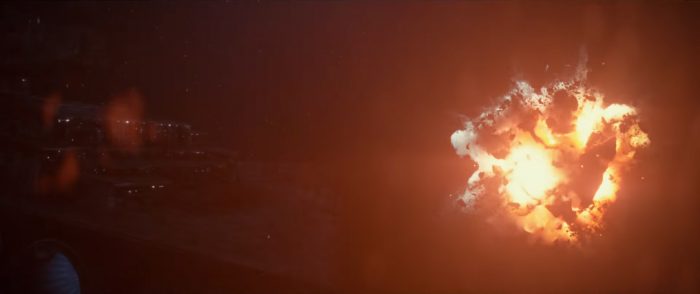 Suddenly, there's a quick cut in and fade out to this shot of something blowing up in space as a First Order Star Destroyer sits nearby. It cuts to the shot too late for us to see what exploded, and it fades out too quickly for us to get a grasp on any of the debris that might give us a hint. Could it be a planet or a massive ship? What has the First Order destroyed this time? Is it even the First Order? A shot later in the trailer leads us to believe that maybe it's not.
Here a water skiff tries to navigate the crashing waves on whatever planet holds the remains of the second Death Star. As the skiff comes over the crest of this wave, you see the outline of the concave circle on the space station where the laser shoots out. It's the same part of the Death Star that we saw in the first teaser trailer with all our heroes standing and looking out over a cliff overlooking the massive debris.
The Emperor's voiceover during these preceding shots is interesting as he says, "Long have I waited, and now your coming together is your undoing." The shot of our heroes in the Millennium Falcon cockpit appears as Palpatine says "coming together," but the next shot is of Rey and Kylo Ren fighting. One might assume that he's talking about Rey and Kylo Ren being together in this line, but if that's the case, why would it be both of their undoing? That wouldn't make sense for Kylo Ren, right? We're thinking that this line from the Emperor is about the Resistance and their allies coming together, and now the Empire/First Order can finally destroy them.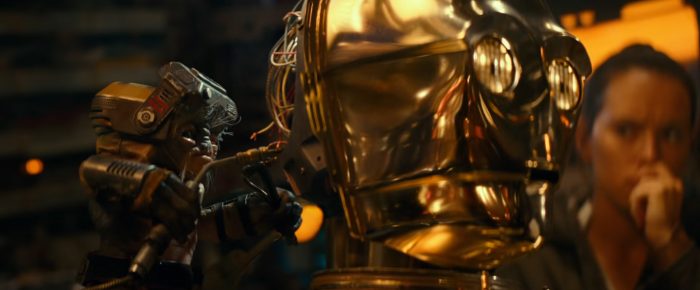 Get ready for the waterworks to start rolling in. Here we get a new shot of droidmaker Babu Frick as he messes with the back of C-3PO's head. This is clearly before something happens with the protocol droid before his eyes go red, as seen in the previous teaser.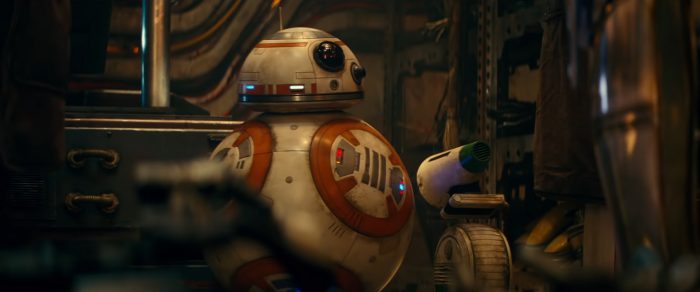 C-3PO's little buddies BB-8 and D-O look on almost cautiously, probably not keen on having their innards messed with like the golden droid before them.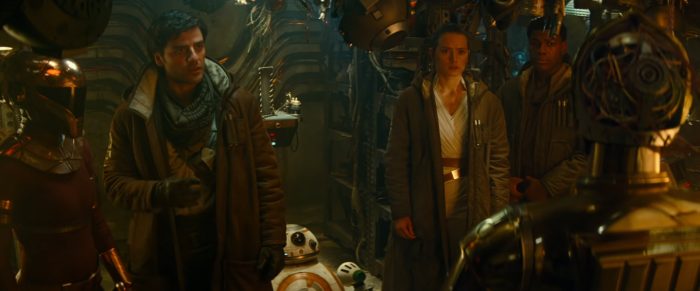 Something odd seems to have happened while Babu Frick works on C-3PO, because Poe Dameron cautiously asks, "What are you doing there, 3PO?"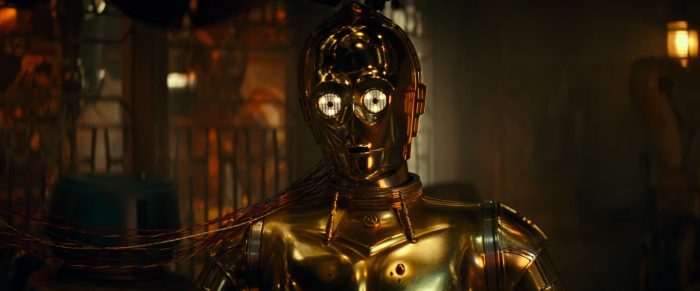 Can you believe they gave C-3PO the line that brought us to tears during this trailer? C-3PO responds to Poe Dameron by sweetly saying, "Taking one last look, sir...at my friends."
Now before you go thinking they're going to kill C-3PO in this movie (after they've already killed Han, Luke, and maybe Leia), I'm thinking that this moment is merely C-3PO taking one last look just in case something should go wrong with whatever they need to do with him. It would be extremely sad if C-3PO ended up not making it, but I just don't see that happening.
Oh, and check out that Battle Droid over there on the right side of the room.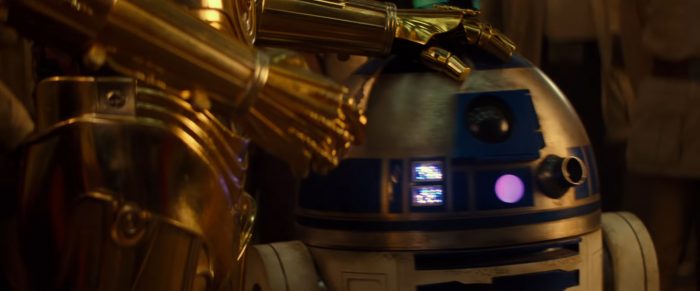 But the trailer adds to that concern with a shot that cuts to R2-D2 seemingly panicking at his side. However, we don't think this shot is from that same sequence, because if you look in the background, it appears there are other people in the room that aren't our heroes as we saw with C-3PO in that room.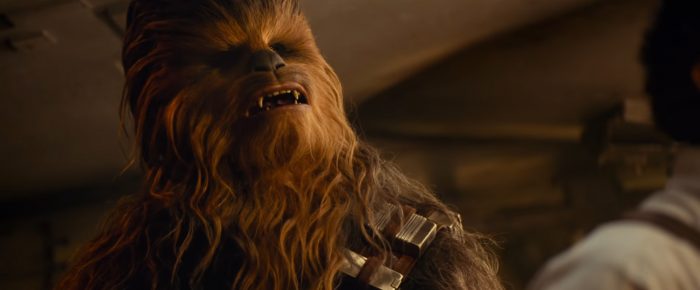 The same can be said for this shot, because to the right of Chewbacca, you can see Poe Dameron standing there, and he's not wearing the same jacket that he was on the shot where C-3PO was taking that final look. But that's some damn fine trailer editing to add some emotion about saying goodbye to these characters.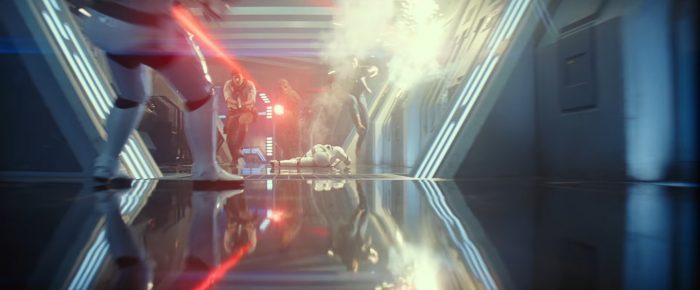 Remember when we talked about whether or not that explosion near the First Order Star Destroyer was caused by the bad guys themselves? Well, here's Poe Dameron, Chewbacca, and Finn charging through the halls of some kind of First Order ship. Is there a chance these guys take over the ship and gain control of its weapons and use it against the First Order? That would certainly be a first for the Resistance, and it would be a huge help in the battle.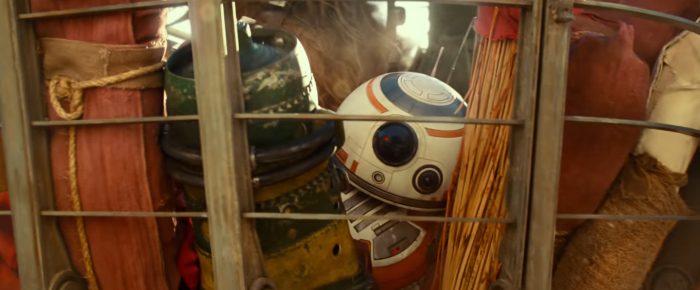 Shifting gears totally, we get a shot of BB-8 aboard one of the skiffs on the desert planet of Pasaana, where there's a chase between our heroes and some First Order troopers. Before this sequence, we hear Luke Skywalker in voiceover saying "Confronting fear is the destiny of the Jedi," as Leia embraces Rey in a shot we've seen before. It continues throughout the following montage with him saying, "Your destiny."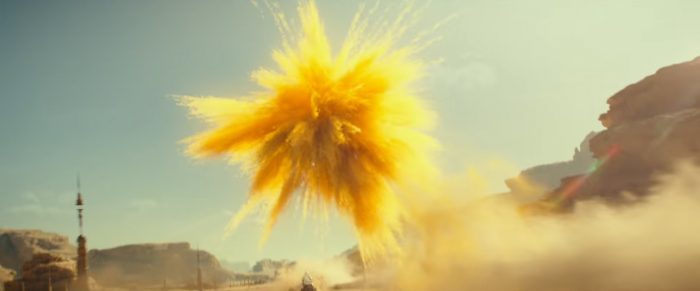 Ever the resourceful droid, BB-8 punctures some kind of device and sends a plume of yellow smoke into the sky, which will make visibility rather difficult for the pursuing troops, which include some new Jet Troopers.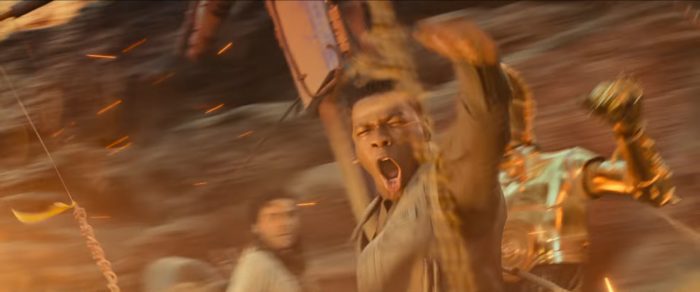 We can assume that this chase ends happily for our heroes since Finn and Poe can be seen celebrating after an explosion nearby. As these shots happen, the swell of music really starts to pull at your heartstrings even more. It's a slowed down version of the primary Star Wars theme. Interestingly enough, that's not a new piece of the score from John Williams, but instead, it's trailer composer Blakus playing with Williams' themes specifically for the trailer.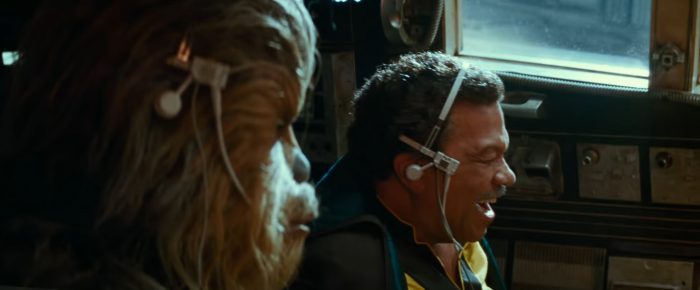 That emotion swells even more when you get a shot of Billy Dee Williams back and having a blast in the cockpit of the Millennium Falcon with Chewbacca by his side.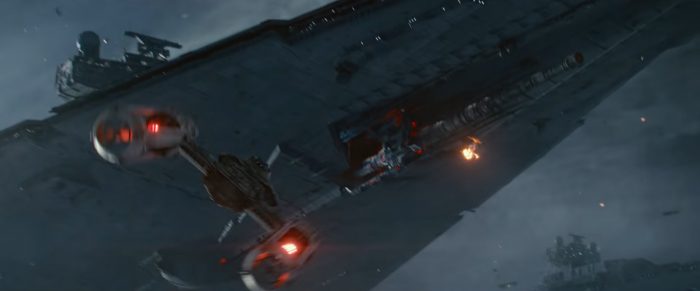 A Y-wing (likely being flown by Keri Russell's Zorri Bliss, based on a LEGO set revealed on Triple Force Friday) barrel rolls and blasts a TIE Fighter in this shot. But perhaps more interesting is what's in the background. That's an Imperial Star Destroyer (not First Order), but it appears to have a massive cannon equipped on its underside. Could this be what's making that huge blast on the surface of some planet in the previous teaser? Are all these Star Destroyers waiting in the wings equipped with Death Star technology now?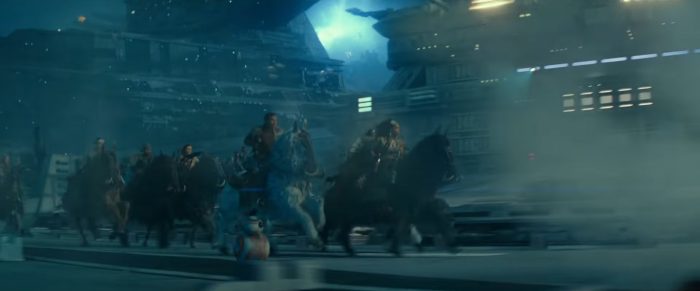 Here's one of the more perplexing shots of the trailer, with Finn and Jannah charging on some kind of industrial metal structure on the Star Wars equivalent of horses. That appears to be another Imperial Star Destroyer in the background. Once we see where this shot is taking place a little bit later in the trailer, we have even more questions.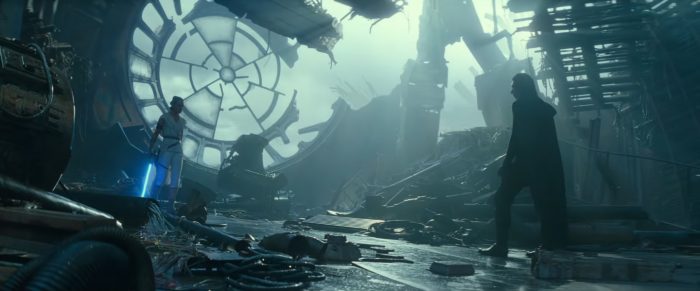 Back in the remains of the second Death Star, we have Rey standing in front of Kylo Ren, though the latter doesn't have his lightsaber drawn. A look at the background shows us that this is the throne room of the Emperor where Darth Vader and Luke Skywalker battled. It's also where Vader betrayed his master and sent the Emperor falling down a long energy shaft where we presumed he was dead. Does the lightsaber battle on the surface end up here? Why are they both at the site of the Death Star remains to begin with? Could they both be looking for something tied to the Emperor that was left behind on the Death Star?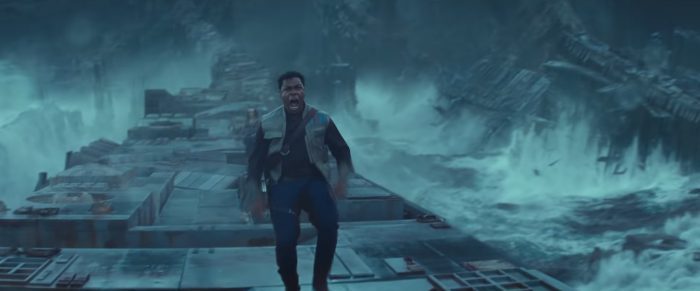 Whatever Rey is doing on the Death Star, it looks like Finn isn't too happy about it. The shot is reminiscent of when Kylo Ren took Rey prisoner and Finn shouted after him during an ambush at Maz Kanata's castle. But here, he appears to be shouting after Rey in an attempt to stop her from doing something. Does he think Rey shouldn't be here? Something is up. Also, if you look in the background, you'll see Jannah is here during this sequence too.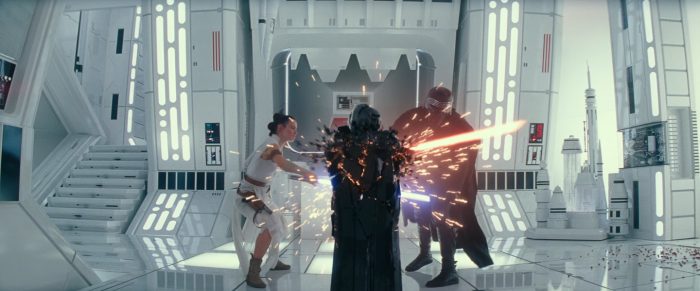 Now this is the sequence everyone quickly went back to go through frame-by-frame, because it's very difficult to tell what's going on. This is clearly inside of a First Order ship, and it would seem to be Kylo Ren's quarters, because that looks like Darth Vader's burned helmet sitting on top of that display tower. Initially, it looks like maybe they're doing this together, but it appears Rey gets the upper hand on Kylo and destroys the base.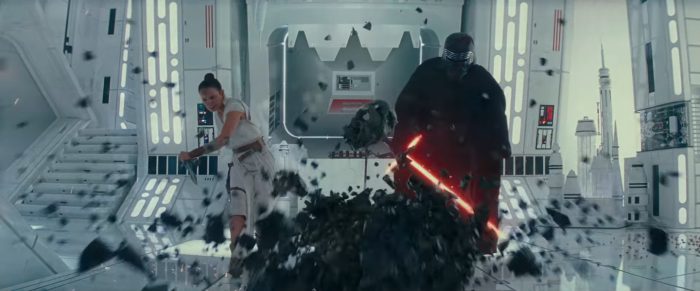 If you need anymore evidence that Darth Vader's helmet was sitting on top of that thing, look right there in the middle for a profile shot of it as it falls and Kylo looks on, likely with worry under that helmet. But the more interesting details is what can be seen in Rey's left hand. It's a dagger of some kind, and there have been rumors of a Sith dagger being an important MacGuffin in this movie. But we're not sure what that's all about. Could this be the Dagger of Mortis from Clone Wars?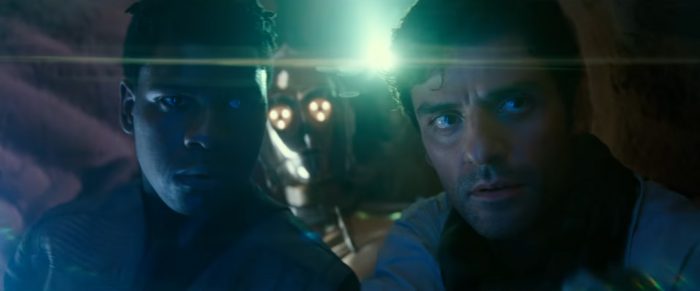 In case you forgot that J.J. Abrams is back for The Rise of Skywalker, here's one of his signature lens flare shots that make Finn and Poe Dameron look pretty cool as they cautiously peer around a cavern and C-3PO looks on blankly from behind.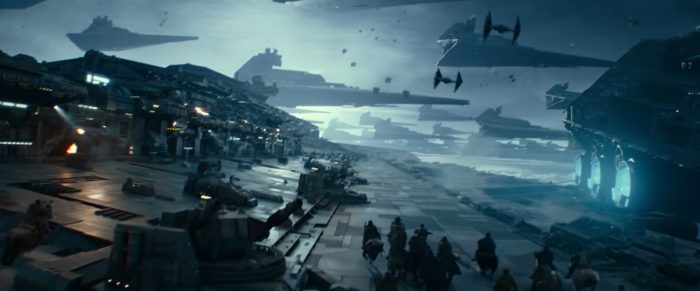 Here's a different angle on Finn and Jannah charging into battle on their alien steeds, and there's a whole fleet of Star Destroyers in front of them?! Are they riding on a Star Destroyer themselves? How is this possible? Is this in some kind of contained atmosphere? We've never seen anything like this in Star Wars before other than astromech droids rolling around on the surface of Queen Amidala's royal starship to fix it in The Phantom Menace.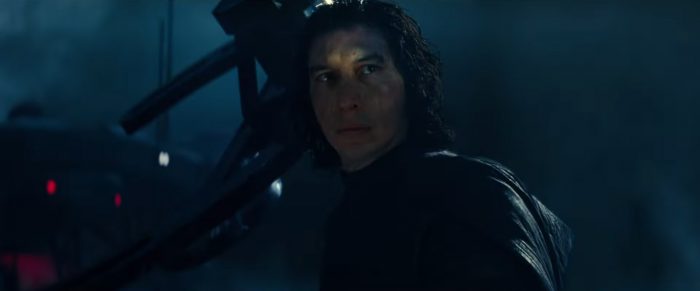 Ooooh, this shot of Adam Driver is very intriguing. There's a moment of consideration in his face before he finally steps forward. Could this be a glimpse at his possible redemption in the movie? The lightning flashes happening clue us into the fact that wherever this sequence is happening, it's in the same vicinity as...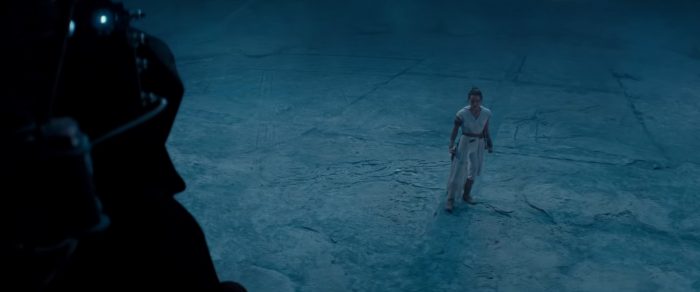 J.J. Abrams is clearly keeping the full reveal of The Emperor under wraps until the movie arrives, but this over-the-shoulder shot is all we need to see that he's back. And that's not a Force ghost. Rey steps back cautiously as the cloaked figure moves towards her, but he doesn't appear to be walking, and he looks to be considerably higher than Rey. He must be sitting in some sort of contraption that's moving him around. He's likely in no condition to be walking on his own and perhaps even requires extensive life support, becoming similar to that of Darth Vader. We're hoping he doesn't have some spindle-like walking contraption like a robotic spider, but at this point, we just don't know what to expect.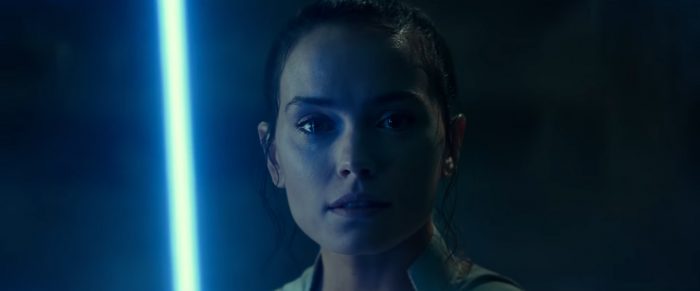 It's not all doom and gloom though. In voiceover again we hear Luke Skywalker saying, "The Force will be with you." And there's a cherry on top as we hear Leia add, "Always." Those lines combined with Rey's emotive facial expression, tears glistening in her eyes and a glimmer of hope as she almost appears to be smiling, are enough to make us swell with emotion and realize we are not ready for this to be over.
Star Wars: The Rise of Skywalker arrives in theaters on December 20, 2019.