Daily Podcast: Masters Of The Universe, The Snyder Cut, Venom 2, Disney+, Once Upon A Time In Hollywood.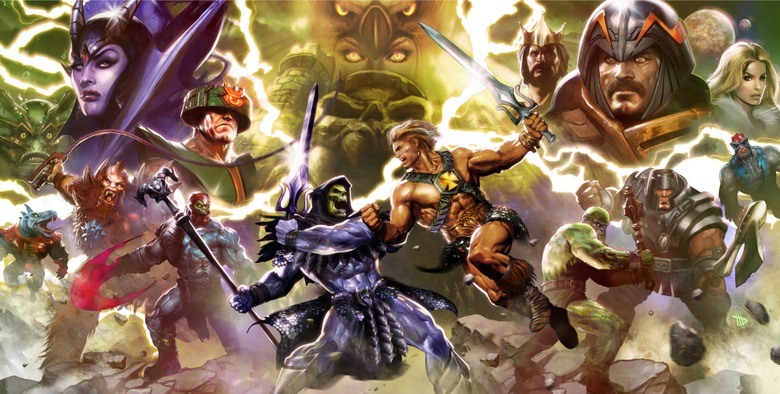 On the August 19 episode of /Film Daily, /Film editor-in-chief Peter Sciretta is joined by /film weekend editor Brad Oman and senior writer Ben Pearson to discuss the latest film and TV news, including Masters of the Universe, The Snyder Cut of Justice League, Venom 2 and Disney+. And in the Mailbag, we'll be responding to some letters about Neill Blomkamp and Once Upon a Time in Hollywood.
Opening Banter: There was no episode on Friday but this week is D23 Expo 2019.In the News:
Brad -
'Masters of the Universe: Revelation' Animated Series Revival Coming From Kevin Smith at Netflix
Ben (og Chris) -
'Venom 2' Will Be Shot By Cinematographer Robert Richardson
Brad: Disney+ Announces Compatible Devices for Launch and International Pricing Plans
In The Mailbag:
Haisam (Pronounces Hi-Sam) from Egypt writes in "On the August 15th episode, while discussing the RoboCop news, you guys brought up Neill Blomkamp and Chris mention how he thinks he's a bad filmmaker. While I agree, Blomkamp filmography is bad, I don't think the guy keeps falling upwards or the implication that he's a hack. I find Blomkamp to be an interesting filmmaker with one major flaw.  He is a technical and visually driven director who puts a tremendous effort and attention to detail in the image and has total command and control over it, yet has no sense of storytelling. Just like Gareth Edwards, and to some extent, Zack Snyder, his skill as a writer is far behind his skill as a visualizer. Blomkamp's approach to action and spectacle is very uniquely his own. It has intention and clear point of view, and doesn't just go for the flashy overstimulating bombast that amounts to visual noise. While his style feels influenced by video game cut scenes, it's done in a way that is dynamic, and shows an understanding of the cinematic medium.   If you get a chance to check any of the ART OF THE MOVIE book of one his films you'll see how deep and fledged his approach to the process is. It's just that despite all this micromanagement and focus on the frame, he lacks that nuanced perspective when it comes to the bigger picture and story. Which is why I don't think he has not made a good movie yet. There is still a lot of promise though, and I wouldn't write him off yet. Love you all, keep up the good work."
Some responses to our Once Upon A Time In Hollywood spoiler discussion:
Gokul from Auckland, NZ writes in: I have just listened to your spoiler-cast on Once Upon A Time in Hollywood ( a little late I know but NZ only got the movie here last week), and I was really caught up by your discussion about whether having prior knowledge about the Mansons and Sharon Tate was needed to really get the most out of this movie.   What really interested me was that most of the crew seemed to think that the background knowledge wasn't needed and in Chris's and Ben's point of view, the audience should already know about this as part of their education.
I thought I would share my thoughts from a perspective of someone brought up outside of the United States, and who wasn't around when these events occurred.   Personally I think this movie actually requires you to do some homework and learn about Tate and the Mansons. My girlfriend and I both saw the movie together and while I had some cursory knowledge about the events, my girlfriend was going in blind as this era in American history is not taught in the NZ curriculum.   What that meant was, the build up to the end and the anticipation of what was going to happen was kind of wasted on my girlfriend. I mean, she knew that something could happen to Rick and Cliff but the added dread about what could happen to Sharon was simply missing for her. In fact, she couldn't understand what the point of Tate's role in the film was. To my girlfriend, it just seemed like the audience was following her around, seeing her day to  day life for no reason and with no real payoff. This was probably compounded by the fact that Robbie did not have a lot of dialogue or even a seeming arc compared to Dalton or Cliff. I would say that the sweetness and sensitivity felt towards Tate was due mainly to what the audience knows happens to her and so the little moments with Tate took on added meaning. Since I had a vague idea of her story, her role made more sense to me.
  Funnily enough, once we saw the movie, my girlfriend and I both went home and read up on the Mansons and Tate, and suddenly the movie took on a whole new meaning for us. So I would say to anyone watching the film, do some homework on the Mansons and Tate before going in to see the movie."
Phil writes in "After having watched Once Upon A Time in Hollywood, i was able to finally enjoy the spoiler podcast for this movie. The movie premiered 3 weeks after the us release in Europe, where I live.
I have to thank you for bringing up that the movie has structural problems in the case of viewers not being familiar with the Manson murders. As a non-US-viewer, I know that Charles Manson was a cult leader and murderer, but not much more. Only if you are interested in serial killers and American cults, you know details. I tried to stay away from spoilers too.  This resulted in me not getting why we follow this young starlet, who actually never became relevant to the story, as she is not involved in the final showdown. Furthermore the intruder who was supposed to be Charles Manson didn't ring a bell, as i do not know how Charles Manson looked like when he was young. And there are Killers whose motivation I do not get alone by watching the movie, although it is instantly obvious that they are dangerous.  So yeah, it is a possibility for the audience to not know the context and it results in a unsatisfying viewing experience. The movie seemed like shards connected through something I'm not familiar with.
Best regards, Phil."
All the other stuff you need to know:
You can find more about all the stories we mentioned on today's show at slashfilm.com, and linked inside the show notes.
/Film Daily is published every weekday, bringing you the most exciting news from the world of movies and television as well as deeper dives into the great features from slashfilm.com. 
You can subscribe to /Film Daily on
iTunes
,
Google Podcasts
,
Overcast
,
Spotify
and all the popular podcast apps (
RSS
). 
Send your feedback, questions, comments and concerns to us at
peter@slashfilm.com
. Please leave your name and general geographic location in case we mention the e-mail on the air. 
Please rate and review the podcast on iTunes, tell your friends and spread the word! 
Thanks to Sam Hume for our logo.