George R.R. Martin's 'Nightflyers' Sets Binge-Style Premiere Across All Syfy Platforms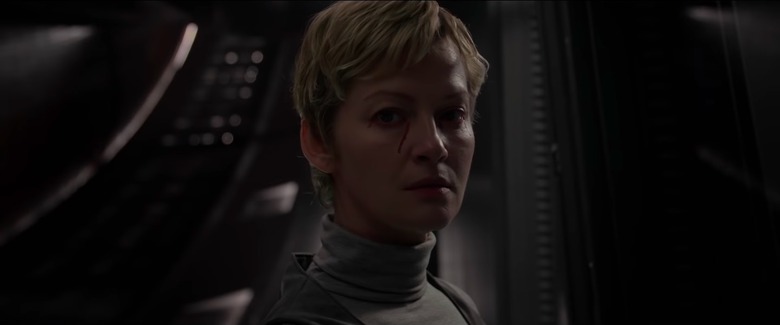 Even cable network shows are trying to make themselves as binge-able as possible. Syfy has set a unique multi-platform rollout for its new series Nightflyers, based on the novella by George R.R. Martin.
Ahead of the first episode's premiere at New York Comic-Con today, Syfy announced that the 10-episode series will series will be available to binge online as soon as Nightflyers premieres on TV, according to Deadline. Beginning December 2, 2018, all 10 episodes will debut across all Syfy platforms in the first two weeks of December.
The episode releases will be split into two groups. The first five episodes will air between Sunday and Thursday starting December 2, while the second half of the series will the week of December 9, 2018. Each episode will be available online as soon as it premieres on TV through on demand and via the network's website and app. Anyone can watch the episodes, which won't be limited only to subscribers.
This won't be the first time that Syfy has pulled off a unique digital rollout for one of its series. The little-seen but much beloved (at least among the /Film staff) horror anthology series Channel Zero will air the entirety of its fourth season in one week this month, during which time it will be made made immediately available on VOD. It's unclear whether that Halloween-centric stunt will pay off for Channel Zero, but this unique digital-first approach could work for Nightflyers.
Based on the novella by George R.R. Martin, Nightflyers has the benefit of a built-in fan community following the A Song of Ice and Fire author's every move. And with Martin's other hit series Game of Thrones currently on hiatus, thirsty Thrones fans may be looking for something else — anything else — from the writer. And there are probably even some Nightflyers fans out there who are eager for a high-budget approach to the outer space horror story after its campy 1987 feature film adaptation.
Here is the official synopsis for Nightflyers:
In 2093, in hopes of making contact with a mysterious alien life at the edge of our solar system, a group of maverick scientists and a powerful telepath embark on an expedition aboard The Nightflyer. As they race towards first contact, terrifying and violent events begin to occur, causing the once tight-knit crew to mistrust each other. It's not long before their main mission becomes survival.
Eoin Macken, David Ajala, Gretchen Mol, Jodie Turner-Smith, Angus Sampson, Sam Strike, Maya Eshet, and Brían F. O'Byrne star in Nightflyers, which will premiere internationally on Netflix at a later date. See the new promo for Nightflyers below.