'Captain Marvel' Trailer Breakdown: She's The Hero We Need Right Now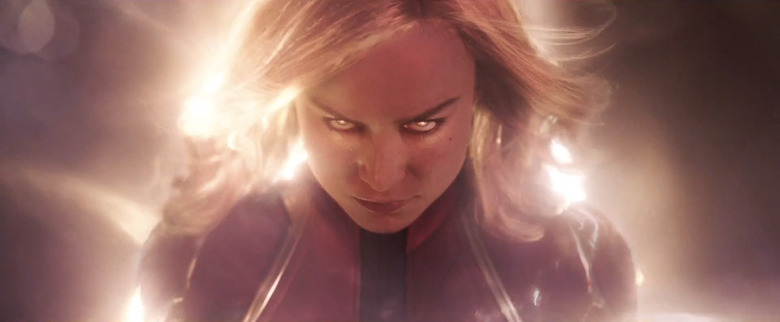 This morning finally brought the first trailer for Captain Marvel, the latest release from Marvel Studios. Brie Larson plays the titular superhero, an Air Force pilot who became endowed with incredible cosmic powers and left behind her life on Earth to join a team known as Starforce. This first teaser trailer sets the stage for her return to Earth, and it appears the life she left behind is a mere memory glimpsed through quick flashbacks.
Of course, that's not all the Captain Marvel trailer offers up. There are plenty of interesting and intriguing details to notice when you start taking a closer look. So let's dive in with a Captain Marvel trailer breakdown.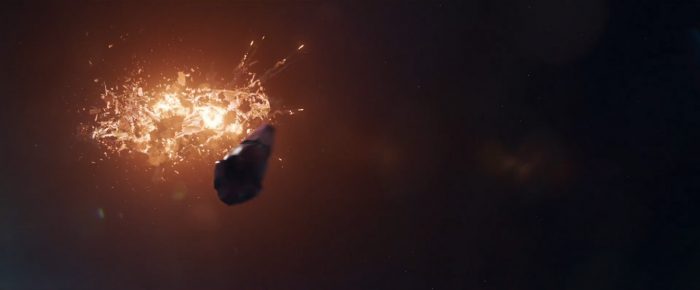 The trailer literally begins with a bang as an explosion erupts in the distance and a ship flies quickly towards the camera. Is that an escape pod? Is that the ship flying away the one that just did the damage? Who's on either of those ships?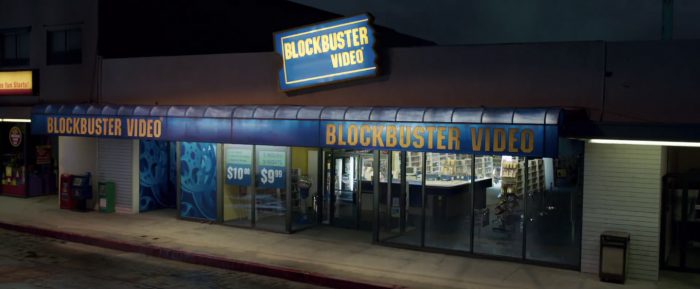 The way the trailer is cut makes it seem like the body we see falling through the night sky and crashing through the roof of a Blockbuster Video comes from that explosion. It's most likely just a clever juxtaposition of imagery, but we also can't rule out the fact that maybe Carol Danvers is the one who blew up that ship.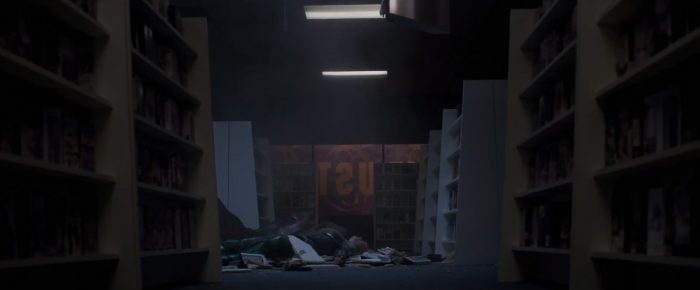 Either way, here she is after crashing through the roof of that Blockbuster video. Depending on when she left Earth, there's a good chance she may not even know what a Blockbuster Video is. She won't be quite as clueless as someone like Diana Prince was in the "modern" world of Wonder Woman, but...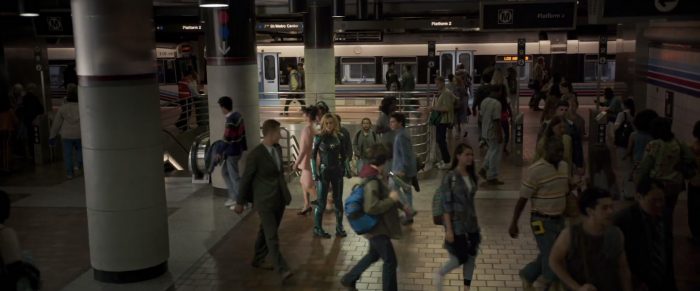 It's clear that Carol Danvers feels a little out of place when she finds herself back on Earth. Maybe this transit system wasn't in place either when she left. Or maybe she's so overwhelmed with familiarity and she doesn't understand why. But we'll have more on that later.
Throughout these shots, voiceover from Samuel L. Jackson as Nick Fury can be heard saying, "War is a universal language. I know a renegade soldier when I see one. It never occurred to me that one might come from above." So Fury recognizes that Danvers has run away from something. Perhaps that was her racing away from that explosion. Either way, he knows that she's not here for a simple visit, and he's intrigued by the fact that at first she appears to not be from Earth.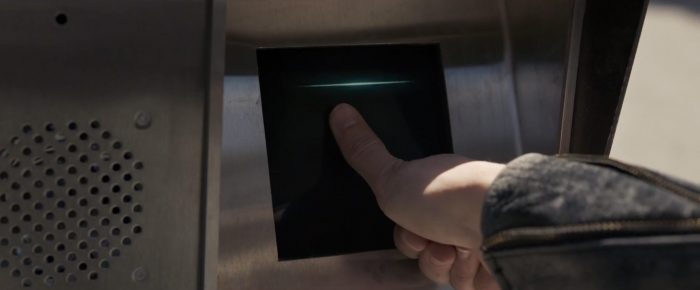 Just a shot of a finger print scanner that's also a reminder that we're in the 1990s. Even though this technology was advanced for that decade, it's nothing compared to what SHIELD is capable of in the other Marvel Cinematic Universe movies. But this establishes that the organization still very much was always ahead of the rest of the world when it comes to tech.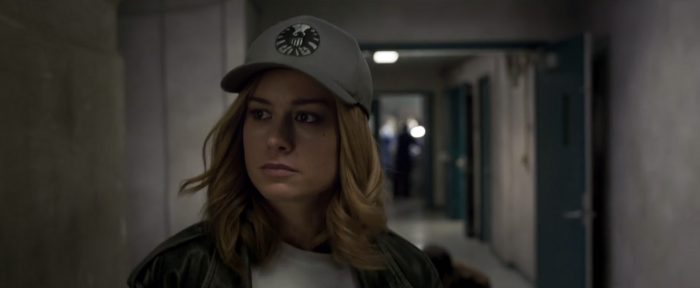 A quick shot shows Carol Danvers walking through what appears to be a hall at some SHIELD facility. That assumption comes from the fact that she's now wearing a SHIELD hat. That's not very subtle for an organization that tries to keep a lid on themselves and what they do. But it's the kind of hat someone wears when they're trying to be inconspicuous, so maybe it belongs to Nick Fury and he let her borrow it for the time being.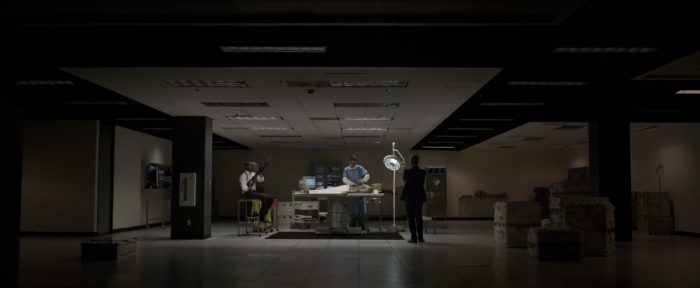 Nick Fury's voice over continues and mentions "space invasion." If you look closely in this shot, it looks like that's a member of the Skrulls, an alien species, on the operating table. Fury sits at the foot of the table with a big gun in his hand, perhaps just in case this alien wakes up. But who is that standing on the other side of the table? I could be wrong, but that might be Ben Mendelsohn, and let's not forget that he's a Skrull disguised as a human.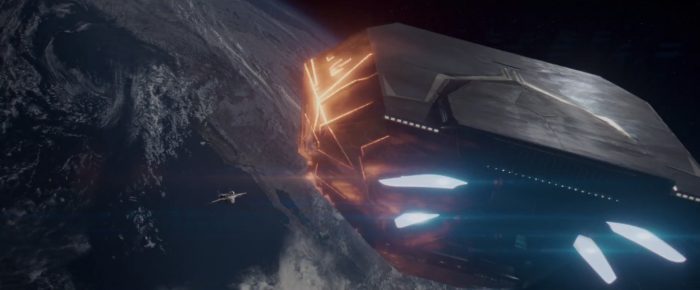 This shot features a ship turning off its cloaking device as another ship approaches. The one approaching appears to share similarities with the likes of big planes on Earth. It's tough to make out what kind of vehicle that is, but the body looks like some kind of cargo plane, and the top appears to have two engines. Is that ship flying to dock with the other ship? Or to attack it? Maybe there's a hint as to who is on the de-cloaking ship later in the trailer.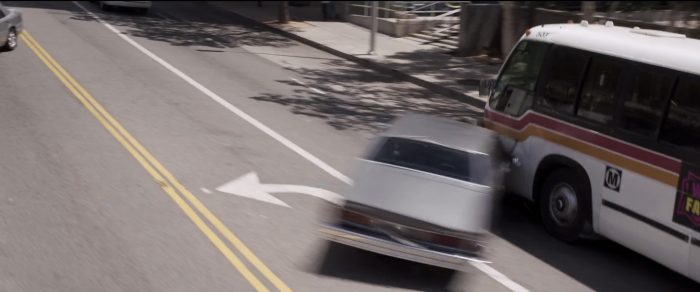 Fury's voice over adds "big car chase" to a list he's running through and we see a car racing through Los Angeles before getting smashed by a bus. There's no indication as to who is involved in that chase, though it could be Fury himself.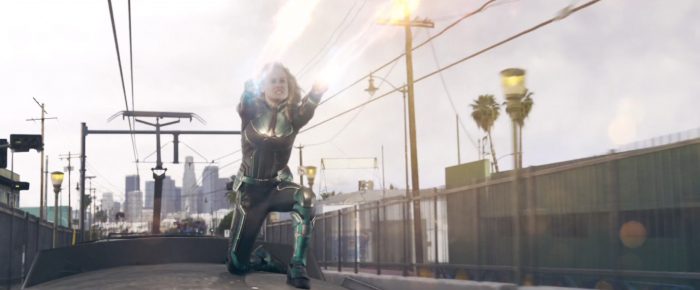 Another quick beat during this succession of shots finds Carol Danvers jumping onto a train. While on the roof, she blasts something with energy out of her hands. We never see what it is that she's shooting at, but there's a good chance that it's a Skrull that she's chasing.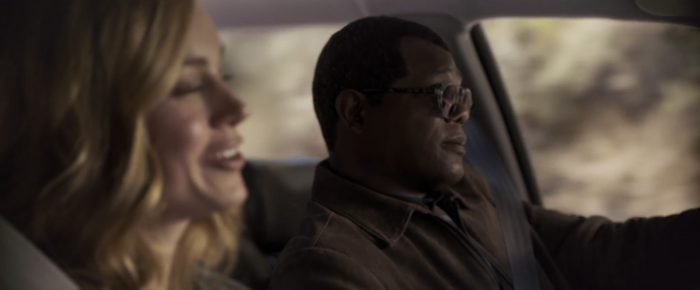 Fury makes it sounds like he's sick of the day-to-day work he has to deal with when he says, "Truth be told, I was ready to hang it up, 'til I met you today." He asks Carol, "So you're not from around here." And she just smirks and says, "It's hard to explain."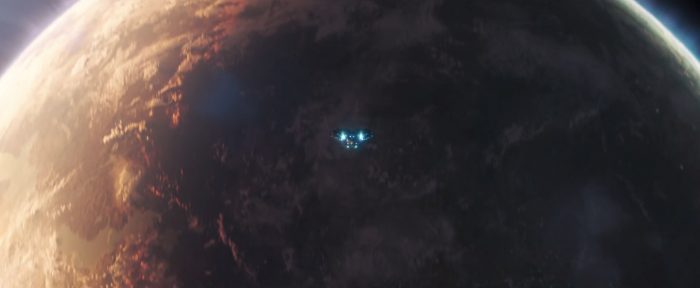 A quick shot shows a ship approaching a planet. It looks like it could be Earth (it's hard to tell with the way the sun is hitting the planet), though it could be the Kree planet of Hala, which is where Carol's Starforce team operates.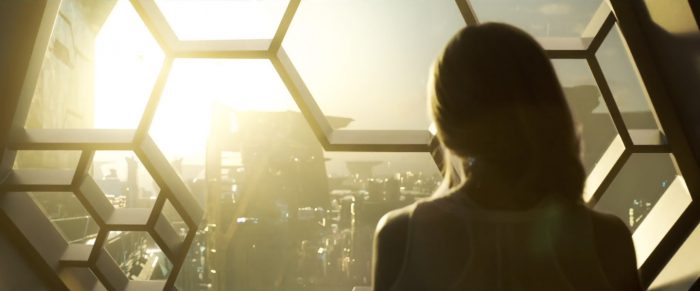 That's likely where Carol is in this shot since the cityscape outside looks anything but Earthlike. Even the window has a futuristic, otherworldy feel to it. This is likely her waking up to a normal day before going off and doing her job.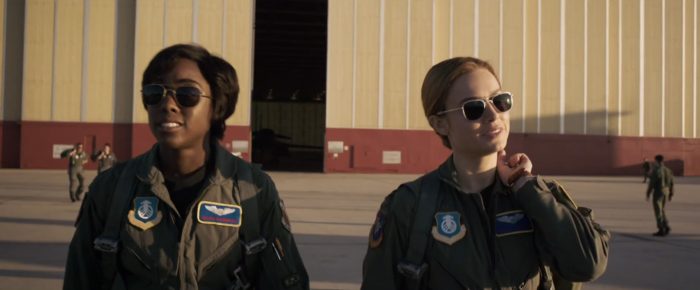 The voiceover switches to Brie Larson as Carol Danvers who says, "I keep having these memories. I see flashes. I think I had a life here." It appears all of the scenes featuring Carol Danvers as an Air Force pilot will be flashbacks, and that's how we'll find out how she came to have her powers.
"I think I had a life here," Carol also says in voiceover. And we continues to see scenes from her younger years, including basic training for the Air Force, like climbing ropes on an obstacle course.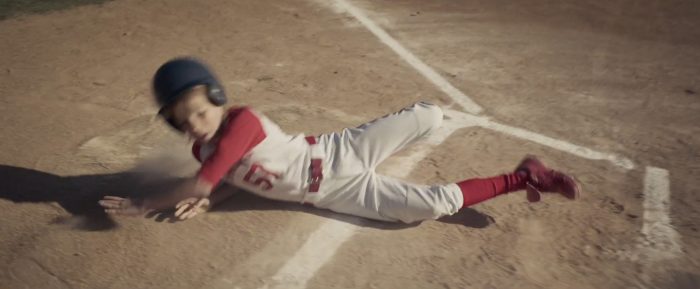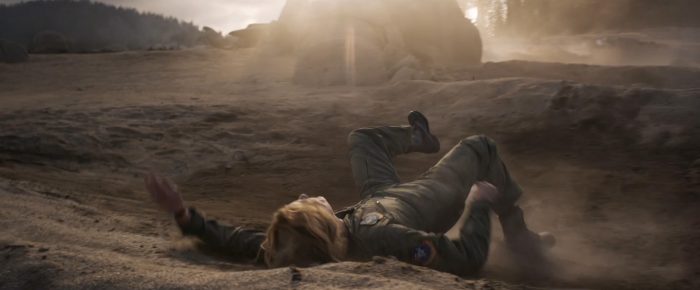 But perhaps the most intriguing part of this trailer comes from the uses of three separate, quick montages correlating imagery from flashbacks featuring a young Carol Danvers as a kid to other moments in her life at different ages. Here's a taste of one of them where we see shots of her falling during a softball game juxtaposed with one of her falling as an Air Force pilot. That latter one might come into play later.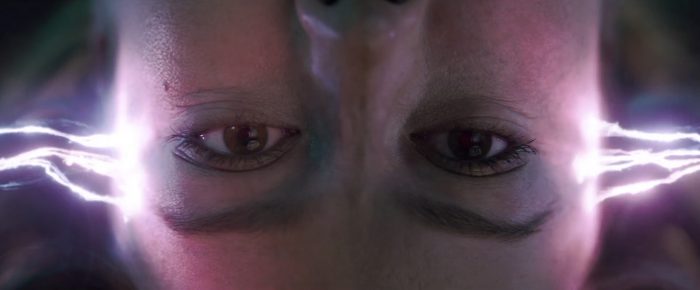 In one of the weirder shots of the trailer, we get a close-up of Carol Danvers with electricity shooting into the temples of her head. And then...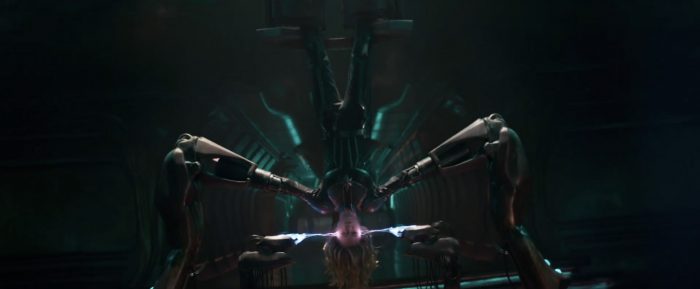 A wider shot reveals that she's upside down in a ship somewhere. She's wearing her green and black Starforce uniform, but the question is whether or not she was captured while she was on the job. If so, she's clearly being restrained in a way to nullify her powers. Then again, this could be like some kind of training regimen for her where she's controlling her powers or charging them up or something. However, I think one shot coming up in the trailer might be tied to this one.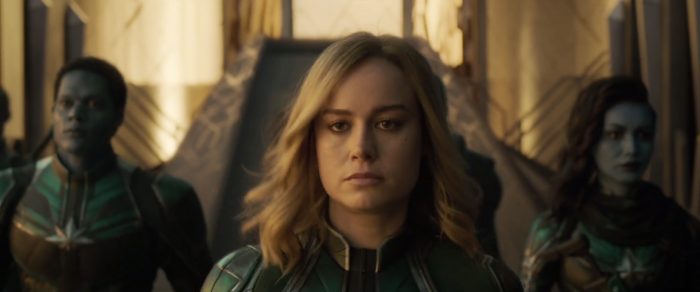 First, here's the trademark slow-motion shot of the Starforce team strutting their stuff, complete with Brie Larson looking like a certified badass.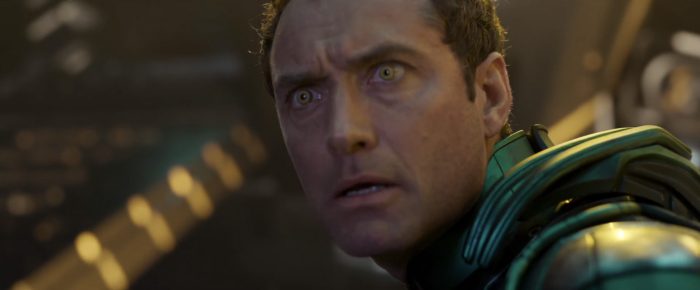 The (possibly) only shot of Jude Law that we get in the entire trailer is this one. If you look carefully during the shot, there are brief, dull flashes of light that might be tied to the electricity we see holding Brie Larson in the shots above. That makes me think she's definitely been captured and Jude Law's Starforce commander character, who has yet to be named, will have to free her.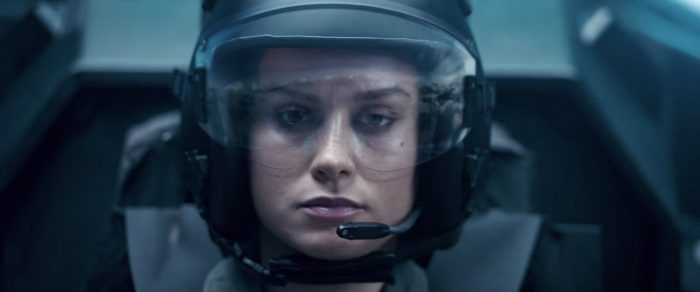 During the preceding shots, Carol ends her voiceover by saying, "But I can't tell if it's real." She's unsure where these flashes are coming from, which implies that she's forgotten her life. Whether that's due to the inception of her powers or someone else intentionally trying to suppress these memories, we'll have to wait and see. But we get another juxtaposition of flashbacks showing similar imagery here with a young Carol driving a go-kart and an older Carol sitting in the cockpit of her jet.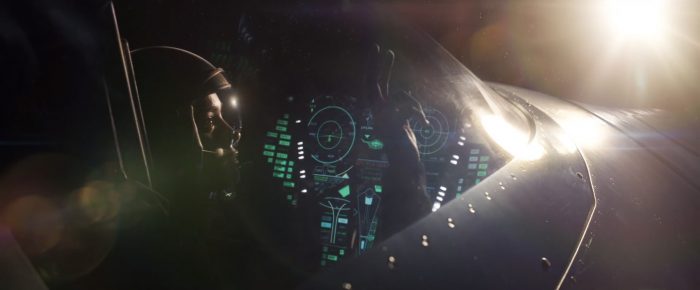 Meanwhile, this shot of her jet seems to have her flying close to the atmosphere of the planet, which is why it's dark surrounding her and the sun looks like it does. We're not sure what's going on in this sequence, but that's a great shot.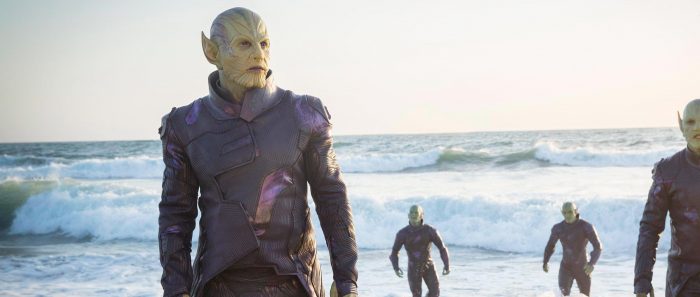 This isn't the exact shot in the trailer of the Skrulls on the shore of a beach, but we used this shot from Entertainment Weekly's spread of first look images because it's the exact same scene. This is like the first time the Skrulls arrive on Earth. But how and why they got there is a question that still needs to be answered.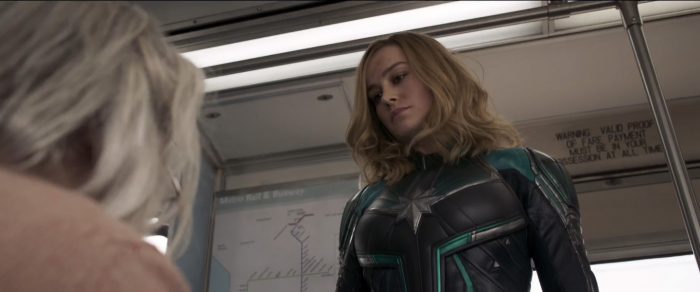 Easily the most confusing sequence is this one of Carol Danvers menacingly confronting what appears to be a sweet old lady. Why does Carol look so grumpy and serious?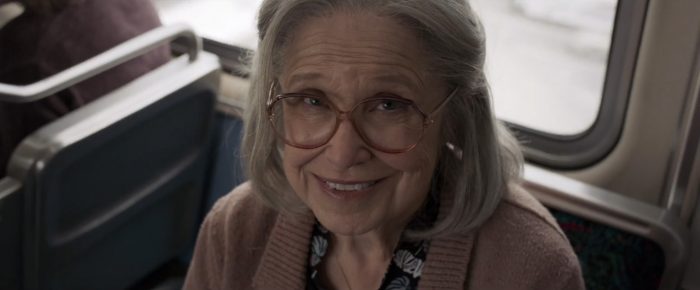 Look at that sweet old lady. Why is Carol so mad at her? Did she take her seat?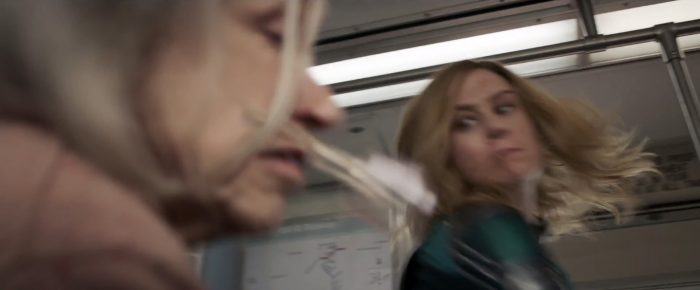 OH SHIT! Whatever that old lady did, Carol is pissed and punches her glasses clean off her face. Obviously that's not just a sweet old lady, but likely a Skrull that's trying to hide from Carol. She can apparently tell when they're trying to hide who they are. This appears to be on a bus or train. Maybe it's on the train she leaps on earlier in the trailer...or maybe it's the bus we see in the car chase.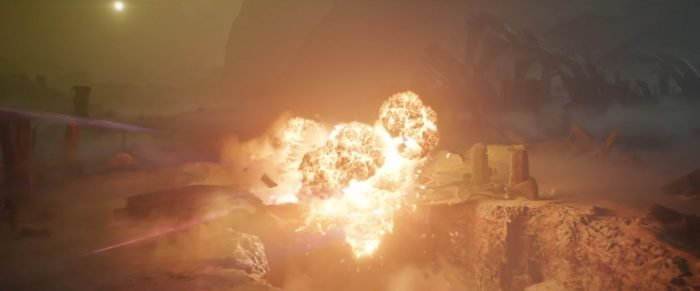 Another big explosion goes off, but this one clearly isn't on Earth. Wherever this is, that planet looks murky and totally abandoned. A bridge is being blown up here. If you look on the left, there are some energy blasts fired at the explosion, so whatever was there was clearly targeted to be blown up.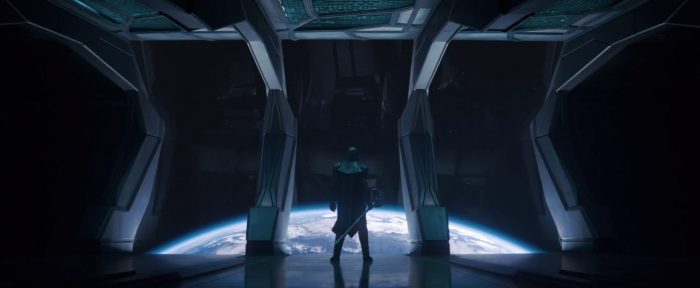 The shot quickly fades into this one of Ronan the Accuser (Lee Pace, reprising his role from Guardians of the Galaxy) as he looks out the windows of a ship and appears to be staring down at Earth. Could Ronan's radical ideas include a Kree invasion of Earth? Or maybe he learns that the Skrull leader Talos (Ben Mendelsohn) is on the planet and thinks they should take this opportunity to kill him.
Speaking of reprising roles, Clark Gregg is back in the MCU as Agent Coulson, before his untimely death and eventual resurrection. But he's been digitally de-aged a bit, just like Samuel L. Jackson. He dramatically removes his glasses and has a very '90s haircut. Where has he arrived at this time? It looks like a parking lot, so maybe he's here to investigate the fact that Carol Danvers fell out of the sky and into a Blockbuster Video.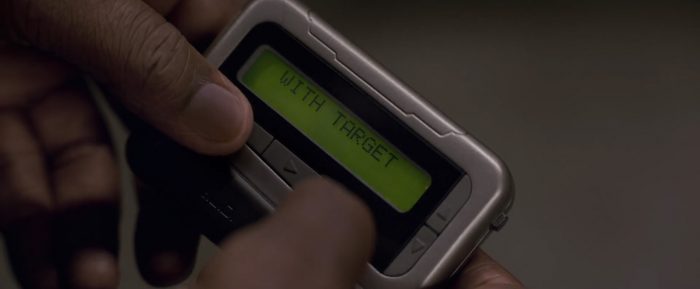 Meanwhile, a young Samuel L. Jackson is using the '90s technology of a beeper to tell someone that he's "with target." Who is the target? Is it Carol Danvers? Is it someone else? Could Nick Fury be a Skrull? Someone has to be, right?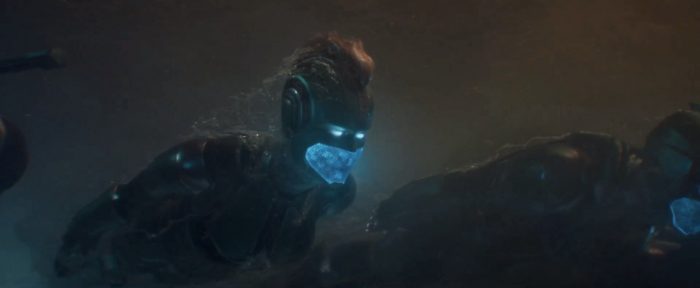 Any Captain Marvel fans who were hoping to see the superhero's signature mohawk in play...well, it looks like this might be as close as we get. Starforce is swimming underwater, and it appears as if the helmet that Carol Danvers wears pushes her hair up into a thick mohawk. It also functions as a way for her to breathe underwater too, which is pretty cool.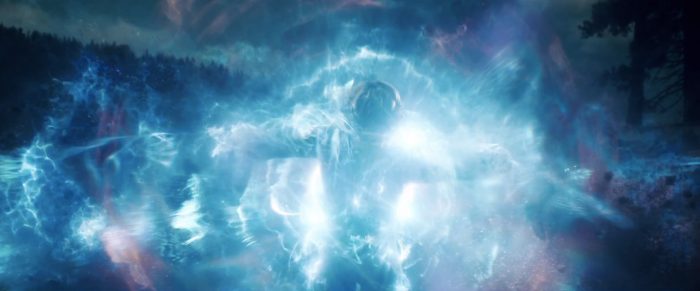 Remember that shot of Carol Danvers falling to the dirt in her Air Force uniform? I think there's a good chance this shot precedes it, but the effects in the other shot haven't been applied yet. The beginning of this shot takes place next to what appears to be a crashed jet, and this explosion resembles the same kind of energy that Captain Marvel blasts out of her hands earlier in the trailer. This might be the scene where Carol is endowed with her superpowers, and maybe it's this blast that makes her forget everything.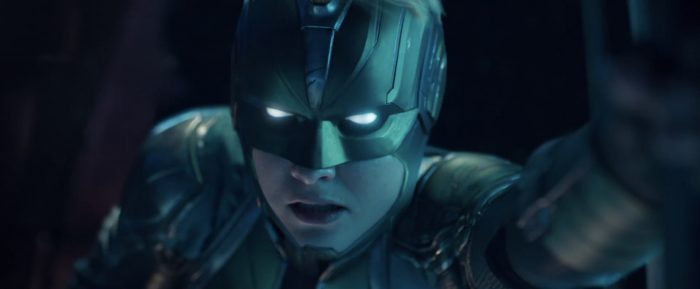 Here's another cool shot of Brie Larson in her full Starforce uniform, including that helmet that gives her a mohawk and glowing eyes. She's holding on tight to a bar as some force of energy pushes her back.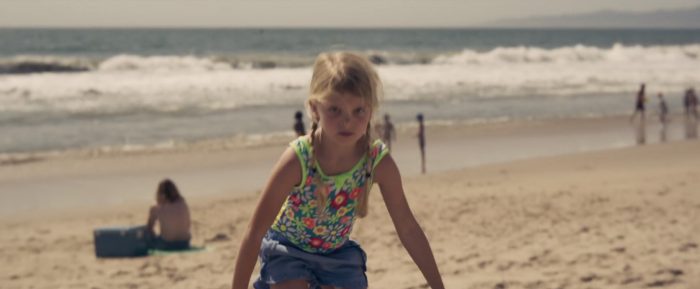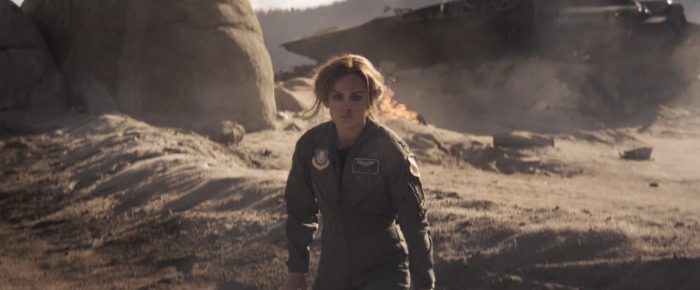 Throughout these shots, Nick Fury's voiceover returns. He says, "We have no idea what threats are out there. We can't do this alone." We get another one of those quick montages featuring shots of Carol Danvers rising up from the ground throughout her life. This will likely be something that happens throughout the movie and creates parallels between the various formative years of her life. However, there might be some kind of reveal that we're not expecting since she says, "I'm not what you think I am."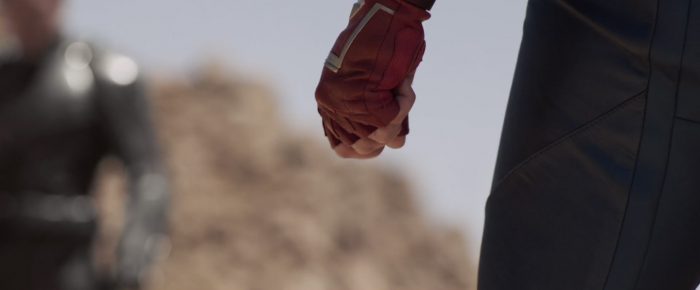 Then there's this shot of Captain Marvel clenching her fists. You might notice that's a red glove on her hand, and the suit next to it is clearly blue as well. She's got on her signature Captain Marvel suit, and we're pretty sure this from that scene where she's standing in the middle of the desert, which was shown off in the first look photos that arrived not too long ago.
Even more intriguing is that blurry figure in the background, which is more than likely Jude Law. Marvel is doing a lot to keep that character's identity under wraps. Maybe he's a secret villain?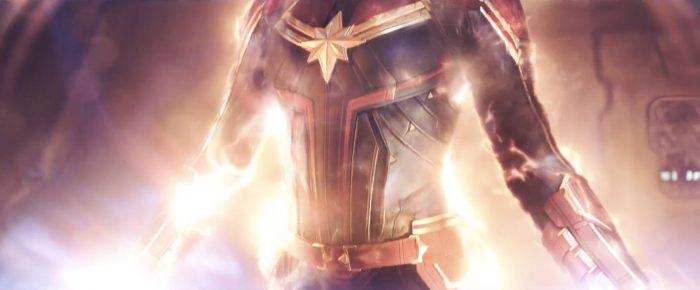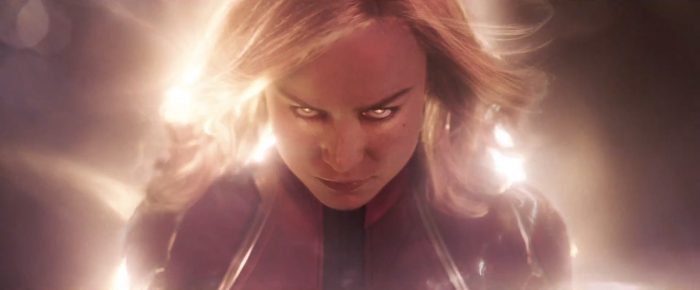 And here it is: Brie Larson in the full red, blue and gold Captain Marvel suit with a glowing energy all around her. If Captain Marvel really is the most powerful superhero in the Marvel Cinematic Universe, I can't wait to see her in action.
***
That's all for our Captain Marvel trailer breakdown. Did you notice anything else we didn't? There was already a cat spotted hiding in the Captain Marvel poster, but we couldn't spot the feline in the trailer. But that doesn't mean there aren't other details hiding in plain sight. For now, this is a fine tease for Captain Marvel, but it likely still has a lot to prove to general audiences to get them interested in a totally new superhero. The Marvel Studios name should do a lot of the heavy lifting, but since this is their first female-led superhero movie, it has a lot to live up to after the success of Wonder Woman.
Captain Marvel hits theaters on March 9, 2019.