Theme Park Bits: Mark Hamill Rides Star Tours, Harry Potter Christmas, And A New Universal Parade With Macy's Balloons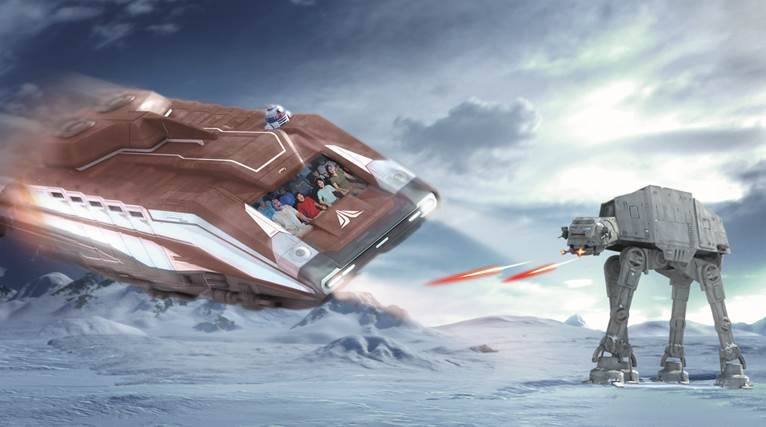 In this edition of Theme Park Bits:
Get new details on Christmas events at the Wizarding World of Harry Potter.
See what Universal Orlando's new parade collaboration with Macy's looks like.
Watch video of Mark Hamill joining fans for a ride aboard Star Tours at Disneyland.
Are you ready to write poetry in the Na'vi language from Avatar? "I see you."
A leading theme park developer has teased the possibility of a G.I. Joe ride.
The first table-service restaurant themed to Tangled is coming to a Disney cruise ship.
And more!
We are at The Wizarding World of Harry Potter to get a sneak preview of their Christmas Celebration 🎉 🎄 pic.twitter.com/675vQg1XuJ

— /Film (@slashfilm) November 17, 2017
Christmas arrives at Universal Studios on November 18, and to get you ready, the Universal Orlando blog has shared new details on some of the seasonal entertainment on offer at the Wizarding World of Harry Potter. Highlights include a singing sorceress and a frog choir whose "signature 5-part harmonies will spread Christmas croaks and holiday cheer."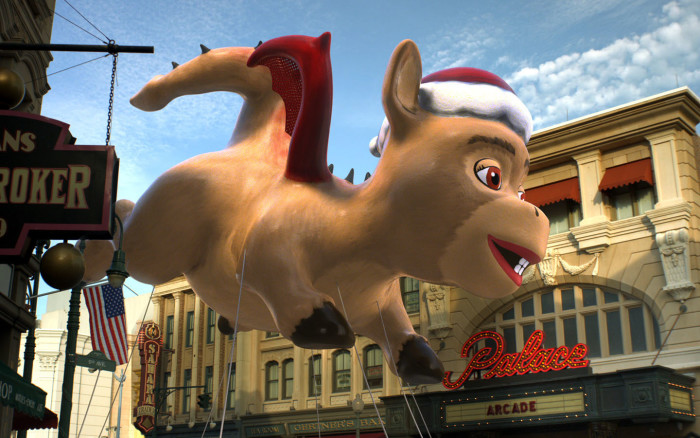 The blog also did a deep dive this week on the new Universal's Holiday Parade Featuring Macy's, which sees the department store giant bring balloons on the scale of its Thanksgiving Day parade to Universal Studios Florida. The balloons are accompanied by floats and suffice it to say, the concept art for them looks pretty awesome. It should be a real thrill to see massive Minions and larger-than-life Dronkeys floating down the parade route.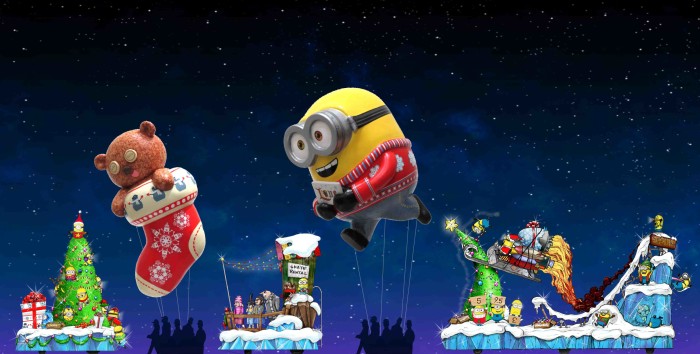 At Disney's Hollywood Studios this week, Star Wars: Galaxy's Edge celebrated a construction milestone as cast members gathered to sign a support beam that will top out the new land. As Disney Parks Blog notes, "beam signings are part of a longtime construction tradition at Disney parks."
The Force is strong with @HamillHimself as he surprised guests on Star Tours @Disneyland. #TheLastJedi pic.twitter.com/SoiH53VW6S

— Walt Disney Studios (@DisneyStudios) November 15, 2017
Thanks to its proximity to the real Hollywood in California, another thing that is fast-becoming a tradition at the original Disneyland is stars appearing on rides tied to upcoming movies. Johnny Depp did it in character as Jack Sparrow this year to promote Pirates of the Caribbean: Dead Men Tell No Tales, and now Mark Hamill has done it on Star Tours: The Adventures Continue. With the release of The Last Jedi only weeks away, the actor turned up in Tomorrowland this week to surprise some lucky guests with the sight of Luke Skywalker's face, greeting them with a "May the Force be with you" before he buckled up for a StarSpeeder ride with them.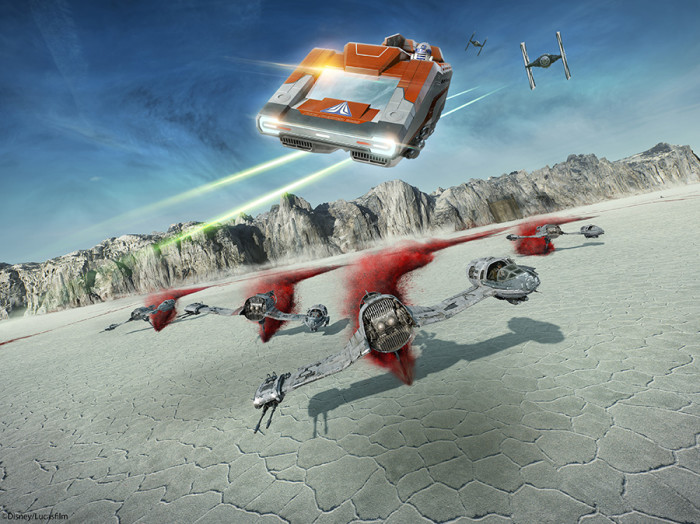 This appearance came the same day that we explored how the future of Star Tours could be completely different, with the prequel-era ride story possibly being reconfigured to fix some of the continuity errors that have resulted from added scenes on the planets Jakku and Crait (not to mention added characters in the form of Kylo Ren and Poe Dameron).
If you missed seeing Hamill in person at Disney, never fear: you can still catch Warwick Davis, another fan-favorite Star Wars actor, at Disney's Hollywood Studios next month. In addition, Disney has now announced which members of the Walt Disney Imagineering and Lucasfilm team will be joining Davis at the park for Star Wars Galactic Nights.
Step back in time to the '50s and '60s for a taste of the classic after-dark experience at #Disneyland! https://t.co/h6WbX2Os8W

— Disneyland Resort (@Disneyland) November 13, 2017
A new series of nighttime events, dubbed Disneyland After Dark, will soon be taking place in Anaheim, as well. It all starts January 18 with Throwback Nite, "a celebration of vintage Disneyland." Disney Parks Blog has more details.
Some Star Trek fans are fluent in Klingon. Avatar fans (there must be some of you out there) have their own fictional language they can learn, courtesy of a fellow with a Ph.D. in linguistics named Paul Frommer, who has now given a 45-minute interview (in English, alas, not Na'vi) where he discusses the language's creation. If you visit Pandora – The World of Avatar at Disney's Animal Kingdom, you can purchase a Na'vi Translator ... but hey, why rely on that device, when you can study the language yourself with an eye toward mastering it and writing poetry? Consider the following excerpt from Inside the Magic:
Frommer explained that there is now an annual Avatar meet-up where a large group of Na'vi enthusiasts all come together to celebrate the language. Members of the group are all dedicated fans from around the world who use the language on the daily. Some even correspond with Frommer via email in the language. Frommer also said that "some members of the group speak the language better than I do." Members of the group also use the language to write poetry, movie reviews and much more.
Will Pandora let me @visitpandora ? pic.twitter.com/ob41jzggvL

— Ikxeru Syoapìwopx (@ikxeru) April 23, 2017
Who knew there was such a thriving subculture of Avatar fandom? Clearly, a movie does not make a billion dollars at the box office without engendering lifestyle changes on the part of some diehard fans. Less clear is whether or not any committed parents use the phrase "oel ngati kamei" (translation: "I see you") to play peek-a-boo with their kids.
Avatar fans, you can identify yourselves by commenting on this article exclusively in Na'vi. Let's mine this esoteric language for all the unobtainium it's worth! If no one comments, I'll take your silence as confirmation that the continued existence of Avatar fans in 2017 is an Internet hoax. Remember, therefore, the rallying war cry of Jake Sully: "You fly now, with me. My brothers, sisters. And we will show the sky people [I forget the rest. But let your voices be heard.]"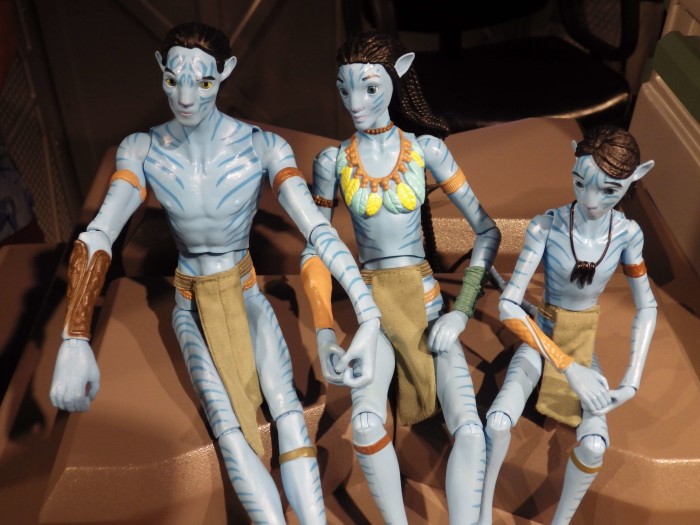 Now for some miscellaneous bits. First and most importantly, if you're driving to Disney World or Universal Orlando, please be safe. As Inside the Magic reports, I-4 — the main highway leading to the two resorts — has been named the deadliest highway in the country according to data from the National Highway Traffic Safety Administration.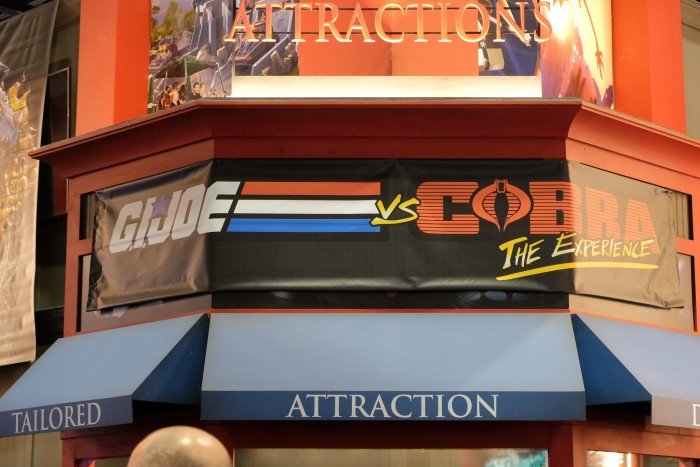 What might a ride called "G.I. Joe vs. Cobra: The Experience" look like? Is such an attraction in the pipeline already? At a recent expo, Dynamic Attractions, "the secret name behind the most popular rides in North America, Asia, Europe and the Middle East," showcased a couple new ride concepts, one of which may be intended to serve as a backdoor preview for a G.I. JOE attraction.
JUST ANNOUNCED: Exciting enhancements coming to the Disney Magic in March 2018! #DisneyCruise https://t.co/lRU1muuvaP

— Disney Cruise Line (@DisneyCruise) November 14, 2017
Among the new spaces and new experiences debuting on the Disney Magic cruise ship in 2018 is a Tangled-themed family restaurant. This restaurant will supplement the on-board entertainment of "Tangled: The Musical."
Black Tap Craft Burgers & Beer, an establishment "known for its award-winning burgers and signature CrazyShake™ milkshakes," has announced the opening of its first California restaurant at Downtown Disney in Disneyland Resort next year.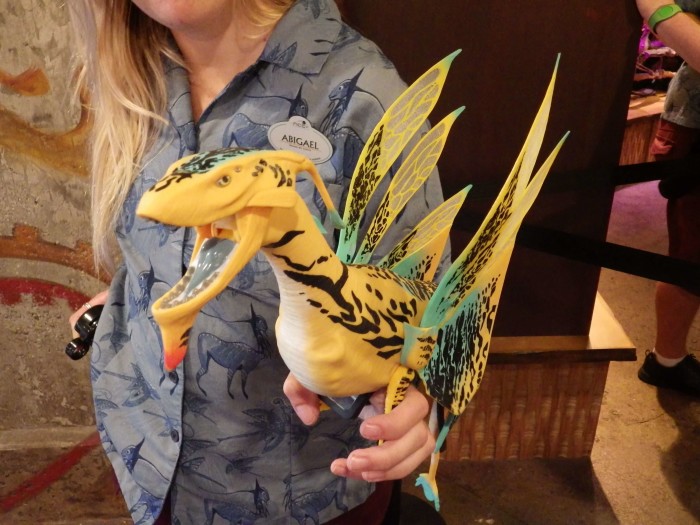 Just when you thought we were done with Avatar this week comes news that Pandora – The World of Avatar, Avatar Flight of Passage, and the Rookery (the adopt-a-banshee corner in Pandora's gift shop) have all been recognized for global excellence with awards from the Themed Entertainment Association. Also recognized, in the "Attraction Reimagining" category: Frozen Ever After and Guardians of the Galaxy – Mission: BREAKOUT!
Who's ready for some new holiday fun in Cars Land? pic.twitter.com/2mPhh6OQbU

— WDW News Today (@WDWNT) November 10, 2017
There's a Cruz Ramirez light up straw for sale in Cars Land pic.twitter.com/0CijxUpJZC

— WDW News Today (@WDWNT) November 10, 2017


WDW News Today unleashed a bevy of tweets this week giving a look at some of the new refreshment souvenirs and Christmas goings-on at Disneyland Resort.
Awesome Mickey ornament stein for sale, $12.99 with fruit pic.twitter.com/bLfN7rY7LO

— WDW News Today (@WDWNT) November 10, 2017
Line for "it's a small world" is almost in Toontown pic.twitter.com/s0MwhSxZvU

— WDW News Today (@WDWNT) November 10, 2017
With 2017 winding down, Disney Parks Blog also has some recommendations for how you can ring in the new year at Walt Disney World. Incidentally, in the Chinese Zodiac, 2018 is the Year of the Dog ... and this fact has not gone unnoticed by Tokyo Disney Resort, which has various Pluto-themed things in store for its New Year's celebration.