'Star Trek: Discovery' Trailer: Boldly Go And Watch The New Footage From Comic-Con 2017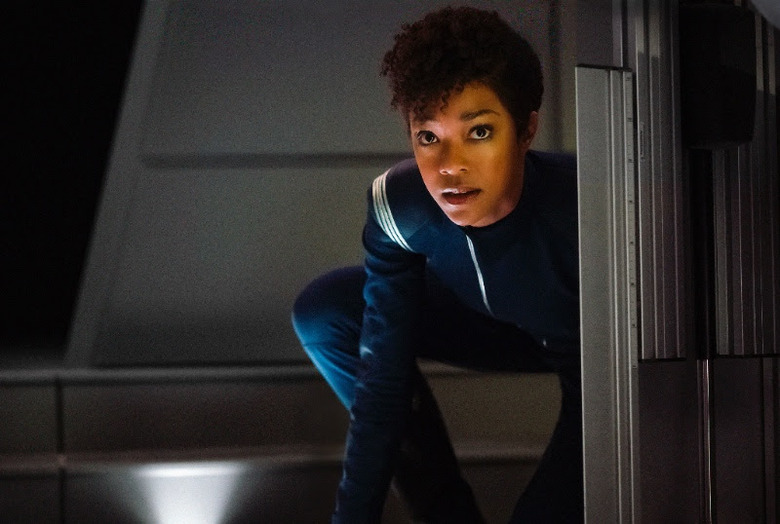 Comic-Con is the epicenter of all things geeky, so of course the new Star Trek: Discovery trailer premiered there. The new series, which is set to arrive on CBS later this year, looks to invigorate Star Trek for the small screen by looking to the past – the show is set a decade before the adventures of James T. Kirk and promises to cast light on a time period in the series' sprawling timeline that has yet to be properly explored on screen.
But you don't have to be at the series' panel, or even at Comic-COn, to watch the new trailer. It's online right now and you can watch it below.
The trailer also came with this new synopsis, which is impressively vague in how little it explains:
STAR TREK: DISCOVERY will follow the voyages of Starfleet on their missions to discover new worlds and new life forms, and one Starfleet officer who must learn that to truly understand all things alien, you must first understand yourself. The series will feature a new ship and new characters while embracing the same ideology and hope for the future that inspired a generation of dreamers and doers.
This new trailer is certainly more expansive than the first preview, which felt a little cobbled together from a mostly unfinished series. As a longtime Trek fan, it's easy to find things to complain about (why does the technology look so different than the tools and weapons Kirk and his crew would later use?), but I'm choosing to be optimistic here. I like the uniforms and I like the show's look and I like the diverse cast and I like how it's introducing some of the big screen reboot series' cinematic flash to the small screen. This may be set in the original pre-reboot timeline, but that doesn't mean it can't look slick.
Although Star Trek: Discovery will premiere on CBS, it will be a CBS All Access exclusive after the first episode, a canny move for a network that wants more people to sample its streaming service. How and where and when you can watch it is a little confusing, so here's an excerpt from the press release to help you out:
The series will premiere on the CBS Television Network Sunday, Sept. 24, 2017 with all subsequent episodes available on CBS All Access, the Network's digital subscription video on demand and live streaming service, and will be distributed concurrently by CBS Studios International on Netflix in 188 countries and in Canada on Bell Media's Space channel and OTT service CraveTV.
If you want a closer look at uniforms and props from the series, our own Ethan Anderton was able to check them out in-person at Comic-Con and he brought back a bunch of photos. You can also find a gallery of images from the show below.
So what do you think, Trek fans? Are you still excited for this one?