WTF Stuff: 'Guardians Of The Galaxy Vol. 2' Doritos Bags Play The Entire Soundtrack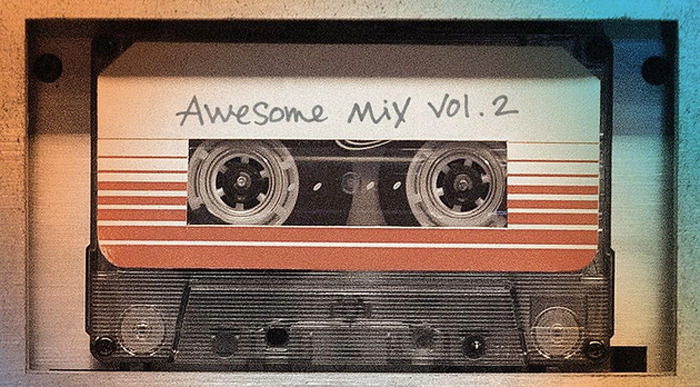 We may receive a commission on purchases made from links.
You know that we love Cool Stuff here at /Film, and every now and then there's a story that just makes us say WTF. Today, those two things combine for an item that can only be categorized as WTF Stuff.
Whenever a big blockbuster like Guardians of the Galaxy Vol. 2 comes out, there are endless cross promotions and merchandise being sold with the film's title and characters all over the place. Therefore, we're not surprised seeing soda cans and bags of chips with Star-Lord, Gamora, Drax the Destroyer, Groot and Rocket Raccoon on them. But we are surprised by these official and totally real Guardians of the Galaxy 2 Doritos bags that actually play the film's soundtrack in its entirety.
Find out more about this crazy innovation in snacking and soundtracks below.
Billboard made the announcement of the Guardians of the Galaxy 2 Doritos bags which look like this: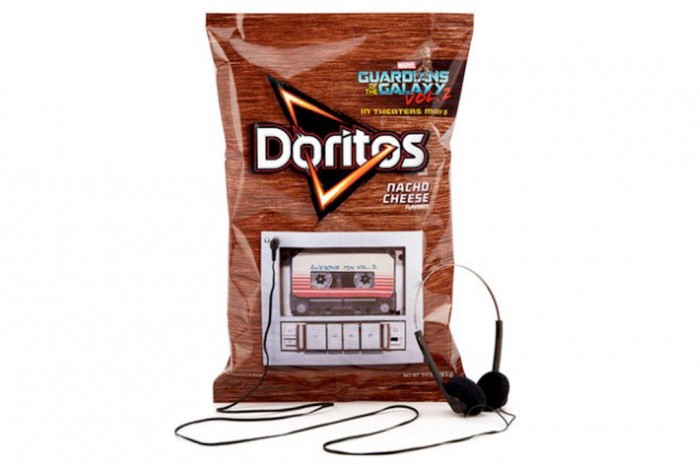 Marvel Studios and Doritos teamed up to create these musical snack bags as part of their Rock Out Loud campaign. Each of the bags has a "built-in cassette tape deck-inspired player that plays the full soundtrack." That's right, you can listen to all 14 songs of the soundtrack through this Doritos bag. And because Doritos wants to make this as convenient as possible, the bag can apparently be recharged so you can use the bag to listen to the soundtrack over and over again.
Ryan Matiyow, senior director of marketing for Doritos manufacturer Frito-lay said, "Can you imagine a better way to listen to this soundtrack than with a bag of Doritos? We couldn't either." While eating a bag of Doritos can make most experiences that much better, it's not like it was super difficult for me to listen to the soundtrack (which was released on April 21) and eat Doritos before this bag existed.
The fact that this bag can be recharged for repeat use and that it's meant to be used to allow me to eat Doritos while listening to the soundtrack raises some questions. At some point, those chips are going to run out, so am I supposed to fill that same bag up with Doritos? Can I wash the bag so it doesn't get greasier and more disgusting after repeated use? Is this the beginning of the end for humanity? It looks like Popstar: Never Stop Never Stopping was ahead of its time when it came to putting music in ridiculous places.
If you want to get your hands on these limited edition Doritos in this musical bag, they will be available for be available consumer purchase on April 28 only at Amazon.com/Doritos, while supplies last. If there's a mad rush to get these bags (and I'm sure there will be for no good reason), hopefully Amazon is better prepared to handle the sale of this item than they were with the Pepsi Perfect they had available for Back to the Future Day in 2015.
For those interested, there's also another interesting Doritos cross promotion with Guardians of the Galaxy Vol. 2, but it only appears to be in Australia. Check it out: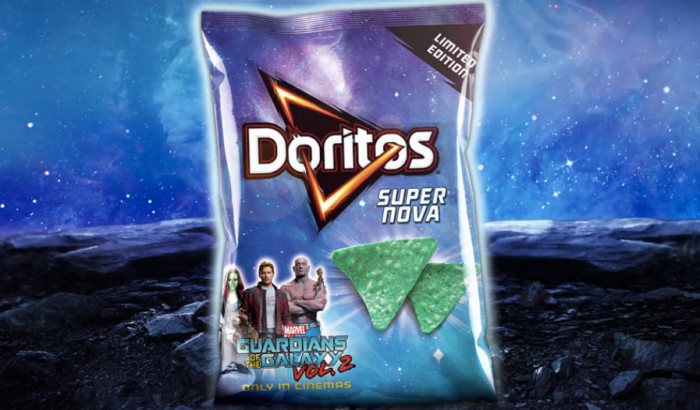 That's a limited edition flavor called Super Nova featuring the characters from the movie on the bag and corn chips that are space green with a flavor described as "a zesty blast of lime dusted with volcanic black pepper." Sadly, it doesn't sound like these chips will be available in the United States, but you can live vicariously through some Australians who have reviewed them online. But if you have friends down under, maybe they can send you a bag.