'Saw: Legacy' Is Apparently On The Way: Grab Your Barbed Wire And Bear Traps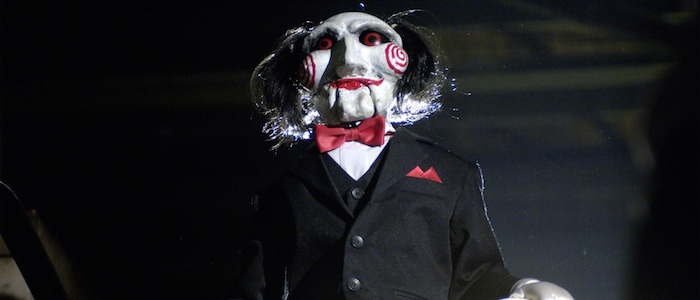 In 2004, a tiny horror movie called Saw, from an unknown director named James Wan, played at the Sundance Film Festival to good reviews, was picked up by a relatively minor distributor called Lionsgate, and the rest is history. Lionsgate is now a major player. James Wan is directing gigantic blockbusters. And the Saw series went the path of so many other horror franchises: it was driven into the ground until it died a violent and seemingly final death.
It's been six years since Saw 3D: The Final Chapter seeming closed the book on the saga of Jigsaw and his merry band of serial killers, but like Friday the 13th: The Final Chapter, Freddy's Dead: The Final Nightmare, and The Final Destination before it, that title turned out to be a lie. A new report indicates that Lionsgate is currently working to bring Saw out of hibernation for an eighth film, to be titled Saw: Legacy.
According to Bloody Disgusting, Lionsgate has hired screenwriters Josh Stolberg and Pete Goldfinger to write Saw: Legacy. The duo already have a horror pedigree, having penned Sorority Row, Piranha 3D and Piranha 3DD, so they seem like natural choices for the gig. As long as they can find a way to weave a bunch of gnarly traps and gruesome demises into a plot so labyrinthine and silly that it makes the most outrageous soap operas look subdued, they should be just fine.
While Saw's nasty violence grabbed all the headlines and helped lead the unfortunately named "torture porn" era or horror, devotees of the series know that the real appeal was always in the preposterous, continuity-heavy plot that stitched all seven movies together. Unlike other long running horror series, which essentially hit reboot when the credits roll, the Saw films were borderline impossible to follow unless you had been keeping up with the series. That was always the oddball charm of these movies – you could take or leave the gore, but the implausible, theatrical plot that punished logic at every turn was the real treat.
Naturally, James Wan won't be back for this one, but he will executive produce alongside Leigh Whannell, who co-wrote and co-starred in the original film (and a few sequels) before following Wan's lead and taking a back seat.
We may not know much about Saw: Legacy (and who knows if or when it will actually materialize!), this sounds like a golden opportunity for Lionsgate to find a young and hungry director willing to shake up a tired franchise. The Saw movies aren't sacred. Only a few of them are actually good and this is a very generous use of the word "good." The studio needs to buckle down, scour the indie horror scene, pluck the next James Wan out of relative obscurity, and let him or her do their thing. People are going to either see a Saw movie or they aren't – you might as well let someone fresh and exciting have a turn at the helm.