Larry David Set To Host 'Saturday Night Live' And That's Prettay, Prettay, Prettay Good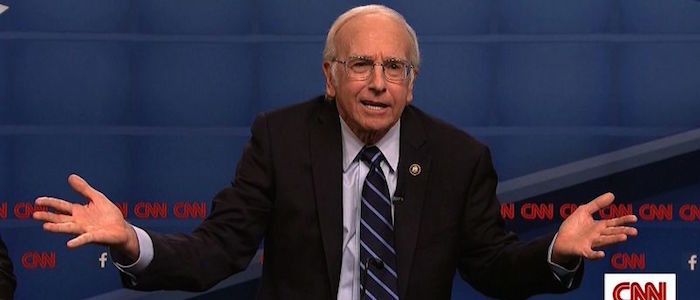 Just when you thought this season of Saturday Night Live had peaked with that Adam Driver episode, they go ahead and announce that the great Larry David will be guest hosting the show next month. The legendary comedian, best known for co-creating Seinfeld and starring in HBO's great Curb Your Enthusiasm, has already guest starred twice this season, playing Democratic presidential hopeful Bernie Sanders to perfection...and calling guest host Donald Trump a racist on live television. So expect his episode to not skimp on the politics.
The news of Larry David hosting SNL first came to us via TV Line. The comedians uncanny physical resemblance to Sanders, as well as his ability to capture the Vermont senator's very particular speech patterns, instantly struck a chord with SNL fans. It remains to be seen if this will be an all-timer political impersonation on the level of Tina Fey's Sarah Palin, but it's good work from a performer we'd happily watch on a regular basis.
In case you missed it, here's David's initial appearance on SNL, where he debated Kate McKinnon's Hillary Clinton and Alec Baldwin's Martin O'Malley:
David actually has a fascinating history with Saturday Night Live. Before he became one of the most successful writers and producers in television history, David was a staff writer on the iconic sketch series, contributing his talents from 1984 through 1985. However, it was not a happy engagement for David, as only one of his sketches ever made it to air, and even then it was in the dreaded 12:50 A.M. slot. David even quit the show at one point, only to return a few days later and act like nothing had ever happened (an incident that later inspired a classic George Constanza plot on Seinfeld). This story comes straight out of the excellent book Live From New York by James Andrew Miller and Tom Shales, which should be read by anyone with even a passing interest in SNL and comedy.
In other words, David belongs to a select group of talented people who were entirely unappreciated or underutilized by the SNL machine, barely making an impact on the show before going on to success elsewhere (also in that club: Robert Downey Jr., Christopher Guest, David Koechner, Julia Louis-Dreyfuss, Sarah Silverman, and Ben Stiller). Watching David make himself available to SNL has led to some fantastic comedy and a great Bernie Sanders impression, but it also gives David's strange history with the show a necessary final chapter. You just know that David, who transformed his personal neuroses into iconic comedy, is going to put away a few demons with this gig.
Larry David's episode will air on February 6 and we'll have a review the next day.